Critically Acclaimed Concerts ... Up Close & Personal
ONLY BOSTON AREA SHOW THIS YEAR!
DATE
Friday, March 18, 2016
TIME
8:00PM

(Doors 7:00PM)

VENUE

The Larcom Performing Arts Theatre

13 Wallis Street

Beverly

,

MA 01915

Venue Details
TICKETS

ALL AGES

RESERVED SEATS

$25, $35, $45
Celebrate Saint Patrick's Day with "A Couple of Blaguards" the Rollicking Irish Comedy by Pulitzer Prize winner Frank McCourt, author of New York Times Bestseller "Angela's Ashes", and Malachy McCourt, author of New York Times Bestseller "A Monk Swimming."
PODCAST:
Dana Hersey interviews Malachy McCourt
WICKEDLY FUNNY!
If you don't have a good evening, you should have yourself checked to make sure you haven't died during the day.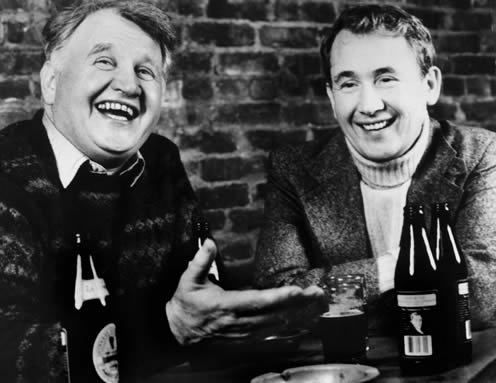 Malachy McCourt (L) and Frank McCourt
A Couple of Blaguards
Veteran actors Howard Platt ("The Bob Newhart Show," "The Rock," "Nixon" ... many more) and Jarlath Conroy ("Law & Order," "NYPD Blue, "True Grit," to list but a very few) portray Malachy and Frank McCourt in this extraordinarily moving and "Wickedly Funny" tale of immigration, triumph and brotherly love.
MEMORABLE! The brothers McCourt bring their two best selling books to the stage... the show has a roguish appeal
An unholy amount of charm!
Mixes the sweetness and kick of an Irish coffee
WINNING! You don't have to be Irish to appreciate the wry sense of humor of the brothers McCourt. A GREAT DEAL OF FUN!
"A Couple of Blaguards" is a two-character comedy with incidental music, created by the brothers Frank McCourt and Malachy McCourt. These master raconteurs have laced their combined experiences growing up in Ireland, and their escape to America into a vaudeville of comedy, Irish songs and a gallery of relatives, rogues, fools and petty tyrants -- priestly and otherwise.
"A Couple of Blaguards" with Howard Platt and Jarlath Conroy as the lads, is so funny and plays well in the mind's eye that it isn't until you're half-way out the door that you realize how tough and unsentimental it is. The boys have seen so much that there can be no more tears: All that's left to do really is laugh and keep moving.
Frank McCourt is arguably the literary phenomenon of the '90s winning a Pulitzer Prize for his book, "Angela's Ashes."
Like their best-selling books, Frank McCourt and Malachy McCourt's A Couple of Blaguards is an autobiographical account of their years growing up in poverty in Ireland. Though times were tough in Limerick, the tales spun by the brothers McCourt simmer with bittersweet recollections, ferocious humor and a parade of colorful characters from the priest who warns of sinners' eyeballs exploding in Hell to the McCourt grandmother who spits on Franks unruly Presbyterian hair to tame it.
According to Malachy McCourt, This show is the result of Frank and me listening to the stories of our elders which in turn tunes the ear, the eye and the tongue to observe and give voice to even the most trivial of events. I think we had more fun than anyone writing and performing Blaguards, which has become an affectionate term for the rowdy, outgoing, and sometimes drinking sort of boys. If you don't have a good evening, you should have yourself checked to make sure you haven't died during the day.
ABOUT THE LARCOM PERFORMING ARTS THEATRE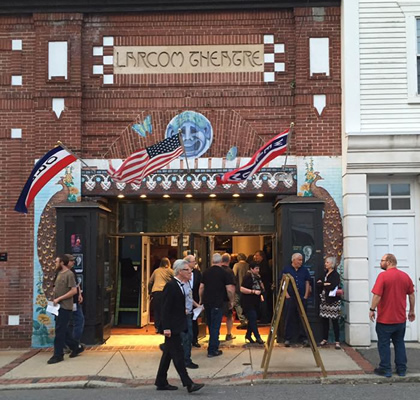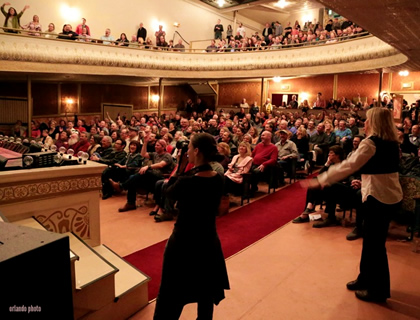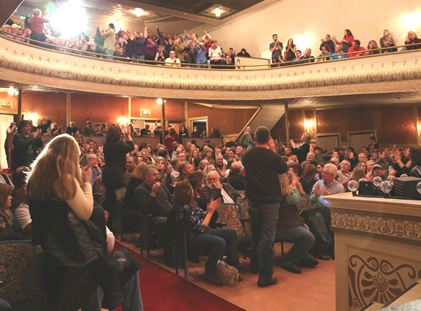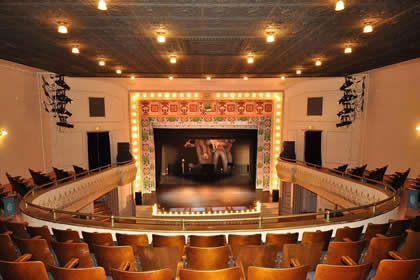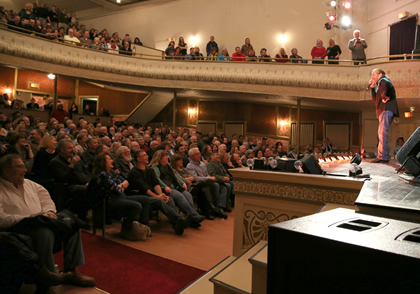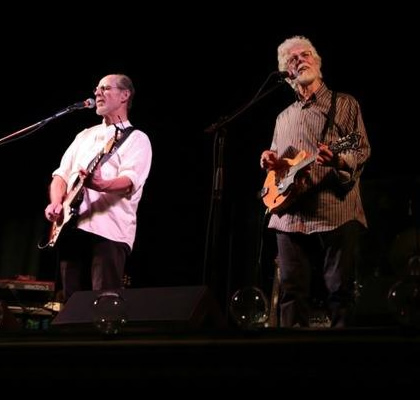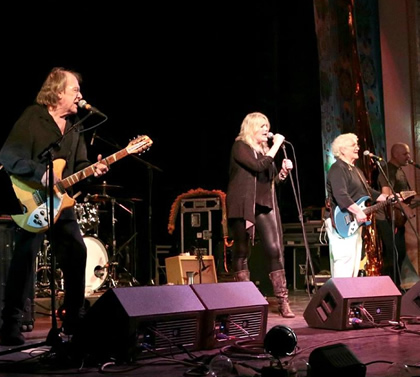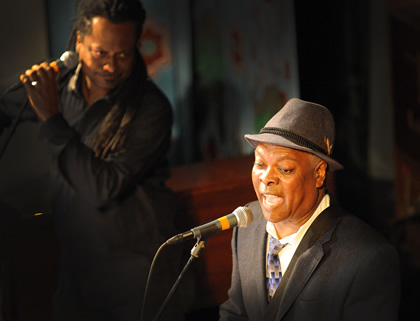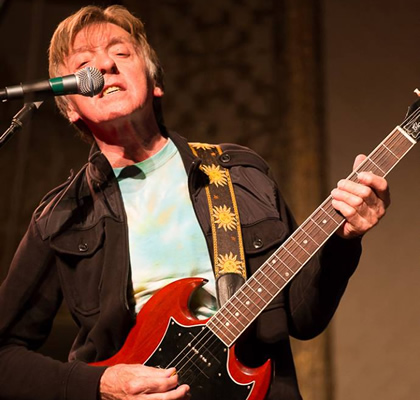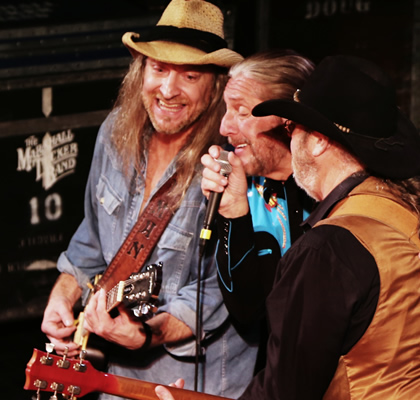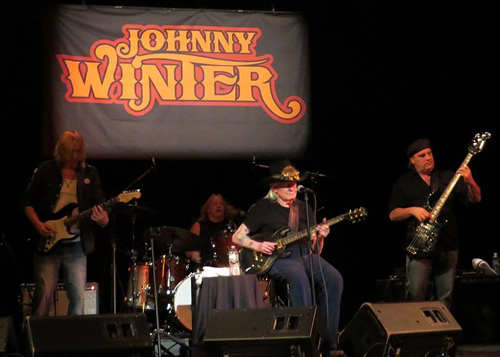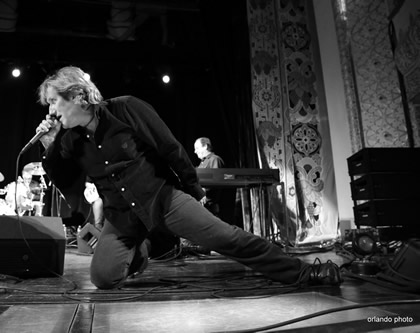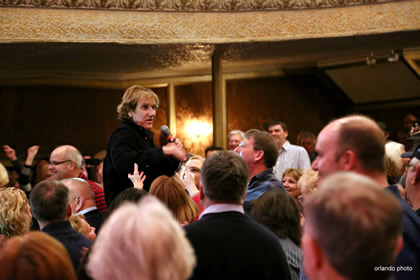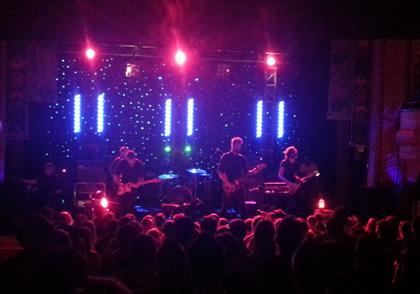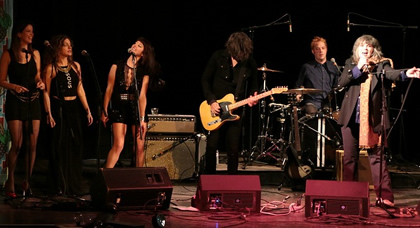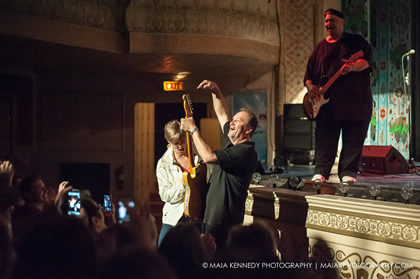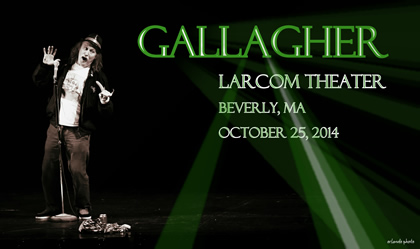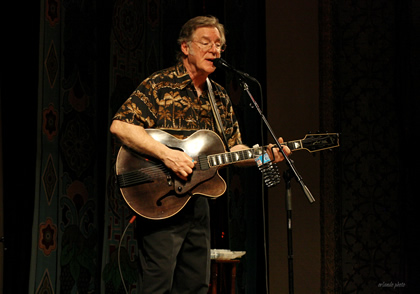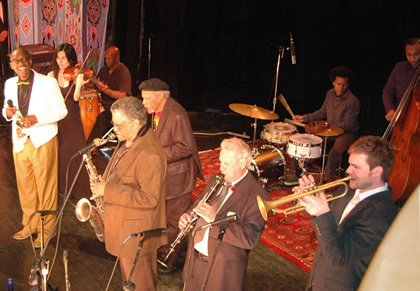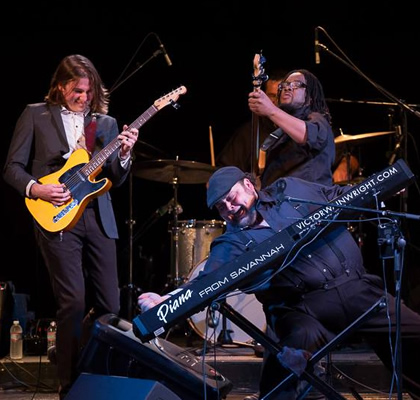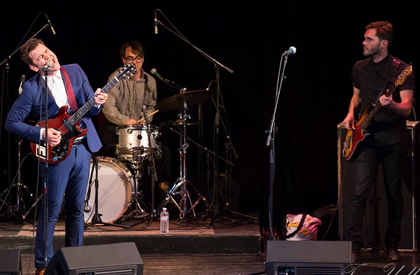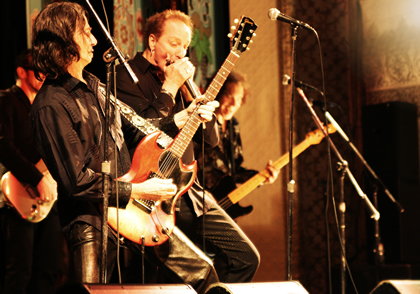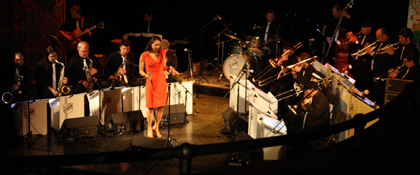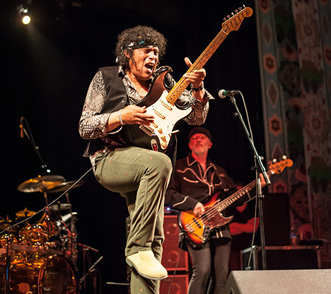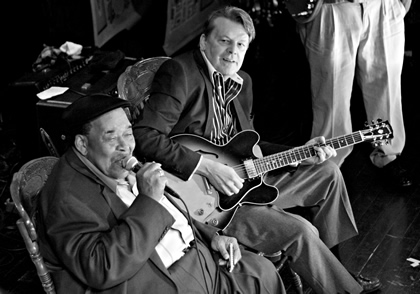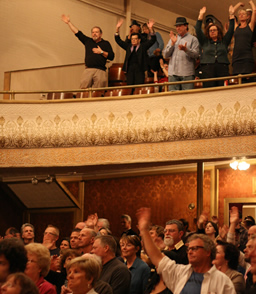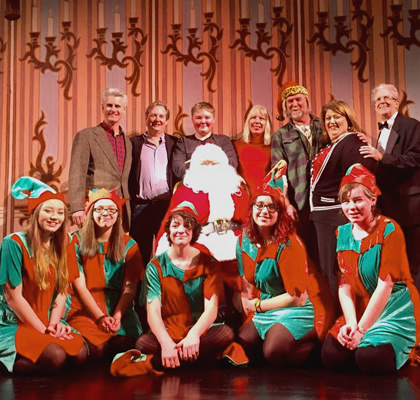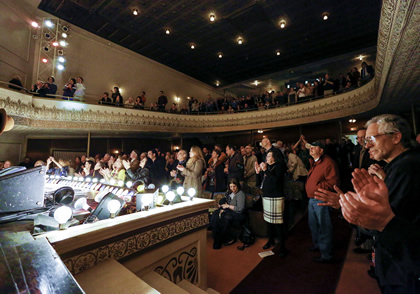 Concerts at The Larcom
photos by Sheila Roberts Orlando unless otherwise noted
About 25 miles from Boston, the fully restored, historic Larcom Performing Arts Theatre is conveniently situated in downtown Beverly, MA less than half a mile from the Beverly Depot rail station and 3 miles from Route 128 at 13 Wallis Street, with plenty of free parking (see map).
This gracious showplace -- featuring spectacular acoustics -- was built in 1912 (the same year as Fenway Park) by brothers Harris and Glover Ware (vaudeville musicians from Marblehead, MA) on the birth site of their favorite poet, Lucy Larcom.
The Larcom's grand opening advertised that its interior was lit completely by electricity.
During its 104 year history, The Larcom Theatre has presented stage, screen and musical entertainment. In 1984 the Larcom's elegant horseshoe balcony, hand-painted antique pressed tin ceilings and original silk wall coverings were restored to their original glory by Le Grand David magic company, who presented their award-winning magic show there until the company's founder, Cesareo Pelaez, died in 2012.
Beginning with gimmeLIVE's sold-out 2013 Mardi Gras benefit concert, Vickie and Peter Van Ness filled the Larcom Theatre with music for the first time since the days of Vaudeville.
In 2014, gimmeLIVE installed a new, state-of-the-art sound system featuring Meyer line arrays and subs, which is used for all concerts presented by gimmeLIVE at The Larcom.
Peter & Vickie Van Ness of gimmeLIVE continue to showcase national recording stars and award-winning Boston area talent at The Larcom, with new shows to be announced soon. Click here to join our mailing list and get special deals and prime seats before tickets go on sale to the general public.
PLENTY OF FREE PARKING
There is plenty of free parking at the municipal parking lot on Bow Street, about 150 feet away and at the City Hall parking lot about half a block away. You do not have to feed the meters after 5pm or on Sundays.
Want us to produce a concert or festival to raise money for your organization? Click here!
Want to sponsor one of our shows? Click here!