Critically Acclaimed Shows ... Up Close & Personal
THE TOASTERS ~ SKA ON THE HARBOR
ALL AGES CONCERT CRUISE

DATE
TIME
8:00pm (Boarding (Doors 7:00PM)

)

VENUE

Beauport Princess Cruise Ship @ Cruiseport Gloucester

6 Rowe Square

Gloucester

,

MA

01930

Venue Details
OPENER
Mile 21
TICKETS

$35 in Advance
$40 at the dock
CASH ONLY @ DOCK


THIS IS AN ALL AGES CONCERT CRUISE
Dance, dine and cruise historic Gloucester Harbor with THE TOASTERS & MILE 21 aboard the Beauport Princes Cruise Ship. Your ticket includes the concert PLUS a Gloucester Harbor Cruise and Party Buffet featuring their world famous Lobster Rolls! A full cash bar is available aboard the cruise ship.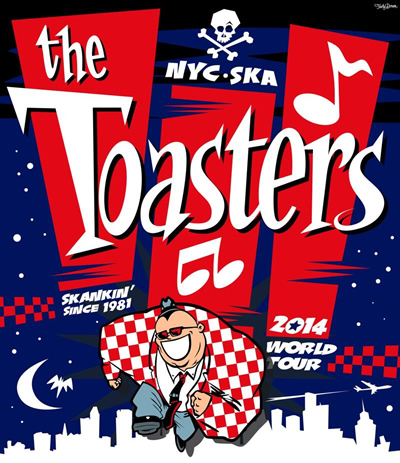 THE TOASTERS ~ Ska on the Harbor
All Ages Concert Cruise
with special guests MILE 21
Dance, dine and cruise historic Gloucester Harbor with international Reggae and Ska Pioneers, THE TOASTERS and a very special reunion of local favorite, MILE 21! Your ticket includes this special appearance of The Toasters on their 2014 world tour PLUS a Gloucester Harbor Cruise and Party Buffet featuring Seafood Grille's world famous Lobster Rolls!
This is an all-ages cruise, but a full bar is available aboard the cruise ship for people over 21.
The Toasters, are "Ska Pioneers" (Billboard magazine) and boldly go where no ska band has gone before. Having been compared to the Ramones, due to their longevity and adherence to core principles, the Toasters are held to be one of most influential ska bands out there. Their lean, mean ska machine has galvanized audiences and musicians alike with their embrace of the Jamaica-born pop music style that overwhelmed England in the 1960's, migrated to America in the early 1980s, and went global in the 1990s. The hallmark Toasters sound sits at the nexus of Reggae, Jazz, Punk and Soul and is the musical equivalent of a brass knuckle-duster.
Formed in New York City by British guitarist/frontman Rob "Bucket" Hingley in 1981, the Toasters exploded onto the Lower East Side scene. Cutting their teeth with a residency at legendary clubs like CBGB and Danceteria, the band has defied gravity and industry skeptics alike by staying true to their original 2-Tone ska roots, whilst logging over 4000 globe-trotting live appearances.
Longtime fans and critics agree, the current "International All-Stars" posse (featuring members of some of the world's greatest ska bands) is one of the most formidable in The Toasters' long and chequered history. Along with the irrepressible Bucket on lead vocals and guitar, The Beat's Andy Pearson is featured on bass. Expect to see Neil Johnson (Planet Smashers) and Tommy Quartulli on saxophone (The Allstonians), Greg Robinson (Mephiskapheles) on trombone and Jesse Hayes (Westbound Train) on drums. Special appearances by Arjen Bijleveld (Rotterdam Ska-Jazz Foundation) and Buford O'Sullivan (Easy Star All-Stars) are also to be expected in 2009. Legendary keyboardist Dave Barry rounds out the posse.
As the founder of Megalith Records (and former boss of the legendary Moon Ska Records, the most influential ska label of the 1990s) the Toasters' leader, Rob "Bucket" Hingley has a ska resume that trumps virtually anyone else in the business. With the aid and support of likeminded musicians such as producer Joe Jackson, who has worked with the band over the years, he has been able to compile a recorded legacy and a songwriting catalog. Among the many ska classics Hingley has penned: "Weekend In L.A.," "Matt Davis," "2-Tone Army," "Social Security," "Dub 56"�and the list goes on and on.
In the commercial realm, the Toasters have recorded jingles for AOL, Cisco Systems, Miller, Anheuser-Busch, and Coca-Cola, and have contributed to movie and television scores (Bleached, Bang!, MTV's Wildboyz, Mission Hill, Kablam!, Showtime's Brotherhood, etc.). Where Bucket and The Toasters truly excel, and live up to their reputation as one of the greatest bands of all time, however, is on the road. Averaging more than 200 performances a year, the band is well on its way to playing its 5,000th gig, a milestone they should achieve by the end of the decade. Toasters fans from all over the world have known for a long time that their favourite ska band is the coolest group around, a true classic. Now, it's time for everyone else to catch up, and get hip to The Toasters!
The Toasters are currently sponsored by the following partners: Conn-Selmer wind instruments, Ludwig drums, Jagermeister, Ska Brewing, Pick World, Ernie Ball, Greasy Groove, Reverend Guitars and Instanbul Cymbals.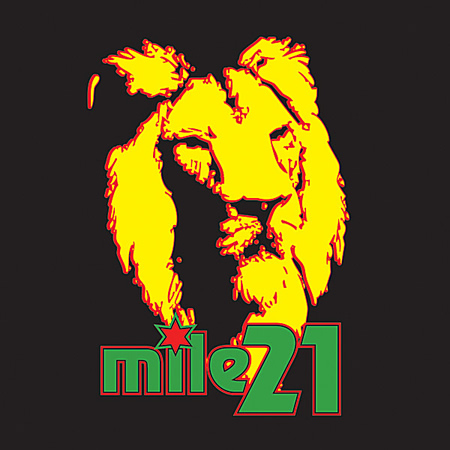 ABOUT MILE 21 BAND
Formed in the fall of 2000 Mile 21 Band established itself as a seven piece punk/ska band with influences of reggae and hip hop ranging from the Mighty Mighty Bosstones to the Wu Tang Clan.
After taking a hiatus from shows in 2003 Mile 21 returned with a new sound that incorporated catchy hornlines, melodic riffs and influencial lyrical patterns. In the past year alone Mile 21 Band has been the featured band at several festivals and shows in the NorthEast, playing at clubs and venues such as CBGB's, The Knitting Factory, The Empress Ballroon, The Middle East Club, The Webster Theater, and Harper's Ferry.
Influenced by a uniquely wide variety of artists, bands and styles, Mile 21 Band maintains a fresh, self-owned sound. The list of those owed credit and notice are an extensive group from Bob Marley & the Wailers to the Bosstones, John Coltraine to Wu-Tang Clan, The Toasters to The Skatellites, and B.B. King to Steel Pulse. Each of these as well as many more have offered styles, sounds and inspiration for these 7 players to put every ounce of energy and heart into the success of Mile 21 Band.
After a few EPs and Demos Mile 21 has released a new 3-song Demo that truly captures their ska/roots/reggae styles. This new music expresses their desire to release socially conscious music while maintaining a very pop element that appeals to a wide range of people.
Since their release of Nine Ivy Days in 2005 Mile 21 Band has opened for such acts as The Toasters, The Planet Smashers, Toots and the Maytals, Sean Paul, Badfish, and Morgan Heritage. Mile 21 Band released its first self-titled album under Megalith Records in 2007 and is currently working on a new new tunes that capture the influence and growth of their 2009 hiatus. The band's 2014 reunion features lead Lead Vocalist Mike Francis, Carlos Menezes Jr on trombone, Keith Amero on Bass, Steve Russo on Drums, Mike Lentini on saxophone, and Mike Goulart on lead guitar.
ABOUT BEAUPORT PRINCESS CRUISE SHIP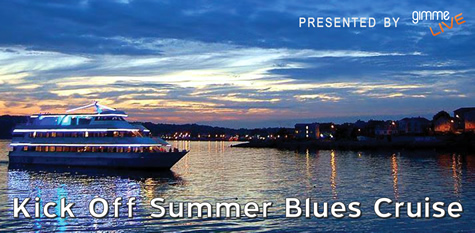 Berthed at Cruiseport Gloucester, where the world's top cruise ships come when they visit Boston's north shore, the Beauport Princess has two fully enclosed decks with dance floors plus an open-air top deck.
We offer theatre seating on the first deck, tables on the second deck and couches on the top deck -- plus three full service bars with wine, beer and top-shelf liquor.
Your ticket includes the concert PLUS a very special Cruise of historic Gloucester Harbor!
You'll witness extraordinary views, only seen by water, of the city's historic skyline, working waterfront, iconic Man at the Wheel statue, Rocky Neck Art Colony, the famous Greasy Pole, America's first lighthouses and more.
Cruiseport Gloucester is a pleasant drive up the coast from Boston (less than an hour) with plenty of free, on-site parking. Click here large map.
Want us to produce a concert or festival to raise money for your organization? Click here!
Want to sponsor one of our shows? Click here!