CASPIAN 10th ANNIVERSARY CONCERT
We'll be celebrating 10 years as a band on Saturday October 18th with a special 10th anniversary show at the beautiful Larcom Theatre in downtown Beverly, MA. We've played some epic spots in the last 10 years - from cathedrals to highway overpasses to seedy house parties - it's all run quite the gamut. I think we can safely say that being able to get into the Larcom and do our thing there is going to be a strong contender for one of the most amazing venues we'll ever have the pleasure of performing in.
Our set will run about 90 minutes and performed in chronological fashion, spanning our entire catalogue and including a few songs we haven't played in a long, long time, and some that we've never performed live before ever. We'll be throwing every inch of ourselves into this production so please get tickets as soon as you can and make sure you don't miss out on this.
The show will wrap up around 10PM so people coming up from Boston will be able to catch the last train back at 10:30PM.
CASPIAN
It's been a while now since the term "post-rock" was first introduced to describe that fertile crescent of rock music that accentuates sound, rhythm and texture over traditional song structure—in short, freedom over form—but lately, even the music itself seems to be moving beyond the imagery of the language. From an artist's perspective, that's no easy feat to pull off, but over the course of four albums and nearly ten years in the trenches, Caspian has emerged as an elite band that deserves a place in the conversation about the changing face, sound and scope of instrumental rock music.
Waking Season is their strongest statement yet—a fully immersive and almost mystical sonic experience that breaks open possibilities and busts through barriers with each new listen. Recorded and mixed with producer Matt Bayles, whose matchless work with Isis, Mastodon, Minus the Bear, Russian Circles and MONO alone has made him a creative force in prog-metal and noise-rock, the album marks a real transformation for the band, according to guitarist and founding member Philip Jamieson.
"WE LET GO OF THOSE GENERAL FEARS THAT YOU HAVE WHEN YOU START GOING INTO NEW TERRITORY"
"With this record we became a little less self-conscious about what we're doing," he observes. "We let go of those general fears that you have when you start going into new territory—wondering if people will like it, or if it's going to connect. I think the letting go of egos was a real turnaround for us. We really believe in this record, and I guess the boldness that we feel about the music is now reflected in the album title."
It's a confidence that's been inexorably building since 2003, when Jamieson and three friends—guitarist Calvin Joss, bassist Chris Friedrich and drummer Joe Vickers—took over a rundown factory near their home base in the quiet beachfront town of Beverly, Massachusetts. Almost immediately, they started bashing out the propulsive rhythms and ecstatic washes of guitar-driven sound that simmered at the core of their first EP, 2005's You Are the Conductor. They were channeling influences as far-flung as Pink Floyd, Penderecki, Mogwai, Godspeed You! Black Emperor and more, but they'd also tapped into a seam of their own. Jamieson and Joss, with their intricately layered guitar parts, could be as meditative as they were explosive, while Friedrich and Vickers showed they could lay down a heavy tread of low end and big beats without sacrificing dynamics—the hallmark of any rock rhythm section that has its ears wide open.
In 2007, the band released and toured the U.S. behind a full-length album, The Four Trees, and expanded their ranks when classically trained guitarist Erin Burke-Moran joined the fold. As unique as a three-guitar lineup is in any style of music (think of Iron Maiden or even Lynyrd Skynyrd, for starters), it's no picnic unless everyone is listening closely. "Erin is probably the greatest guitar player I've ever worked with," Jamieson says. "He's really into Segovia and Bach and a lot of the Spanish players, so he has amazing skill and an amazing ear for music." Burke-Moran makes his presence felt on 2009's Tertia, which ripples with chordal explorations (on songs like "Ghosts of the Garden City") and hypnotic textures ("Epochs in Dmaj") that were more implied, rather than heard, on the earlier Caspian recordings.
Which brings us back to Waking Season and the single-minded "all for one" sense of purpose that drove the making of the album. The band had been actively seeking a new sound, but after a few false starts, they realized as a unit that the only way to move forward was to air everything out—every hang-up, every emotion, and most importantly, every idea.
"We try to keep the band as democratic as possible," Jamieson explains. "Anybody can bring whatever they have to the table, and I think some of the guys were a little hesitant to present their ideas, just because they were pretty different than what we'd done before. So after a bunch of long discussions, somewhere around mid-May [in 2011] we had a resurrection, and then it was off to the races. I think those conversations created an environment where everyone felt comfortable bringing their ideas to the table, no matter how different or strange they might have been."
"WE TRIED INTENTIONALLY TO STAY AWAY FROM USING CANNED STRING SOUNDS OR SUPER-DUPER SCI-FI SYNTH SHIT"
Possibly the band's most radical move was recruiting Bayles to produce the sessions. "We've always called the shots when it comes to how we record and mix," Jamieson says, "so at first, working with Matt was a shock to the system, but I think it was exactly what we needed. He's very specific and has a lot of confidence in his own approach, so we just had to let go of that control, and you can hear the results of that. The music on this record is a lot more patient; it takes more time to develop, and I think we practiced that during the recording process. In the end, it was a humbling experience, but it was enlightening too."
Fittingly, Waking Season opens with the title track; it starts with a simple piano figure and wind effects, building slowly into a lush, textural soundscape that seems to break like the morning sun over a distant horizon. "Procellous," by contrast, surges with voice-like sounds that set the stage for the guitars—and a live string quartet—to propel the song into the stratosphere. The ten-minute epic "Gone in Bloom and Bough" oscillates through multiple moods anchored by a ghostly vocal line—a first for Caspian, and a stellar example of the patience the band exercised in arranging each song's distinctive parts. By the time we get to the beefed-up drums of "Halls of Summer" and the backwards loops that underpin the jazzy, pastoral groove of "Akiko," it's clear too that the band has opened itself up to sampling and signal-processing, but never to excess. Like the faraway sustained guitars that whistle over the top of "Hickory '54," or the static-frying percussion loop that kicks off "Fire Made Flesh," every sound, organic or electronic, has its place.
"We wanted everything to sound as natural as possible," Jamieson explains. "We tried intentionally to stay away from using canned string sounds or super-duper sci-fi synth shit. All the textures are from the guitars, or stuff I filtered through a sampler, so it never sounds as cold and coarse as something that you might create on a computer. We just wanted to make sure that all the performances were from actual real instruments, whether they're live or processed."
And that's one of many discoveries to be gleaned from Waking Season: that in the right hands, the technology needn't diminish the humanity behind the music. There's certainly plenty of precedent for that approach, from the work of Brian Eno to Aphex Twin, but as the tools continue to morph, so does the music's potential, to the point where any band can easily define its own genre. Call it progressive, futuristic or revolutionary—call it post-post-rock, even. Whatever your preference, the intrepid musos of Caspian are onto something different. Brace yourself.
History of the Larcom Theatre - 13 Wallis Street, Beverly MA, USA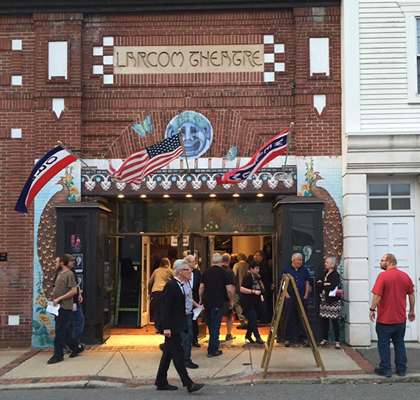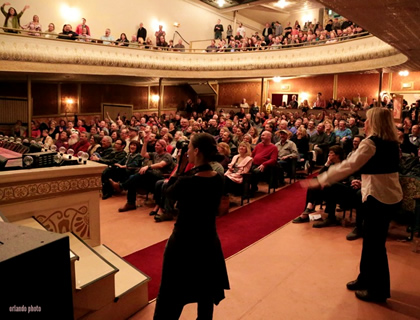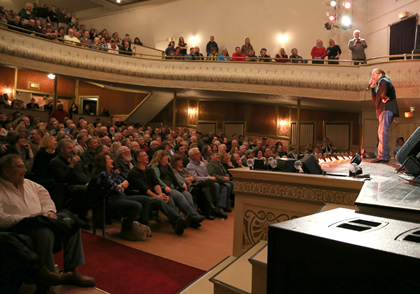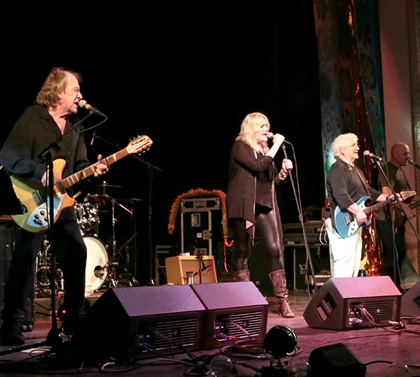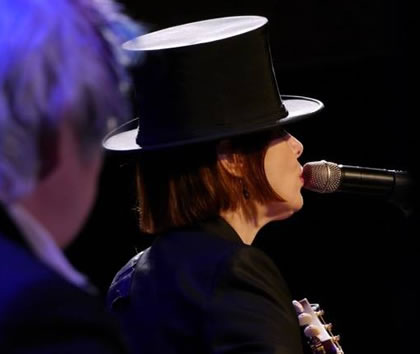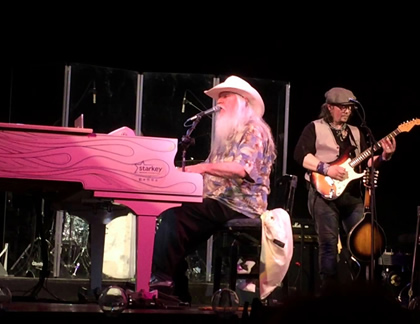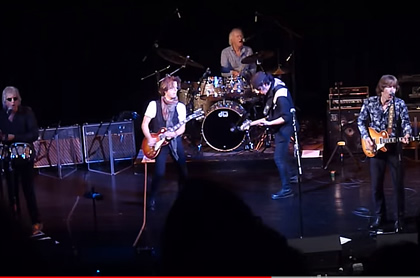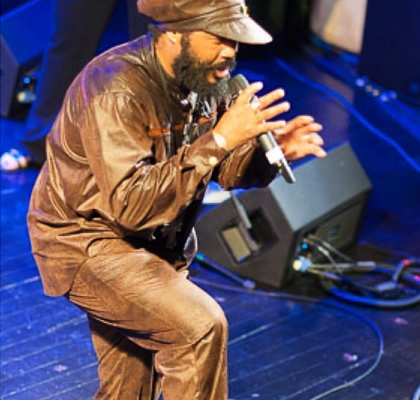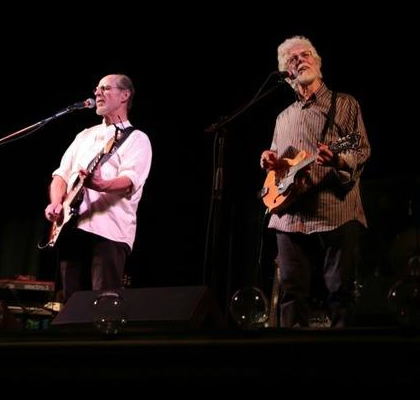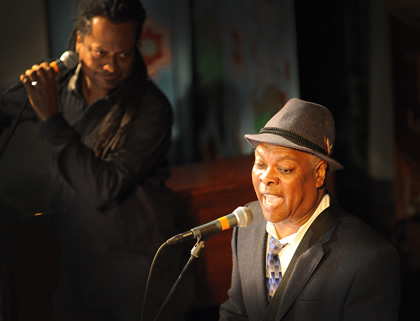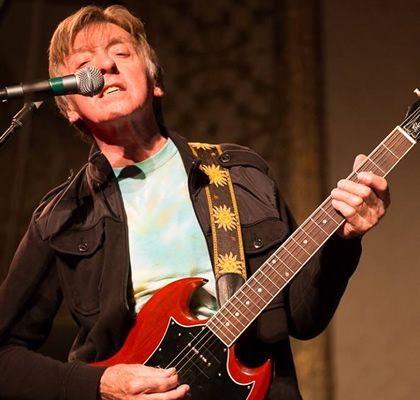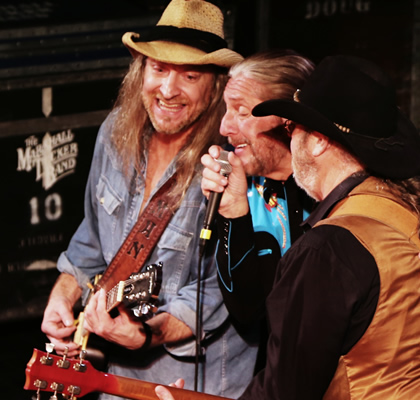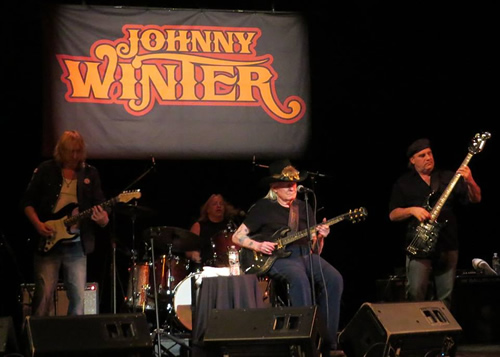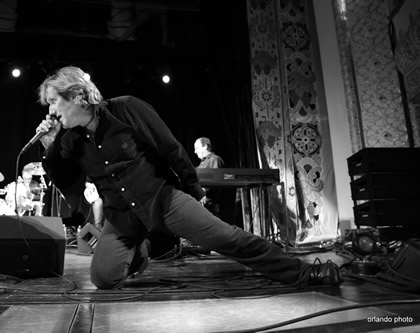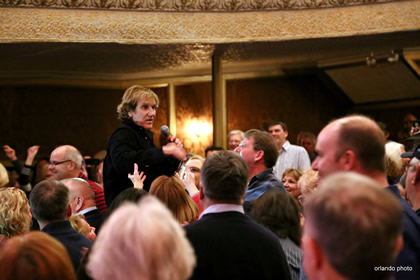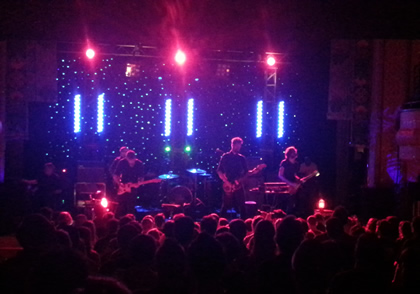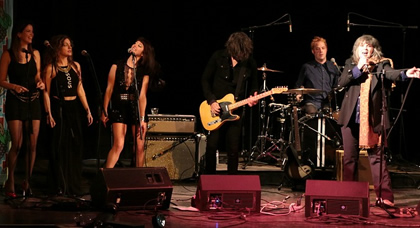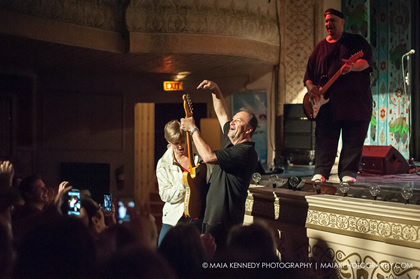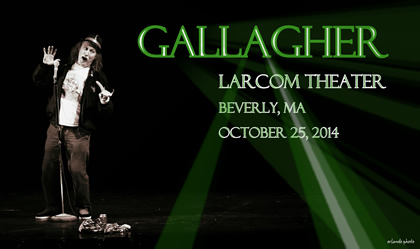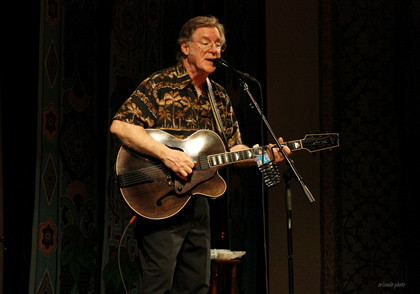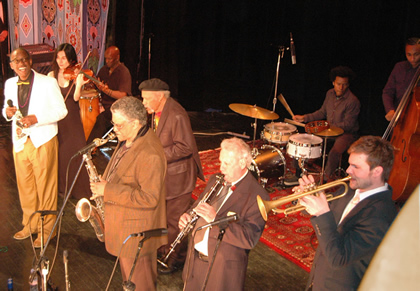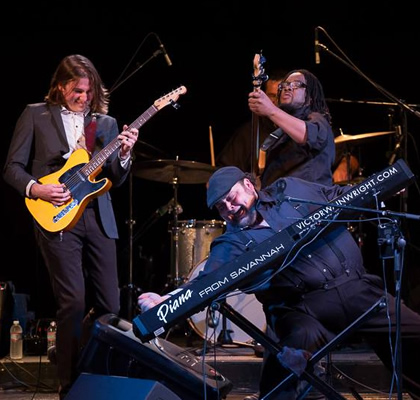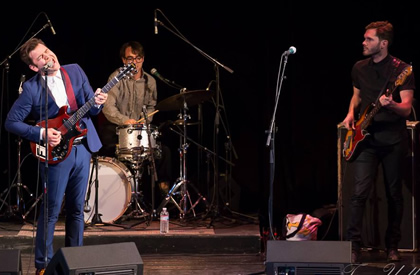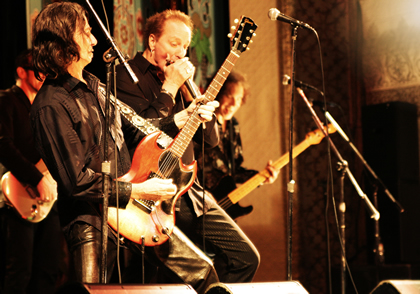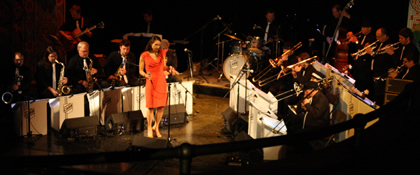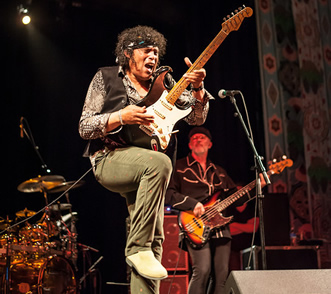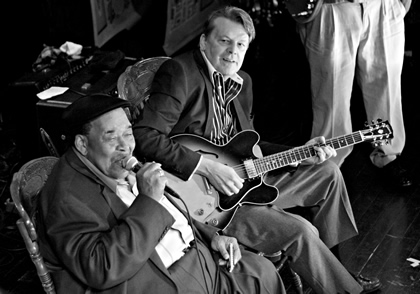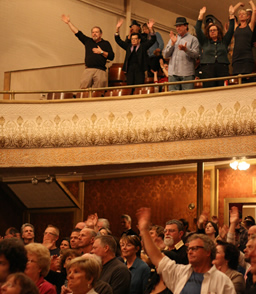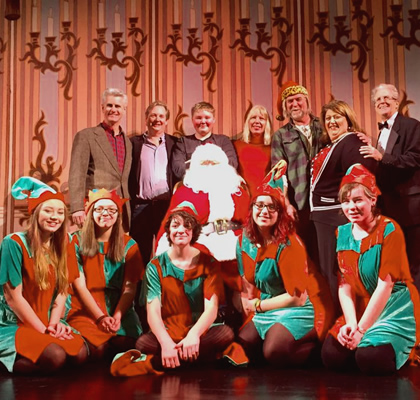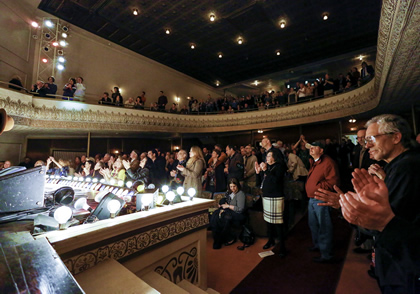 Shows at Beverly's Larcom Theatre 2013 - 2017
photos by Sheila Roberts Orlando unless otherwise noted
The Larcom Theatre was built in 1912 (the same year as Boston's Fenway Park) by brothers Harris and Glover Ware (vaudeville musicians from Marblehead, MA) on the birth site of their favorite poet, Lucy Larcom.
The Larcom Theatre's grand opening advertised that its interior was lit completely by electricity.
During its 106 year history, The Larcom Theatre has presented stage, screen and musical entertainment. In 1984 the Larcom's elegant horseshoe balcony, hand-painted antique pressed tin ceilings and original silk wall coverings were restored to their original glory by Le Grand David Magic Company, who presented their award-winning magic show there until the company's founder, Cesareo Pelaez, died in 2012.
In April 2013, after the Larcom Theatre had been dark for about a year, Vickie and Peter Van Ness of gimmeLIVE produced a sold-out Mardi Gras Benefit Concert that filled the Larcom Theatre with music for the first time since the days of Vaudeville.
In 2014, gimmeLIVE installed a new, state-of-the-art sound system featuring Meyer line arrays and subs. GIMMELIVE concerts at the Larcom Theatre have received stellar reviews for the quality of both the music and the sound.
Later in 2014, Peter and Vickie co-produced That's When I Know It's Mardi Gras, a live CD recorded in front of an audience at the Larcom Theatre featuring New Orleans vocalist Henri Smith with Grammy Award-winners Charles Neville and Amadee Castenell.
In 2015, gimmeLIVE hosted The James Montgomery Band at the Larcom Theatre and, once again, recorded a live CD, which was released in November of that year. GIMMELIVE also hosted James Montgomery's "Live at the Larcom" CD Release Benefit Concert, which raised money for veterans organizations. (Many gimmeLIVE shows raise money for charity. Click here if you'd like gimmeLIVE to produce a concert or festival to raise money for your organization.)
In early 2017, gimmeLIVE expanded into the building adjoining the Larcom Theatre (at 9 Wallis Street), formerly owned by members of Le Grand David Magic Company and known as the Grand Salon. GIMMELIVE has re-branded this elegant venue as 9 Wallis, which is now the North Shore's most intimate listening room offering comfortable show seating at tables with food & beverage service, including wine, craft beers and specialty cocktails.
9 Wallis is a beautifully restored, tremendously flexible space that is also available for private parties and corporate events. GIMMELIVE can book world-class entertainment, including national touring artists, for your event. The stage, with state-of-the-art sound and lighting plus Ultra-High-Definition (UHD) 4K Video, can accommodate any performance or presentation. The room is completely wired with CAT6 for high-speed internet access. Click here if you'd like someone to contact you about booking a party or corporate event.
Donnie & Lisa Crowell purchased The Larcom Theatre in September 2016 and renamed it The Larcom Performing Arts Theatre or "The Larcom" for short. Tickets to shows at The Larcom can be purchased here.
CLICK HERE to see upcoming shows nearby.