Critically Acclaimed Shows ... Up Close & Personal
A TRIBUTE TO JOHNNY CASH THE MAN IN BLACK STARRING SHAWN BARKER
DATE
Friday, November 11, 2016
TIME
8:00PM (Doors Open 7:00PM)
VENUE

The Larcom Performing Arts Theatre

13 Wallis Street

Venue Details
TICKETS
RESERVED SEATS

(ALL AGES)

$25.00, $35.00, $45.00
Close your eyes and imagine the unique sound of Johnny Cash, as you heard him for the first time. Now open your eyes and experience this musical superstar recreated live on stage in the hit show: The Man In Black, A Tribute to Johnny Cash at Beverly's intimate Larcom Theatre.
The Man In Black delivers the raw prowess that made Johnny Cash a 20th century icon, while capturing his ability to cross musical genres, age and ethnic barriers with his instantly recognizable classic sound.
Widely acclaimed by critics and fans, the star of The Man In Black show, Shawn Barker, is considered the pre-eminent Johnny Cash tribute, having an uncanny resemblance to a younger Cash, enhancing his stunningly accurate and remarkably authentic portrayal.
[The Man in Black is] like the way the Johnny Cash Show was back in the 1960s ... It's amazing ... It's like I'm starting over again.
I was awed by his performance ... He sounds just like John!
Barker True to Spirit of Johnny Cash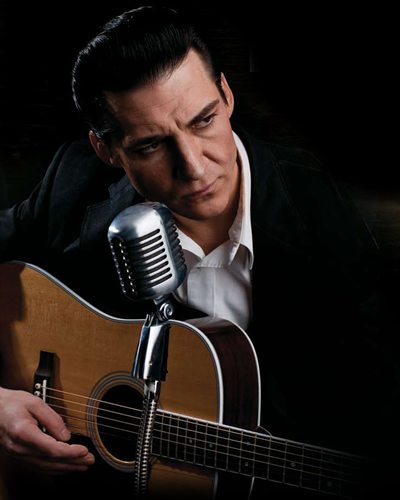 MEET THE STAR
Shawn Barker was born and raised in a suburb about fifteen minutes east of St. Louis, Missouri. He still lives there today, when he isn't on the road touring.
Brought up in a christian family, his first influences in music were the gospel hymns sung at his parents church. Shawn always had a intrest in music and performing, and at the young age of 11 years old, he started learning the drums and played in the elemetary school band, and continued up through Junior high. The drums becam an instrument that he played up through his teenage years.
Like any young person his age, Shawn was a big fan of the rock music, popular in the early 80's and 90's, but also loved the early music he heard his parents listeneing to. Bands like Jay and the Americans, Buddy Holly and the Crickets, acts like Roy Orbison, and of course Johnny Cash, and Elvis were favorites on the long droves to Arkansas for a family vacation.
In 1992 Shawn graduated from high school, and left, five short days later, for the US Army. He served a full two and a half year term from June, 1992 thru the end of October 1994. After his time in service Shawn returned home to the St. Louis area. He recalls his time in the Army as some of the hardest, but best times of his life.
Back home, Shawn found himself very interested in a new trend of coffee house music that had become popular in the US in the early 90's. After spending a few nights in a local coffee house "Daves Cappuccino" and watching the musicians come into an intimate setting with just a stool and acoulstic guitar, Shawn was sold. He bought his first acoustic and started practicing. Within a few months Shawn was no longer watching the muscians but performing. Songs by artist like Neil Young, America, and original songs he was writting himself became part of his set list. Shawn atributes this time to what really honed his skills as a front man and entertainer.
One Hallloween in 2001 Shawn sprayed his hair black and dressed as Elvis for a costume. People were so impressed with the look that the following August, band mates and co-workers urged him to enter an elvis impersonator contest, that a local radio station was holding in town. Always up for a challenge, Shawn agreed and dyed his hair black, rented a costume, entered, and won the contest hands down. Although the night was more of a joke and meant to be no more than a night of laughs for him and his friends, Shawn started getting request to perform as Elvis at different events. This turned into a carreer of over five years performing and appearing as "The King of Rock n' Roll". Shawn has performed in Vegas, Branson, and all over the US as Elvis. At one point Shawn was awarded a Elvis special eddition Gibson guitar as on of the top Elvis tribues in the country.
Auditioning for the part of Elvis in a Hollywood production of "The Million Dollar Quartet"(the famed SUN records recording artist Elvis, Johnny Cash, Carl Perkins, and Jerry Lee Lewis) the director asked Shawn to also send video of him portryaing the other characters in the script. Shawn did and was instantly cast as Johnny Cash. This started a one-year character study of Johnny Cash, his life, music, and stage presence. Shawn ended up turning down the role in "The Million Dollar Quartet" because of scheduling conflicts.
During this same time Shawn was performing in an all Elvis tribute show, Shawn suggested to the producer, and now Shawns personal mager Kurt Brown, that he throw a twist into the show and come out to perform as Johnny Cash. Kurt immediately recognized Shawn's calling for portraying the legendary Johnny Cash, and booked him into and upcomming all country tribute show.
So impressed with Shawns performance, Kurt created and scripted a show for Shawn called; The Man In Black Show, which is now drawing great success throuought North America, with shows performed and booked in numerous venues across the country.
Shawn has had the opportunity to travel to Australia to perform as Johnny Cash in a month ling tour, and has had the pleasure to perform, and mantain a friendship with W.S. "Fluke" Holland, Johnny Cash's original drummer for 40 years.
This year, along with performing and touring"The Man In Black", Shawn is very proud to have found time to record and release his first solo project, "Where I Am" along with guitarists Mike Burns, and Toronto songwriter/musician Wade Mosher. The CD is a compilation of original songs written by Shawn, and songwriters Shawn has met and became friends with over time, and a few covers by artist Shawn was influenced by or inspired by while recording.
Shawn says he will continue to perform as, and be inspired by Johnny Cash.
History of the Larcom Theatre - 13 Wallis Street, Beverly MA, USA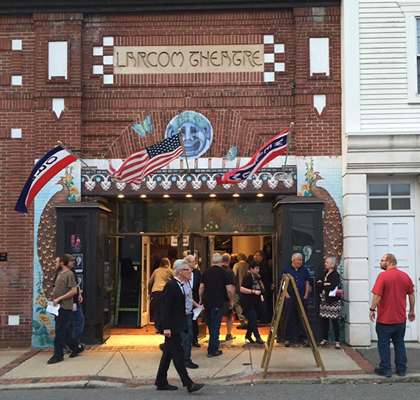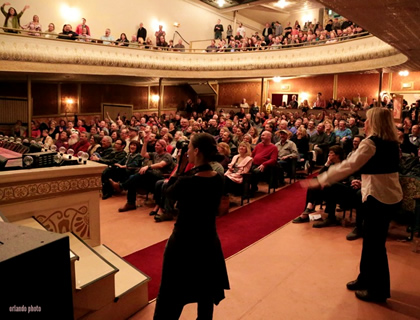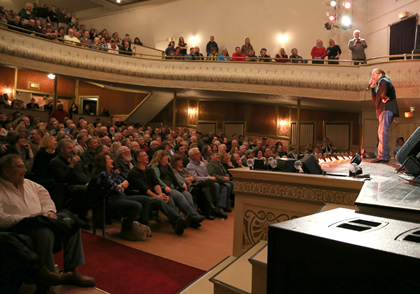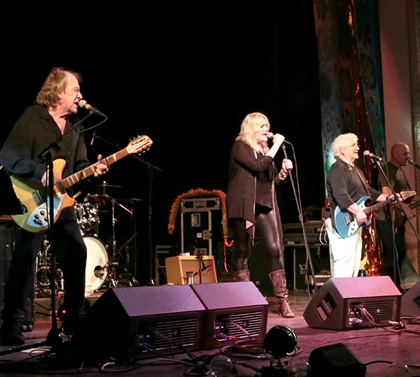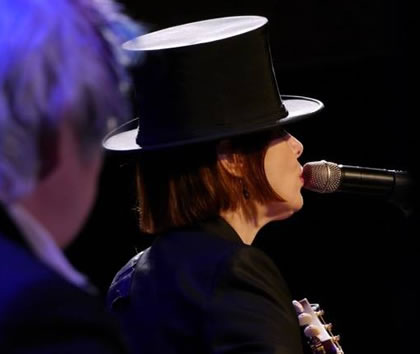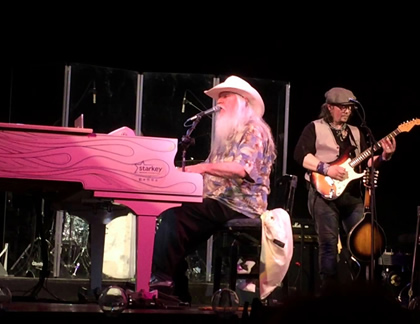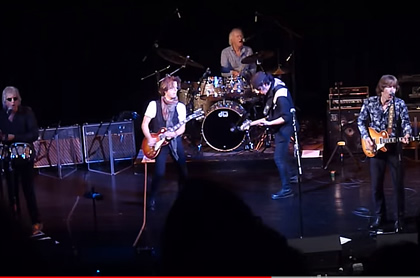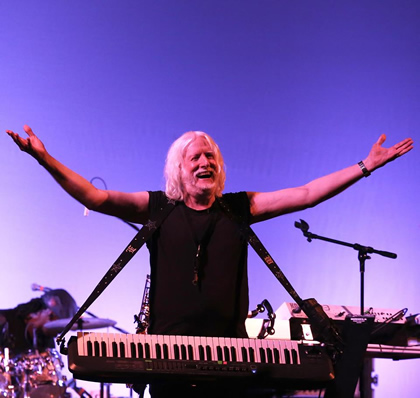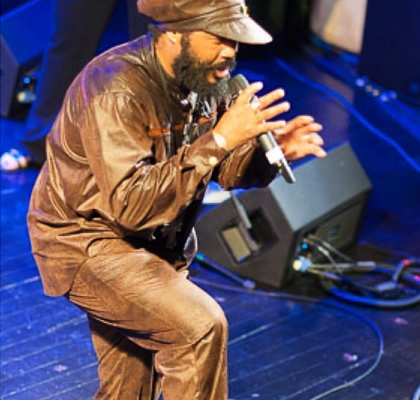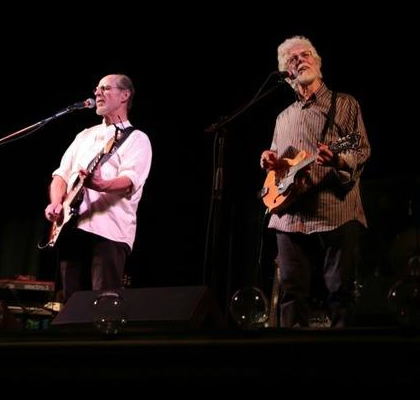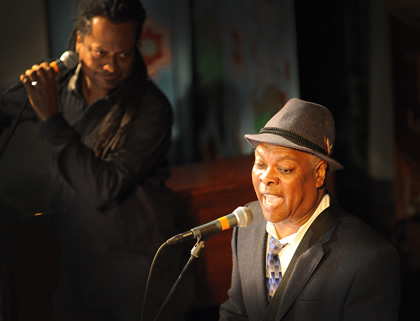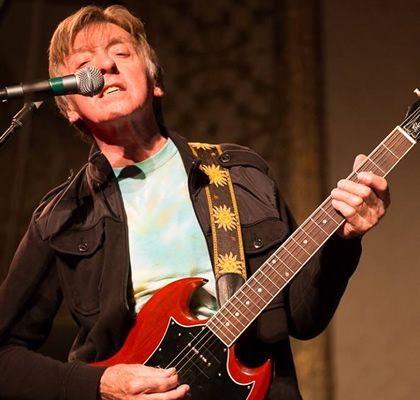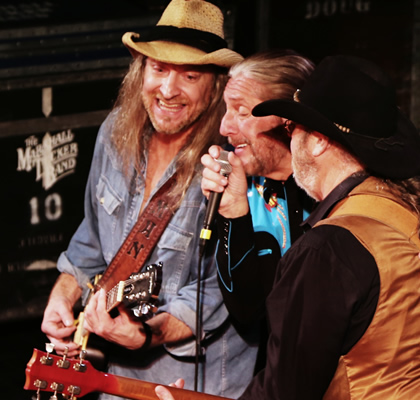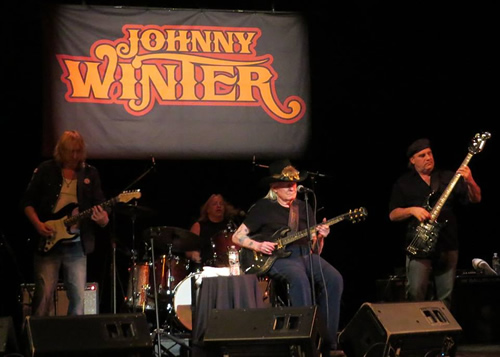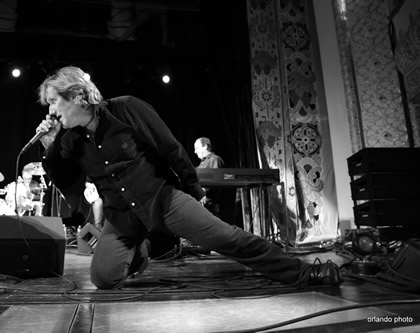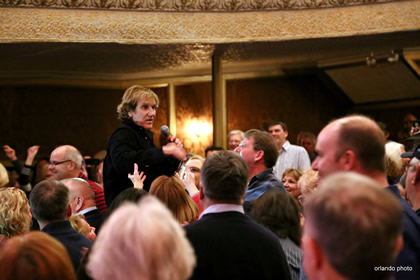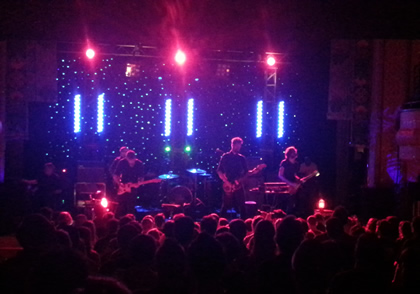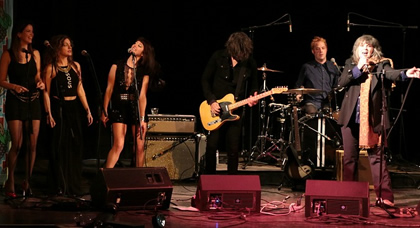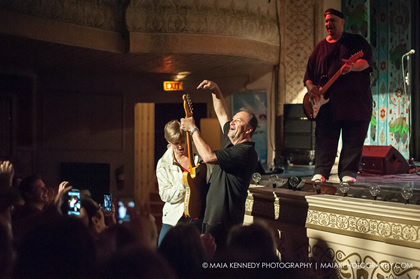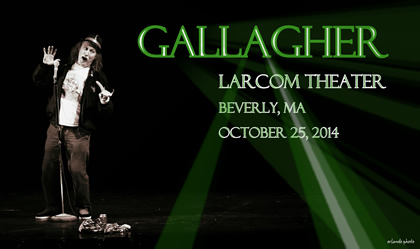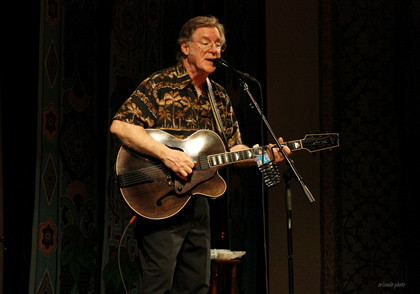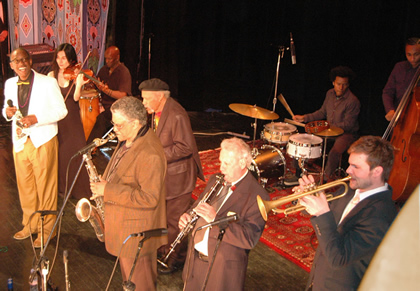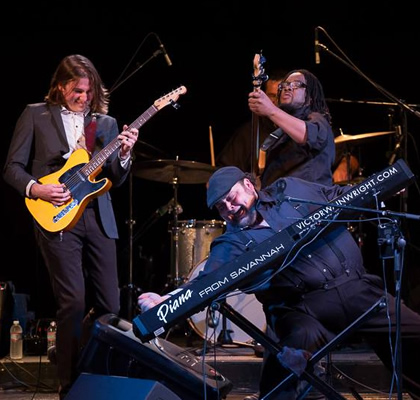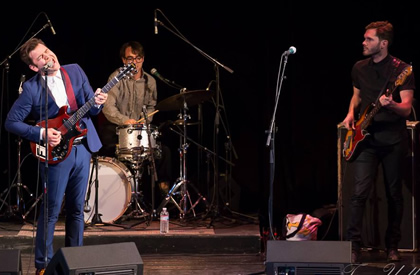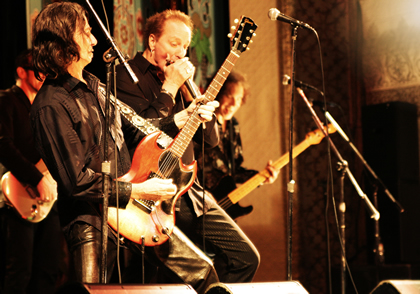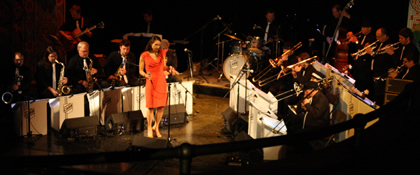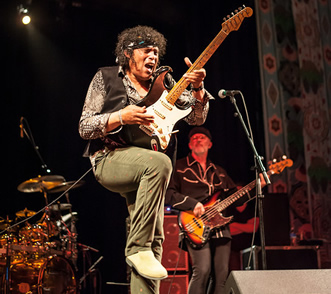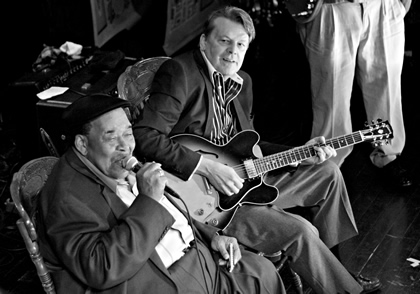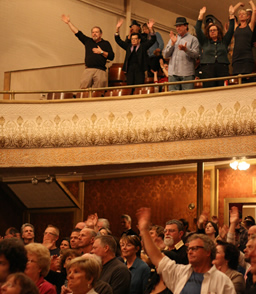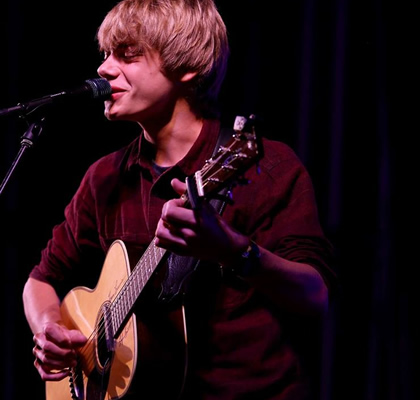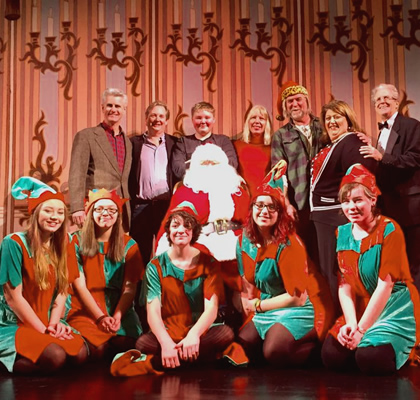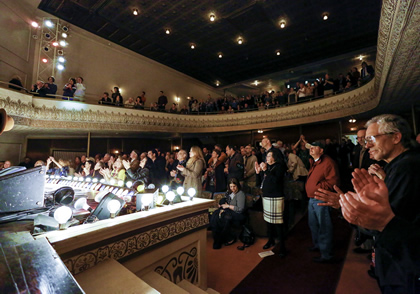 Shows at Beverly's Larcom Theatre 2013 - 2017
photos by Sheila Roberts Orlando unless otherwise noted
The Larcom Theatre was built in 1912 (the same year as Boston's Fenway Park) by brothers Harris and Glover Ware (vaudeville musicians from Marblehead, MA) on the birth site of their favorite poet, Lucy Larcom.
The Larcom Theatre's grand opening advertised that its interior was lit completely by electricity.
During its 109 year history, The Larcom Theatre has presented stage, screen and musical entertainment. In 1984 the Larcom's elegant horseshoe balcony, hand-painted antique pressed tin ceilings and original silk wall coverings were restored to their original glory by Le Grand David Magic Company, who presented their award-winning magic show there until the company's founder, Cesareo Pelaez, died in 2012.
In April 2013, after the Larcom Theatre had been dark for about a year, Vickie and Peter Van Ness of gimmeLIVE produced a sold-out Mardi Gras Benefit Concert that filled the Larcom Theatre with music for the first time since the days of Vaudeville.
In 2014, gimmeLIVE began bringing Grammy-winning national touring and recording artists and Rock & Roll Hall of Famers to the Larcom, which ushered in a new era of top quality entertainment in the heart of downtown Beverly, MA. GIMMELIVE concerts at the Larcom Theatre received stellar reviews for the quality of both the music and the sound system installed by gimmeLIVE.
Later in 2014, Peter and Vickie co-produced That's When I Know It's Mardi Gras, a live CD recorded in front of a sold-out audience at the Larcom Theatre featuring New Orleans vocalist Henri Smith with Grammy Award-winners Charles Neville and Amadee Castenell.
In 2015, gimmeLIVE once again recorded a live CD featuring the James Montgomery Band, which was released in November of that year. GIMMELIVE also hosted James Montgomery's "Live at the Larcom" CD Release Benefit Concert, which raised money for veterans organizations. (Many gimmeLIVE shows raise money for charity. Click here if you'd like gimmeLIVE to produce a concert or festival to raise money for your organization.)
In early 2017, gimmeLIVE took over the building adjoining the Larcom Theatre (at 9 Wallis Street), formerly owned by members of Le Grand David Magic Company and known as the Grand Salon. GIMMELIVE transformed this venue into 9 Wallis, which is now the North Shore's most intimate, elegant listening room offering comfortable show seating at tables with food & beverage service, including fine wines, local craft beers, specialty cocktails (featuring local distilleries and all-natural juices) and top-shelf spirits.
Because of its beautifully restored, tremendously flexible space with the best dance floor on Boston's North Shore, 9 Wallis has become a favorite venue for fundraisers, private parties and corporate events. Local charities have raised thousands of dollars at 9 Wallis (see examples). With world-class entertainment, an event can begin as a cocktail party or fully seated dinner...then transform into a nightclub-style dance party with concert quality sound and stage lighting. Click here to inquire about booking a fundraiser, party or corporate event at 9 Wallis.
Donnie & Lisa Crowell purchased The Larcom Theatre in September 2016 and renamed it The Larcom Performing Arts Theatre or "The Larcom" for short. Tickets to shows at The Larcom can be purchased here.
CLICK HERE to see upcoming shows nearby.