Critically Acclaimed Shows ... Up Close & Personal
LEZ ZEPPELIN | ALL GIRLS. ALL ZEPPELIN.
DATE
Friday, October 14, 2016
TIME
8:00PM

(Doors 7:00PM)

VENUE

The Larcom Performing Arts Theatre

13 Wallis Street

Venue Details
TICKETS
RESERVED SEATS (ALL AGES)

$19.00, $29.00, $39.00
Taking the sturdy sex appeal of the original dudes and rotating it to match their own femme vibe, the powerful Lez Zeppelin hits it note-for-note for a revolution in rock history reincarnation. With musicianship that exceeds all expectations, out-there swagger and gender-bending audacity, NYC's all-girl quartet is critically acclaimed as one of the most exciting live acts and the first female rock band to pay homage to Led Zeppelin. Their skillful renditions of Zeppelin's music serve as the authentic female counterpart to Zeppelin; their recent album, Lez Zeppelin I is a true-to-life recreation of Zeppelin's 1969 debut. WATCH VIDEOS
The most powerful all-female band in rock history
a "she-incarnation" of rock's most hallowed foursome
This band is for real ... furious rock goddesses
LEZ ZEPPELIN, the New York City-based all-girl band has gained worldwide critical acclaim for the musicianship, passion and gender-bending audacity they bring to the music of Led Zeppelin.
ALL GIRLS ALL ZEPPELIN
Founded in 2004 by New York guitarist, Steph Paynes, It wasn't long before the group's reputation for playing Zeppelin's music with a kind of passion and force beyond anyone's expectations began to attract major interest from press and industry. In June, 2005, Chuck Klosterman wrote an article for SPIN magazine that featured Lez Zeppelin as a leading protagonist in a trend of all-female hard rock "tribute" bands. He referred to the group "the most powerful all-female band in rock history" and described the rise of bands like Lez Zeppelin as a "kind of multilayered cultural phenomenon." The fortunes and notoriety of the group surged after this and Lez Zeppelin became provocative subject for the news media across the world. Stories about the group appeared in the Times of London, whose journalist called the band "the best new band I've seen all year, no question;" Reuters and CNN.com, which ran a front page feature that called the group so "electrifying" they are "driving club audiences to a frenzy." The group also appeared as part of a major feature on CBS Good Morning, which ran nation-wide, as well as on many other local TV news spots in New York (ABC, WB) and across the country.
In April 2007, after extensive touring in the US and Europe the band released its first album, Lez Zeppelin, which was produced by Eddie Kramer, renowned for his work as recording engineer on several of Led's albums – most notably, Led Zeppelin II, Physical Grafitti and The Song Remains the Same. In the wake of this release, the band was invited as the first "tribute band" to ever appear at a series of major rock festivals including the Download Festival (formerly Donnington Park) in the UK; Rock-Am-Ring and Rock-Im-Park in Germany; and at the Voodoo Festival in New Orleans. However, it was an announcement in February of 2008, that Lez Zeppelin would take the stage at the Bonnaroo Festival that sparked a worldwide media storm. Several major press organizations, including the Associated Press, Billboard, NME, the Chicago Sun Times and more, reported mistakenly that LED Zeppelin – in the wake of their historic reunion at the O2 in London -- would headline the festival, an embarrassing gaff that had to then be corrected, turning the announcement of Lez Zeppelin's appearance into headline news across the world. Lez Zeppelin became a much-anticipated highlight of the festival, headlining opening night with a blistering set for an audience of 20,000 people.
Throughout 2008, the group continued to tour heavily in the U.S. and in the late fall made its first visit to Japan to promote the release of the debut record, which had sold nearly 7,000 copies the first few months after release. In March 2009, Lez Zeppelin was invited to India by a major network media task force to headline The Concert for Mumbai, a benefit organized to buy ambulances, which were sorely lacking in the aftermath of the terrorist bombings in Mumbai. Again, Lez Zeppelin held the unique distinction of being the first American group of its kind to take part in an event of this magnitude.
Following a three-month tour of the US, the band headed back into the studio to start on a second album, which would take the group back to where it all began – Led Zeppelin's 1969 debut. The band solicited the help of producers Perry Margouleff and William Wittman, who approached the project with two main musical intentions: to remain true to the sounds and textures of the "vinyl" version of the record and capture that 'tight-but-loose' intensity in the moment. Recording at Margouleff's Pie Studio's, a world class analog facility, the band employed all of the same vintage equipment used by Led in 1968 – from the '50s era Les Paul and Telecaster, to the Supro amp, 60's era compressor, Hammond organ and Fuzzbender stomp box -- working fastidiously to recreate the incredibly complex layers of the album with a dedication that has never before been demonstrated by any band of this type in the history of the rock world.
Lez Zeppelin is set to launch a full-length tour of Europe, the United States and Japan in early 2011 to support LEZ ZEPPELIN I, and to continue to deliver a musical experience that not only exceeds expectations, but serves as the authentic female counterpart to one of the greatest rock groups of all time.
History of the Larcom Theatre - 13 Wallis Street, Beverly MA, USA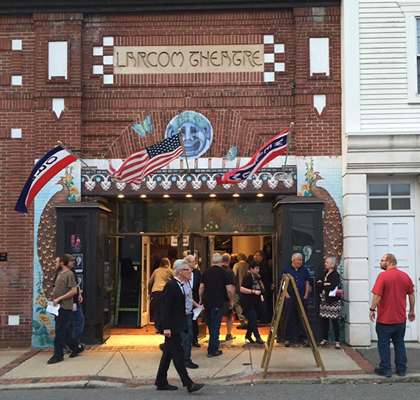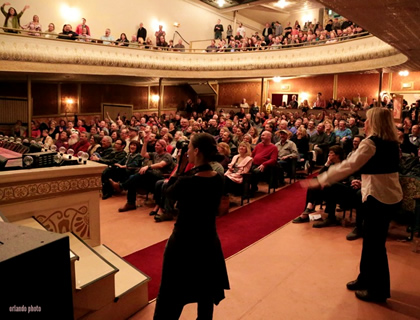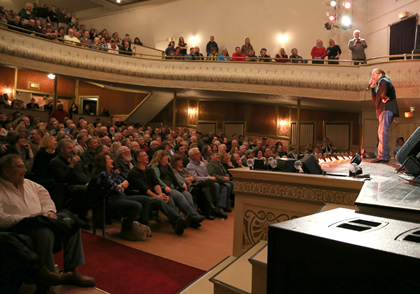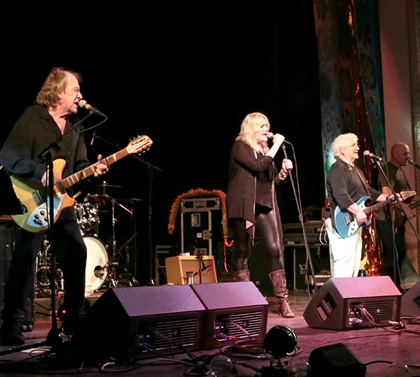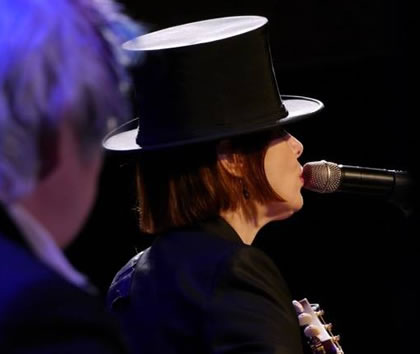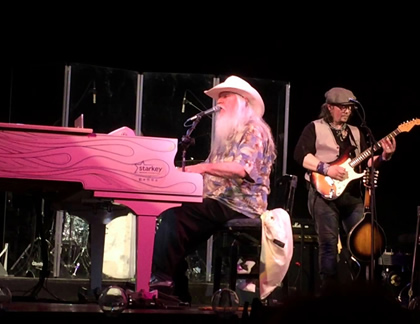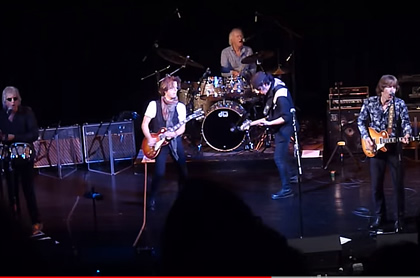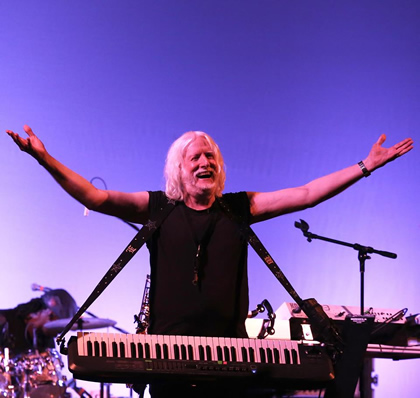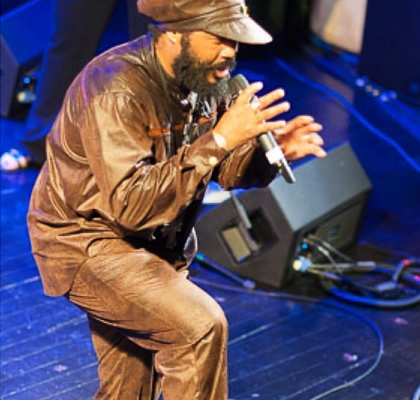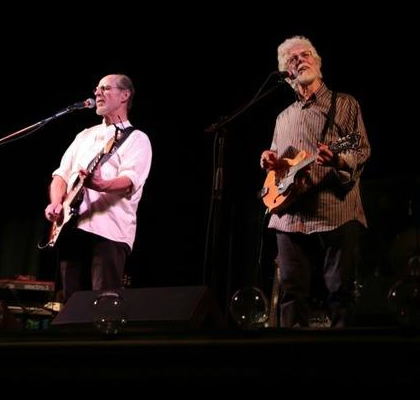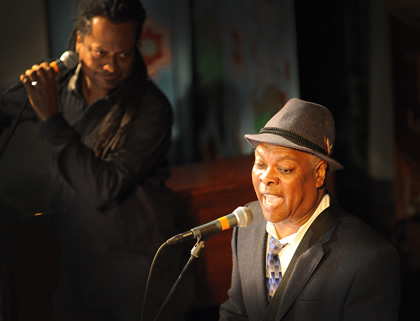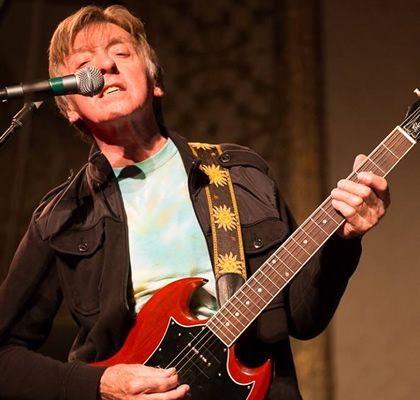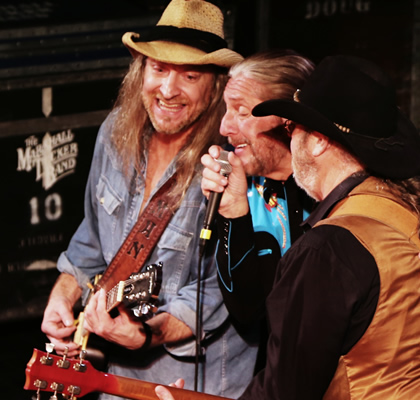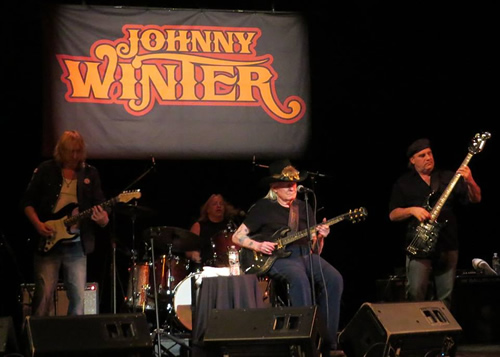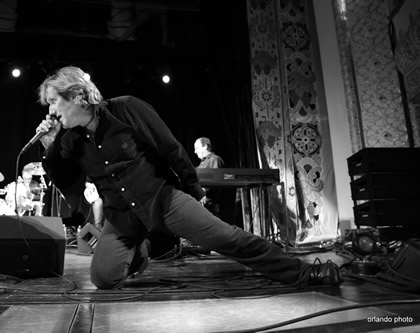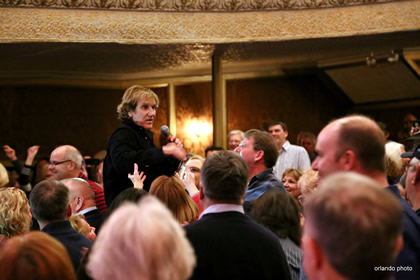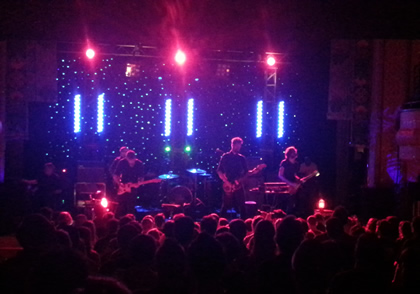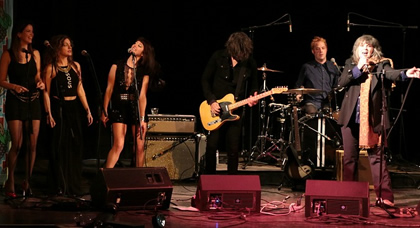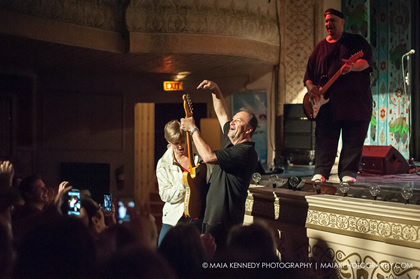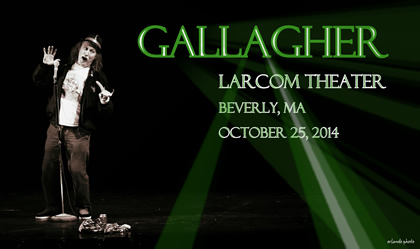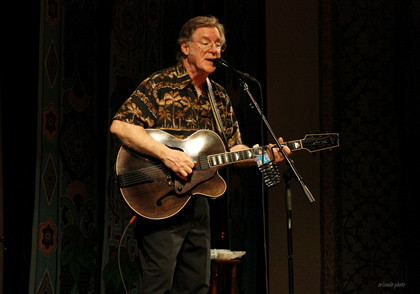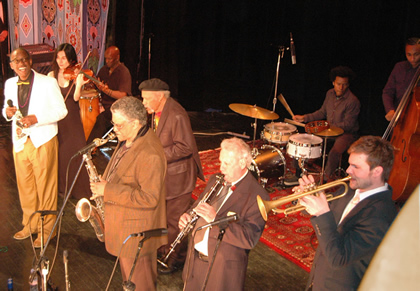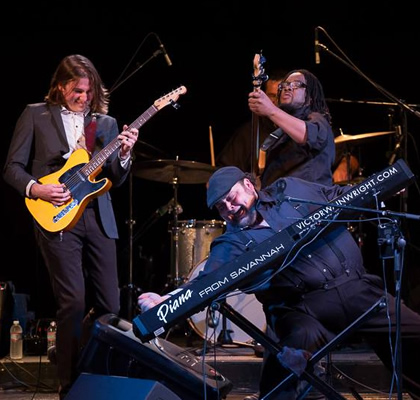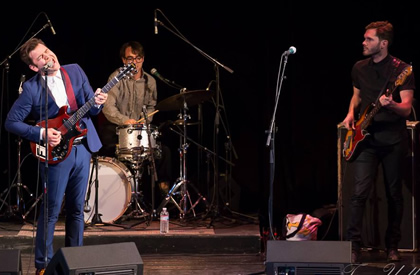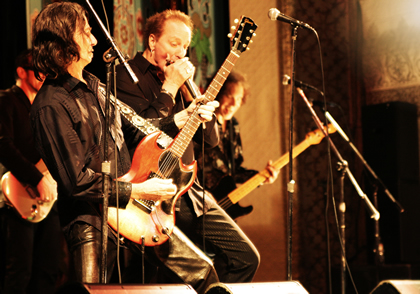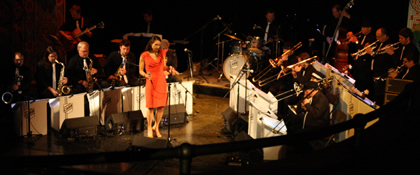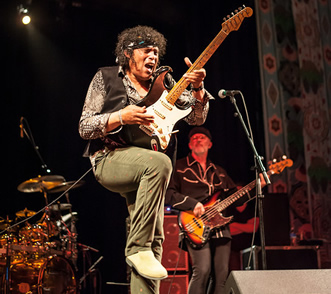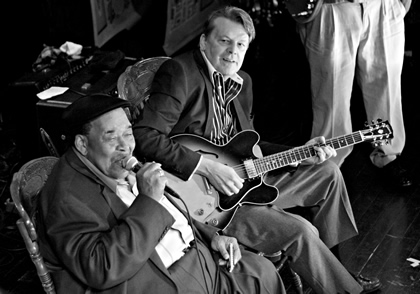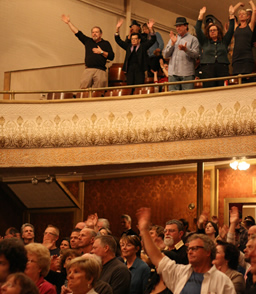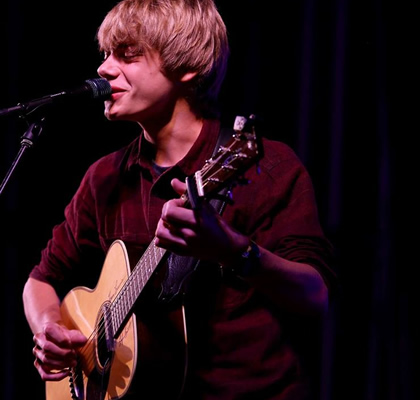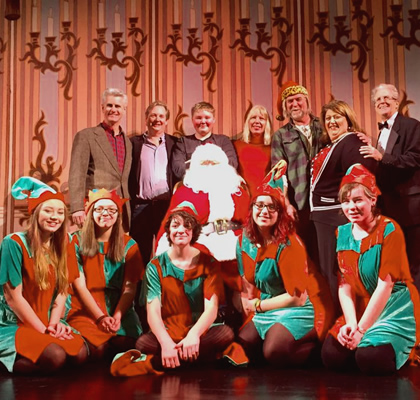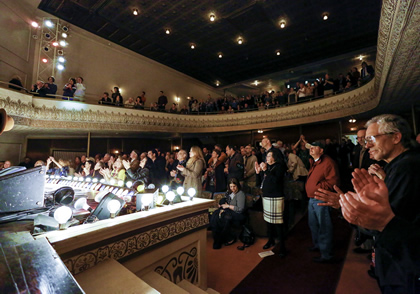 Shows at Beverly's Larcom Theatre 2013 - 2017
photos by Sheila Roberts Orlando unless otherwise noted
The Larcom Theatre was built in 1912 (the same year as Boston's Fenway Park) by brothers Harris and Glover Ware (vaudeville musicians from Marblehead, MA) on the birth site of their favorite poet, Lucy Larcom.
The Larcom Theatre's grand opening advertised that its interior was lit completely by electricity.
During its 108 year history, The Larcom Theatre has presented stage, screen and musical entertainment. In 1984 the Larcom's elegant horseshoe balcony, hand-painted antique pressed tin ceilings and original silk wall coverings were restored to their original glory by Le Grand David Magic Company, who presented their award-winning magic show there until the company's founder, Cesareo Pelaez, died in 2012.
In April 2013, after the Larcom Theatre had been dark for about a year, Vickie and Peter Van Ness of gimmeLIVE produced a sold-out Mardi Gras Benefit Concert that filled the Larcom Theatre with music for the first time since the days of Vaudeville.
In 2014, gimmeLIVE began bringing Grammy-winning national touring and recording artists and Rock & Roll Hall of Famers to the Larcom, which ushered in a new era of top quality entertainment in the heart of downtown Beverly, MA. GIMMELIVE concerts at the Larcom Theatre received stellar reviews for the quality of both the music and the sound system installed by gimmeLIVE.
Later in 2014, Peter and Vickie co-produced That's When I Know It's Mardi Gras, a live CD recorded in front of a sold-out audience at the Larcom Theatre featuring New Orleans vocalist Henri Smith with Grammy Award-winners Charles Neville and Amadee Castenell.
In 2015, gimmeLIVE once again recorded a live CD featuring the James Montgomery Band, which was released in November of that year. GIMMELIVE also hosted James Montgomery's "Live at the Larcom" CD Release Benefit Concert, which raised money for veterans organizations. (Many gimmeLIVE shows raise money for charity. Click here if you'd like gimmeLIVE to produce a concert or festival to raise money for your organization.)
In early 2017, gimmeLIVE took over the building adjoining the Larcom Theatre (at 9 Wallis Street), formerly owned by members of Le Grand David Magic Company and known as the Grand Salon. GIMMELIVE transformed this venue into 9 Wallis, which is now the North Shore's most intimate, elegant listening room offering comfortable show seating at tables with food & beverage service, including fine wines, local craft beers, specialty cocktails (featuring local distilleries and all-natural juices) and top-shelf spirits.
Because of its beautifully restored, tremendously flexible space with the best dance floor on Boston's North Shore, 9 Wallis has become a favorite venue for fundraisers, private parties and corporate events. Local charities have raised thousands of dollars at 9 Wallis (see examples). With world-class entertainment, an event can begin as a cocktail party or fully seated dinner...then transform into a nightclub-style dance party with concert quality sound and stage lighting. Click here to inquire about booking a fundraiser, party or corporate event at 9 Wallis.
Donnie & Lisa Crowell purchased The Larcom Theatre in September 2016 and renamed it The Larcom Performing Arts Theatre or "The Larcom" for short. Tickets to shows at The Larcom can be purchased here.
CLICK HERE to see upcoming shows nearby.