Critically Acclaimed Shows ... Up Close & Personal
REGGAE FEST feat. WARRIOR KING & the ROOTZ WARRIORS with MAMADOU
DATE
Saturday, November 26, 2016

We cannot offer refunds under any circumstances.

TIME
8:00PM (Doors Open 7:00PM)
VENUE

The Larcom Performing Arts Theatre

13 Wallis Street

Venue Details
TICKETS
RESERVED SEATS

(ALL AGES)

$25 ($30 @ Door)
After nine years, WARRIOR KING and the Rootz Warriors are making a big return to New England LIVE on Stage for ONE NIGHT ONLY!
You can be sure you will hear all the best new tunes off his new album ROOTZ WARRIORS as well his classic hits "Virtuous Woman," "Never Go Where Pagans Go," "Empress So Divine," "Ain't Giving Up" & more ...
Always bringing his empowering and unique vocals and inspiring message through reggae music -- so put on your dancing shoes and get ready for a great night out in Beverly!
In addition, North Shore favorite MAMADOU DIOP and his band MAMADOU will be providing back up sounds for this magical night of irie vibes!...Special opening set by DJ's Lion Pride Sound will be getting the place lively with strictly the best in roots, rockers, lovers rock ska, and dancehall.
WARRIOR KING
Like a bolt of lightning from the sky, Rasta messenger Warrior King has burst upon the scene, utilizing his gift of song to spread Jah truth throughout the world. Warrior King was born on the 27th of July, 1979, in Kingston's Jubilee Hospital, soon moving to Clarendon and then settling in the growing city of Portmore at age eleven. "From birth I've always loved music, but it was not until I attended high school at the age of thirteen that I thought about it as something I could do myself," Warrior King explains. "At that time I followed Bounty Killer's style, but then my friends said "You have the potential. You have the talent.' From there I started increasing my own thing, and with encouragement from my peers and divine inspiration, the music started to flow."
Like many successful Jamaican entertainers, Warrior King gained his earliest stage experience in talent shows. "I started out with school concerts at first," he says. "At the time when I just came into music, I used to do some combinations with a youth named "Likkle Blacks" Marlon Stewart. We used to do Tastee's Talent Shows, etc so we could really start getting exposure and gain experience. When he first started out, Warrior King chatted in a hardcore deejay style like his original hero and mentor, Bounty Killer. A switch to the more holistic "Singjay" sound came gradually. "It's a natural thing that has grown inside of me, even without me realizing it,' the singer reasons. "People started telling me they love my style of singing now. So, really and truly it's just a natural change." Even his name is an extension of this evolution. "Frisco Kid changed my name from 'Junior King' to 'Warrior King' because it has a more spiritual feel to it. Fighting against oppression, fighting against wrong. I'm Jah Warrior, yuh know, fighting a war of rootical love.
Warrior King's debut single, "Virtuous Woman," was an international smash hit, its righteous lyrics prompting the Jamaica Observer to declare the singer "one of the artistes who has made a difference." Since his auspicious beginning, Warrior King's compositions have consistently charted not only in his native Jamaica, but throughout the entire Caribbean, New York, California, London, Tokyo, and beyond. "A Friend Indeed" received heavy rotation in Jamaica, while "Jah Is Always There" was a summer smash on Atlanta's More Fire chart. The inclusion of "Never Go Where Pagans Go" on VP Records' compilation set "Reggae Gold" further raised the artist's pubic persona. Tracks like "Virtuous Woman," "Can't Get Me Down" and other compositions have built the foundation of Warrior King's reputation. Warrior King has now released four internationally acclaimed albums, entitled "Virtuous Woman, Hold the Faith, Love is in the Air, Tell Me How Me Sound".
Now the conscious singer has released his newest full-length album entitled "The ROOTZ WARRIOR."
Each song featured on the CD has a different style and the message emphasizes Purity, Truth, Strength, and Love.
"Ain't Giving Up" is the first international single from the new Rootz Warrior album, and the track already smashing barriers on radio publicity machines around the globe.
Warrior King believes that education is the key to better lives and hopes that his music will serve to convey the teachings of His Imperial Majesty, Haile Selassie I. "As a Rastafarian, I understand we must teach religious Tolerance , Peace between all, and I just don't sing music, I sing music with a purpose, a mission, and Love.
To the four corners of the Earth," says Warrior King, "I carry my music, the message of the King, and the message of Love to all people of all races ..."
MAMADOU DIOP
A winner of multiple awards, Mamadou Diop and his band MAMADOU are known for their eclectic blend of exotic rhythms and powerful percussion jams that will set your feet and spirit dancing! Weaving together diverse musical traditions with the powerful rhythms of West Africa, the unique and high energy music of MAMADOU sets feet and spirits dancing. The band performs original music based on authentic African rhythms and arrangements, composed by Mamadou Diop of Dakar, Sénégal, who takes these fundamental African rhythms and layers them throughout his music.
At the heart of MAMADOU's music is the drum. Powerful are the rhythms of Sénégal, making a connection with the soul of each listener. Each musician is given command of separate, offset rhythms, making this music among the most danceable around. Sung in Wolof (Mamadou Diop's native language), French, and English, the songs speak of the importance of love, friendship, and spirit; all in a manner that transcends language and cultural barriers. MAMADOU has been enthusiastically received by club and festival audiences who welcome the opportunity to experience their joyful combination of musical genres.
Band members include
Mamadou Diop - Lead vocals, rhythm guitar, lead percussion
Adam Zampino - Keyboards and bass, backing vocals
Michelle Cherie - Backing vocals, percussion
Jacob Pardee - Lead guitar
Martin Case - Saxophone, horns, percussion
Joey Frechette - Percussion
Erik Bistany - Bass
Mitch Cohen - Drum kit
History of the Larcom Theatre - 13 Wallis Street, Beverly MA, USA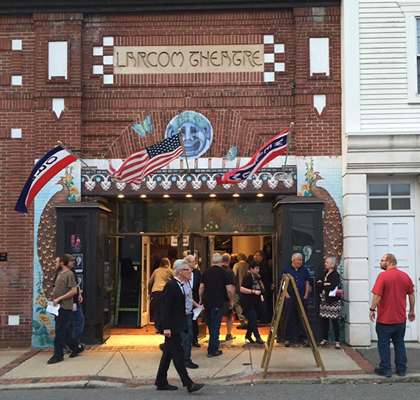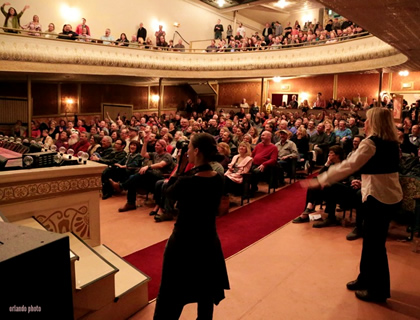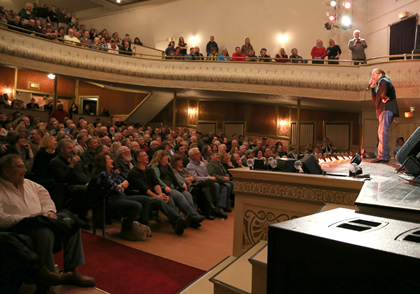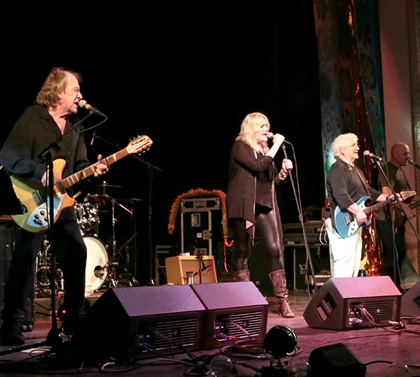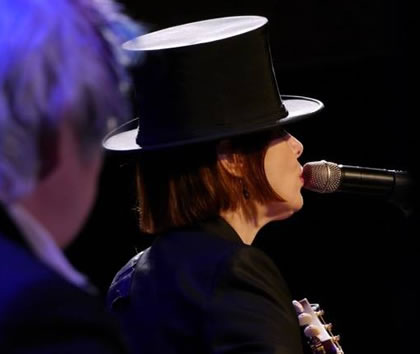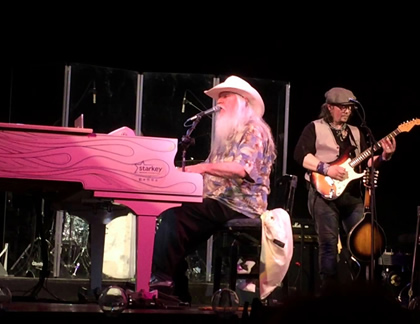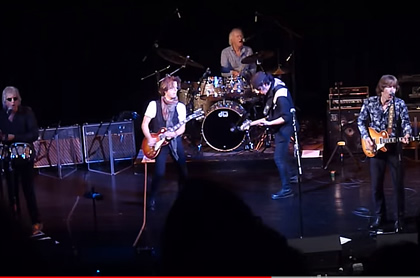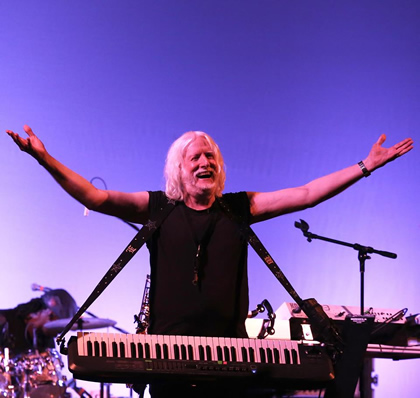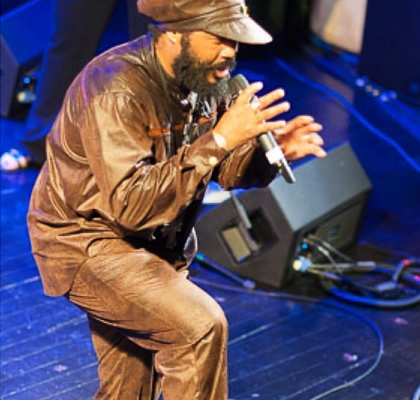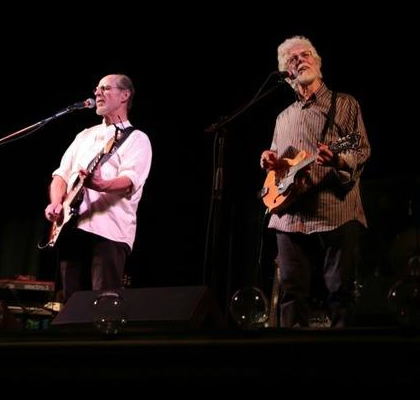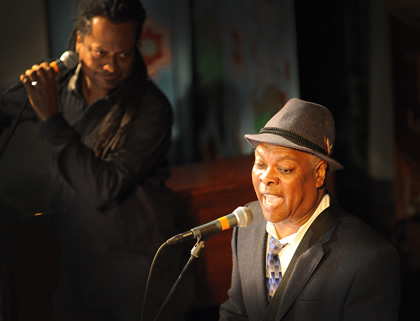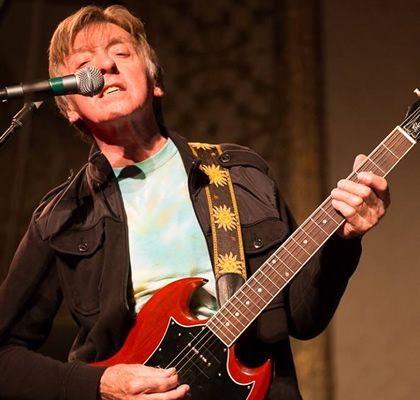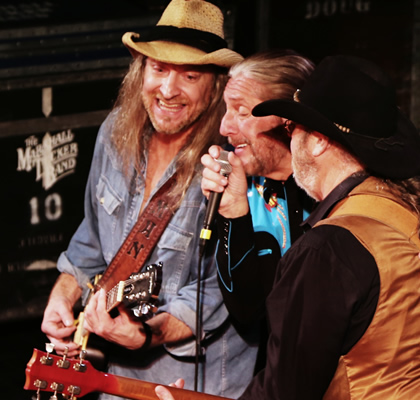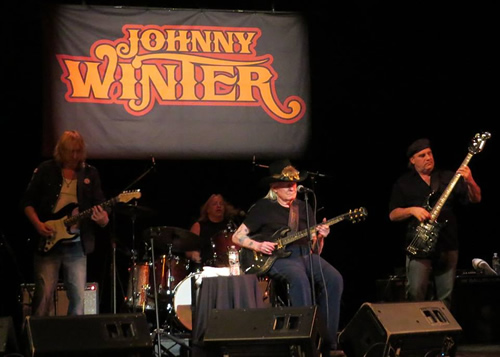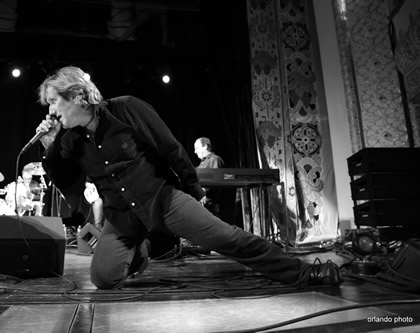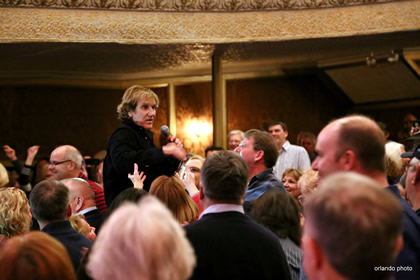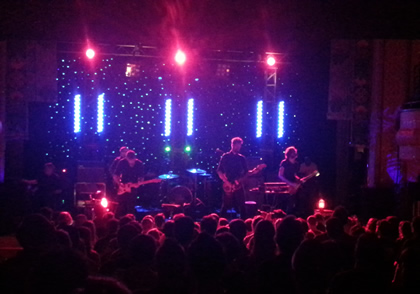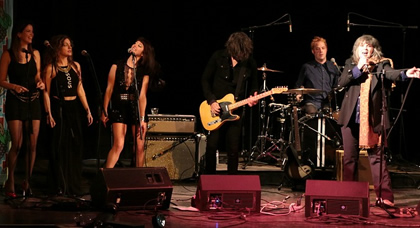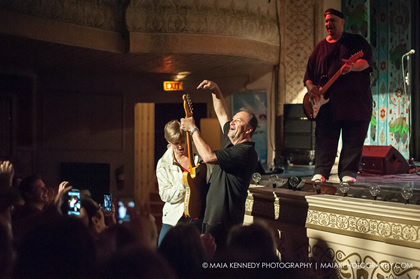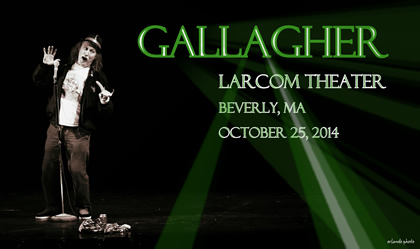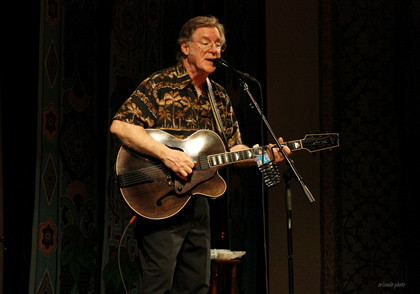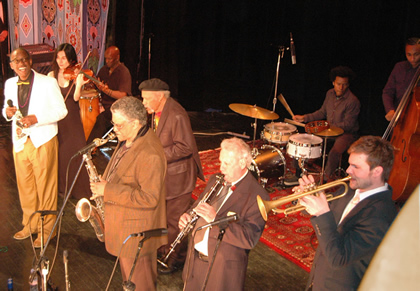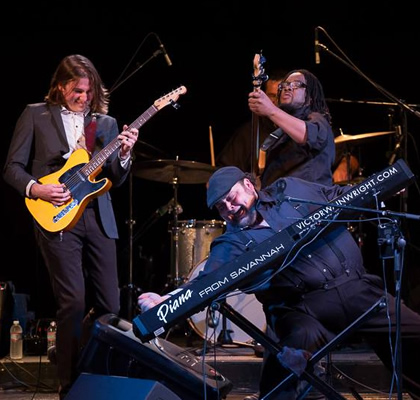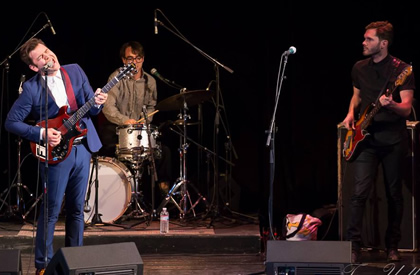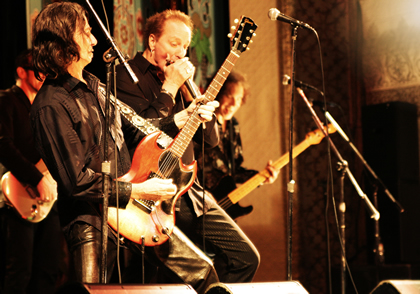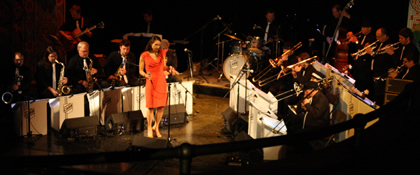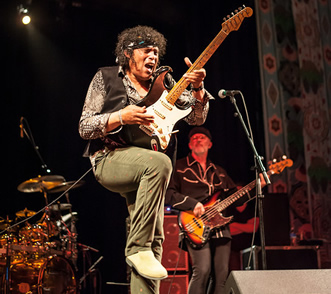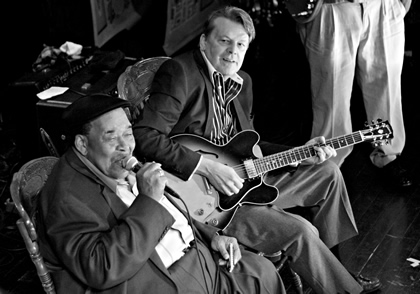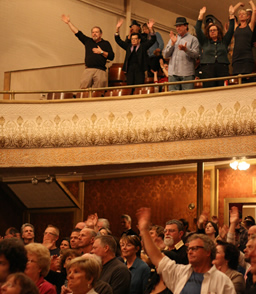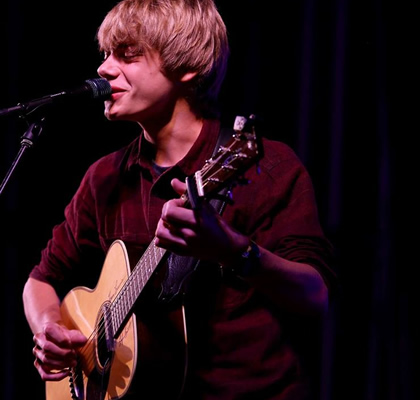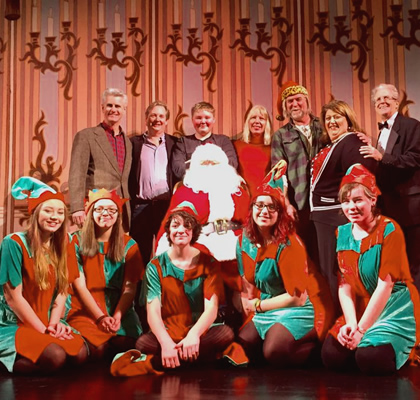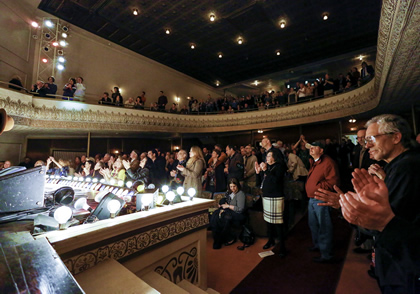 Shows at Beverly's Larcom Theatre 2013 - 2017
photos by Sheila Roberts Orlando unless otherwise noted
The Larcom Theatre was built in 1912 (the same year as Boston's Fenway Park) by brothers Harris and Glover Ware (vaudeville musicians from Marblehead, MA) on the birth site of their favorite poet, Lucy Larcom.
The Larcom Theatre's grand opening advertised that its interior was lit completely by electricity.
During its 111 year history, The Larcom Theatre has presented stage, screen and musical entertainment. In 1984 the Larcom's elegant horseshoe balcony, hand-painted antique pressed tin ceilings and original silk wall coverings were restored to their original glory by Le Grand David Magic Company, who presented their award-winning magic show there until the company's founder, Cesareo Pelaez, died in 2012.
In April 2013, after the Larcom Theatre had been dark for about a year, Vickie and Peter Van Ness of gimmeLIVE produced a sold-out Mardi Gras Benefit Concert that filled the Larcom Theatre with music for the first time since the days of Vaudeville.
In 2014, gimmeLIVE began bringing Grammy-winning national touring and recording artists and Rock & Roll Hall of Famers to the Larcom, which ushered in a new era of top quality entertainment in the heart of downtown Beverly, MA. GIMMELIVE concerts at the Larcom Theatre received stellar reviews for the quality of both the music and the sound system installed by gimmeLIVE.
Later in 2014, Peter and Vickie co-produced That's When I Know It's Mardi Gras, a live CD recorded in front of a sold-out audience at the Larcom Theatre featuring New Orleans vocalist Henri Smith with Grammy Award-winners Charles Neville and Amadee Castenell.
In 2015, gimmeLIVE once again recorded a live CD featuring the James Montgomery Band, which was released in November of that year. GIMMELIVE also hosted James Montgomery's "Live at the Larcom" CD Release Benefit Concert, which raised money for veterans organizations. (Many gimmeLIVE shows raise money for charity. Click here if you'd like gimmeLIVE to produce a concert or festival to raise money for your organization.)
In early 2017, gimmeLIVE took over the building adjoining the Larcom Theatre (at 9 Wallis Street), formerly owned by members of Le Grand David Magic Company and known as the Grand Salon. GIMMELIVE transformed this venue into 9 Wallis, which became the North Shore's most intimate, elegant listening room offering comfortable show seating at tables with food & beverage service, including fine wines, local craft beers, specialty cocktails (featuring local distilleries and all-natural juices) and top-shelf spirits.
Donnie & Lisa Crowell purchased The Larcom Theatre in September 2016 and renamed it The Larcom Performing Arts Theatre or "The Larcom" for short. Tickets to shows at The Larcom can be purchased here.
CLICK HERE to see upcoming shows nearby.