Critically Acclaimed Shows ... Up Close & Personal
CAPE ANN WINTER SOLSTICE
FEAT. CHARLIE FARREN
ALLEN ESTES & DANIELLE MIRAGLIA

DATE
TIME
7:30pm (Doors (Doors Open 6:30PM)

)

VENUE

UU Meetinghouse

10 Church Street

Gloucester

,

MA

01930

Venue Details
TICKETS

ALL AGES

GENERAL ADMISSION

$20 Adv, $25 Door

$30 VIP*

*VIP includes Premium Seating, Exclusive Early Entry & Commemorative VIP Laminate

View Larger Map

Portions of the proceeds benefit Gloucester's Unitarian Universalist Church

Meetinghouse Restoration Project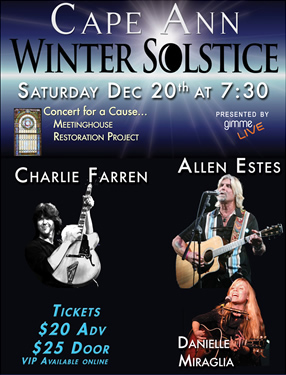 CAPE ANN WINTER SOLSTICE
Last winter we started a Gloucester Tradition - The Cape Ann Winter Solstice - a tremendously successful kick-off to our Meetinghouse Benefit Concert Series, culminating in a memorable concert by 60s icon John Sebastian, the first ever concert in Gloucester featuring a Rock 'n' Roll Hall of Fame inductee.
This winter we continue the tradition featuring three of the area's top acoustic artists: Boston rock star, Charlie Farren, of THE JOE PERRY PROJECT & FARRENHEIT, rising Boston Blues star, Danielle Miraglia and Gloucester's iconic singer/songwriter Allen Estes.
Just like last year, a portion of the proceeds support the Meetinghouse Restoration Project. Enjoy a festive night of orignal music, traditional holiday favorites and a few surprises as you help Gloucester's Meetinghouse become a world-class concert and performance venue.
ABOUT CHARLIE FARREN
Charlie Farren has long been known for great songs, great singing, and for outstanding live solo acoustic performances. Alone onstage with acoustic guitar in hand, Charlie captures an audience with his unique delivery, insightful lyrics, memorable songs, soaring vocal, and subtle yet innovative guitar style. It wasn't always quite so subtle, as Charlie formed this original self-taught style with a history of successful, hard-crunching rock bands throughout the 1980s.
Charlie Farren emerged onto the national scene in the early '80s as lead singer and guitarist with THE JOE PERRY PROJECT. In that band Charlie established himself as one of the hottest young singers to emerge from the Boston music scene, writing the hits 'Listen To The Rock' and 'East Coast, West Coast' and 'I've Got The Rock And Rolls Again'.
In 1986 Charlie, along with Dave Hull (Joe Perry Project) and John Muzzy, formed FARRENHEIT and released a self-titled debut album on Warner Brothers. Three singles from that album, 'Fool in Love', 'Bad Habit', and 'Lost in Loveland', as well as video exposure on MTV, established FARRENHEIT as one of the premier new rock acts and receiving awards, media attention and new fans across the country.
Released in 1999, 'Deja Blue' established the Farren brand in earnest, this through masterful songwriting, soulful vocals and keen instincts for musical re-invention. Charlie subsequently released 'World Gone Wild', 'Four Letter Word', and 'Live at Club Passim' as a solo artist, along with a new live FARRENHEIT CD 'FARRENHEIT Live at The Roxy, Boston MA'.
In 2008 Farren released a DVD and CD double set, 'CHARLIE FARREN: Retrospective - Live at The Regent Theatre', that is a tour-de-force and exhibits sophistication and musical depth most recording artists never achieve. Inspired electric and what is now Farren's trademark acoustic/jazz and chart topping easy listening/pop performances on the DVD set abound, but it's that exquisitely soulful voice which confirms Charlie Farren as one of the world's most easily identifiable and gifted singer/ songwriters.
Next he teamed with longtime friend and collaborator, Jon Butcher in a project called FARREN BUTCHER, INC. Charlie most recently produced their debut CD, 'FBI' on Charlie's FMan Media label. FBI features a potent mix of Jon's and Charlie's styles and even includes some re-writes of their past hits. NEW MAN, and EAST COAST WEST COAST.
Charlie's new CD, TUESDAY is his best work to date, featuring A song that was written but never released by longtime friend, The late Brad Delp, powerhouse vocalist for the legendary band BOSTON. "Brad and I were judging a songwriting contest for friend and popular DJ Lisa Garvey. Afterward we sat in his car and he played me a song he was working on. I instantly loved it, as it reminded me of The Beatles' 'Yesterday'. I contacted his family for permission to cover the song, and they were enthusiastic and supportive. Producer Anthony J. Resta worked with a raw guitar and vocal I recorded and really brought it to life."
Charlie is excited to be performing solo again. "It really gives me a chance to play more songs from my catalog. I've missed that."
Charlie is contagious, displaying a candor rarely demonstrated by former arena rock stars. "It's clear he has not lost the ability to captivate a room full of people no matter what the size." writes Tom Dempsey of SoundCheck magazine. His live solo performances remain the perfect forum for his remarkable talents. Charlie continues to be one of America's most original and compelling musical artists. He takes the stage alone, and leaves the stage with a roomful of new believers.
ABOUT ALLEN ESTES
Award-winning singer/songwriter, Allen Estes, wrote Tammy Wynette's top 40 hit "Next To You", "Where'd They Go" (the official song of the City of Gloucester) and songs for The Souls of the Sea musical. While working as a songwriter in Nashville, Allen practically invented the genre "Americana" and you'll hear influences from pop, rock, folk, blue-grass and country.
Allen has produced over a dozen albums and his songs have been recorded by Tammy Wynette, Shania Twain, Dave Mallett, Tom Wopat and The Judds. He has toured with/and opened for Bonnie Raitt, J. Geils, Tim McGraw, America, Jose Feliciano, Reba McEntire, Waylon Jennings, Kenny Chesney, Tricia Yearwood, Livingston Taylor, Robert Palmer, Jonathan Edwards, Tom Rush and Earl Scruggs, among many others.
Allen has made numerous TV appearances and is host of Local Music Seen with Allen Estes on Cape Ann TV, on which he interviews local and national music stars, including the band Poco, Jon Butcher, Charlie Farren, Louise Mosrie and the Godfather of punk, Willie Alexander.
Winner of the Independent Music World Series New England and voted Best Independent Act of New England, Allen and his band always give a captivating performance that brings audiences to their feet.
ABOUT DANIELLE MIRAGLIA
Danielle Miraglia (murr-A' L e a) comes armed with a strong steady thumb on an old Gibson, an infectious stomp-box rhythm and harmonica. Her tunes range from heart-felt to socially conscious and will move both your heart and hips. Danielle's latest release 'Box of Troubles' a bare-bones expression of all these attributes, explores the highs and lows that life has to offer and has already received rave reviews. Alternate Root says 'Danielle Miraglia's guitar work keeps Delta traditions alive. Her steady thumb and playing style trace a direct line to the blues of the field and chicken shacks. Vocally, Danielle's voice digs in, twisting within the delivery, seeming to break but more likely soaring before the fall. 'Box of Troubles' balances good times with the bad, her characters roles' defined and believable.'
Raised just outside of Boston in Revere, MA, where its famous beach is better known for girls with big hair than its history as a popular tourist attraction, Danielle was raised on a variety of popular music, from her parent's Motown records to the classic rock influences like The Rolling Stones and Led Zeppelin that encouraged her to learn to play guitar at thirteen. A passion for the arts and an outstanding gift for writing lead her to Emerson College in Boston's downtown theater district. After graduating with a degree in Creative Writing, she put her writing skills, originally intended for novels, towards songwriting and began performing at open mike nights in the Boston area. This set in motion what would become a full-time career in music.
In 2001, she released her debut EP "Bad Poetry," followed by a second release "Just Wrong Enough" in 2002. From there the songs poured out and the gigs flowed in. She began headlining some of the most renowned blues and folk music venues in Boston, toured major cities from north to south and beyond, while earning street cred vigorously busking the streets of Harvard Square. Her follow up "Nothing Romantic" was a breakthrough for Miraglia as a serious songwriting force, who could put into words what so many feel - a true explorer of the complexities of the human condition. Jon Sobel of Blogcritics.com described her song "You Don't Know Nothin'" as "One of the best new folk songs I've heard in years. Its depiction and dissection of human misunderstanding is both sharp and tender. All you need to know about what drives people apart and what draws them together can be witnessed in a few hours spent in a bar. Many of us feel something along those lines, but Danielle Miraglia is that rare songwriter who can put it into words."
"Box of Troubles" combines Danielle's blues edge with great songwriting and highlights this better than any of her previous releases. "She's an up and coming blues woman who doesn't hide behind a huge band -- they're here but she is definitely front and center with her in-your-face attitude. Combine that with her hot acoustic slide guitar and a voice with a Janis Joplin edge and you've got some great tunes that even a hardcore Robert Johnson fan will love." - Jamie Anderson - Minor7th
Danielle has received numerous honors:
Mountain Stage NewSong Northeast Regional Winner
NERFA Formal Showcase Artist
NERFA Tricentric and DJ's Choice
Falcon Ridge Emerging Artist
RedLine Roots Big Red Favorite Local Female Songwriter
Honorable Mention - Telluride
ABOUT GLOUCESTER'S UNITARIAN UNIVERSALIST MEETINGHOUSE
Gloucester's UU Meetinghouse is in the heart of Gloucester's Harbortown Cultural District (a pleasant 35 mile drive up the coast from Boston) at the corner of Church and Middle Streets with plenty of free parking at the Church off Middle Street and at two neighbors about a block away.
The Meetinghouse is to Gloucester what the Old North Church is to Boston -- its stature as an irreplaceable building transcends any particular religious affiliation. Therefore, preserving it as an important piece of American and Religious History is an ongoing project.
For more than 207 years, the Universalist Church has been a fixture on Gloucester's skyline and one of Cape Ann's best-loved landmarks. Its lantern steeple, with a bell crafted by Paul Revere, has guided generations of mariners into port, and famous artists have celebrated this distinguished building in paintings and photographs. Built in 1805-06, this is the oldest standing church in this historic seaport. Today it is the leading anchor of our famous Middle Street historic architecture, a central element in the Gloucester Historic District and part of the National Register of Historic Places.
We need to maintain and restore the Meetinghouse in a historically accurate manner. We will be restoring our building, while lowering our overall carbon footprint to zero, and helping to serve as a catalyst for a larger Green Gloucester vision. The elements of this green restoration in the next three years are:
Replacing our oil furnace with a gas furnace (in process)
Repairing some of our stained glass windows, which are becoming unstable
Finishing the last stage of our accessibility program with enough bathrooms to accommodate a full house
Doing a complete energy audit and addressing the recommendations for insulation and related measures to stop energy leakage
Completing the installation of a complete gutter system
Painting and restoring our iconic steeple
Restoring the balcony to allow the full seating capacity that existed in 1806.
The gimmeLIVE Concerts at the UU Meetinghouse raise money for the Meetinghouse Restoration project.
Gloucester's UU Meetinghouse is a pleasant drive up the coast from Boston (less than an hour) with plenty of free parking available. Click here for directions and parking info.