Critically Acclaimed Shows ... Up Close & Personal
Tenor FRED C. VANNESS Jr.
with Pianist JAMES J. MYERS
DATE
Sunday, September 13, 2015

We cannot offer refunds under any circumstances.

TIME
3:00PM (Doors Open 2:00PM)
VENUE

The Larcom Performing Arts Theatre

13 Wallis Street

Venue Details
TICKETS
RESERVED SEATS

(ALL AGES)

$20.00, $25.00

BEETHOVEN to BROADWAY - Tenor Fred C. VanNess, Jr. performs a unique concert of songs by Beethoven, Rossini, Sondheim and monologue with noted accompanist and vocal coach James Myers.

Tenor Fred C. VanNess Jr., noted for having a "domineering, fine voice" will be performing a unique concert of songs and monologue with noted accompanist and vocal coach James Myers. The performance will include personal favorite art songs, arias and musical theater songs sung at past recitals including a movement from "An American Requiem" composed by Keith Gates and concerts during monumental as well as challenging stages of Mr. VanNess life such as his years at McNeese State University and the passing of his mother - the musical heart and reflective portion of the concert.
FRED C. VANNESS
Originally from Kinder, Louisiana Fred has lived in Beverly for the past six years. He was recently heard with the Salem Philharmonic in Salem, Massachusetts as a featured soloist. Mr. VanNess has sung with numerous opera companies throughout New England including Don Jose in Carmen with the North End Music Performing Arts Center, Don Ottavio in Don Giovanni with Longwood Opera, and Tamino in Die Zauberflöte with Opera del West. His other credits include Rodolfo in La Boheme, Dr. Cajus in Falstaff, Charlie in Das Kliene Magahonny and Fenton in Falstaff as part of the Montefeltro Music Festival in Novafeltria, Italy.
As a concert artist he has been a featured soloist with the Lake Charles Symphony, Salem Philharmonic in Salem, Ma, Reagle Theatre in Waltham, Ma and Castle of Our Skins a group of musicians dedicated to celebrating Black artistry through music. . His other concert credits include Handels's Juddas Maccabeus, Handel's Messiah, Bach's Cantata 131 and Scott Joplin's 100th Anniversary of his opera Treemonisha.
Mr. VanNess has been awarded the first place prize for the North Shore Star presented by The Beverly Rotary Club. He is also a recipient of The Coushatta Tribe of Louisiana Career Grant. In 2012 and 2013 Mr. VanNess was invited to be the guest soloist for the Robert F. Kennedy Children's Action Corps' Embracing the Legacy Awards at the John F. Kennedy Library in Boston, Massachusetts.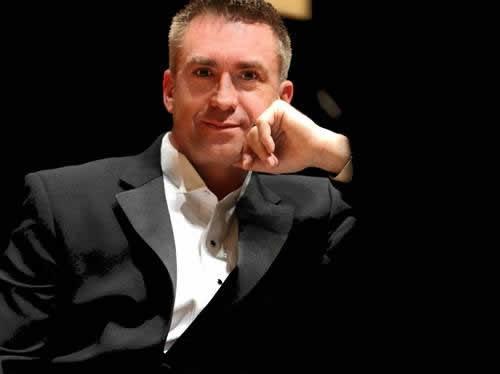 ABOUT JAMES J. MYERS
A native of Portland, Oregon, keyboardist James J. Myers is in demand as vocal coach, recitalist, chamber musician, composer, and music educator. He has shared the stage with leading artists of our age, including Christine Brewer, Kenji Bunch, Judith Christin, Greer Grimsley, Jennifer Koh, Robert McDuffie, Carol Neblett, Morris Robinson, Bruce Sledge, Janet Sung, Chris Thile, and Renée Fleming. His music has supported master classes of Tom Cipullo, Leon Fleisher, Thomas Hampson, Jake Heggie, Fernando Laires, Sylvia McNair, Murray Perahia, John Perry, Martile Rowland, Ann Schein, Abby Simon, Nelita True, Wagnerian Linda Watson, and the late violin virtuoso Zvi Zeitlin.
Performances have been enthusiastically received at renowned American and European venues, and he's been privileged working with acclaimed conductors David Angus, Andrew Bisantz, Arthur Fagen, Christopher Franklin, Edward Gardner, Matthew Halls, Benton Hess, Jeffrey Kahane, Bernard Labadie, Sebastian Lang-Lessing, Peter Oundjian, Duain Wolfe, and the late Marvin Hamlisch.
In 2008 he was featured on the Kurzweil double synthesizer with Opera Colorado's Naxos recording of Nixon in China, under Marin Alsop. He has served operatic teams at houses in Los Angeles, Orange County, Santa Fe, Rochester, and with Oberlin in Italy's traveling productions of La Traviata.
Currently he serves as Lecturer and Coach/Pianist with Boston Lyric Opera, supports collaborative teams at the Boston Conservatory and Concord Conservatory of Music, and he leads a substantial professional vocal coaching studio. With BLO he has prepared Madama Butterfly, Der Fliegende Holländer, Die Zauberflöte, Rigoletto, La Traviata , Janacek's Katya Kabanova, and is engaged for In the Penal Colony and Merry Widow. Through an invitation of the Boston Museum of Fine Arts he presented a course on Spanish Opera, and on Don Giovanni for Beacon Hill Seminars.
At the 2014 Classical Singer National Convention in San Antonio one of his former coaching students Teresa Castillo took First Prize Young Artist's Division. His students have won prizes at regional, national and international competitions. James accepted collaborative invitations to Classical Singer's 2015 National Convention in Chicago, Louisiana State University, Texas A & M University Corpus Christi, National Association of Teachers of Singing, and to serve as adjudicator at regional and international voice competitions. Past academic positions included Chapman University Conservatory of Music Los Angeles, Pacific Lutheran University, University of Tennessee at Knoxville, University of Northern Colorado and Metropolitan State University of Denver. A Rotary Graduate Fellowship supported his studies in Germany, and in France with an International Education Grant. Mr. Myers holds degrees with distinction from the Hochschule für Musik und Theater Hannover (Germany), the University of Colorado at Boulder, and the Eastman School of Music. He and his husband Justin VandenBosch reside in Boston.
History of the Larcom Theatre - 13 Wallis Street, Beverly MA, USA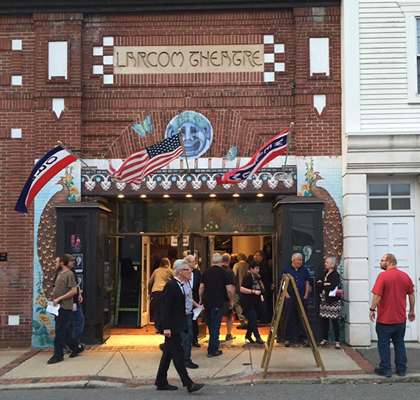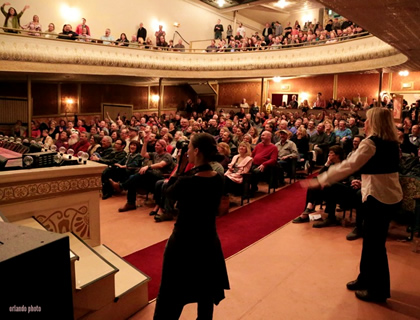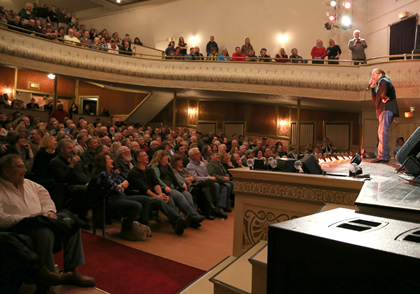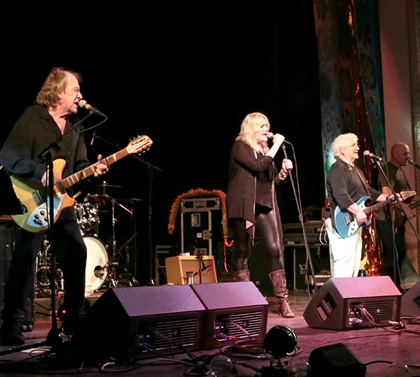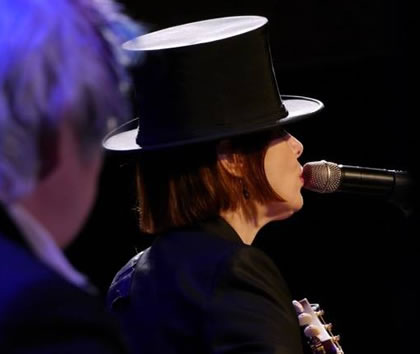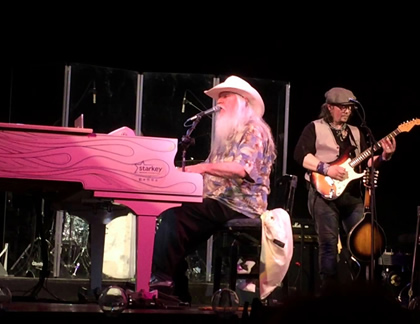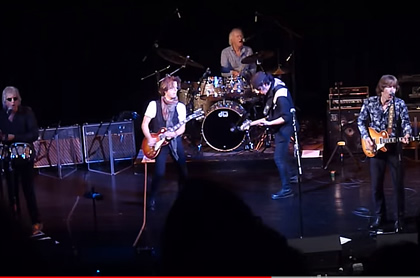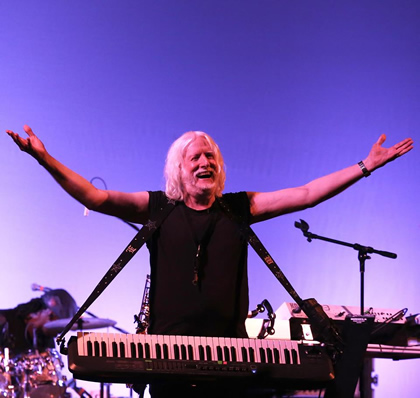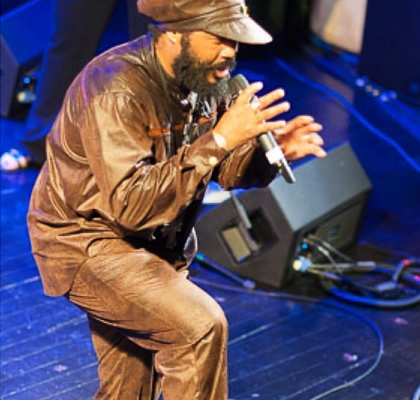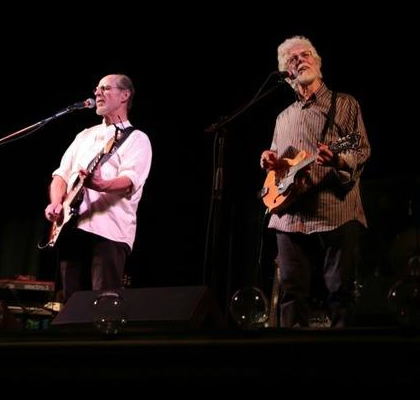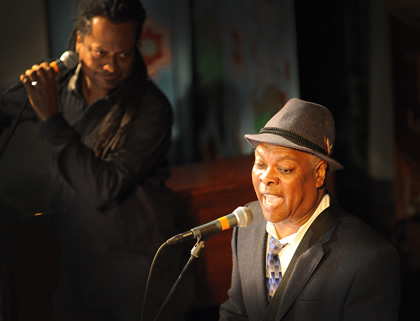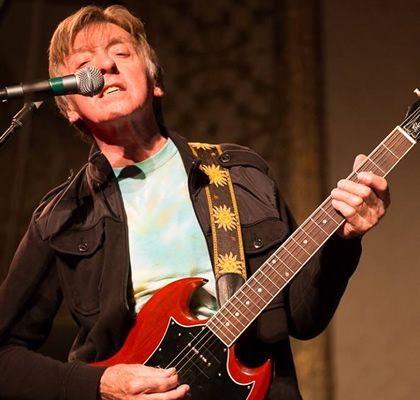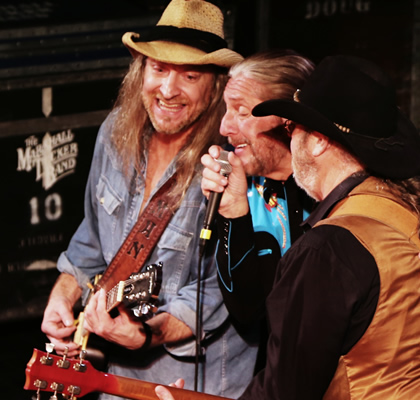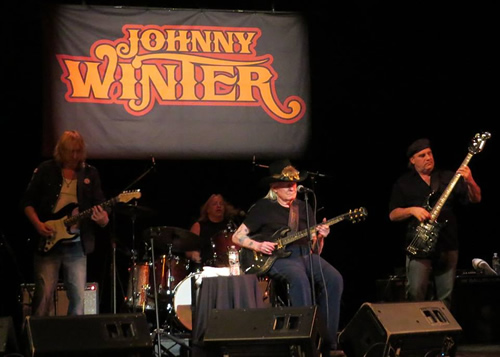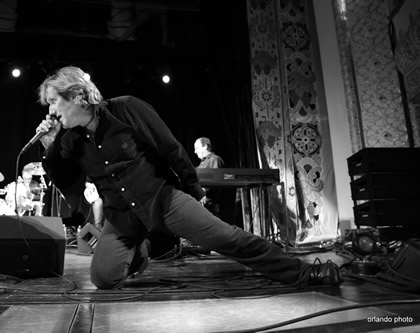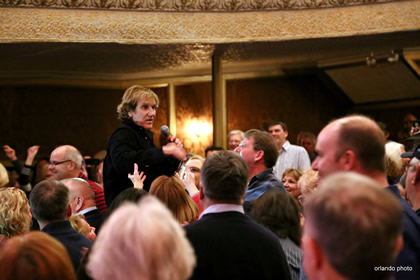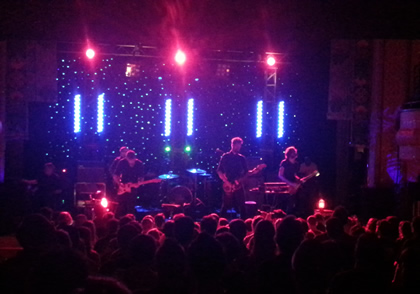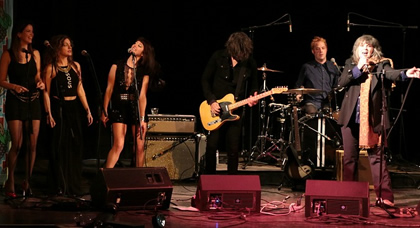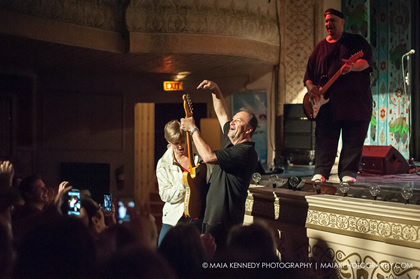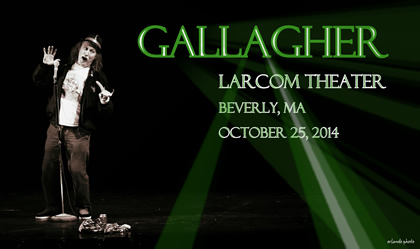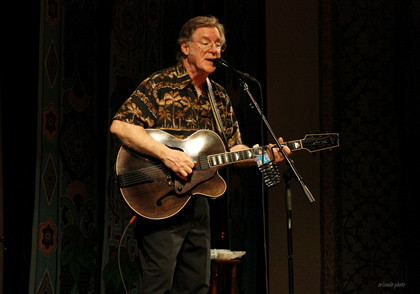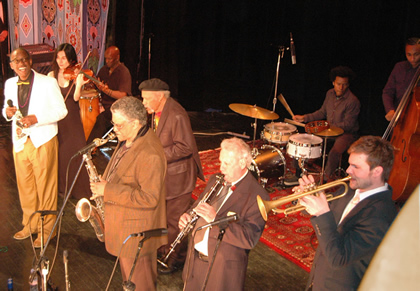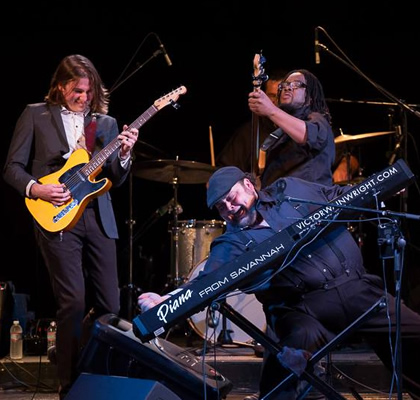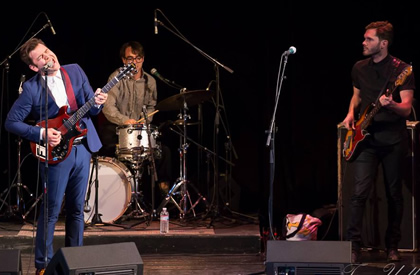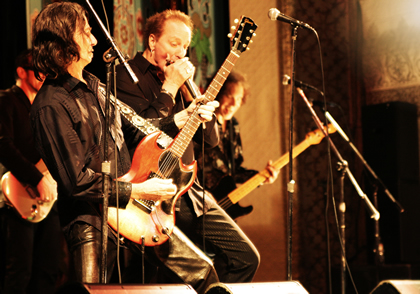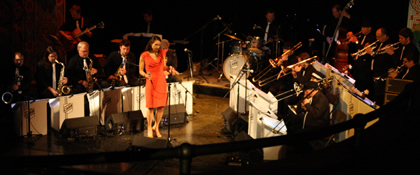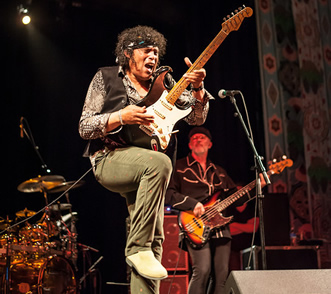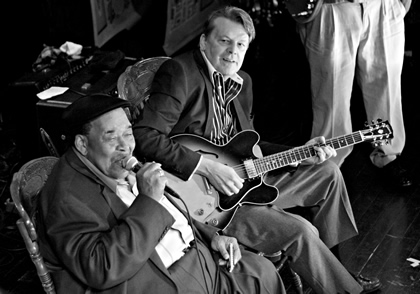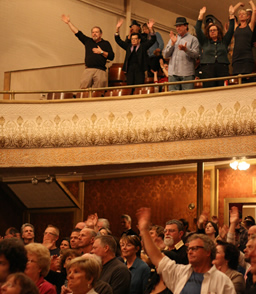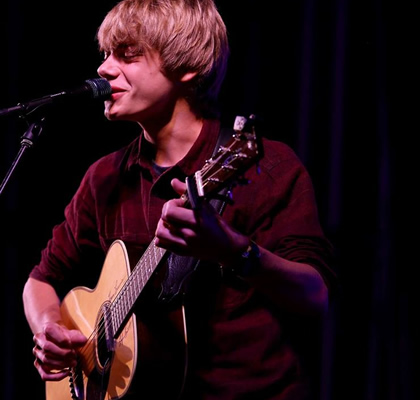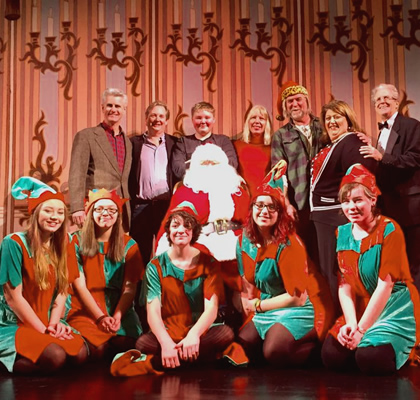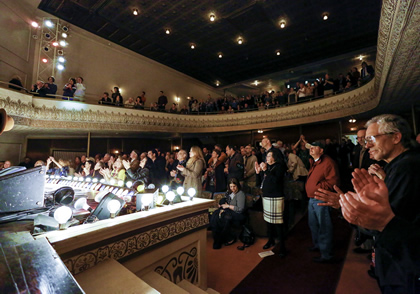 Shows at Beverly's Larcom Theatre 2013 - 2017
photos by Sheila Roberts Orlando unless otherwise noted
The Larcom Theatre was built in 1912 (the same year as Boston's Fenway Park) by brothers Harris and Glover Ware (vaudeville musicians from Marblehead, MA) on the birth site of their favorite poet, Lucy Larcom.
The Larcom Theatre's grand opening advertised that its interior was lit completely by electricity.
During its 111 year history, The Larcom Theatre has presented stage, screen and musical entertainment. In 1984 the Larcom's elegant horseshoe balcony, hand-painted antique pressed tin ceilings and original silk wall coverings were restored to their original glory by Le Grand David Magic Company, who presented their award-winning magic show there until the company's founder, Cesareo Pelaez, died in 2012.
In April 2013, after the Larcom Theatre had been dark for about a year, Vickie and Peter Van Ness of gimmeLIVE produced a sold-out Mardi Gras Benefit Concert that filled the Larcom Theatre with music for the first time since the days of Vaudeville.
In 2014, gimmeLIVE began bringing Grammy-winning national touring and recording artists and Rock & Roll Hall of Famers to the Larcom, which ushered in a new era of top quality entertainment in the heart of downtown Beverly, MA. GIMMELIVE concerts at the Larcom Theatre received stellar reviews for the quality of both the music and the sound system installed by gimmeLIVE.
Later in 2014, Peter and Vickie co-produced That's When I Know It's Mardi Gras, a live CD recorded in front of a sold-out audience at the Larcom Theatre featuring New Orleans vocalist Henri Smith with Grammy Award-winners Charles Neville and Amadee Castenell.
In 2015, gimmeLIVE once again recorded a live CD featuring the James Montgomery Band, which was released in November of that year. GIMMELIVE also hosted James Montgomery's "Live at the Larcom" CD Release Benefit Concert, which raised money for veterans organizations. (Many gimmeLIVE shows raise money for charity. Click here if you'd like gimmeLIVE to produce a concert or festival to raise money for your organization.)
In early 2017, gimmeLIVE took over the building adjoining the Larcom Theatre (at 9 Wallis Street), formerly owned by members of Le Grand David Magic Company and known as the Grand Salon. GIMMELIVE transformed this venue into 9 Wallis, which became the North Shore's most intimate, elegant listening room offering comfortable show seating at tables with food & beverage service, including fine wines, local craft beers, specialty cocktails (featuring local distilleries and all-natural juices) and top-shelf spirits.
Donnie & Lisa Crowell purchased The Larcom Theatre in September 2016 and renamed it The Larcom Performing Arts Theatre or "The Larcom" for short. Tickets to shows at The Larcom can be purchased here.
CLICK HERE to see upcoming shows nearby.