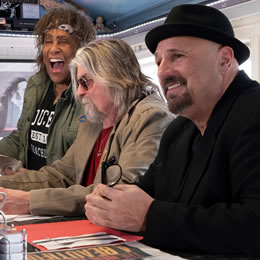 Butcher, Baglio & Estes Present
GYPSY CARAVAN
DATE
Saturday, October 8, 2022
TIME
8:00PM
VENUE

Regent Theatre

7 Medford Street

Directions & Parking
TICKETS
RESERVED SEATS $20, $35

CLICK HERE

if you want to use your gimmeLIVE Gift Certificate to get tickets to this show!
For three life-long friends, Jon Butcher, Sal Baglio and Allen Estes music wasn't a matter of choice as much as it was in their DNA. Jon says, 'Sal, Allen and I have been in rock bands since we were kids growing up in blue-collar towns, hearing the whispered promises of an electric guitar. The album we made, GYPSY CARAVAN tells our stories and the stories of all of our friends, family and fans. And it kicks ass...and then some!'
See Butcher, Baglio & Estes live in concert at the Regent Theater Arlington MA on SAT Oct 8. Limited copies of their debut album, GYPSY CARAVAN will be available at the show!
Videos by Butcher, Baglio & Estes from their debut album GYPSY CARAVAN