MAC Drive-In Summer Concert Series #SaveOurStages
LIVE IN PERSON
LEZ ZEPPELIN | ALL GIRLS. ALL ZEPPELIN.
DATE
Saturday, September 5, 2020
TIME
6:00PM (Gate Opens 5:15PM)
VENUE

Manchester Athletic Club (

MAP

)

8 Atwater Avenue

Manchester-by-the-Sea

,

MA 01944

Venue Details
TICKETS
$95.00 Per Vehicle (Limit 6 People Per Vehicle)
Taking the sturdy sex appeal of the original dudes and rotating it to match their own femme vibe, the powerful Lez Zeppelin hits it note-for-note for a revolution in rock history reincarnation. With musicianship that exceeds all expectations, out-there swagger and gender-bending audacity, NYC's all-girl quartet is critically acclaimed as one of the most exciting live acts and the first female rock band to pay homage to Led Zeppelin.
They played the Led Zeppelin music with an extraordinary sensuality and an energy and passion that highlighted their superb musicianship.
Best Tribute Band in the World
The most powerful all-female band in rock history
A remarkable performance.
Strapping on the double-necked Gibson with attitude to burn, this all-girl quartet pays tribute to its swaggering namesake Led Zeppelin, ripping through the catalogue with blazing accuracy.
Your attendance helps support the #SaveOurStages movement.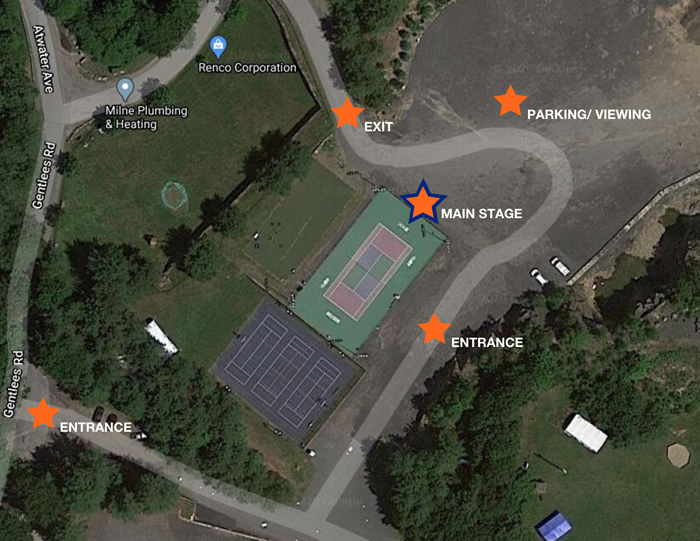 GIMMELIVE's MAC Drive-In Summer Concert Series is presented in partnership with the Mancheester Athletic Club in their back parking lot surrounded by trees and rock cliffs.
The MAC is 1 minute off Rte 128 at Exit 15 - a pleasant 40 minute drive up the coast from Boston. See Map.
The MAC has been a community within a community for over 45 years. As one of the first multi-sport health clubs on the North Shore, MAC has continued to grow and evolve over the years allowing our members to recreate, improve & maintain their personal best in health and wellness. Their goal is to provide members with personalized programs specifically designed to meet their needs and see results. Whether you're looking to decrease body weight, increase strength, work on post injury/rehabilitation strength training, or even just change your eating habits and decrease stress -- the good people at the MAC can help you get there.