9 WALLIS PRE-SHOW DINNER $19.95
We've partnered with world famous Gloria Foods to bring you a scrumptious Pre-Show Dinner: Crab and Lobster Ravioli served with a light olive oil drizzle & fresh grated Parmesan cheese, Slow baked Chicken Parm, Slow Roasted Eggplant Parm (no bread crumbs, gluten free), Sausages, Peppers & Onions, Garden Salad, Dressing, Rolls and Butter plus assorted desserts.
PLEASE NOTE: Your show ticket must be for a seat at a TABLE in order to get the pre-show Dinner. Dinner cannot be served to people seated in rows A through G.
This Pre-Show DINNER is an extra $19.95 per ticket.
JimmyFundWalk Fundraiser ft. LORETTA LaROCHE w/ WORLD GONE CRAZY COMEDY BAND
DATE
Saturday, April 14, 2018

We cannot offer refunds under any circumstances.

TIME
8:00PM (Doors Open 7:00PM)
VENUE

9 Wallis Street

Venue Details
TICKETS
RESERVED SEATS

(ALL AGES)

$30.00, $40.00
Multiple award-winning comedian and TV star Loretta LaRoche brings her newest material to Beverly for the 2nd annual JimmyFundWalk Fundraiser! Joining Loretta will be Boston's famous World Gone Crazy Comedy Band.
Loretta's 9 Wallis shows have sold out. Don't miss your only chance to catch Loretta's newest material before her new show premieres later this year.
If you can't make the show, but still want to donate to the Jimmy Fund Walk Team, please click HERE and thank you!
LORETTA LAROCHE VIDEOS
LORETTA LAROCHE BIO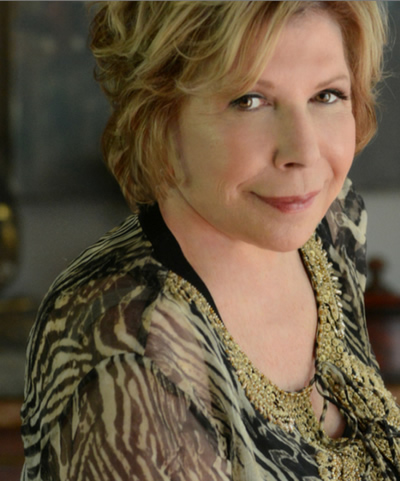 Loretta has won numerous awards, including:
Local and prime time Emmy award nominee
The National Humor Treasure Award
Honorary Ph.D., LaSalle University, Newton, Massachusetts
Humanitarian Award, MSPCC
Woman of the Year, Massachusetts Girl Scouts
Alumni of the Year, Hofstra University
The Walter C. Alvarez Memorial Award for Medical Writing presented by The American Medical Writers Association, Oct 2004
Inducted into the Friars Club, New York City, September 2009
Loretta LaRoche is an acclaimed speaker, author and international stress expert and humor consultant who has evoked wit and irreverent humor on her audience for over 30 years. Using humor to reframe a stressful situation, Loretta captures a new perspective on the difficult parts of life. Her teaching style, credibility and incontestable humor are integral parts to her compelling presence.
She is founder and president of The Humor Potential, Inc, a company offering programs and products for life style management. Loretta's special brand of optimistic psychology has an undeniable positive effect on the health of all that are exposed to her.
As an acclaimed author, she has toured with the Hay House, "I Can Do It!"conferences. She is a well-recognized Hay House best-selling author of 8 books.
Click here for to see Loretta LaRoche's website.
WORLD GONE CRAZY COMEDY BAND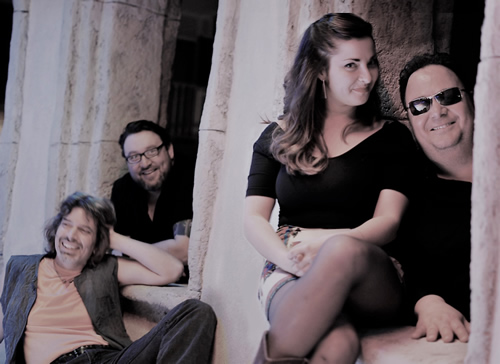 World Gone Crazy ROCKS today's news for laughs! Launched 5 years ago for lovers of stand-up comedy and live rock & roll song parodies -- there is simply no other comedy show like World Gone Crazy ... period! What is World Gone Crazy Comedy Band? It's the "new & different" show you have been looking for! This side-splitting show skewers today's current events with rapid fire song parodies, stand-up comedy, hysterical impressions, audience interaction and commercial spoofs. Think of it as a rock & roll version of "The Daily Show", "Capitol Steps", "Saturday Night Live" along with the comedy of "Bare Naked Ladies" all combined into one! If you love live music, stand-up and therapy ALL performed by 4 talented and extremely funny comedic personalities - World Gone Crazy is the show for you! Special guests and comedians all tend to show up on World Gone Crazy's stage - you never know who will join the party!
Featuring drummer and comic personality Gary Marino (ABC's "Live with Regis & Kelly", "Million Calorie March: The Movie!") singer and comic Julie "Diorable" DiOrio (the Dirty Dotty Band), guitarist and impressionist Joe Long (a veteran of the Boston music scene) and the infectious Will E. Focker on keyboards! World Gone Crazy is a personality driven show!
World Gone Crazy features hilarious impressions like Morgan Freeman & Nick Nolte singing the Beatles, and the "Incoherent Tour: featuring everyone from Alanis Morissette to Joe Cocker to Sharon Osbourne to Dave Matthews and Michael McDonald!
WGC Comedy Band also takes on local towns from Provincetown to East Boston to Hampton Beach. Viagra, Taxes, Religion, Politics...nothing is safe in this funny, one of a kind comedy, rock & roll tribute to our world that has indeed gone crazy.
Audience interaction, sing-alongs and CD contest give aways are also on the agenda giving audience members their moments to shine. Music parodies cover tunes from the 60's, 70's, 80's, 90's and today! World Gone Crazy combines the fun of Bare Naked Ladies, the energy of Blue Man Group and the comedy of Capitol Steps for a truly unique, punch line driven entertainment roller coaster ride.
ABOUT 9 WALLIS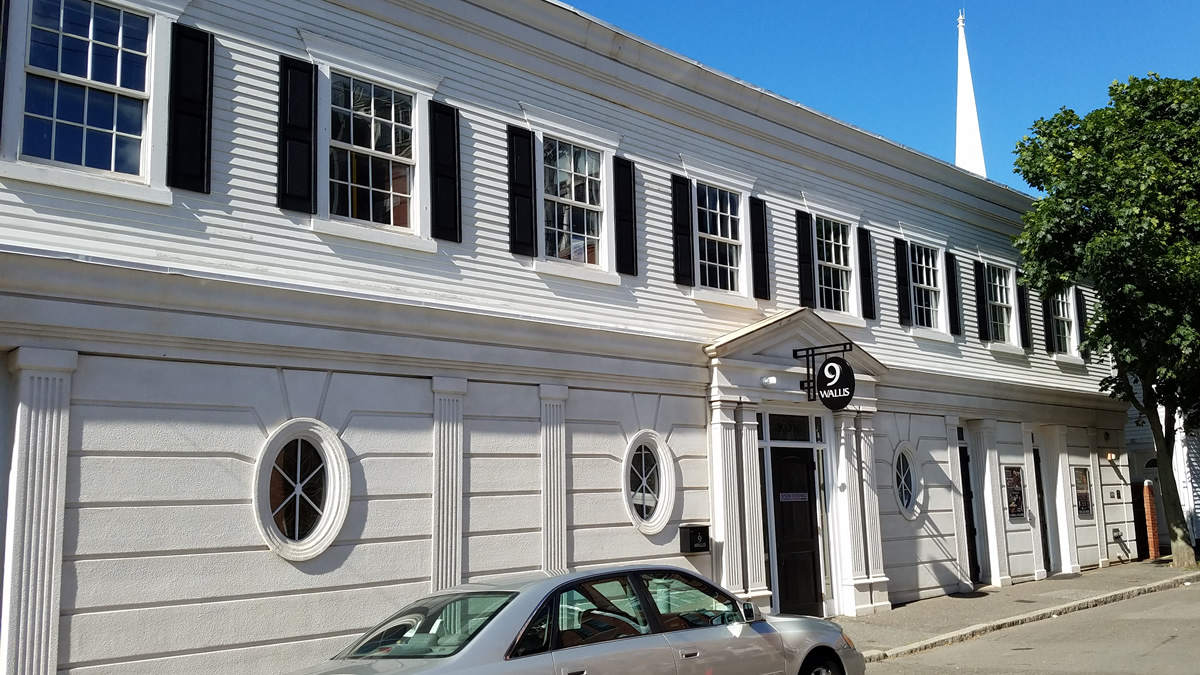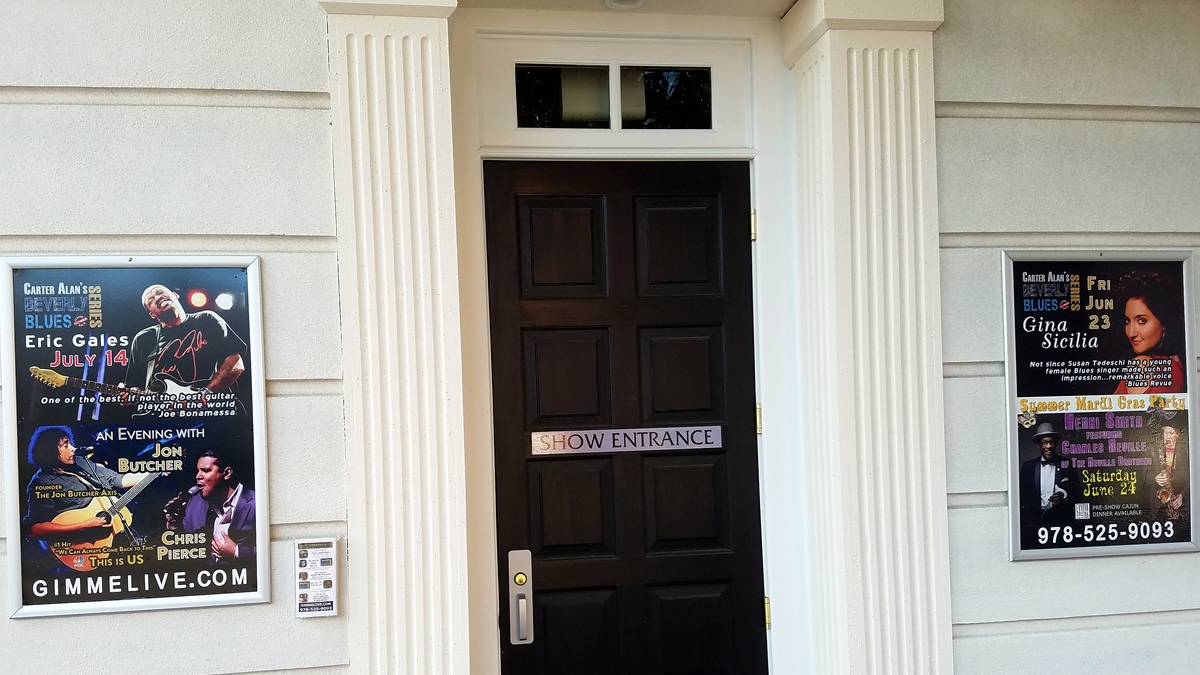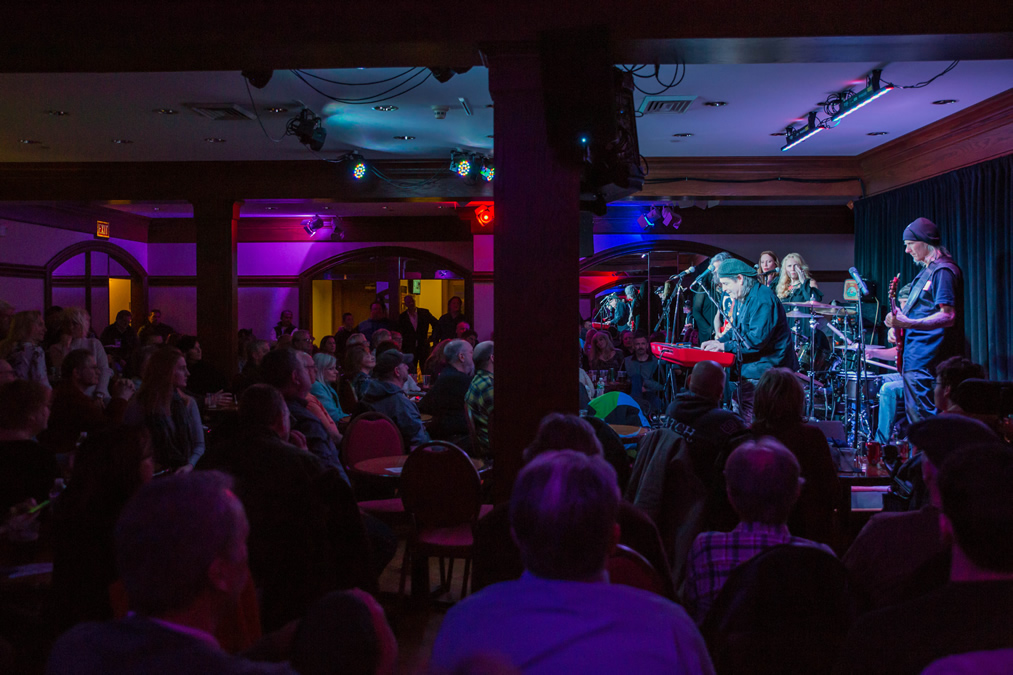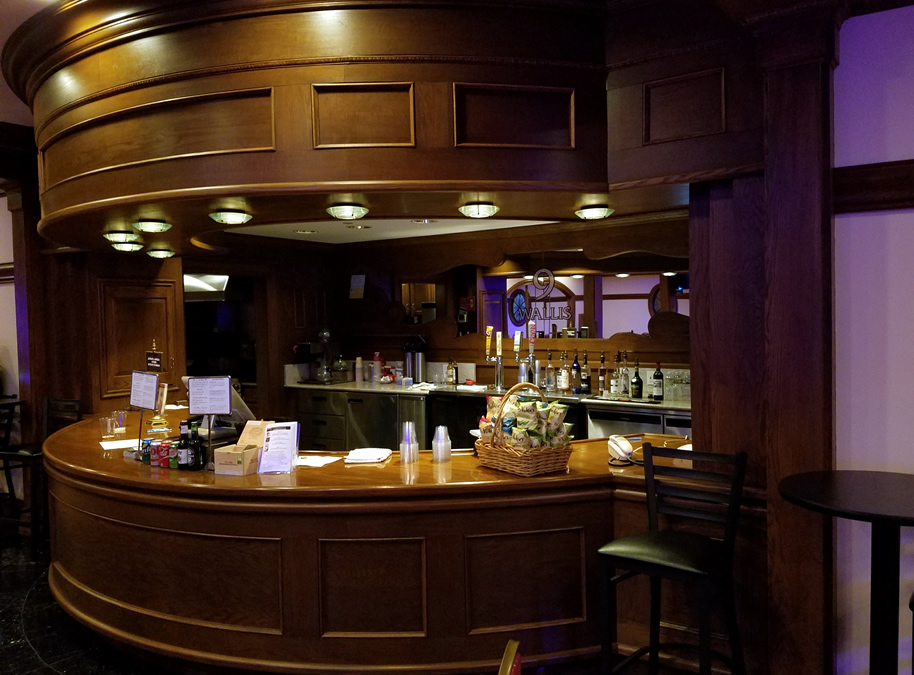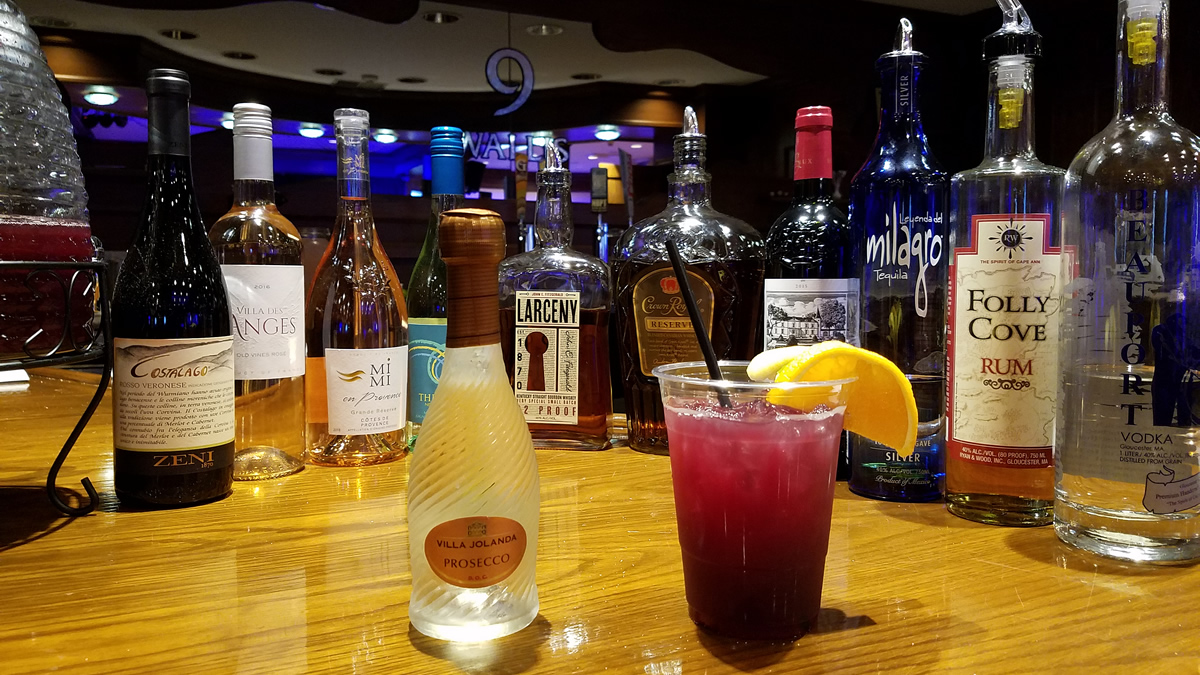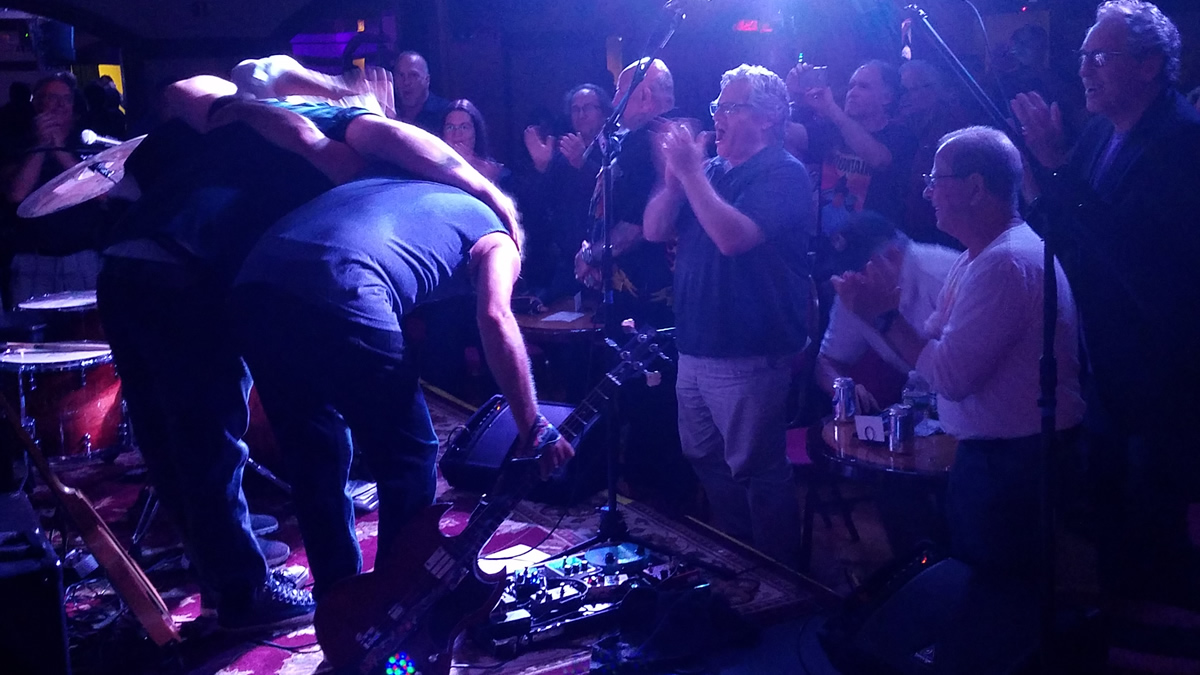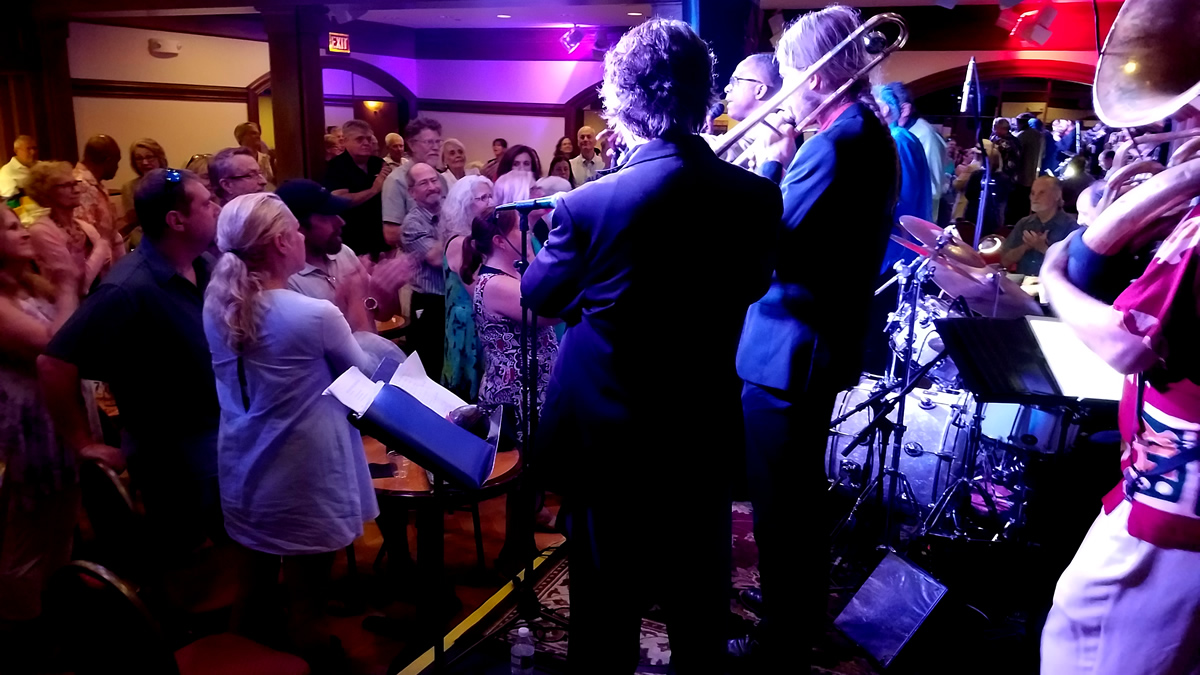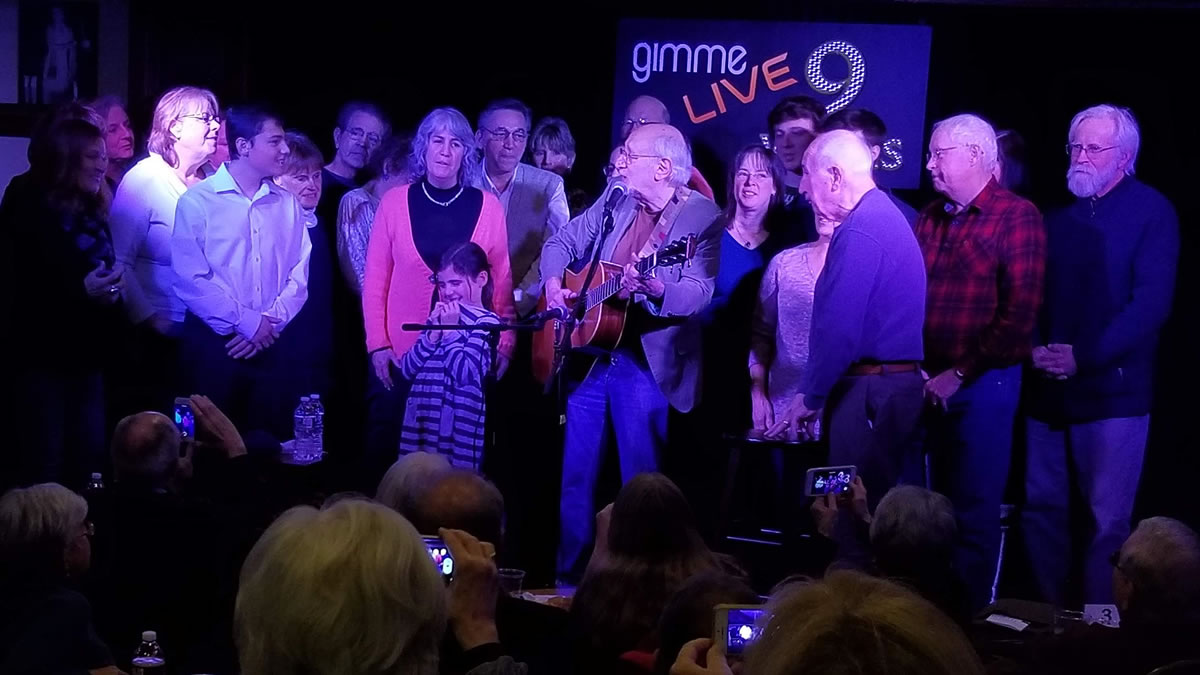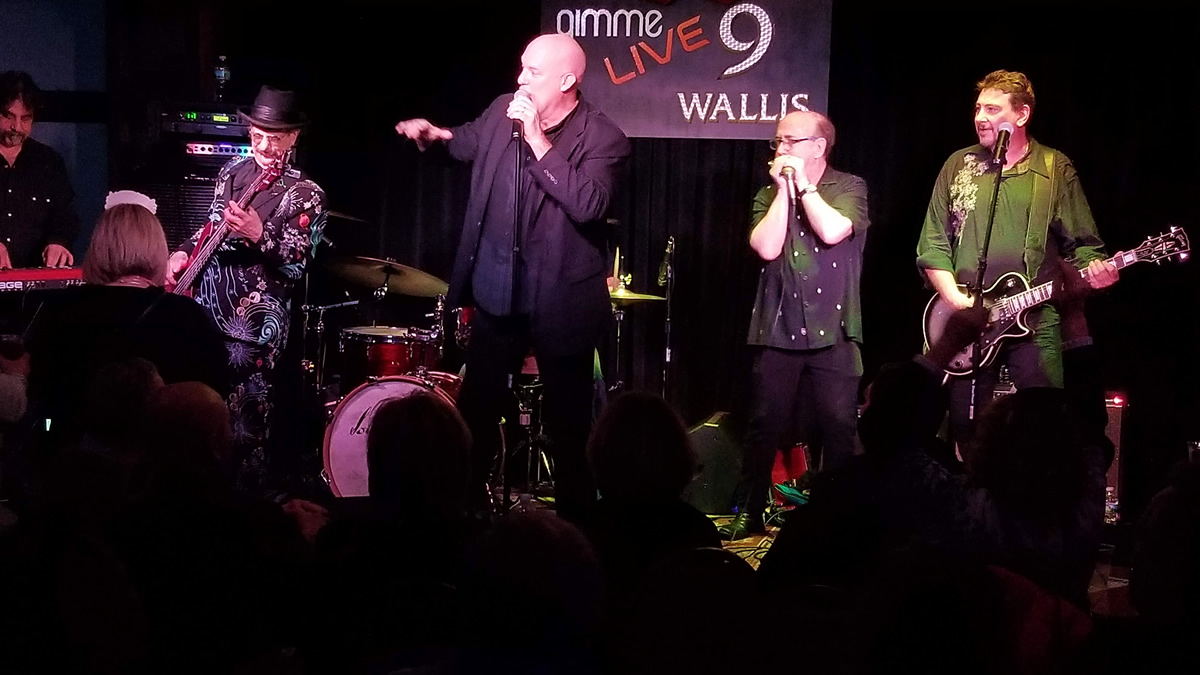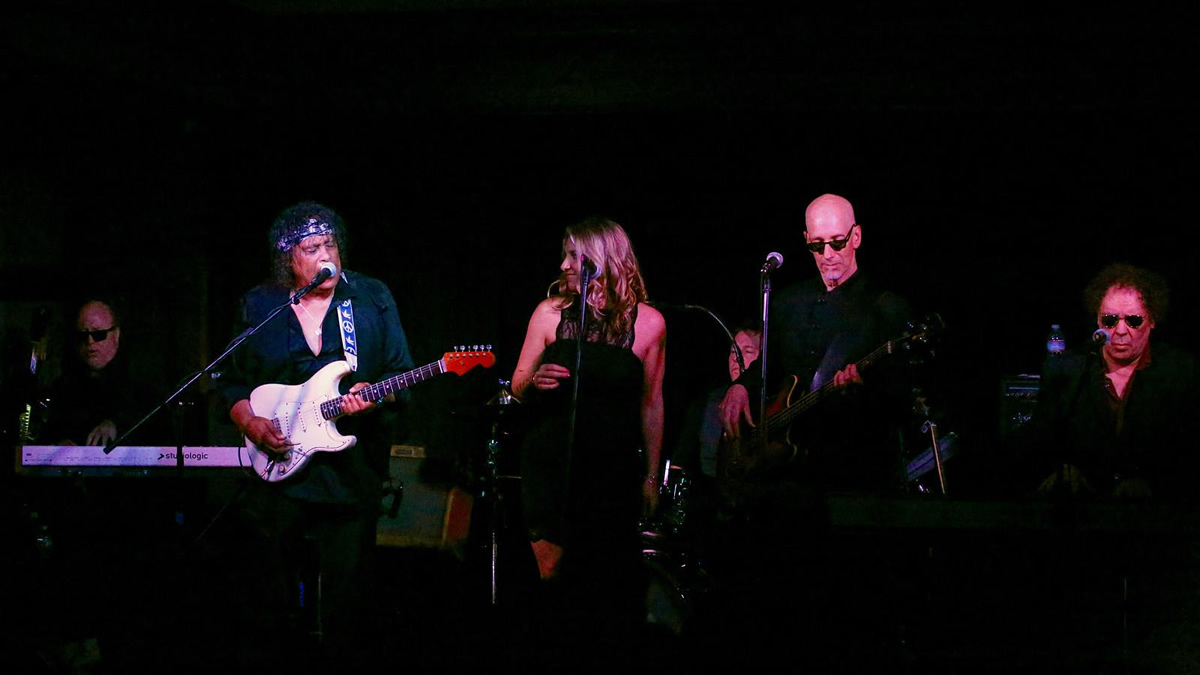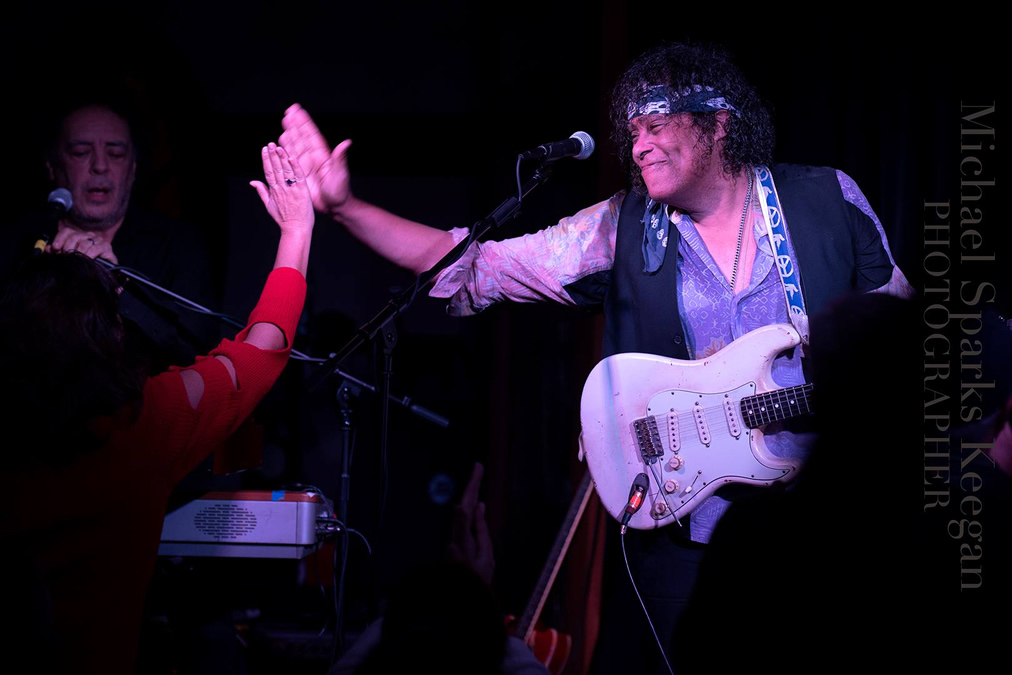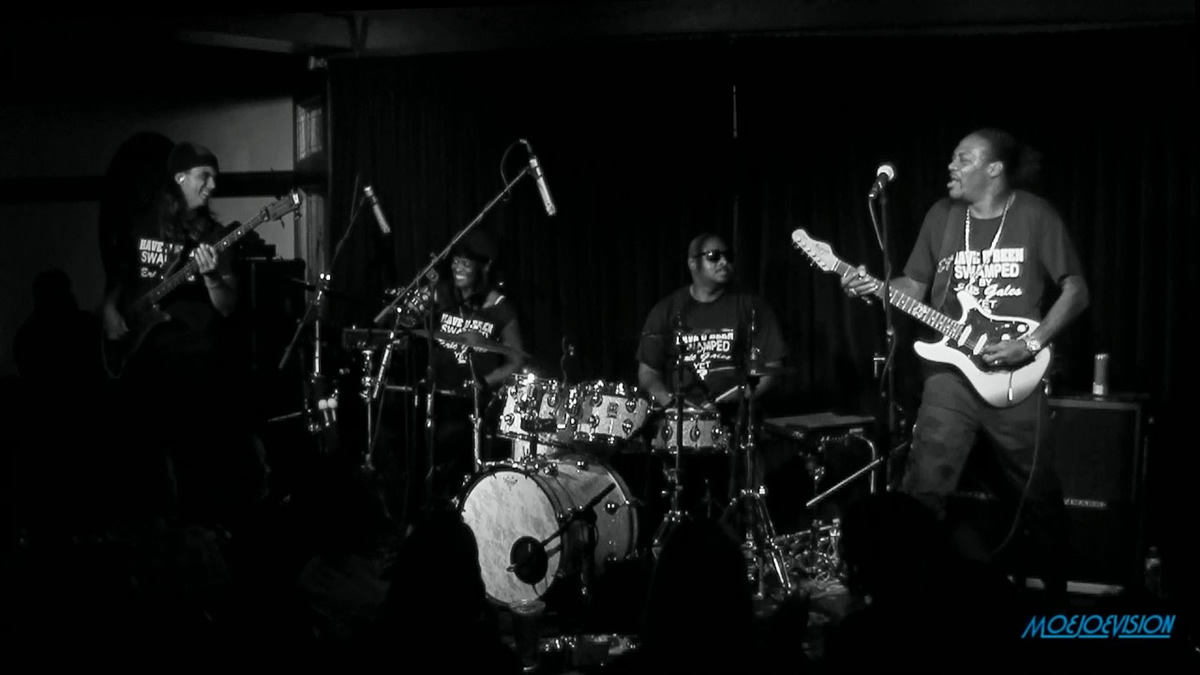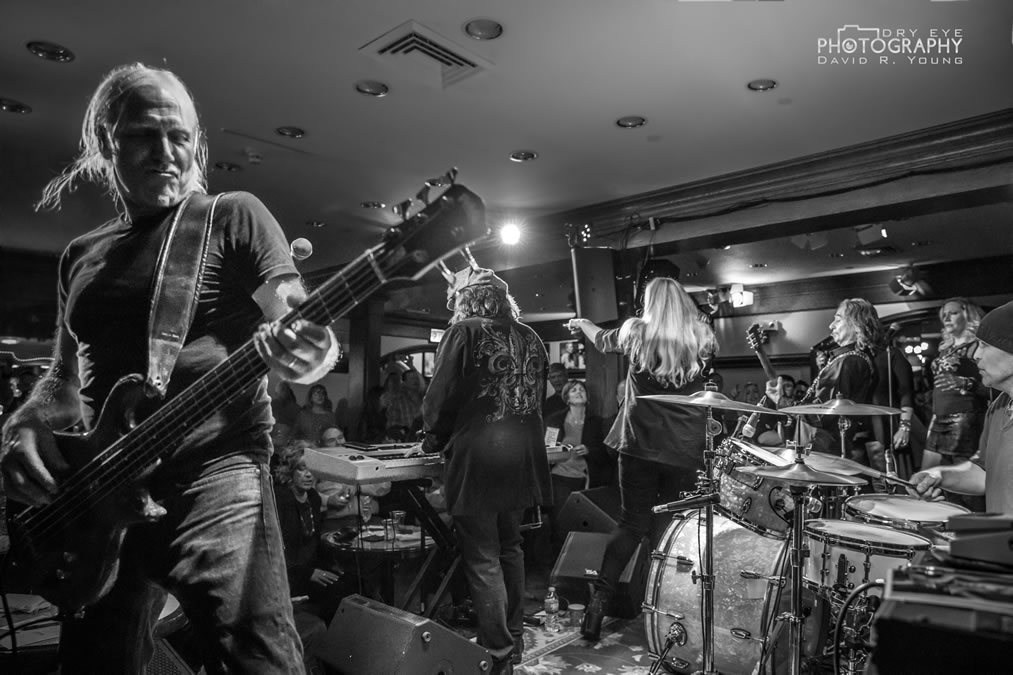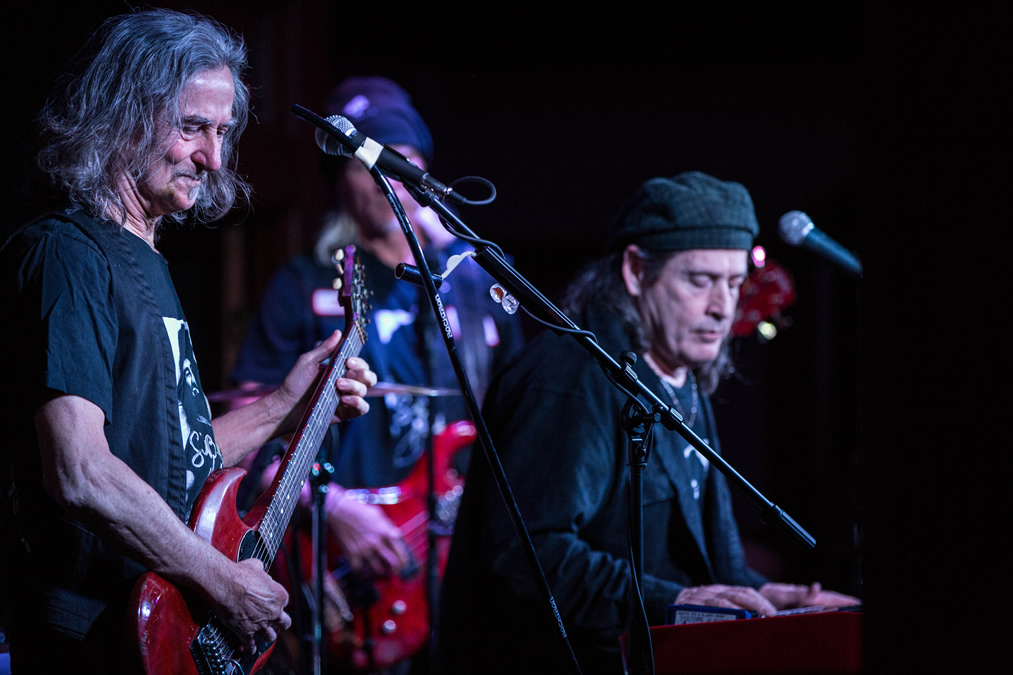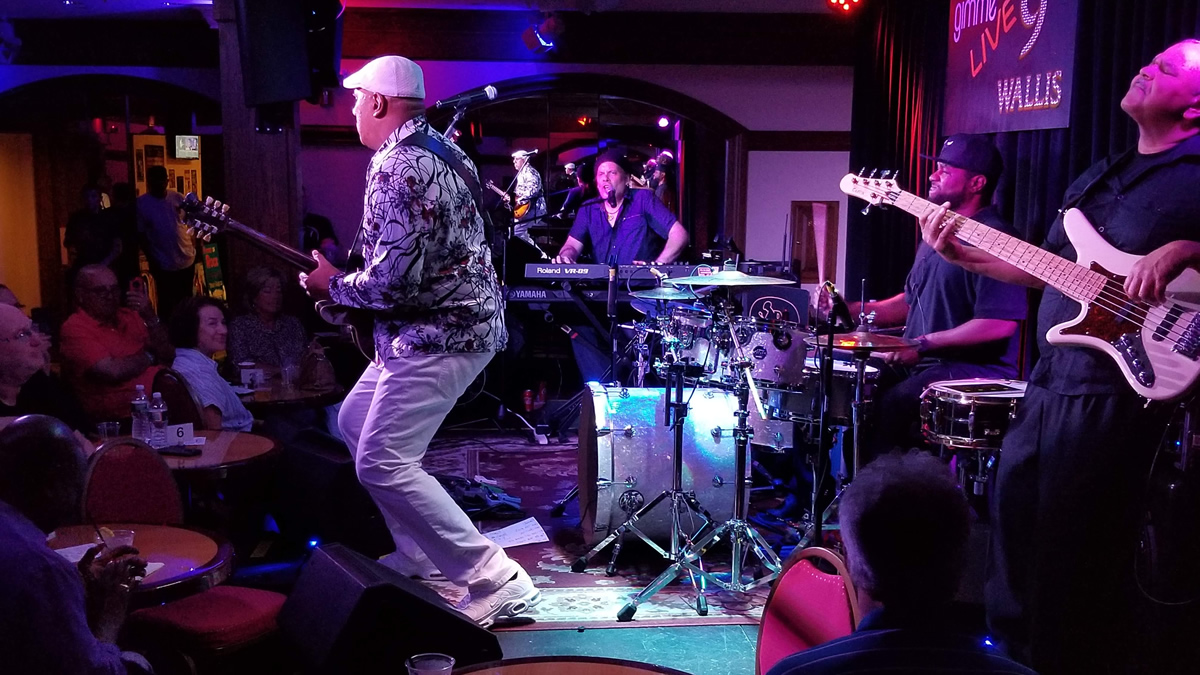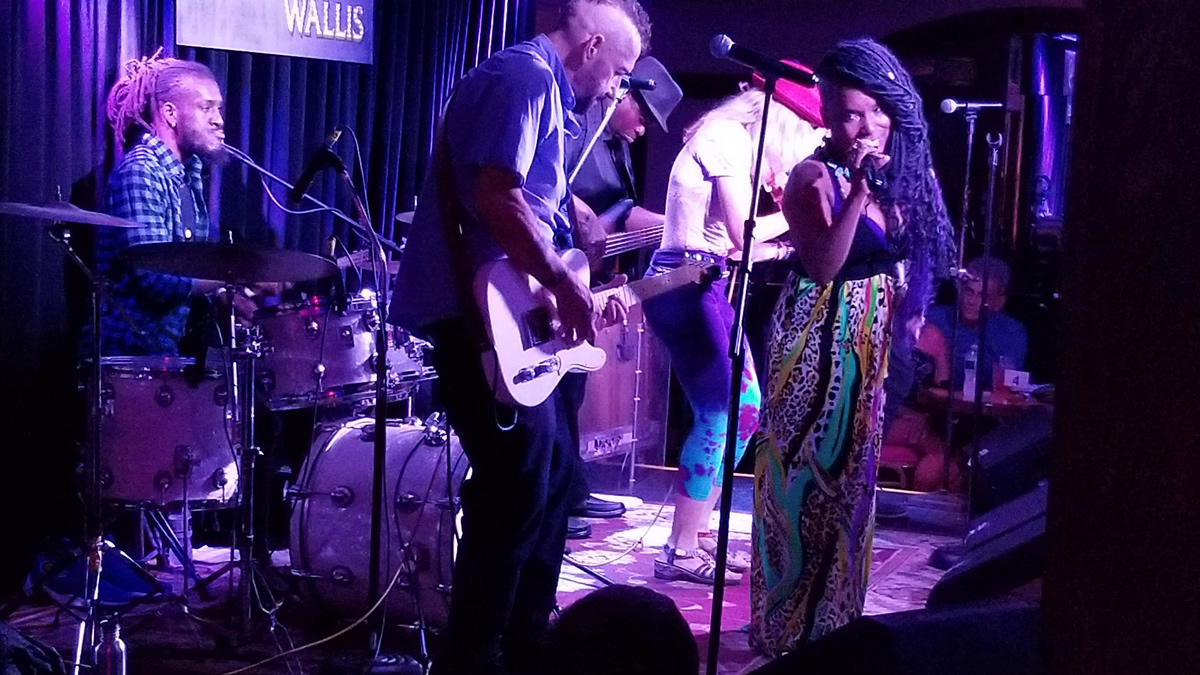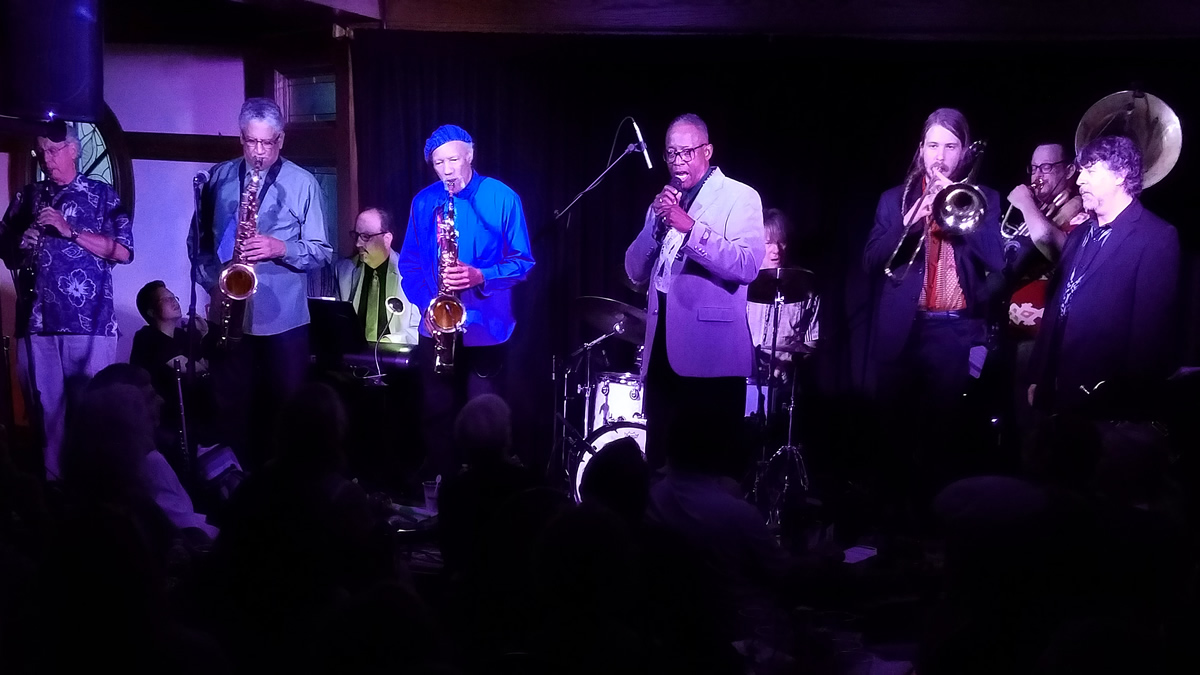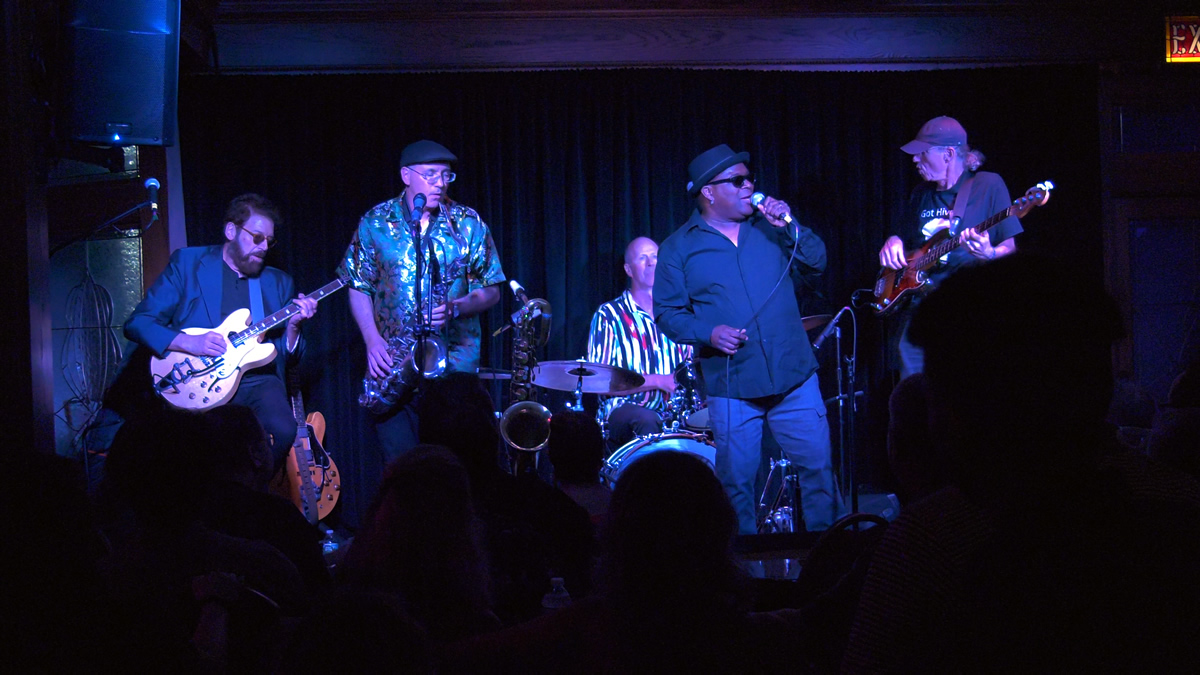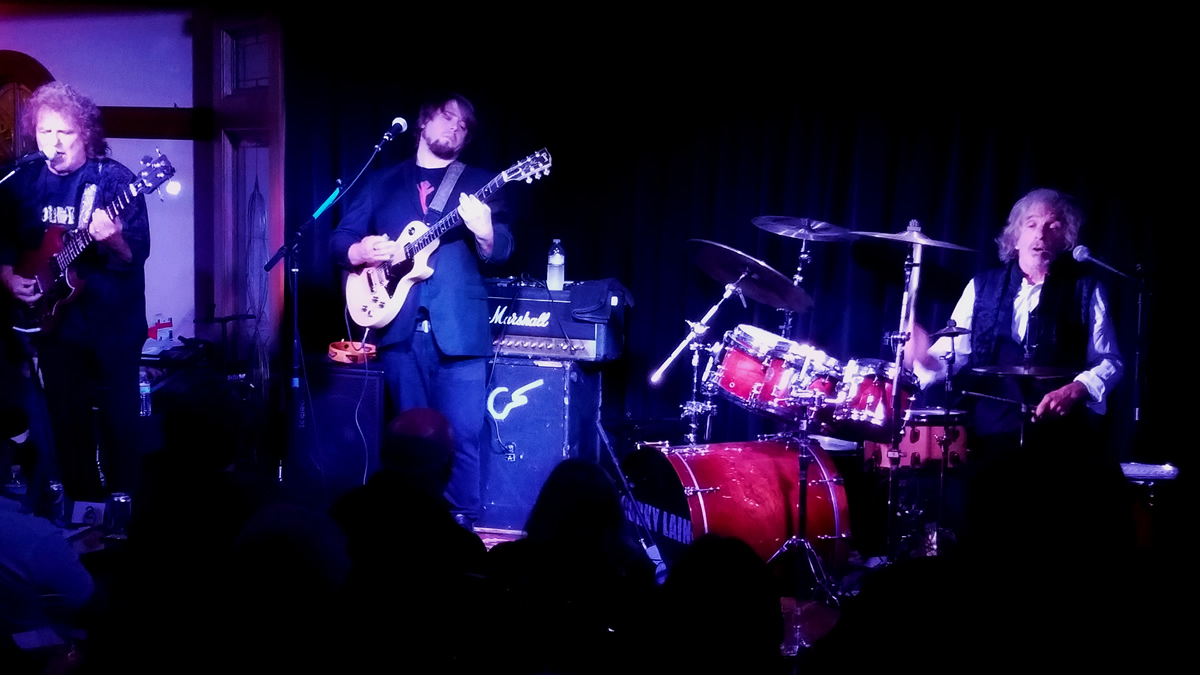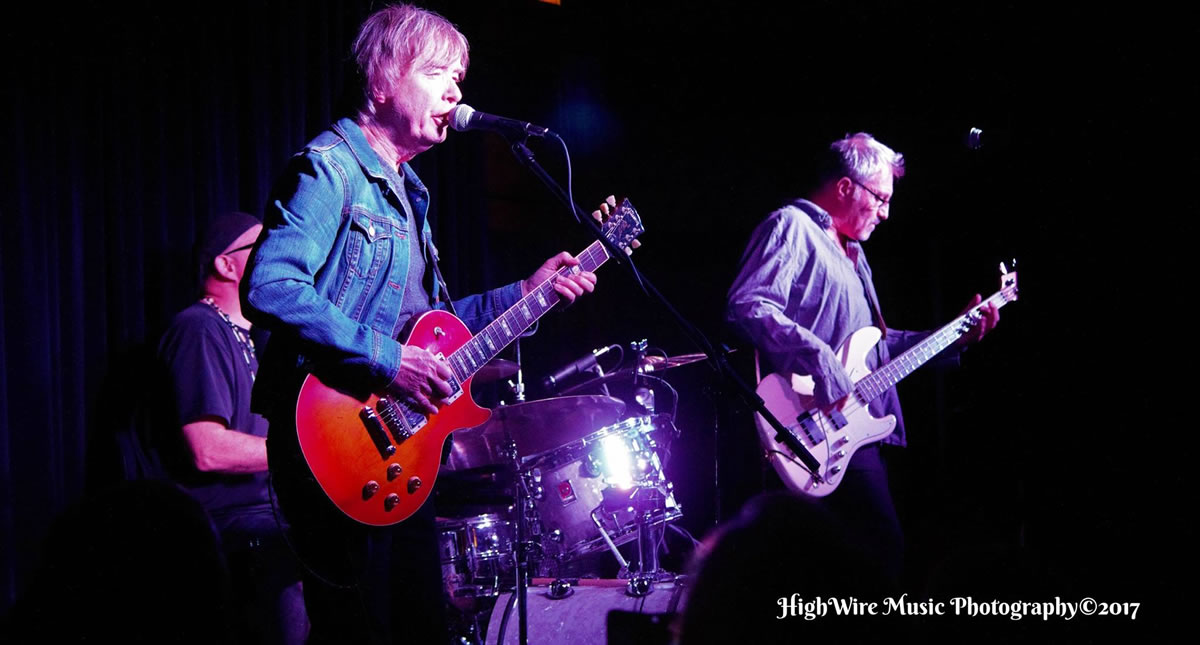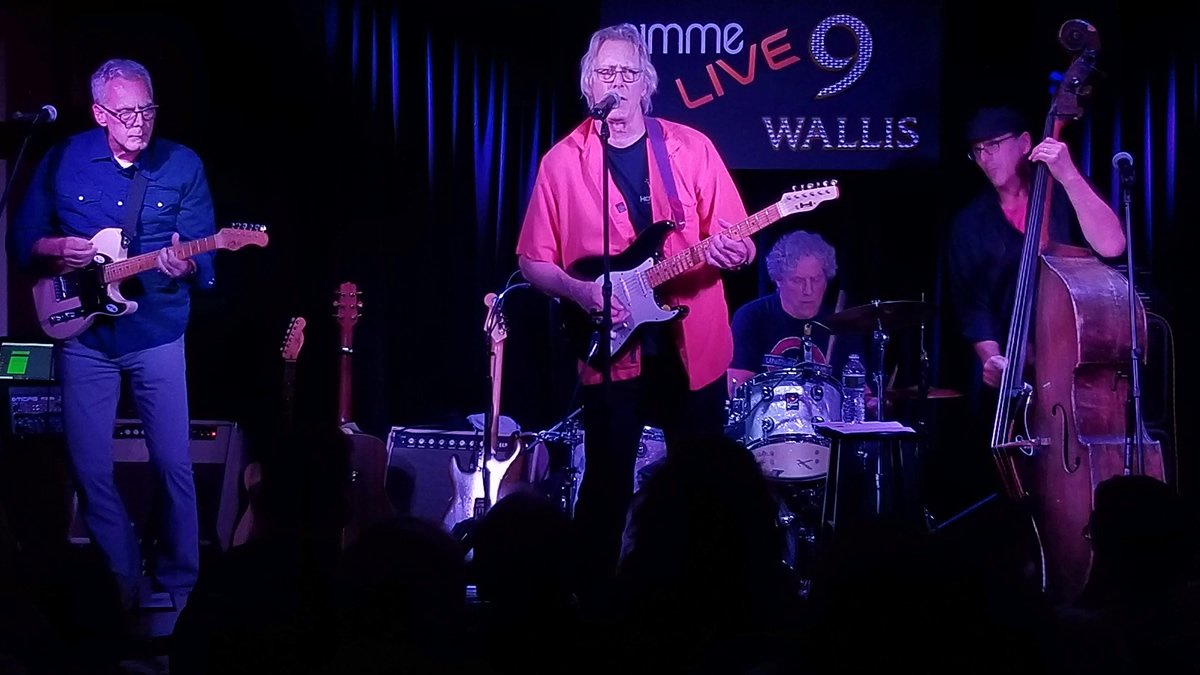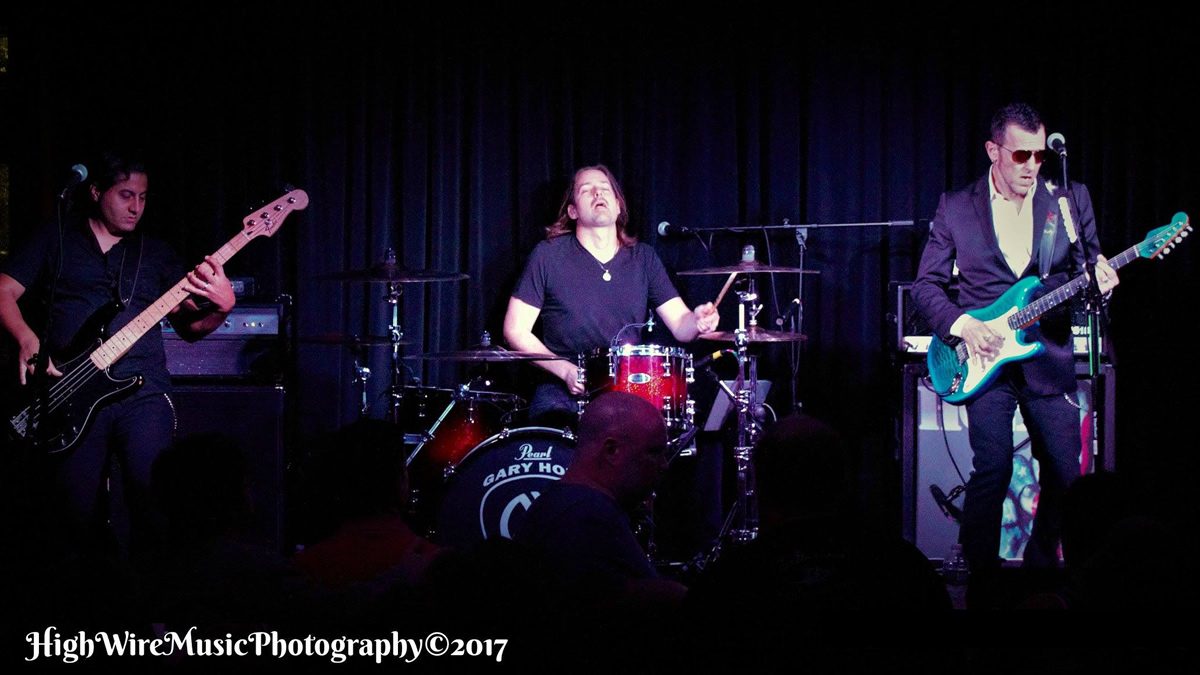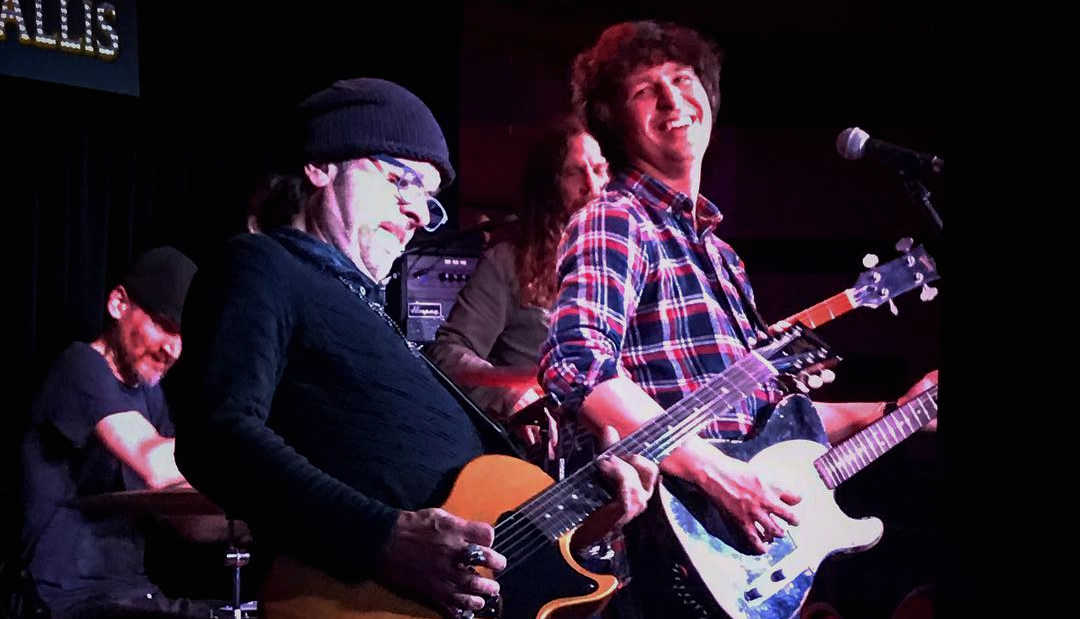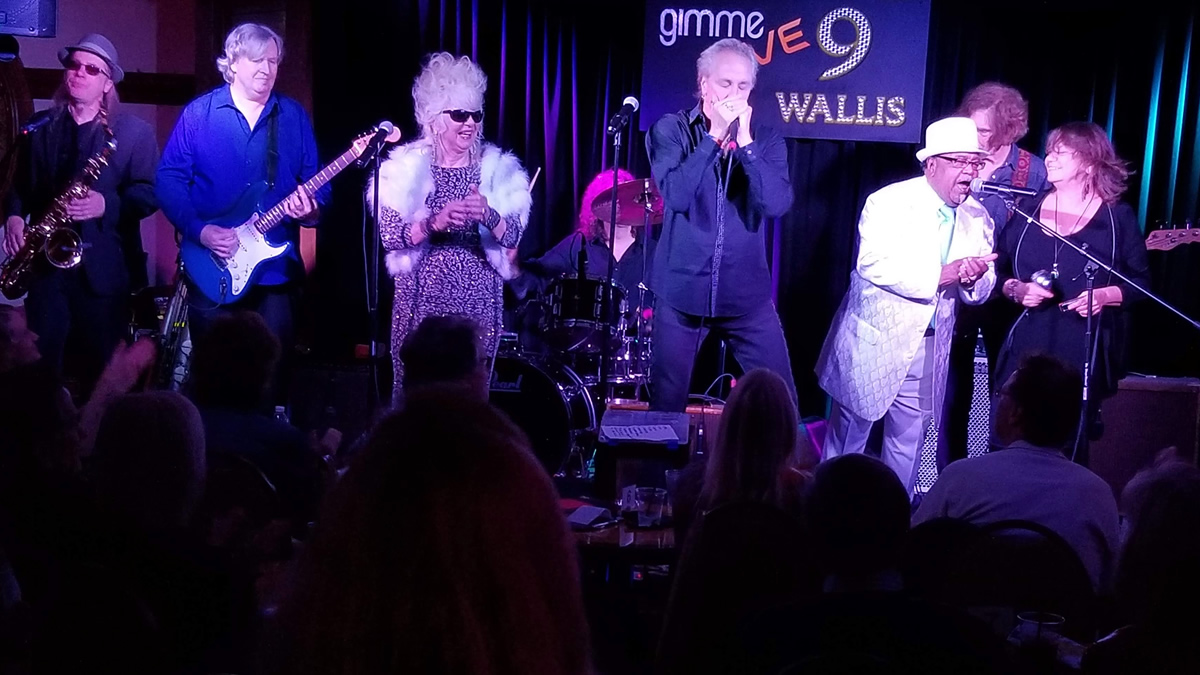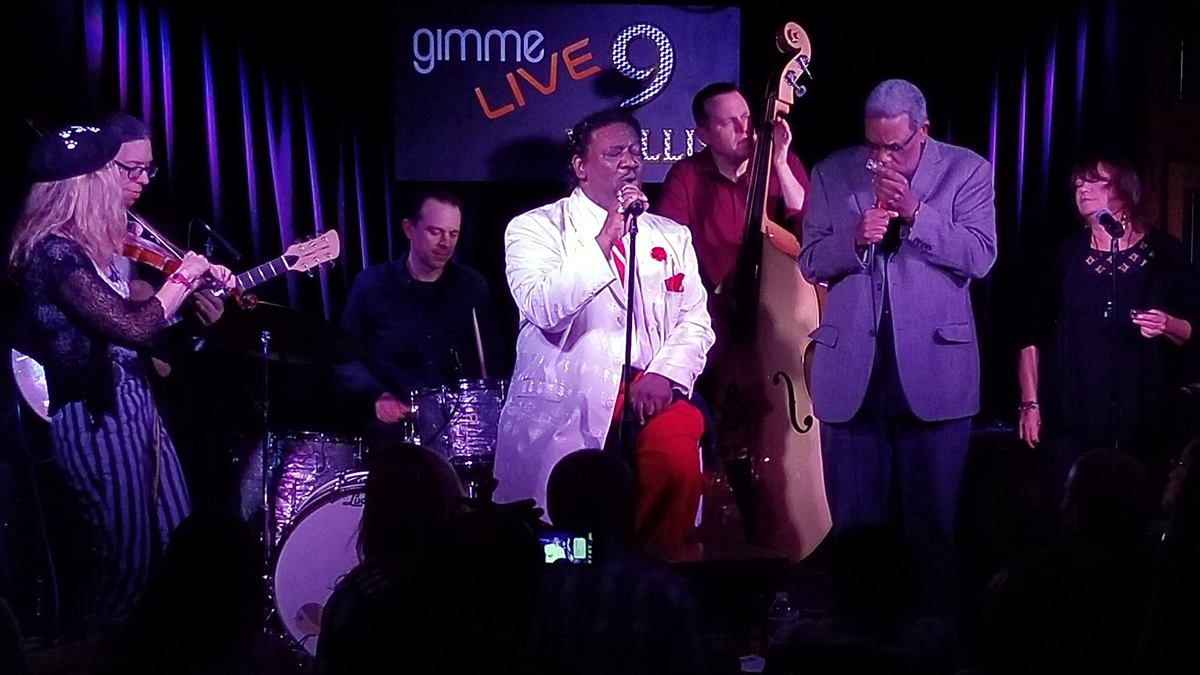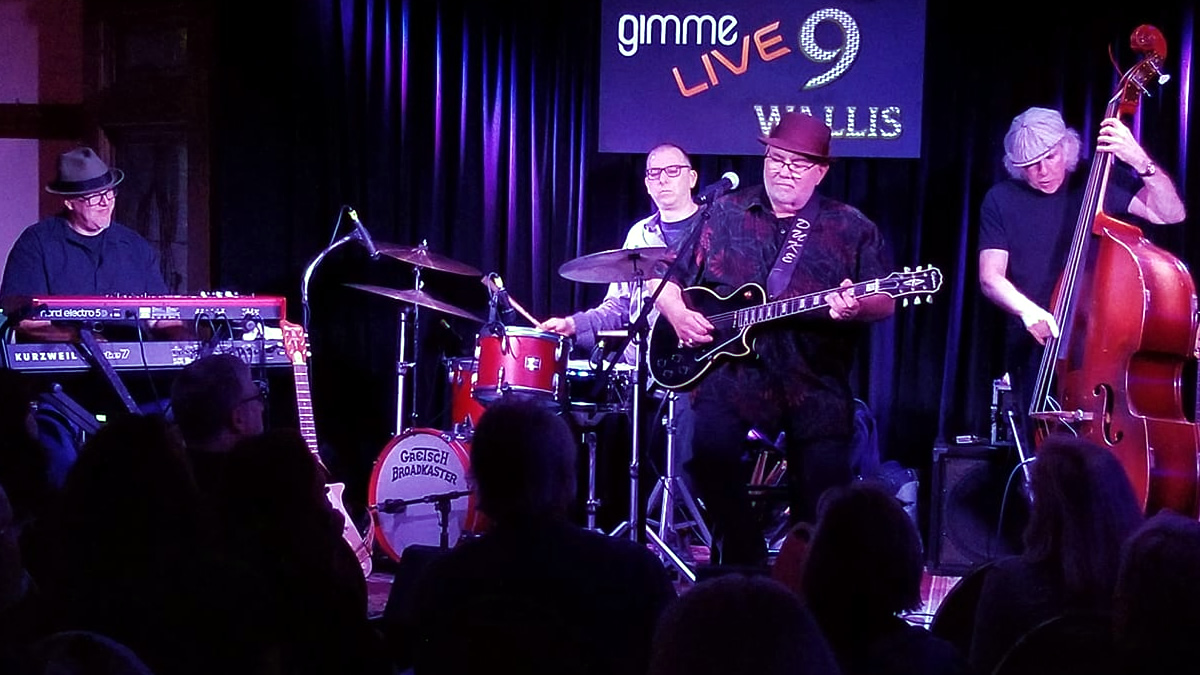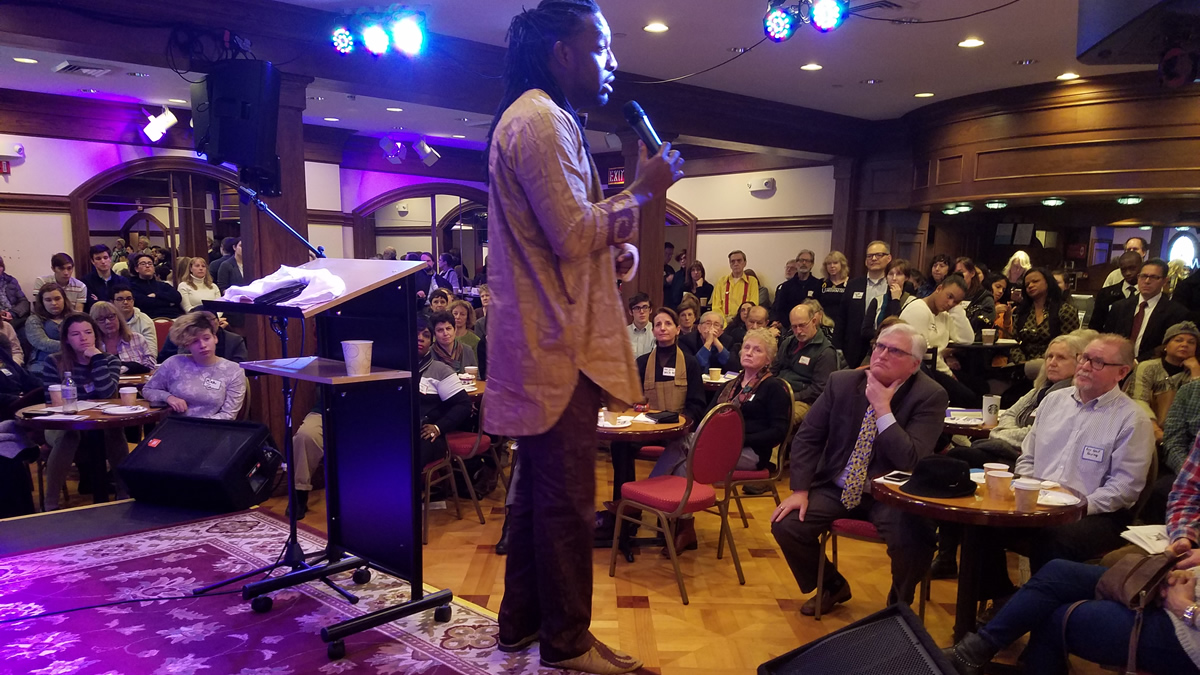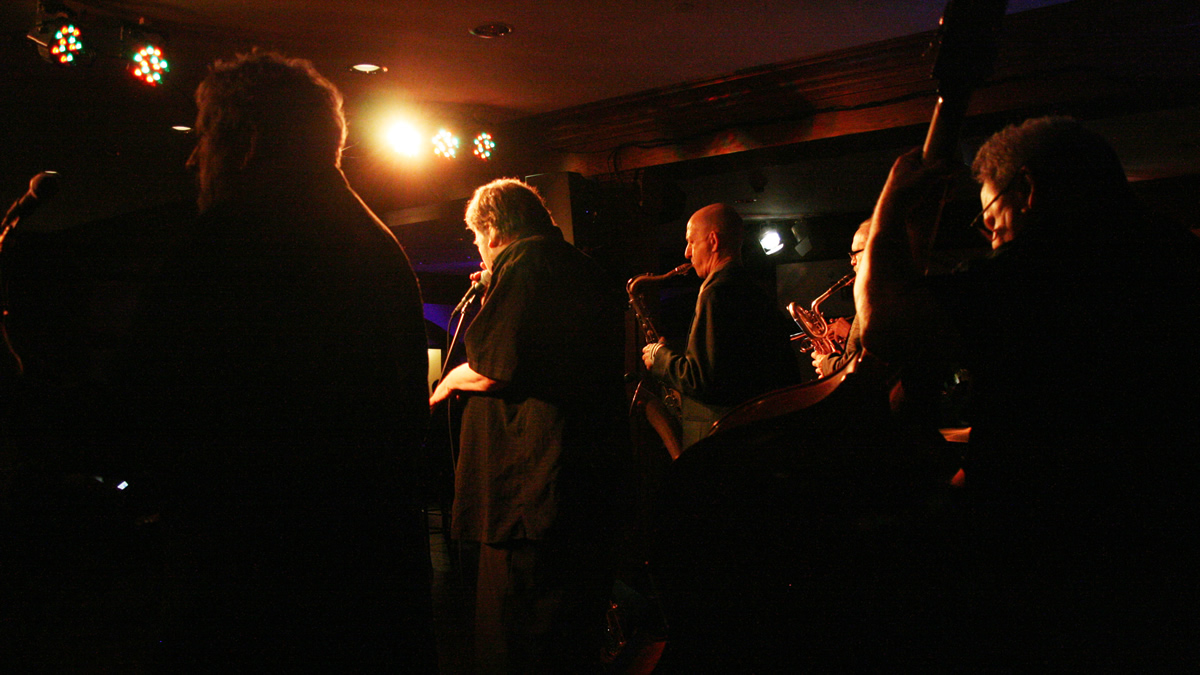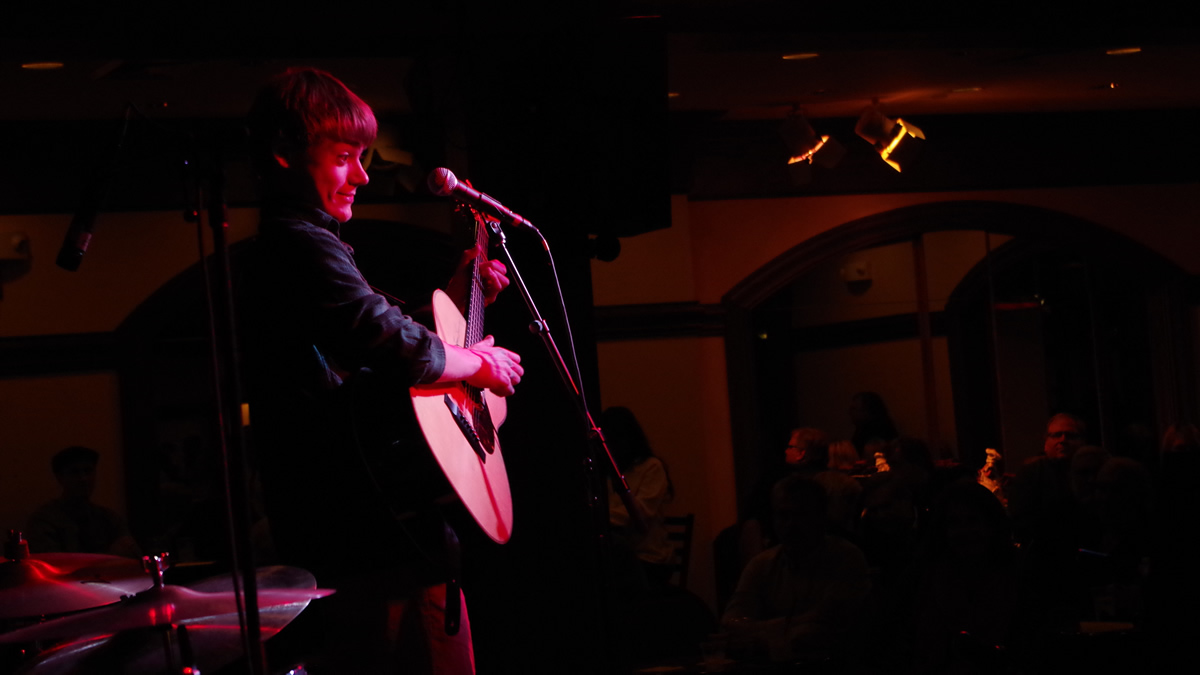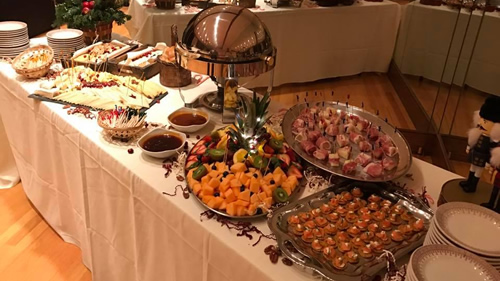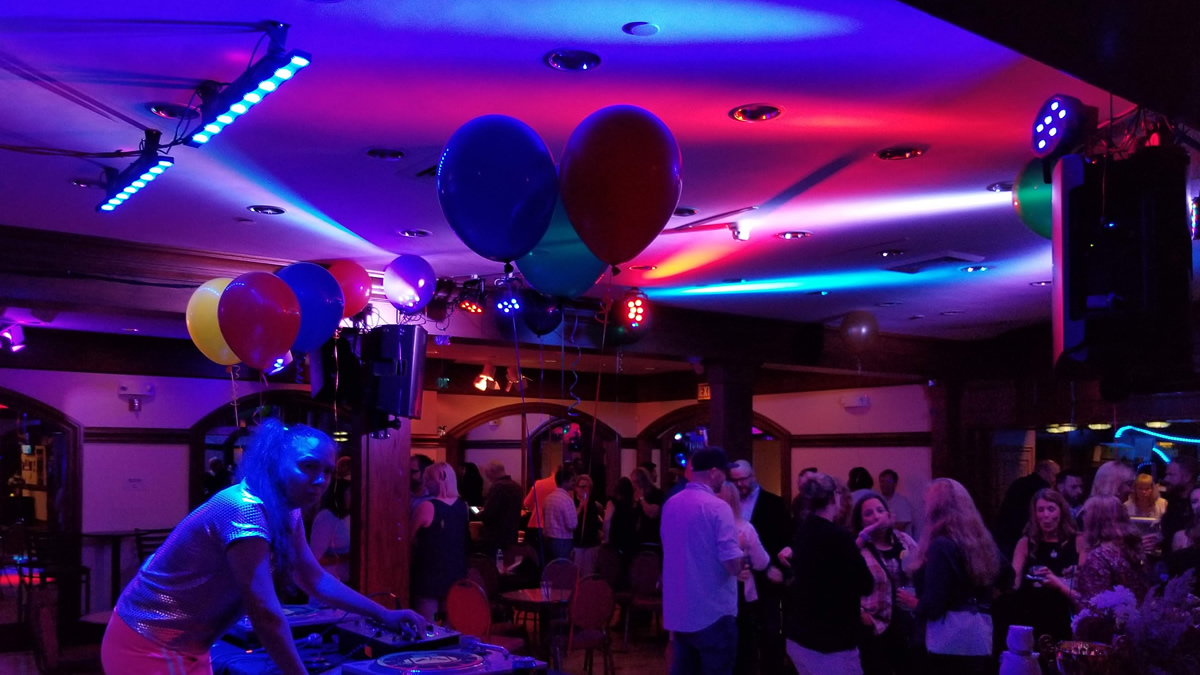 About 17 miles north of Boston, award-winning 9 Wallis is a gorgeous, fully restored, historic location conveniently situated in the heart of Downtown Beverly's Arts District at 9 Wallis Street, right next to the Larcom Theatre -- less than half a mile from the Beverly Depot rail station and 3 miles from Route 128, with plenty of nearby parking (see map).
In April 2017, after 4 years of presenting over a hundred shows at Beverly's Larcom Theatre (featuring Grammy-winners, Rock & Roll Hall of Famers and platinum recording artist), gimmeLIVE's owners Peter and Vickie Van Ness, transformed 9 Wallis into the most intimate, elegant, fully air conditioned listening room north of Boston with comfortable seating at tables, plus food & beverage service offering fine wines, local craft beers, specialty cocktails (featuring local distilleries and all-natural juices) and top-shelf spirits.
In August 2018, Peter and Vickie were presented with the Boston Blues Society's Keeping the Blues Alive Award for their work at 9 Wallis.
Because of its beautifully restored, tremendously flexible space with the best dance floor on Boston's North Shore, 9 Wallis has become a favorite venue for fundraisers, private parties and corporate events. Local charities have raised thousands of dollars at 9 Wallis (see examples). With world-class entertainment, an event can begin as a cocktail party or fully seated dinner...then transform into a nightclub-style dance party with concert quality sound and stage lighting.
CLICK HERE if you'd like someone to contact you about raising money for your charity. CLICK HERE if you want to book a party or corporate event.
Many new shows will be announced soon. Click here to join gimmeLIVE's FREE Concert Club and email list. You'll get special deals and prime seats before tickets go on sale to the public.
There is plenty of nearby parking at 7 lots from 150 feet away to 3 blocks away. Lots are 25 Cents/Hour (see map). Street parking is more. All parking is FREE after 8pm and on Sundays.
Want us to produce a concert or festival to raise money for your organization? Click here
Want to sponsor one of our shows? Click here