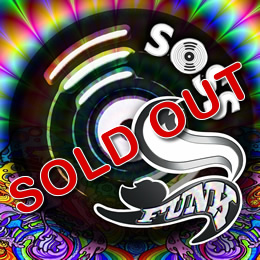 SOSS Records Presents
SOSS Records SKUNK-FUNK Dance Jam Party
DATE
Saturday, March 23, 2019
TIME
8:00PM

(Doors 7:00PM)

VENUE

9 Wallis Street

Venue Details
TICKETS
GENERAL ADMISSION (ALL AGES) $15.00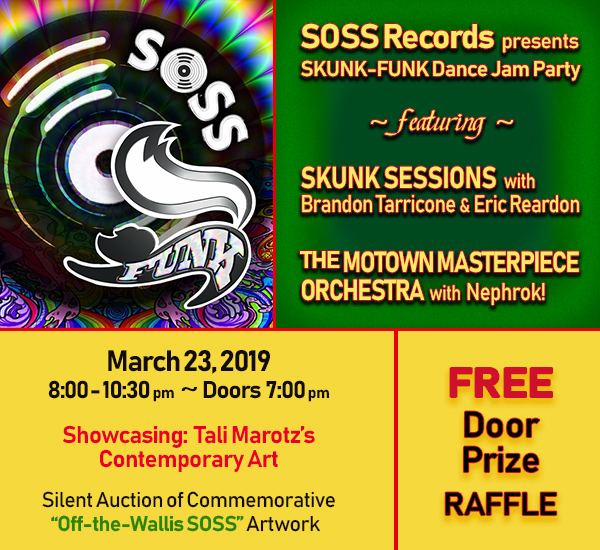 WATCH VIDEOS
Skunk Sessions = Legit Jams = Brandon Tarricone, Eric Reardon, Derek Hayden & Tugboat
The Motown Masterpiece Orchestra featuring Nephrok
Showcasing Tali Marotz's Contemporary Art
VIDEOS: Skunk Sessions and The Motown Masterpiece Orchestra
Skunk Sessions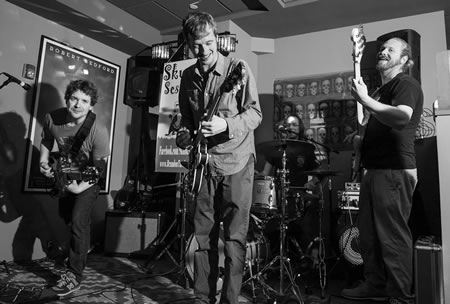 Skunk Sessions = Jam Band at its best, brought to you by a super group of four musicians with separate successful bands in their own right.
These four gents are some of the most talented musicians on Boston's North Shore. They perform in all different genres, giving them a platform to take popular Rock/Blues/Jam music in their own creative direction. Brandon Tarricone, Eric Reardon, Derek Hayden, and 2018 BMA award winner Adam "TugBoat" Sailer are the forces behind the music.
These musicians have taken a huge and constantly growing list of songs from artists/bands such as The Allman Brothers, David Bowie, The Grateful Dead, Prince, Phish, The Talking Heads, The Band, The Neville Brothers, Eric Clapton, Stevie Wonder, Dr. John, The Beatles, and Crosby Stills and Nash to name a few. With their own free-spirited approach, Skunk Sessions delivers a fresh feel and improvised motive to material that audience members everywhere can relate.
Brandon Tarricone, Guitarist/Singer/Composer: known for his 12 years leading the popular New Orleans based band Brotherhood of Groove. Today, Brandon leads Krewe de Groove & Krewe de Roux and enjoys funkin' out with Henley Douglas, Jr & HDRnB. He carries 20 years of professional playing and has performed in 35 states at some of the most popular venues in the country.
Eric Reardon, Guitarist: hometown musical royalty, born and raised in Salem, MA. Eric has been performing for 15 years all over New England since he was a young 14-year-old guitarist with an impressive following. He has a self-titled CD on the SOSS Records label. Current projects include Sarah and the Wild Versatile along with his own band Eric Reardon's Ulterior Motives. Eric's original style guitar chops are like none-other on the scene today.
Derek Hayden, percussionist/drummer: a hard working and in-demand performer in the Boston/New England area. From orchestral, to jazz, to blues/rock, Derek is well-versed. He is a founding member of Sarah and The Wild Versatile and Merrimack Delta Dub Set, and most importantly he brings the heavy grooves to the stage every night.
Adam "TugBoat" Sailer, bassist/composer: a working musician in both the Salem/Boston scene and the founding member of 2018 BMA award winning reggae band Soul Rebel Project. Adam is also a successful freelance working performer and teacher with low-end sensibility that has garnered great attention from the music scene.
The Motown Masterpiece Orchestra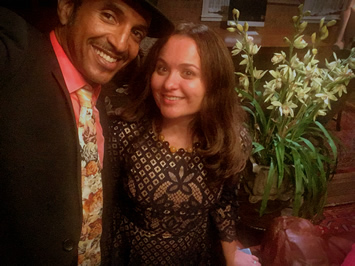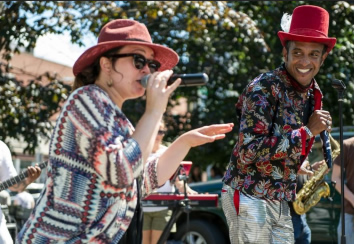 Just wait 'til you hear and feel the funk from The Motown Masterpiece Orchestra!
This 8-piece band includes some of the funkiest Boston musicians in town. Nephtaliem McCrary, Sarah Seminski, Charlie Hunt, Steve Cuoco, Benny Benson, Scott Aruda, Pat Loomis & Big Ben Hillman recreate the greatness that was the Motown Sound. They will completely explode with 4-part harmonies, a full horn section, and a relentless rhythm zone that will have you funkin' out in every way. It's no surprise that they continue to pack the house at the famous Wally's Jazz Café every Monday night.
Nephtaliem McCrary (Vocals) will transport you back in time to the funk-heavy '60s, '70s and '80s. He brings his authentic theatrical groove, dresses the part & acts out the performances of some of the greatest musicians of our lifetime. You will feel and experience the grooves of James Brown, Prince and Michael Jackson...not only in his voice & chic fashion, but in his passion he literally pours into the performance. Neph & Sarah Seminski are also members of the Nephrok! Allstars, a Boston-based funk and soul band. They were targeted as the perfect fit to open for George Clinton and Parliament Funkadelic in 2016 at The House of Blues.
Sarah Seminski (Vocals) is a Boston-Based singer/songwriter who also performs with the Wild Versatile (debut album "Fall Into Grace"). Sarah's powerhouse vocals are likened to Gloria Gaynor, Teena Marie & Janis Joplin. Over the last five years, Sarah has released 2 full length albums (with Big Ol' Dirty Bucket) and 1 EP (with Vanilla Manvelope) while steadily performing across the Northeast sharing the bill with Fishbone, George Clinton and the Parliament Funkadelic, Booker T Jones (of Booker T and the MG's), Robert Randolph and the Family Band, Foundation of Funk, Nick Moss, Ryan Montbleau, Sister Sparrow and the Dirty Birds, Rusted Root, Kung Fu,Tracy Bonham, Zach Deputy, and many others.
Charlie Hunt (Guitar) from Charlottesville, VA and a graduate of Berklee College of Music Boston. Charlie is a vital piece of "Search Party", voted Best Wedding Band by Boston Magazine in 2017. Ranging from classic Motown to current top 40 hits, this dynamic 8 piece band keeps a party grooving all night long.
Steve Cuoco (Bass) began playing at the age of fifteen. "I was exposed to all kinds of music at a young age. Everything changed after I heard Stevie Wonder's "Songs In The Key Of Life" for the first time." In addition to being influenced by Nate Watt's bass playing, Cuoco also strived to sound like Stevie's left hand as well. Steve attended Longy School Of Music in Cambridge, Massachusetts and has also studied with Oscar Stagnaro and the great Charlie Banacos.
Benny Benson (Drums), a 3rd generation musician, has studied with Charlie Banacos, Bob Gullotti, and Gary Chaffee. Benson has been the core drummer in numerous groups, covering a wide range of styles, touring Europe, the United States, Canada and the Caribbean as well being a mainstay drummer on the local jazz, blues, and funk scene. Benny is no stranger to the organ trio format and has been first call for organists Ron Levy, Ken Clark, Marty Rowen and Rusty Scott. In addition, he is a founding member of Fats Hammond, Headshaft, and Los Sugar Kings.
Pat Loomis (Saxophone & Vocals) has quickly established himself as one of the most sought-after musicians in the areas of Jazz and R&B in the New England region. Born in Portland, Oregon and raised in Seattle, Washington, Pat began his professional career in the Pacific Northwest before coming back East to attend the prestigious Berklee College of Music in Boston (1988-1992). Since then, Pat has performed with such jazz stars as Wynton Marsalis, Grover Washington Jr., Diana Krall, Joshua Redman, Roy Hargrove, Paquito D' Rivera and Arturo Sandoval, as well as pop and R&B giants Aretha Franklin, Smokey Robinson and Phil Collins.
Big Ben Hillman (Piano) is a multi-instrumental musician, composer and producer. His style is a mix of old school funky grooves, retro soul with a modern twist. Big Ben (aka The Professor of FUNK) learned to sing songs by his mother's piano as a youth, and as a teen became an accomplished drummer. As a young man he taught himself to play keyboards as a means of writing and arranging his original songs. He attended the University of Massachusetts at Lowell, where he studied both percussion and keyboards, and majored in music composition. Upon graduating, Hillman would make a name for himself as a well known keyboard player in Boston's hard-core funk scene, playing with some of the biggest names in local music, such as Michigan Blacksnake (aka Blacksnake), The Unforgettables, Hazie Maze, The Boston Horns, Two Ton Shoe, saxophonist Sam Kininger and hip hop artist D-Tension.
Scott Aruda (Trumpet) studied Jazz at New England Conservatory. He was born & raised in the Boston area, started playing the trumpet at 3 or 4 yrs. old, and by 6th grade was playing lead trumpet in the high school band. As a senior in High School, Scott beat out over 7,000 other trumpet players and was selected to play lead trumpet for the Mcdonald's All American jazz band. He was offered full scholarships to several colleges, and has since toured the world and played with many amazing musicians.
Tali Marotz Contemporary Artist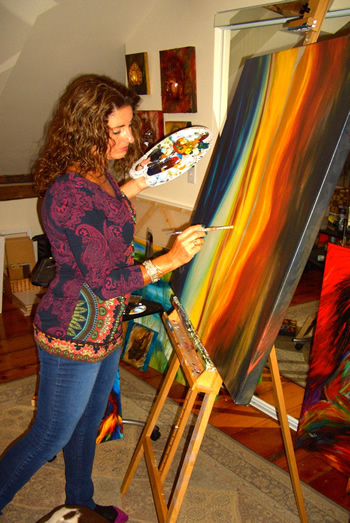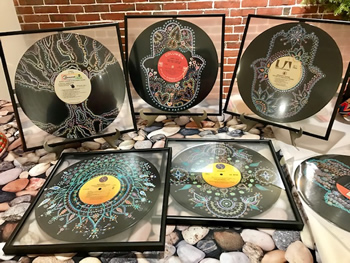 Tali is an internationally recognized contemporary artist with an intrinsic ability to transform her artistic vision to her paintings, mixed media, stone art, and vinyl record art.
You can feel energy through the vibrant colors and shapes. Tali's latest vinyl art collection 'Sounds Of Colors' portrays her combined passion in music and art.
Each vinyl record is hand painted using the Pointillism technique with oil paints. The records are signed on the back.
Tali Marotz
Tali Marotz Contemporary Artist
see website
781-771-0103
ABOUT 9 WALLIS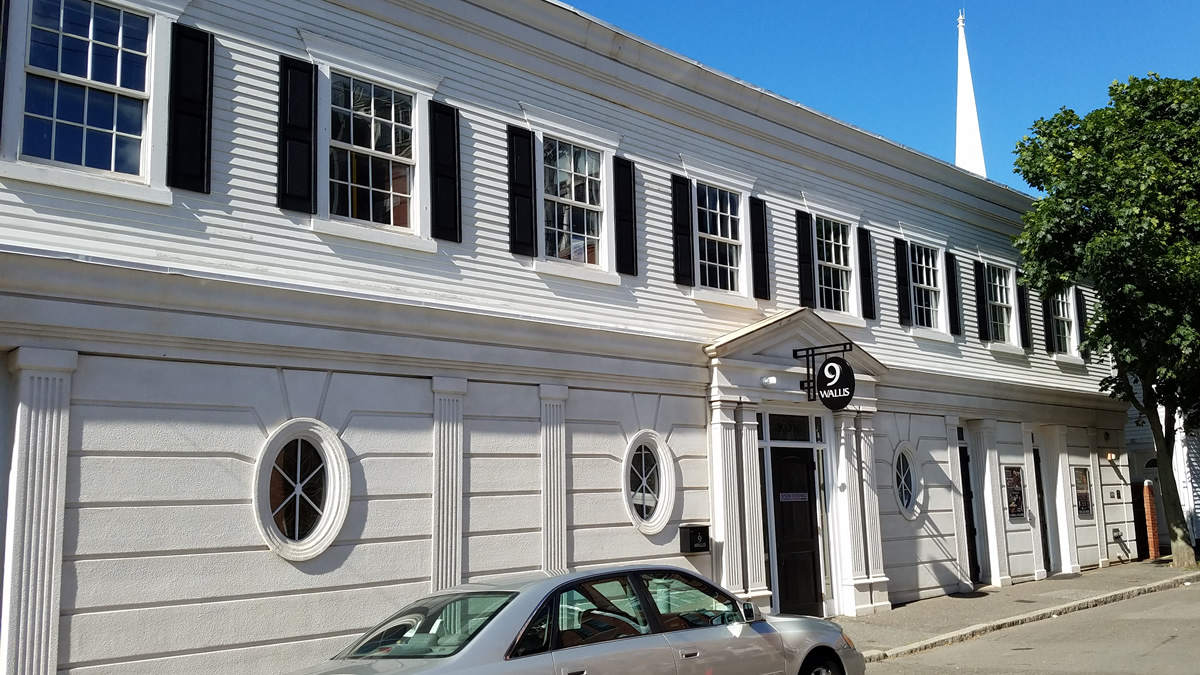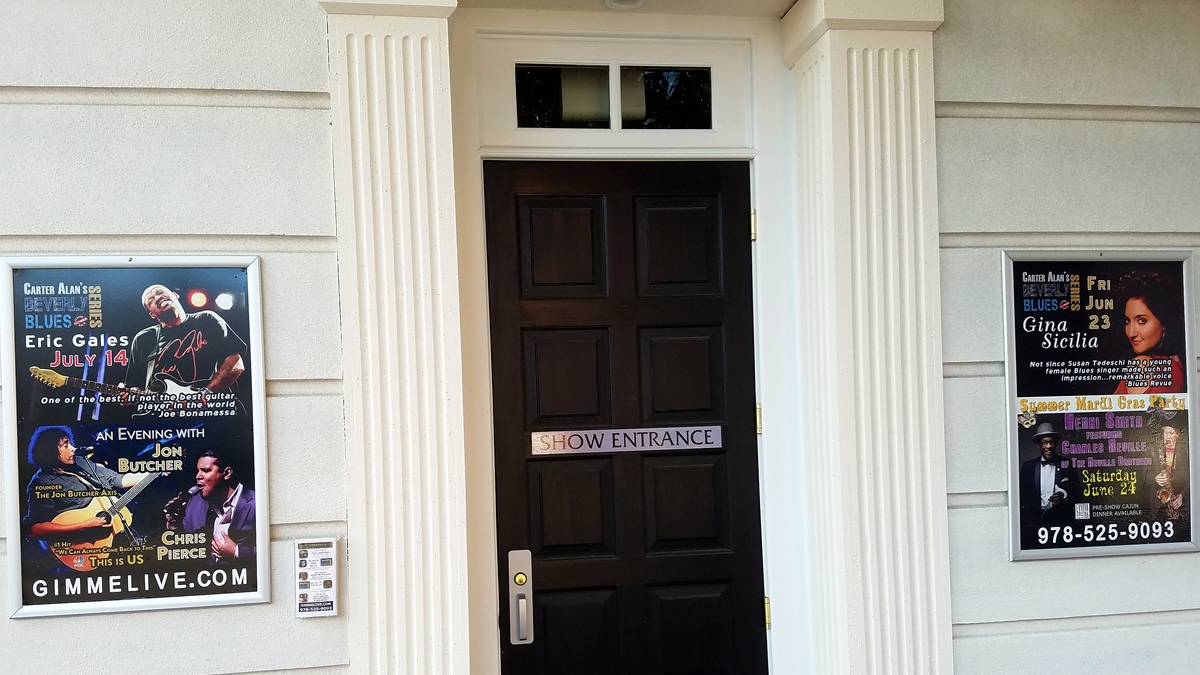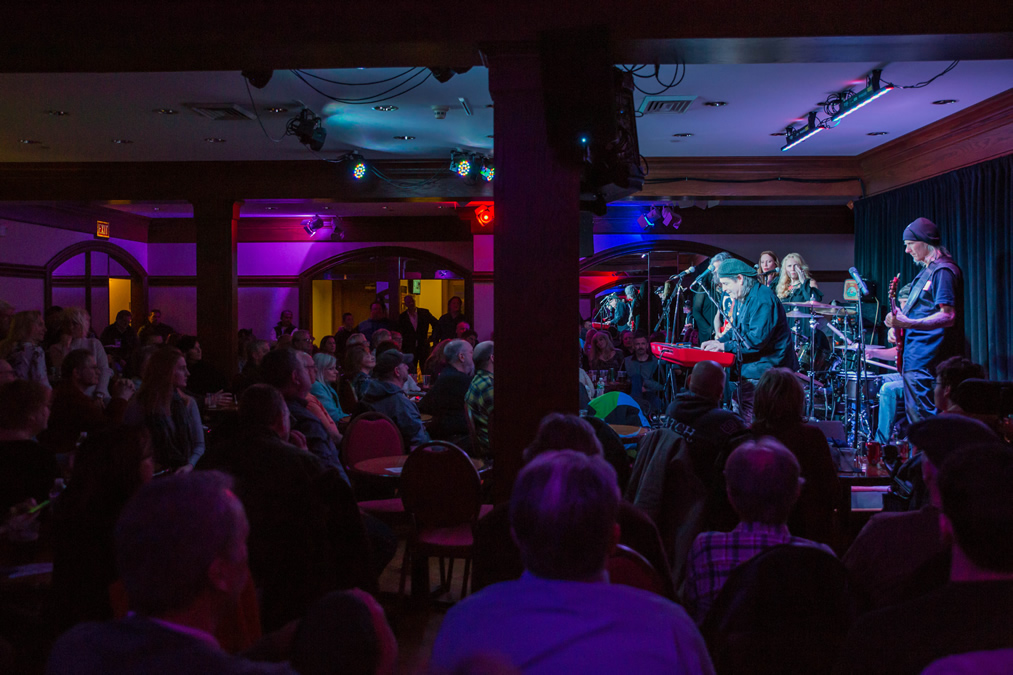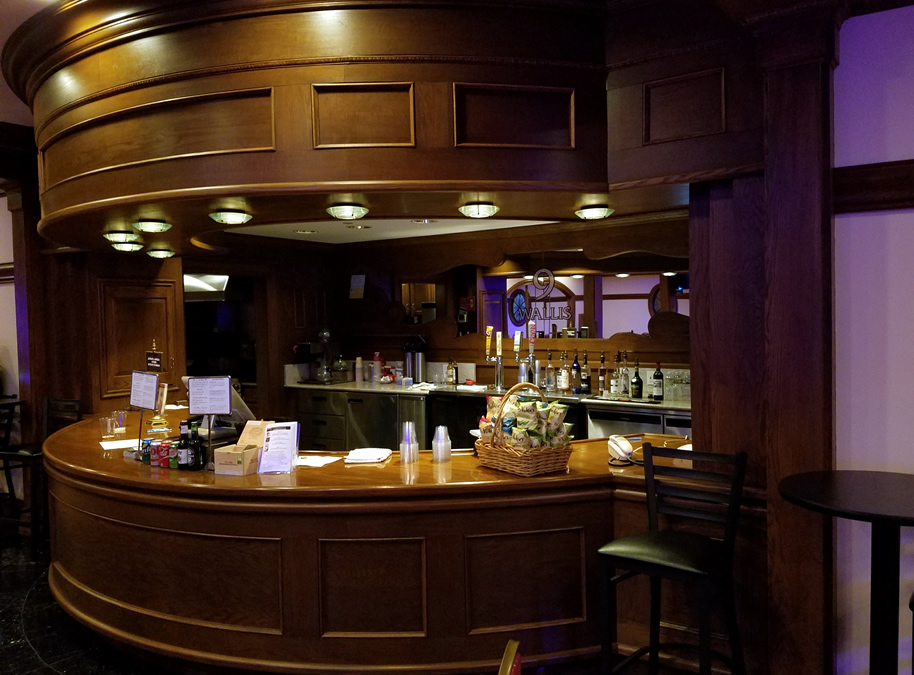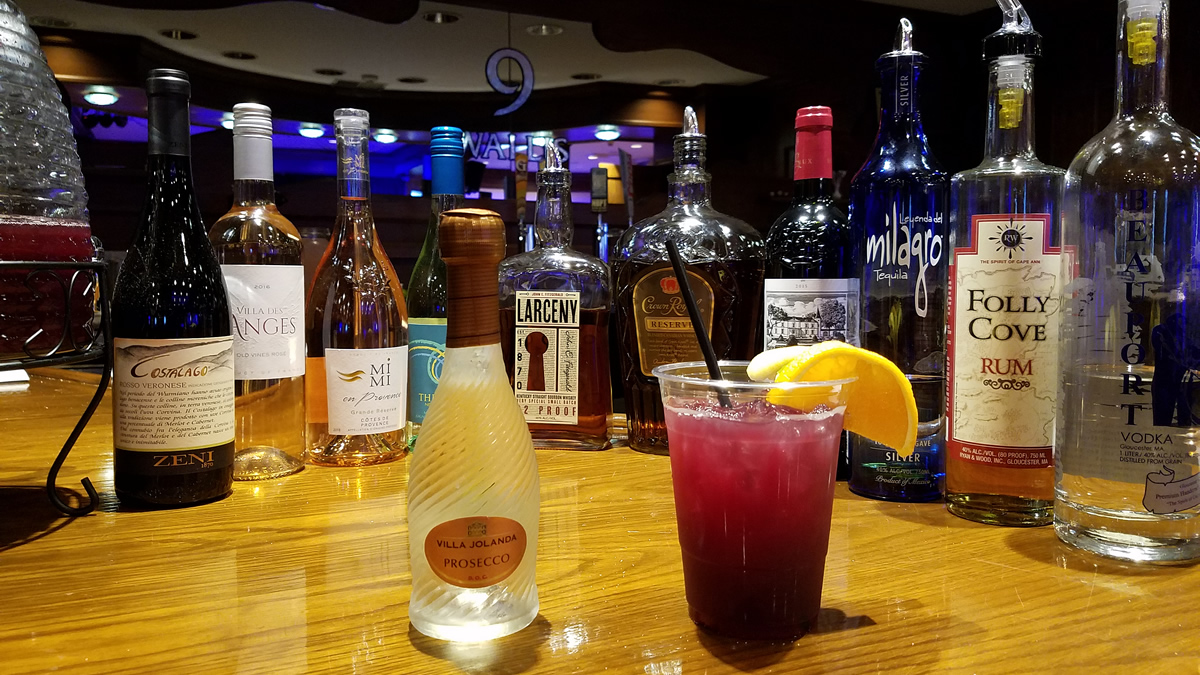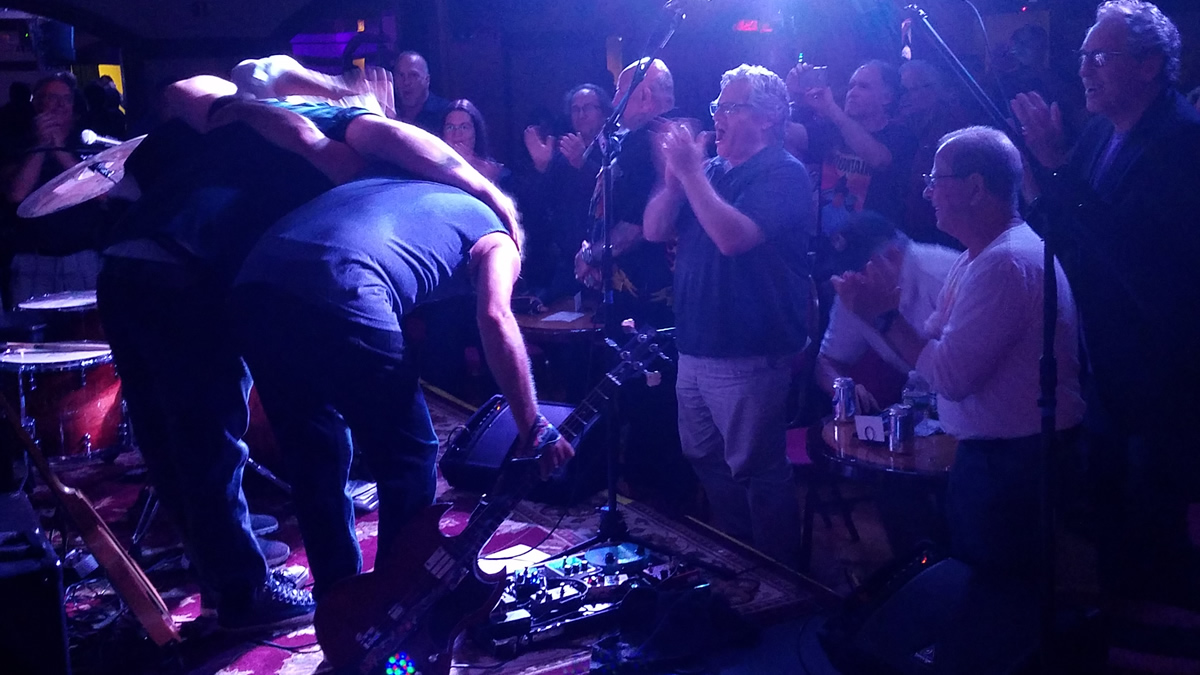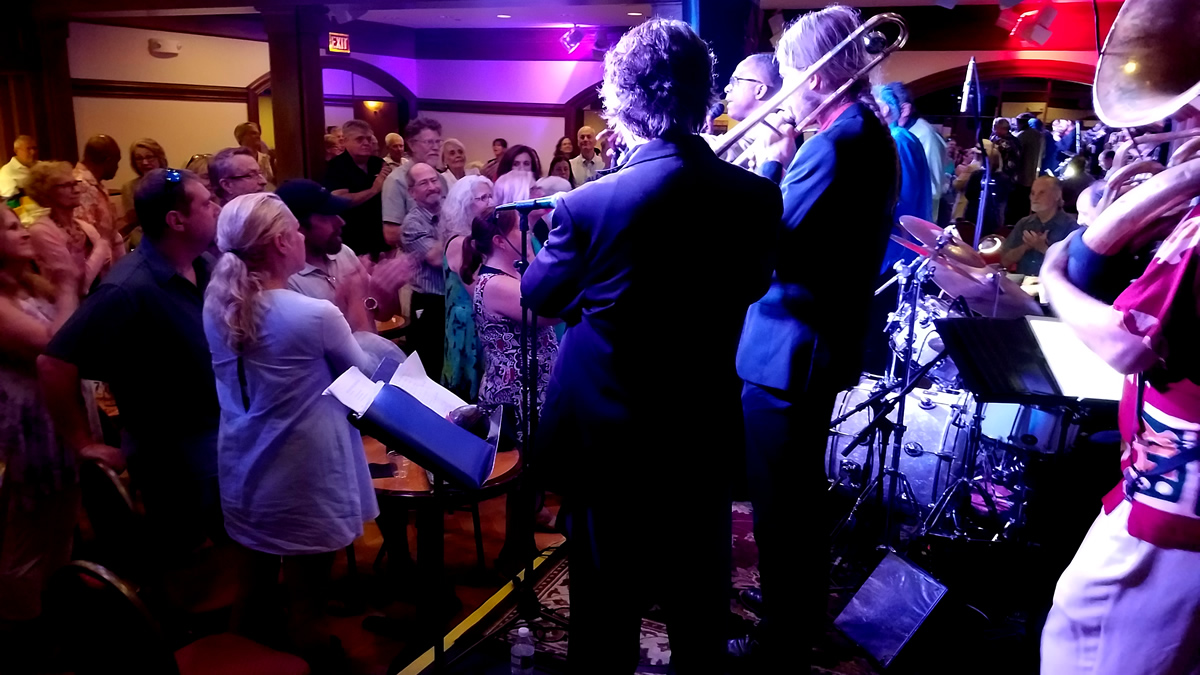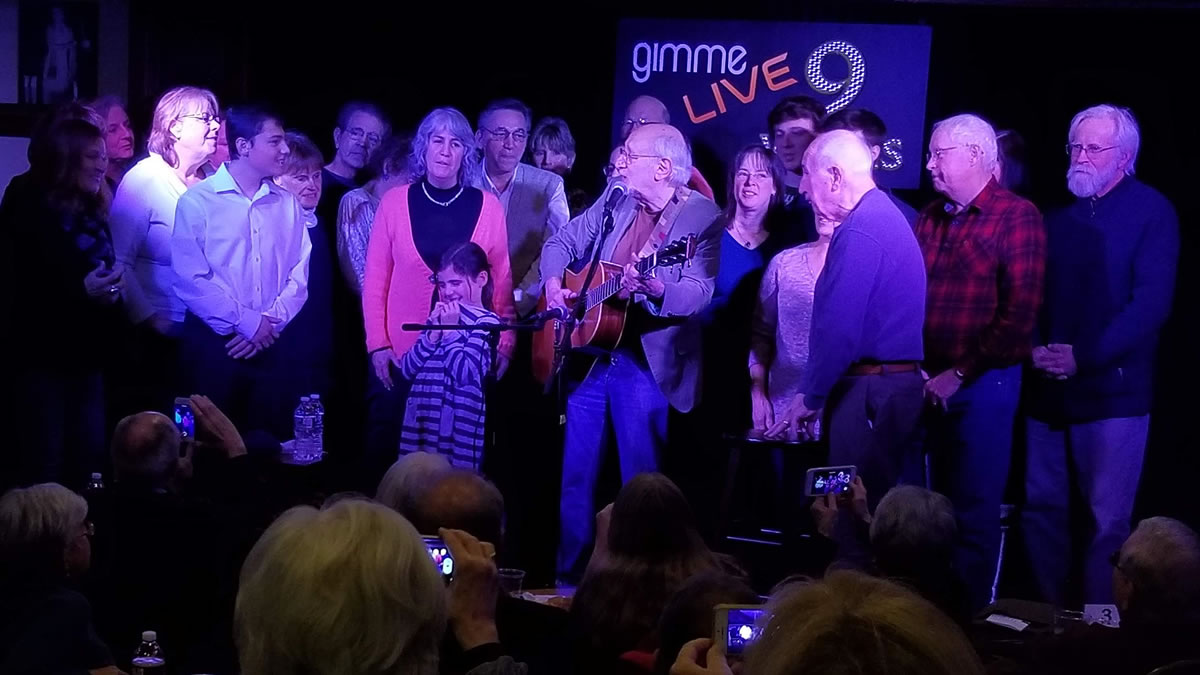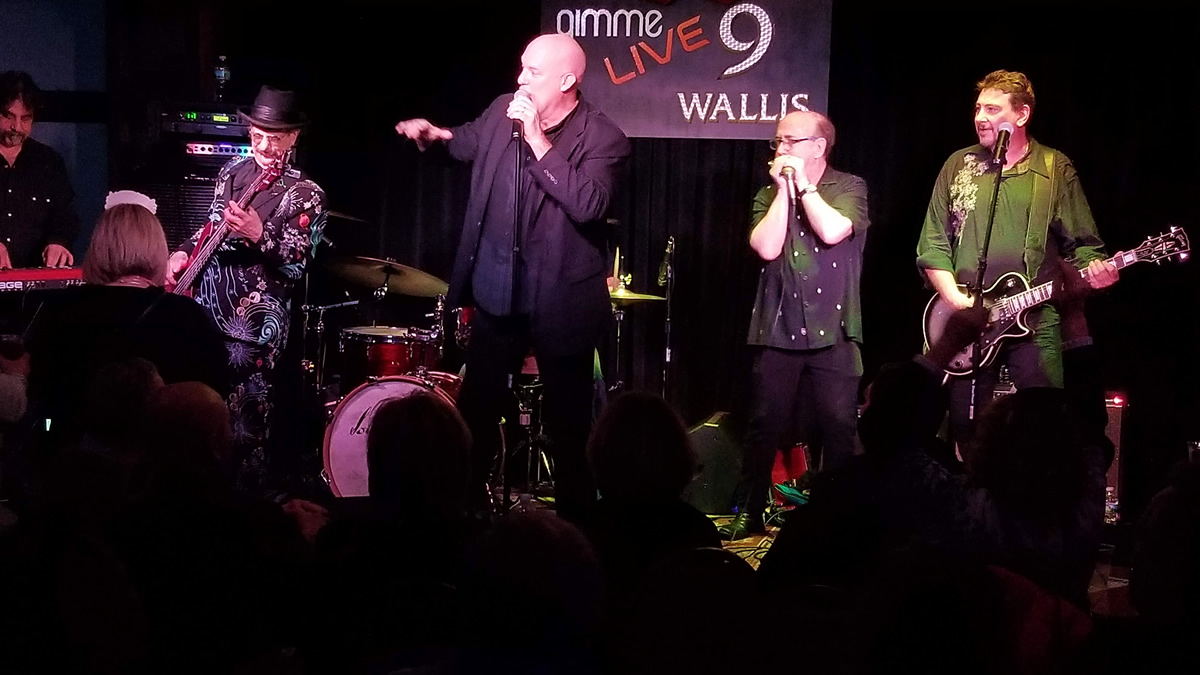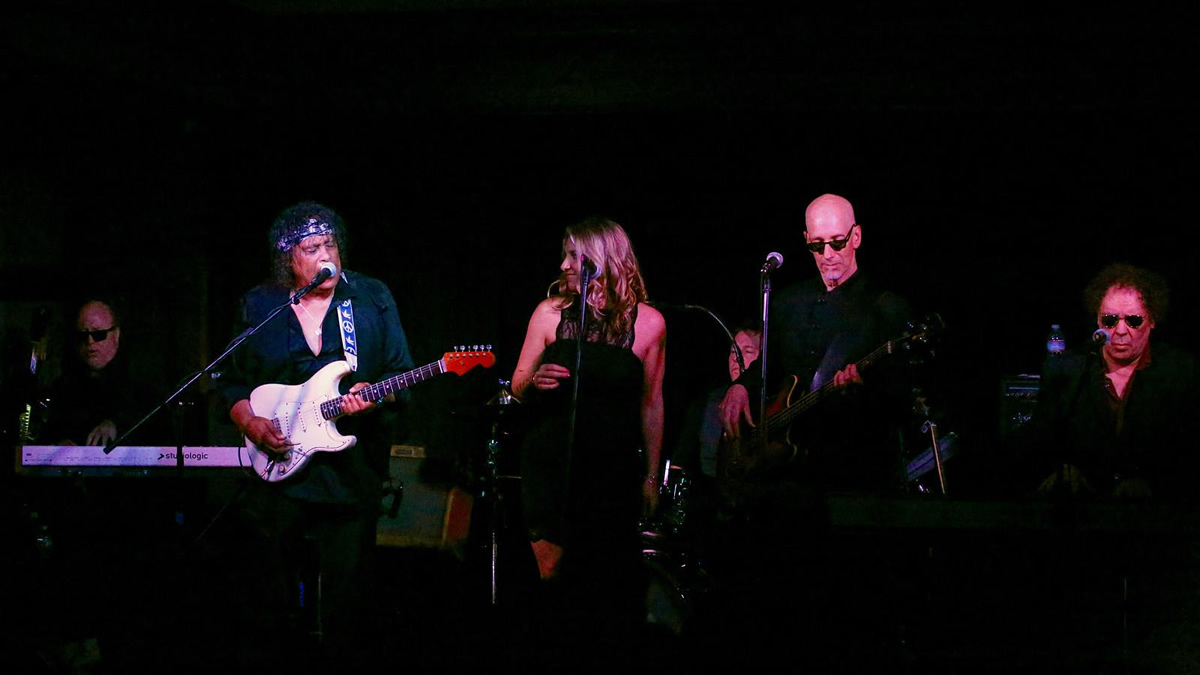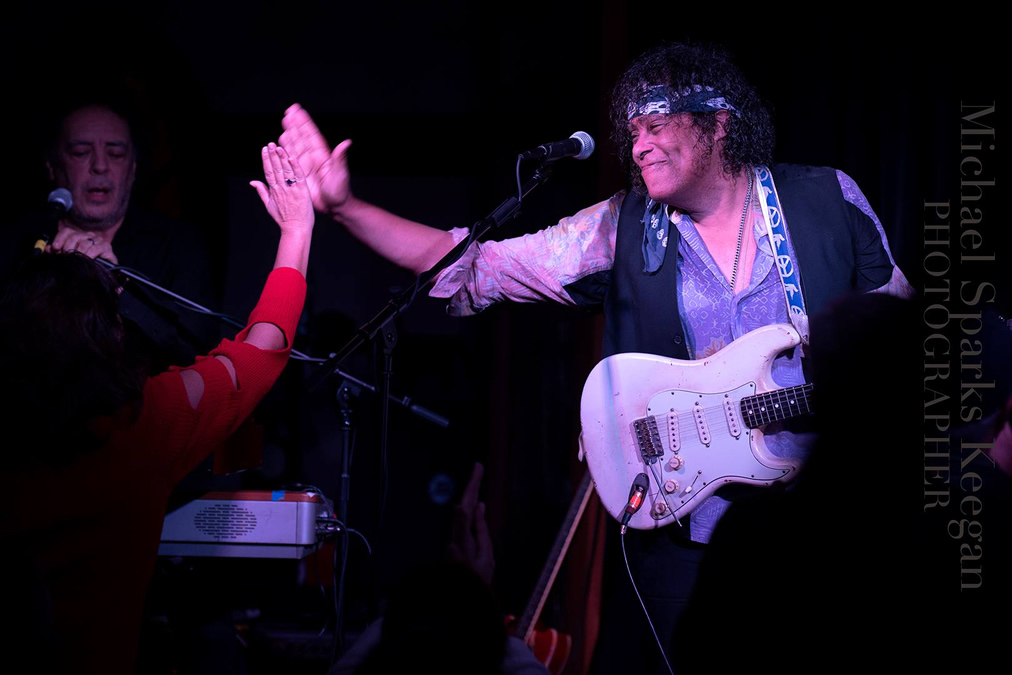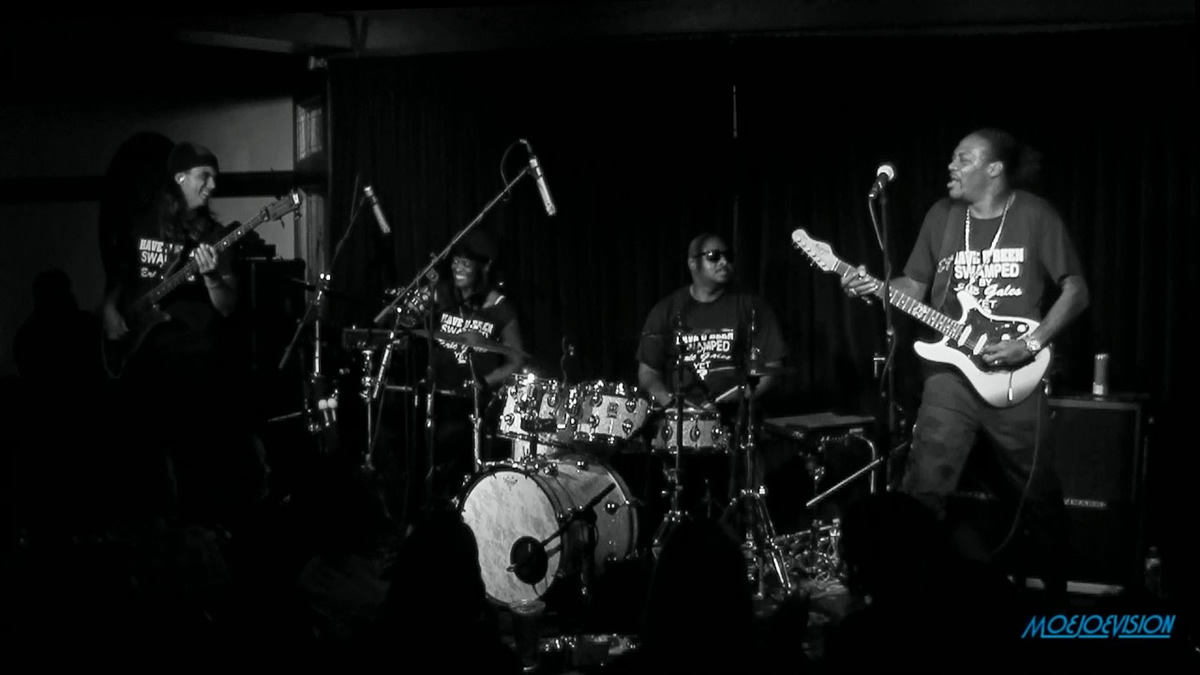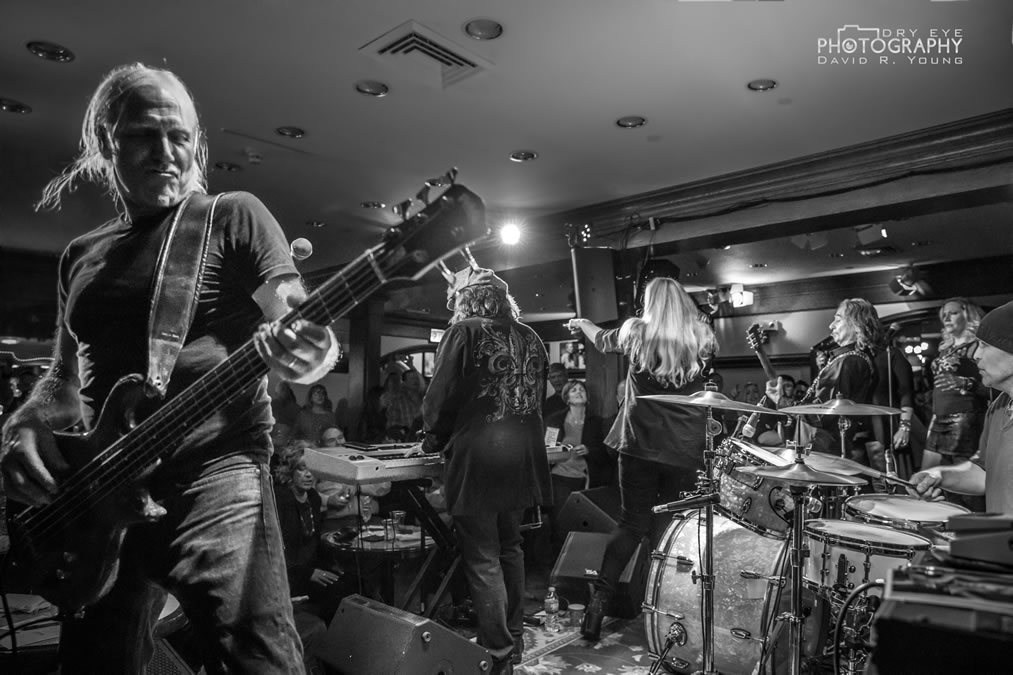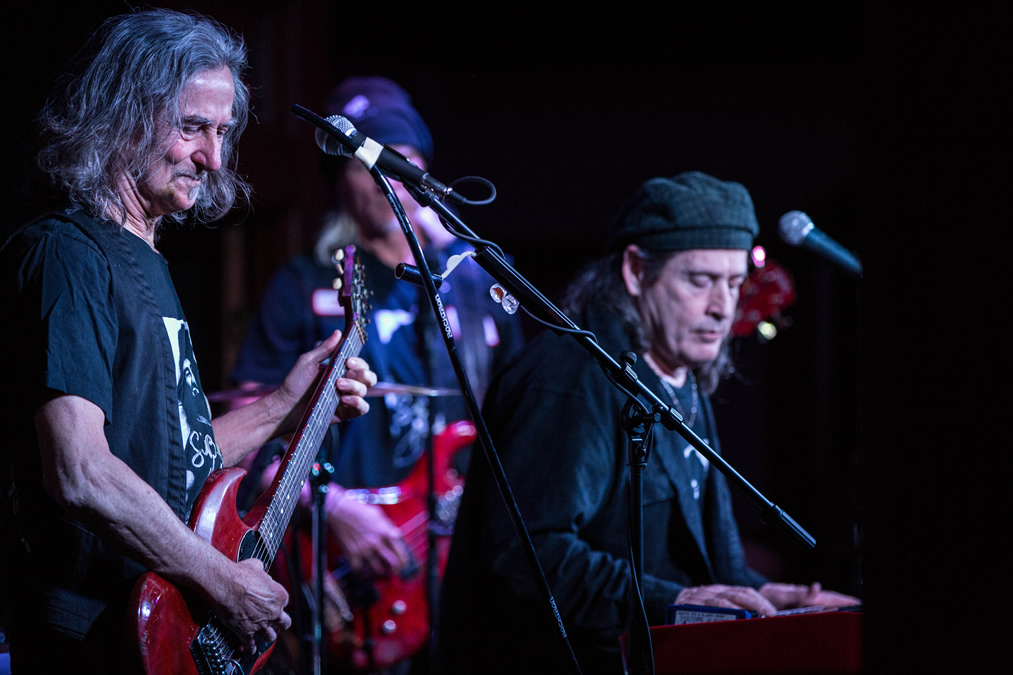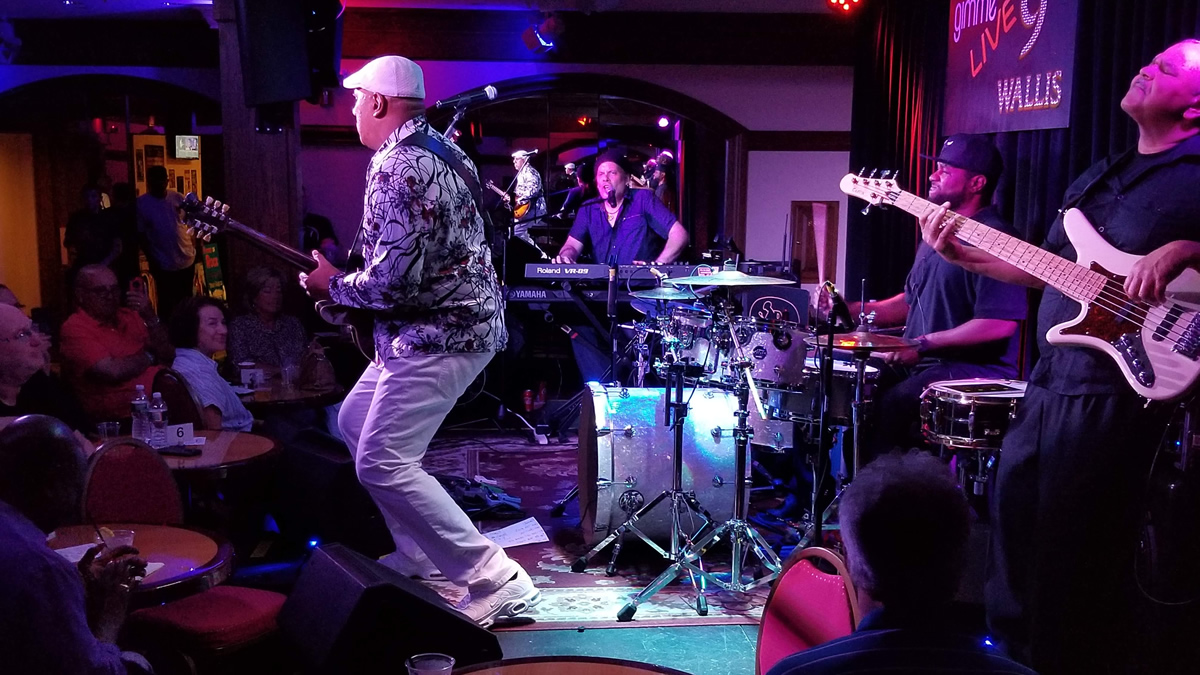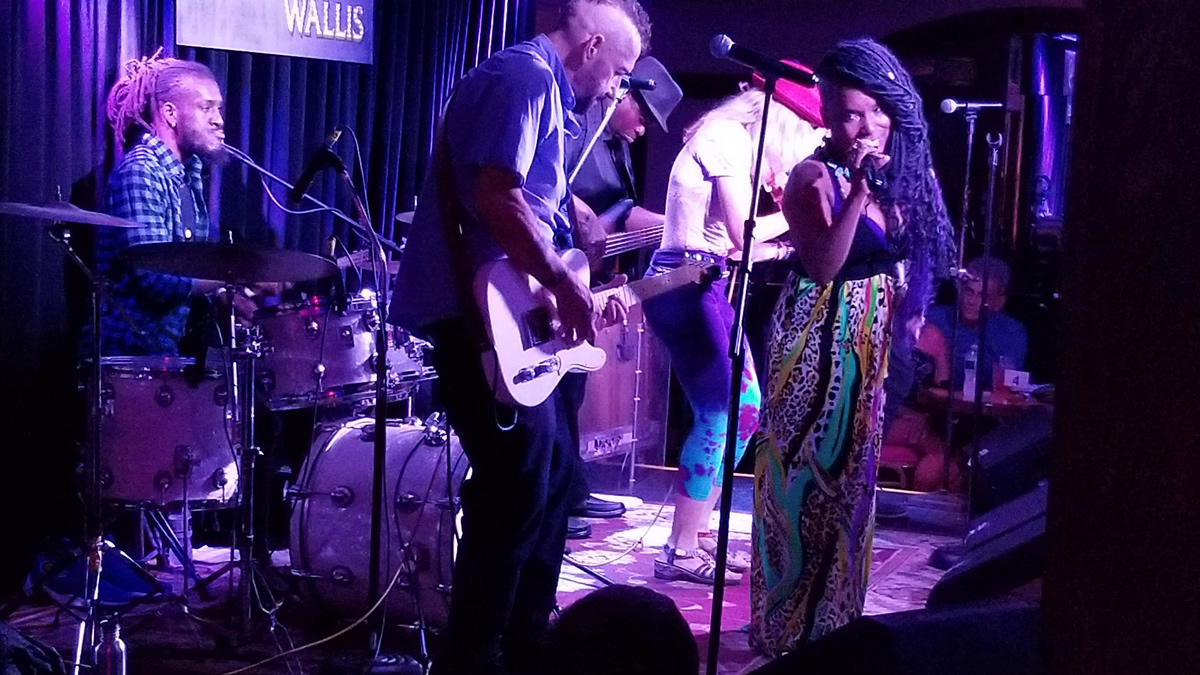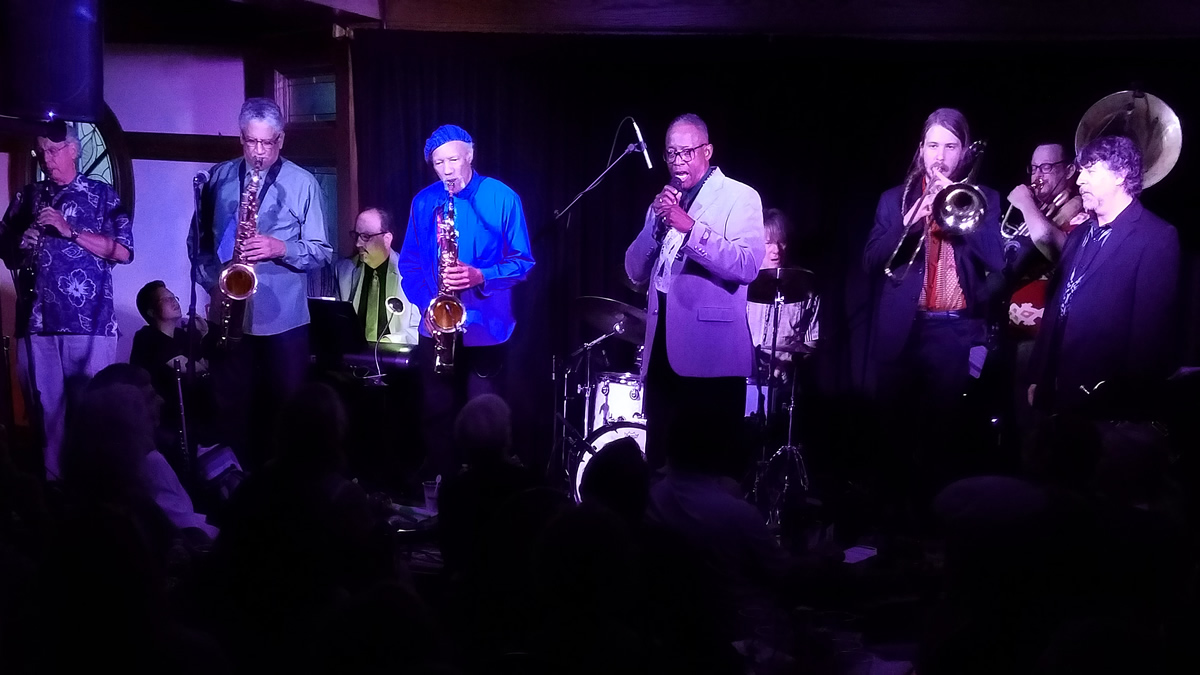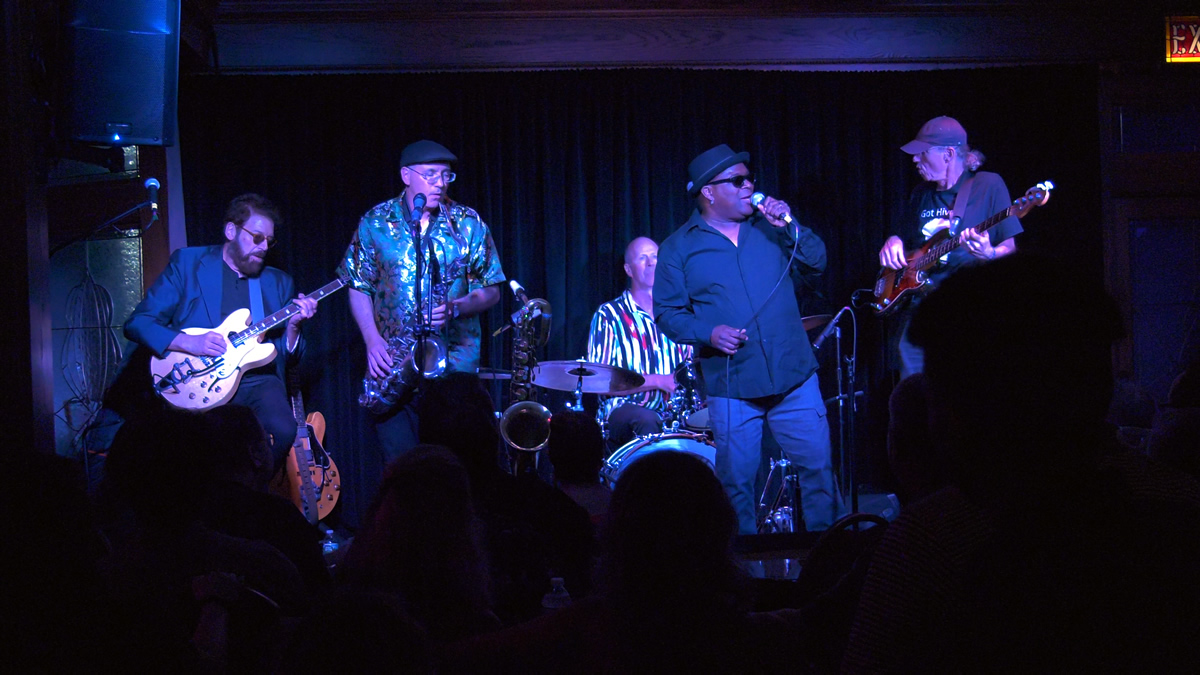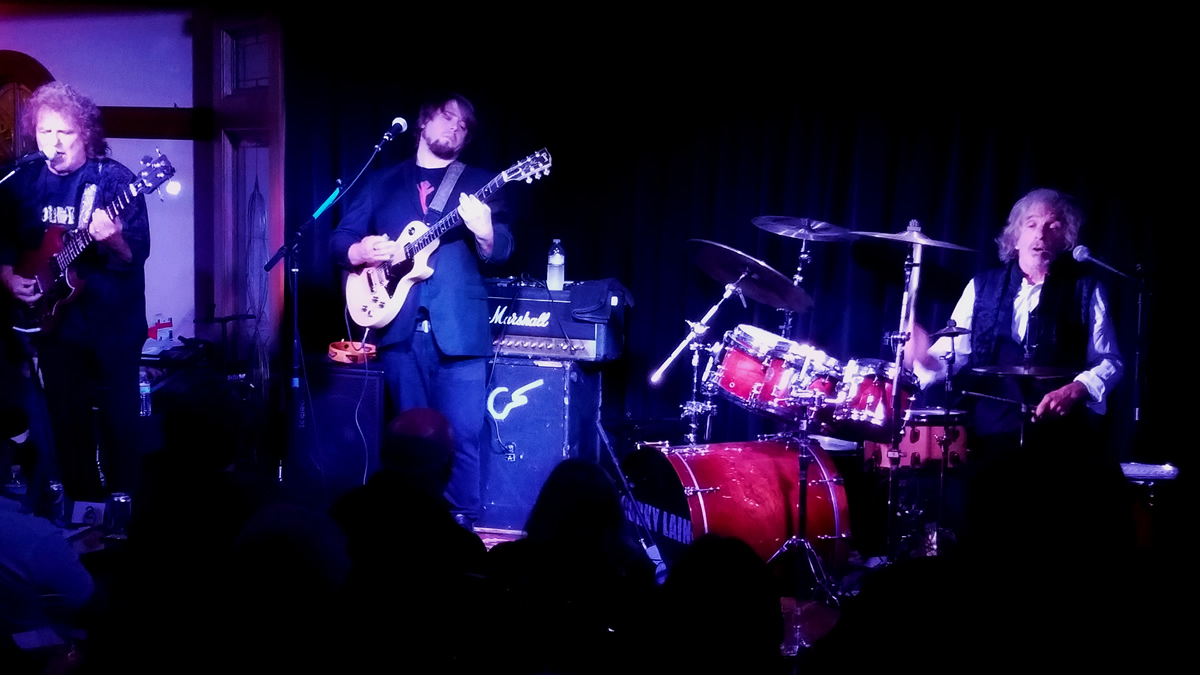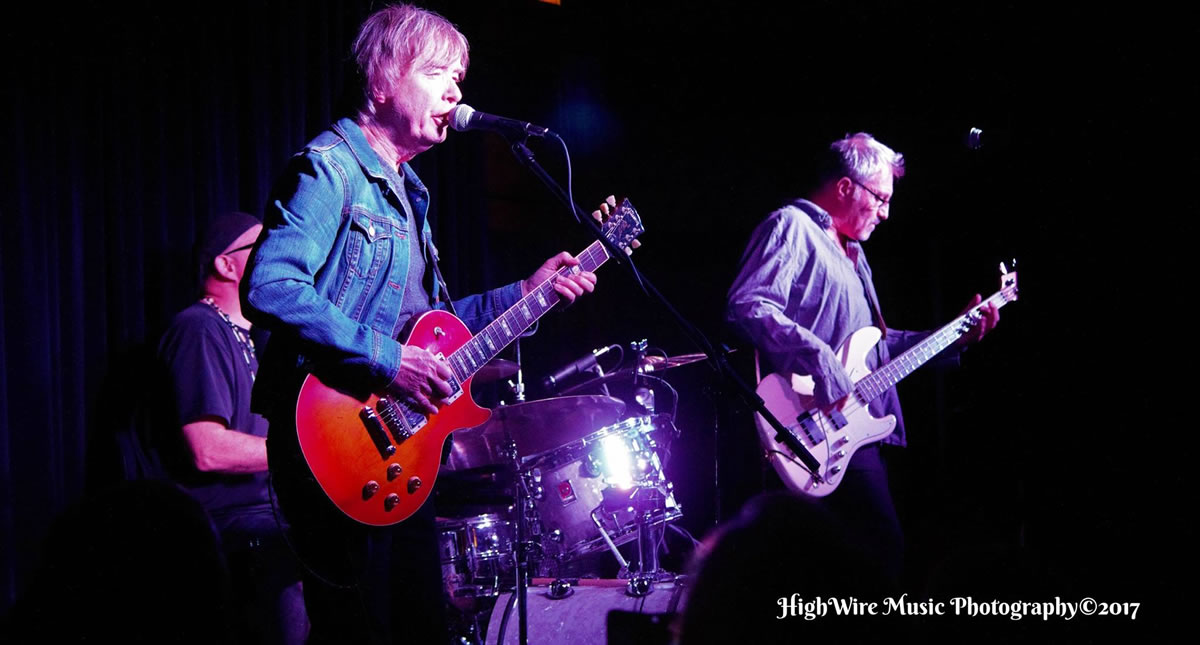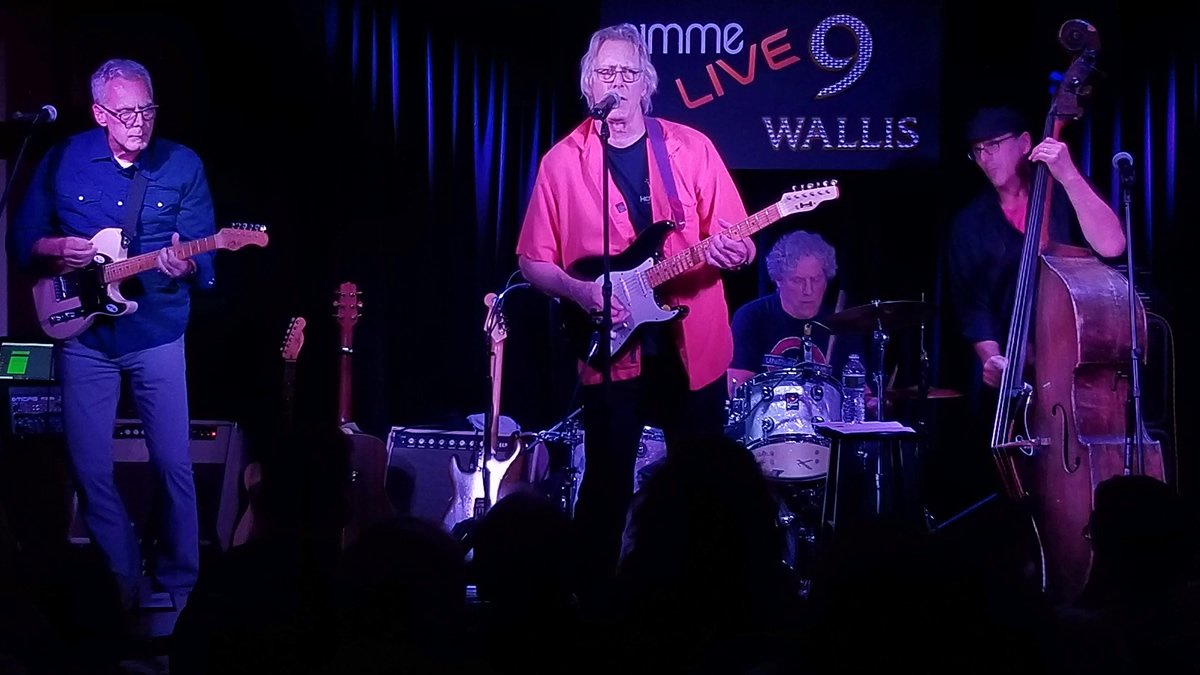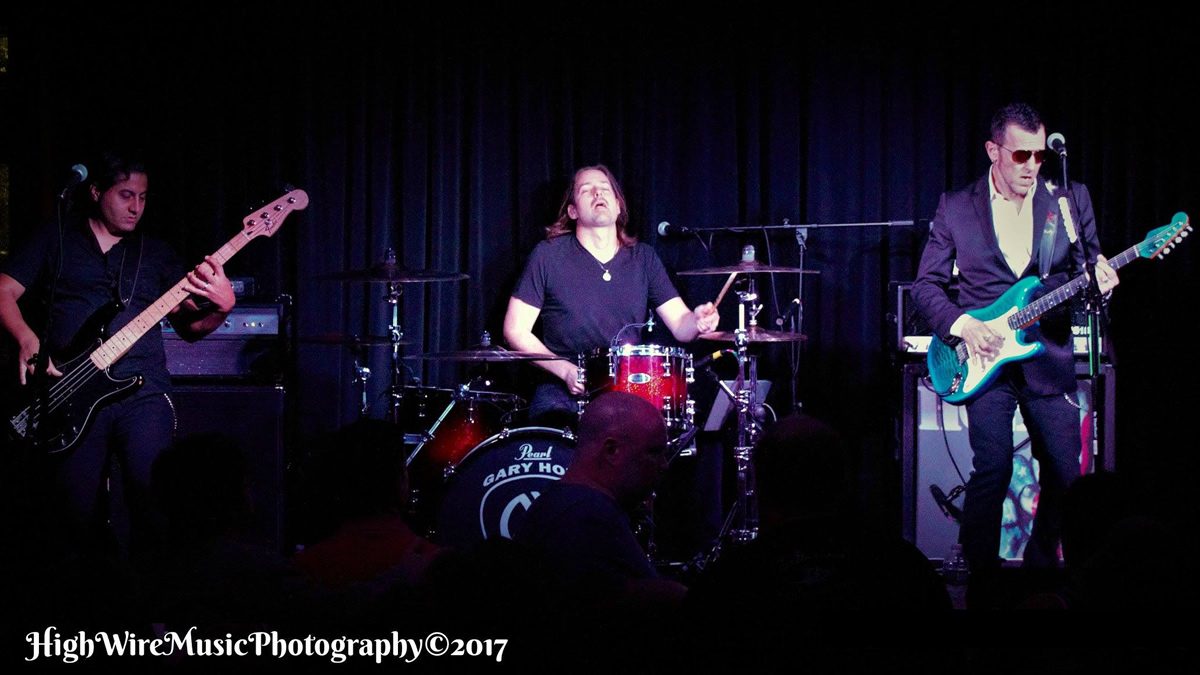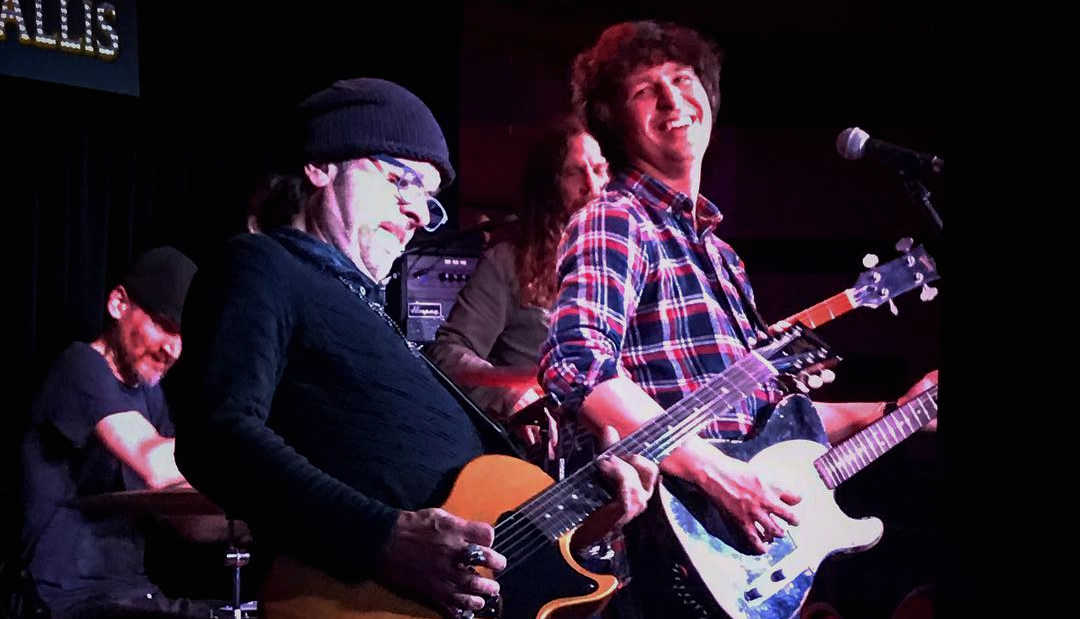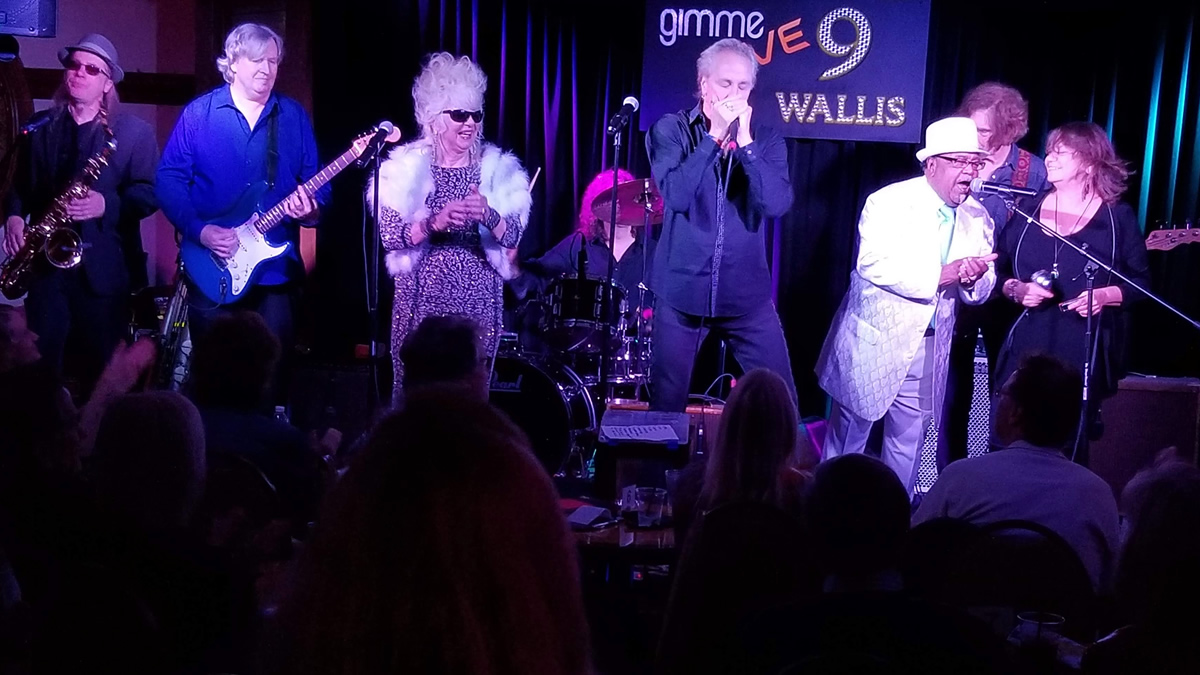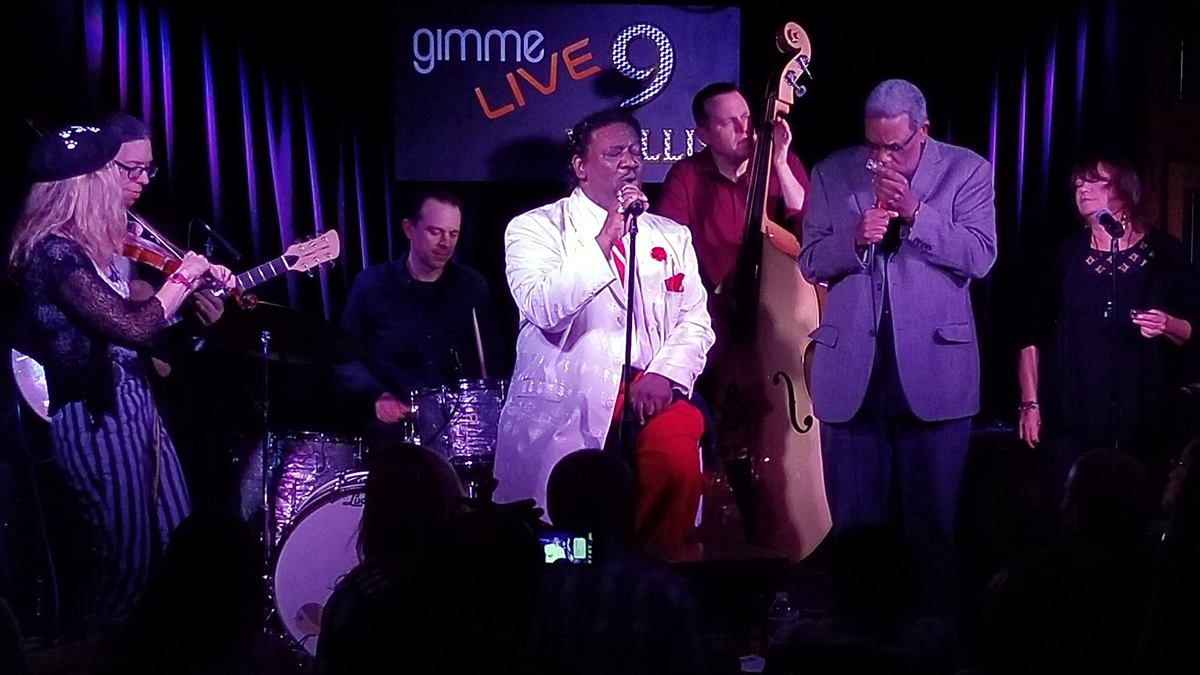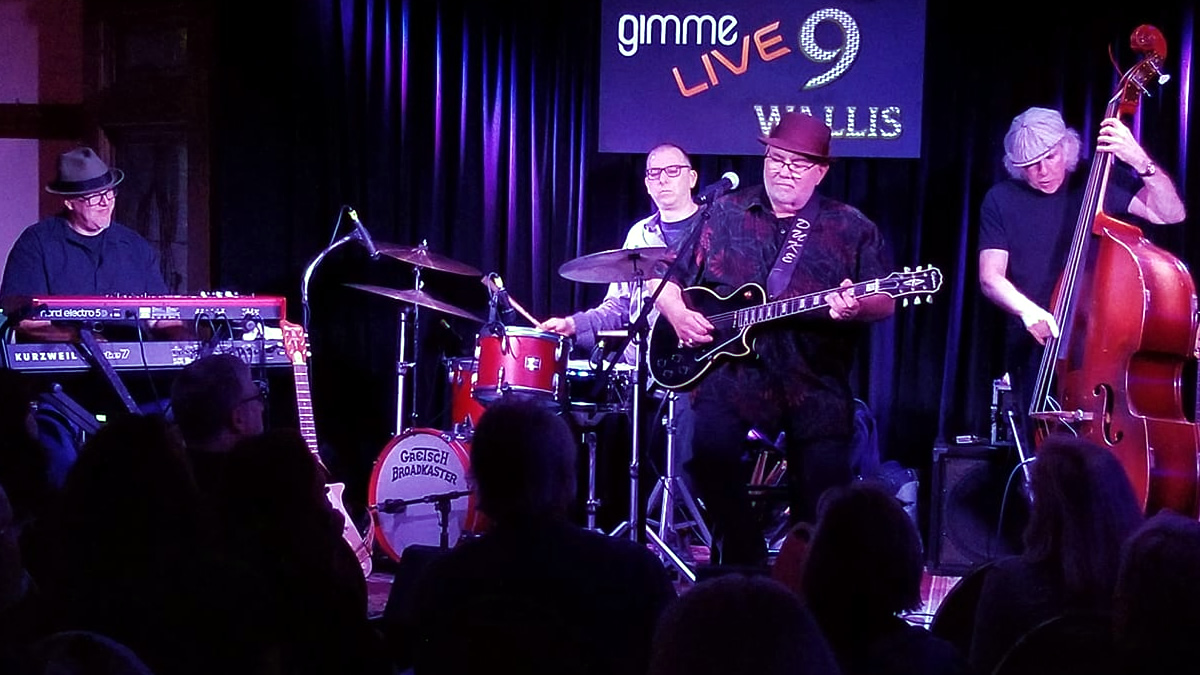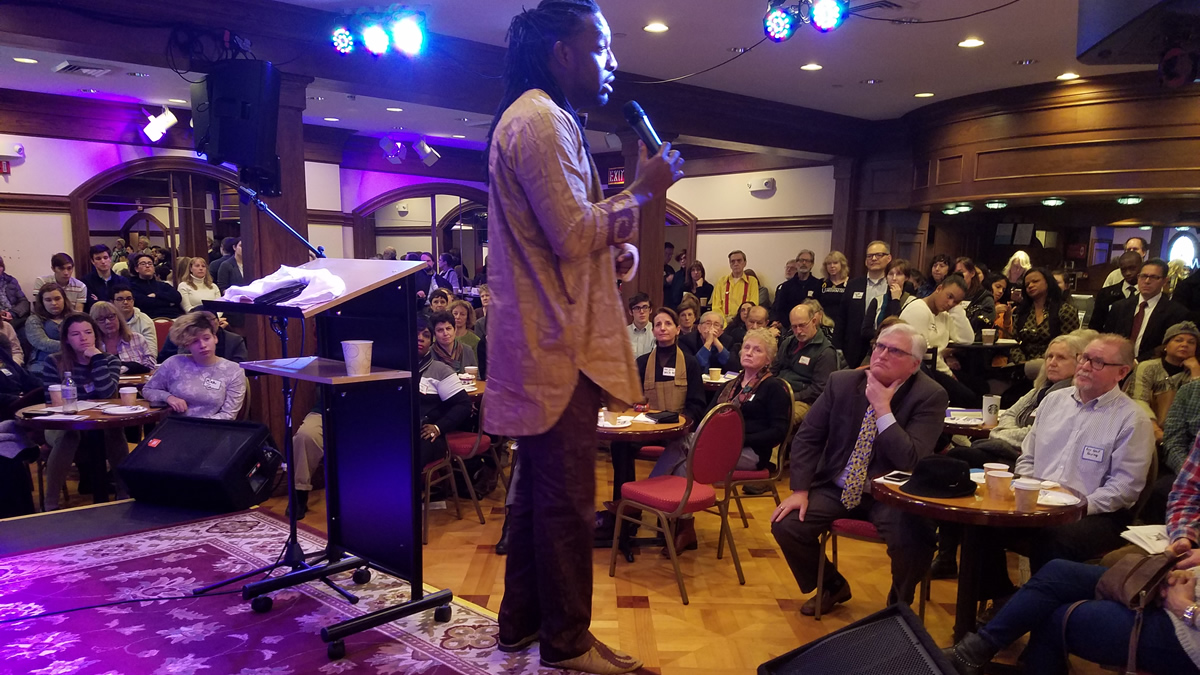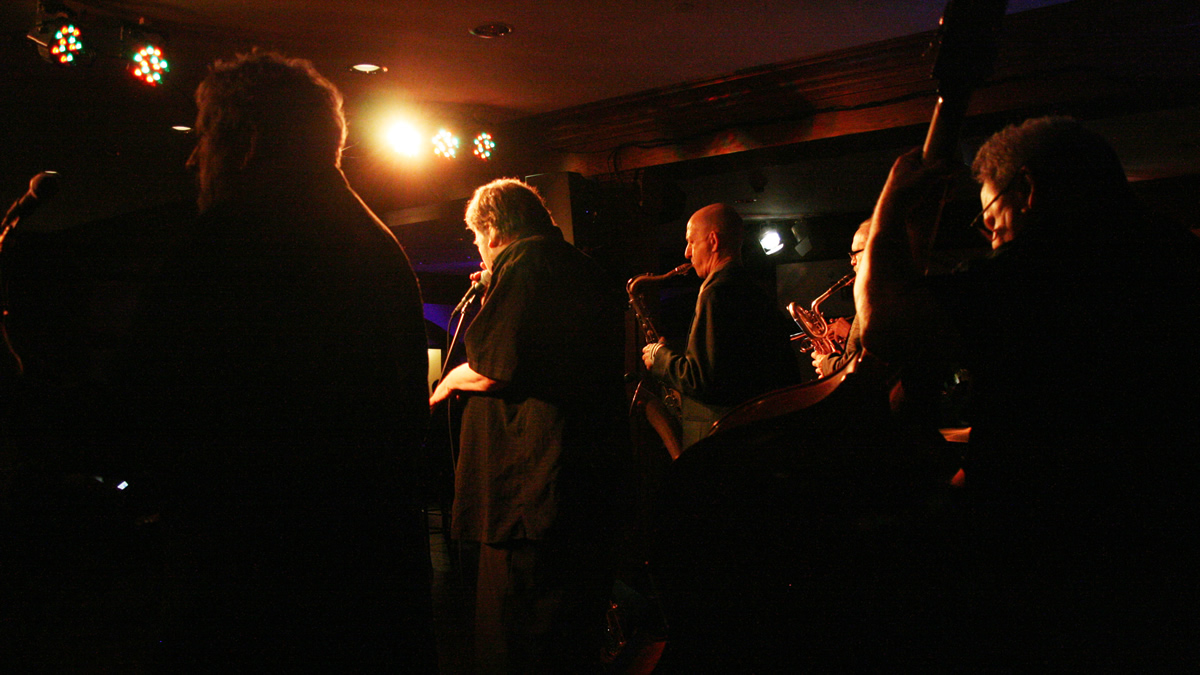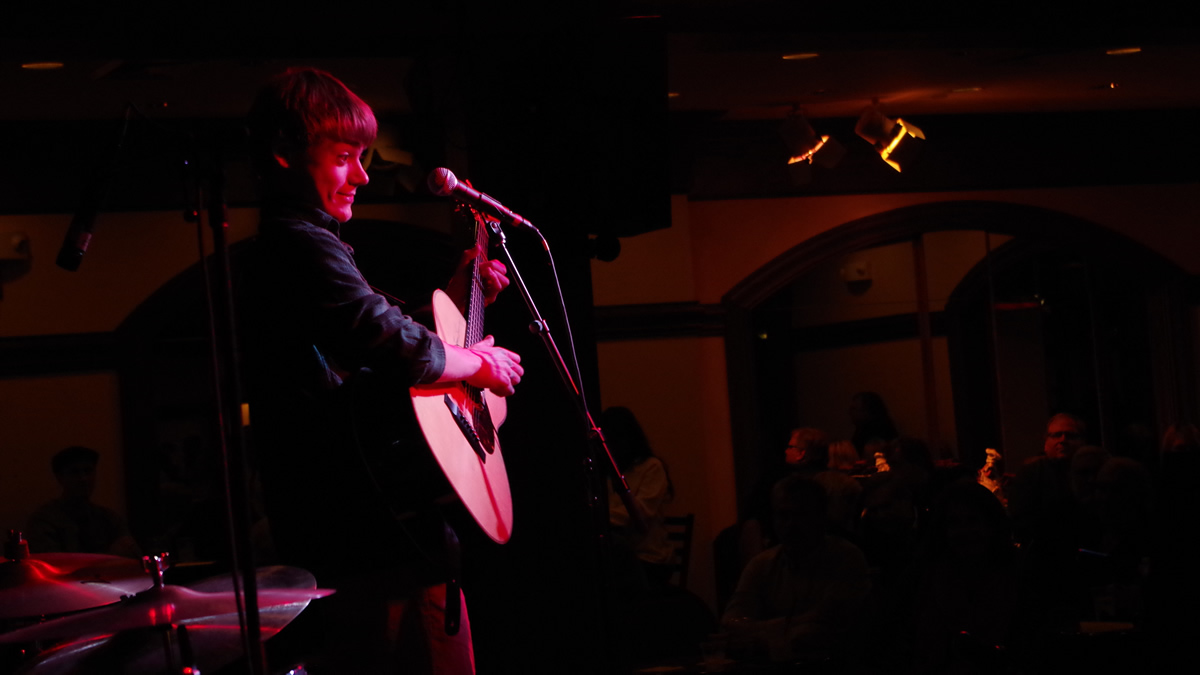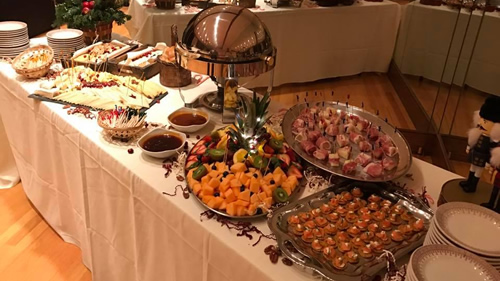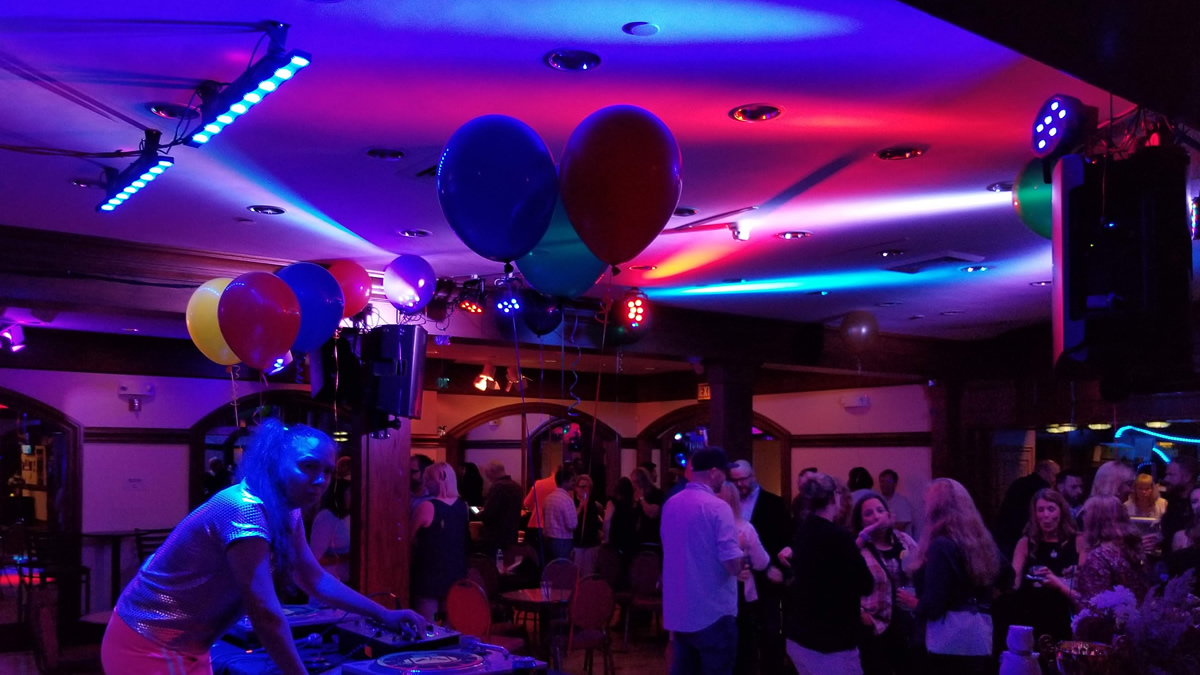 About 17 miles north of Boston, award-winning 9 Wallis is a gorgeous, fully restored, historic location conveniently situated in the heart of Downtown Beverly's Arts District at 9 Wallis Street, right next to the Larcom Theatre -- less than half a mile from the Beverly Depot rail station and 3 miles from Route 128, with plenty of nearby parking (see map).
In April 2017, after 4 years of presenting over a hundred shows at Beverly's Larcom Theatre (featuring Grammy-winners, Rock & Roll Hall of Famers and platinum recording artist), gimmeLIVE's owners Peter and Vickie Van Ness, transformed 9 Wallis into the most intimate, elegant listening room north of Boston with comfortable seating at tables, plus food & beverage service offering fine wines, local craft beers, specialty cocktails (featuring local distilleries and all-natural juices) and top-shelf spirits.
In August 2018, Peter and Vickie were presented with the Boston Blues Society's Keeping the Blues Alive Award for their work at 9 Wallis.
Because of its beautifully restored, tremendously flexible space with the best dance floor on Boston's North Shore, 9 Wallis has become a favorite venue for fundraisers, private parties and corporate events. Local charities have raised thousands of dollars at 9 Wallis (see examples). With world-class entertainment, an event can begin as a cocktail party or fully seated dinner...then transform into a nightclub-style dance party with concert quality sound and stage lighting.
CLICK HERE if you'd like someone to contact you about raising money for your charity. CLICK HERE if you want to book a party or corporate event.
Many new shows will be announced soon. Click here to join gimmeLIVE's FREE Concert Club and email list. You'll get special deals and prime seats before tickets go on sale to the public.
There is plenty of nearby parking at 7 lots from 150 feet away to 3 blocks away. Lots are 25 Cents/Hour (see map). Street parking is more. All parking is FREE after 8pm and on Sundays.
Want us to produce a concert or festival to raise money for your organization? Click here
Want to sponsor one of our shows? Click here