Critically Acclaimed Shows ... Up Close & Personal
BADFINGER FEATURING JOEY MOLLAND
DATE
Saturday, October 10, 2015

We cannot offer refunds under any circumstances.

TIME
8:00PM (Doors Open 7:00PM)
VENUE

The Larcom Performing Arts Theatre

13 Wallis Street

Venue Details
OPENER
Brooks Young Band
TICKETS
RESERVED SEATS

(ALL AGES)

$29.00, $39.00, $49.00
British-Invasion rock stars Badfinger in Beverly! Only Boston area concert on their U.S. tour. Hand picked by The Beatles - #1 hits: "Day After Day," "No Matter What," "Without You," "Baby Blue" and "Come And Get It" written by Paul McCartney!
Listen to Cha Chi Loprete's interview with Joey Molland
on WZLX Breakfast With The Beatles
BADFINGER IN BEVERLY
British Invasion rock stars, Badfinger, kick off GIMMELIVE's highly anticipated third season at Beverly's fully-restored, historic Larcom Theatre, performing ONE NIGHT ONLY. Hand picked by The Beatles, Badfinger was the first group signed to the Beatles' label, Apple Records and their first #1 hit "Come And Get It" was written by Paul McCartney!
George Harrison and Paul McCartney produced a string of world-wide Badfinger hits, including "No Matter What," "Day After Day," "Without You" and "Baby Blue", which hit the charts again in 2013 on the Breaking Bad soundtrack.
Still led by founder Joey Molland, who performed on George Harrison's "All Things Must Pass" album and John Lennon's "Imagine" album, Badfinger's high energy concerts continue to thrill audiences world-wide.
Don't miss Badfinger's only Boston area stop on their U.S. Tour at Beverly's intimate, acoustically spectacular Larcom Theatre.
ABOUT BADFINGER
Badfinger started out in the early 1960s in Wales, England as a band called The Iveys. In the late 1960s after being signed to Apple Records, they had their first hit as the renamed band Badfinger with the chart-topper "Come and Get It". This first single was written and produced by Sir Paul McCartney and is the only song Badfinger recorded that was not written by a member of the group.
Badfinger members collaborated with Beatles members on several hits, including "Day After Day", which George Harrison produced for Badfinger, as well as appearing on George Harrison's All Things Must Pass album, John Lennon's Imagine album and Ringo Starr's single "It Don't Come Easy".
The name of the band itself also has it's Beatles influence. Badfinger stems from an earlier working title of the Beatles song "With a Little Help From My Friends" which was earlier referred to as "Bad Finger Boogie". Badfinger's string of successful hits have led them to be Apple Records best selling artist after the Beatles. Badfinger has had a lasting influence on music and their song "Without You" has been re-recorded by over 180 artists and became number one hits for artists Harry Nilsson and Mariah Carey.
ABOUT BROOKS YOUNG BAND
Hailing from Salem, MA, The Brooks Young Band saturate their songs with rock and roll edge and blues feel, going for a direct, emotional and powerful sonic blend.
Brooks' searing guitar leads and soulful vocal performances lock in perfectly with the solid rhythm section, creating an inspirational and uplifting sonic texture along the lines of influential performers such as Eric Clapton and Dave Matthews.
The Brooks Young Band has toured extensively throughout New England, sharing the stage with icons such as B.B. King, REO Speedwagon, Pat Benatar, The Wallflowers, and Boyd Tinsley of Dave Matthews Band. They have also had the privilege of performing for Vice President Joe Biden.
Find out more and let the music tell you the rest of the story! BrooksYoungBand.com
History of the Larcom Theatre - 13 Wallis Street, Beverly MA, USA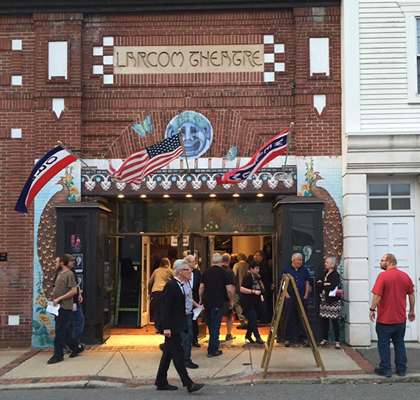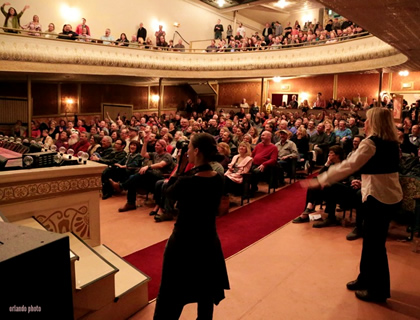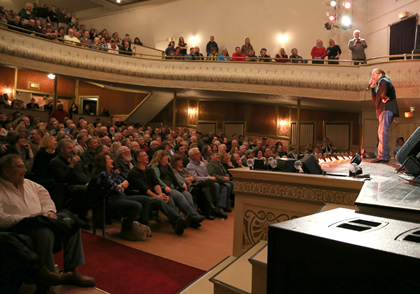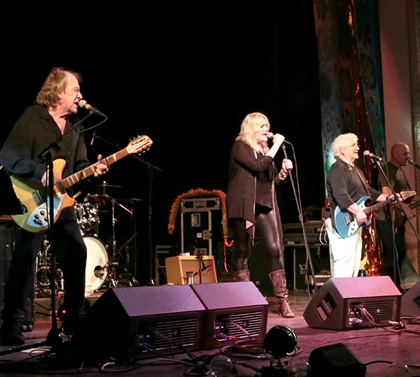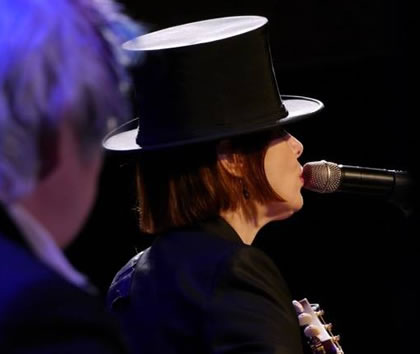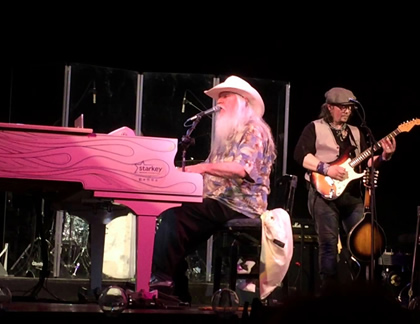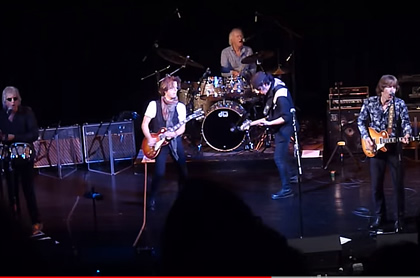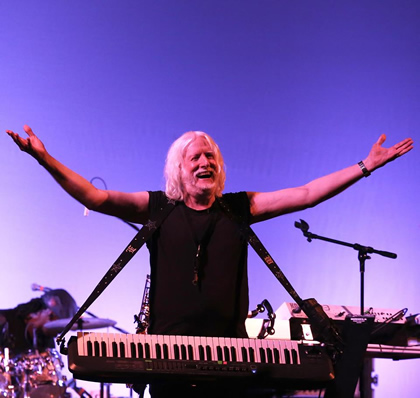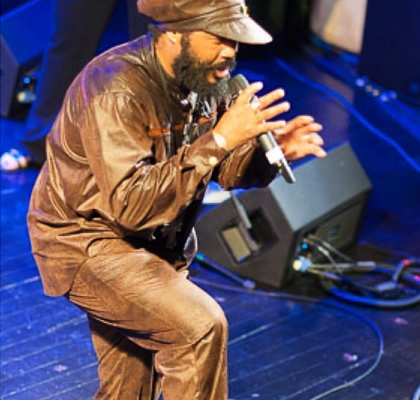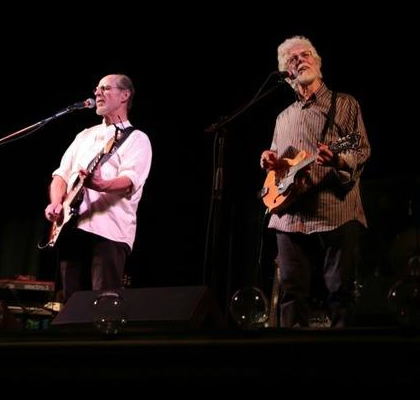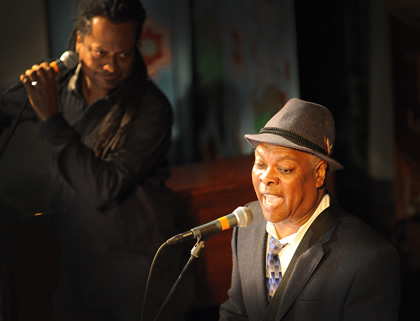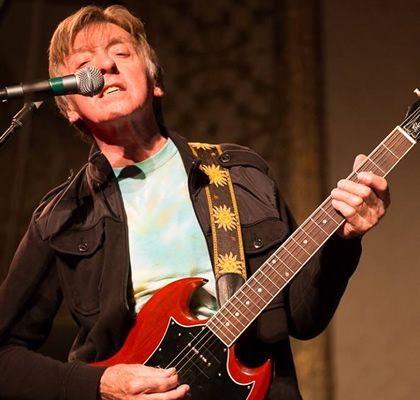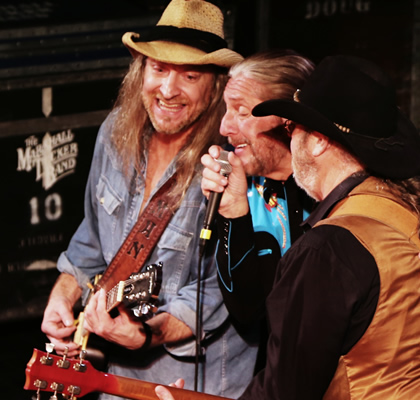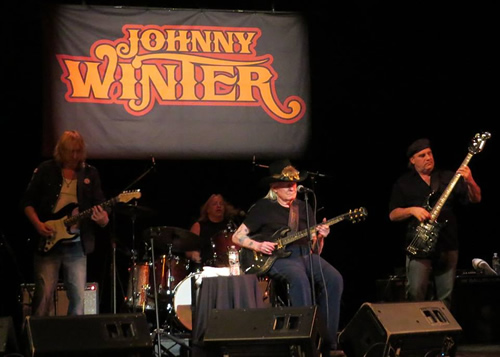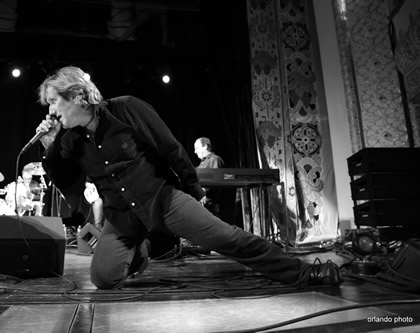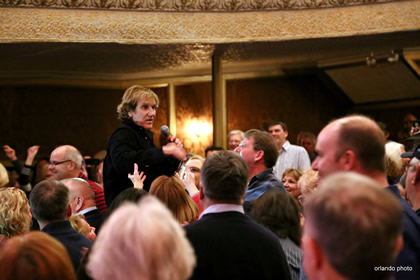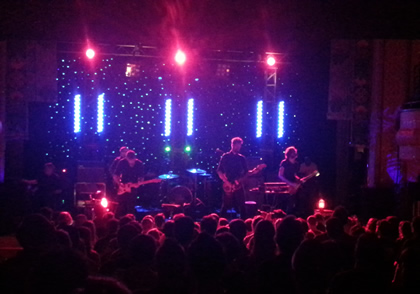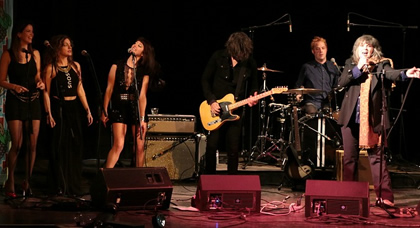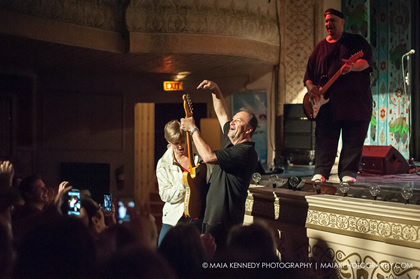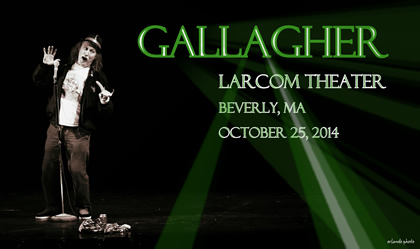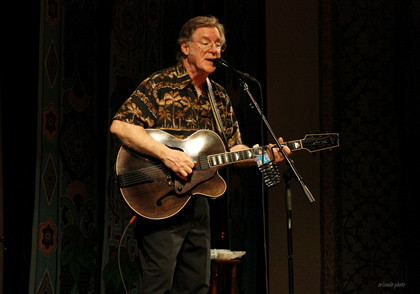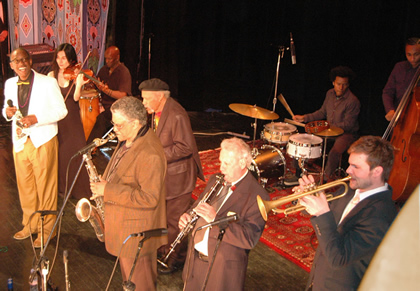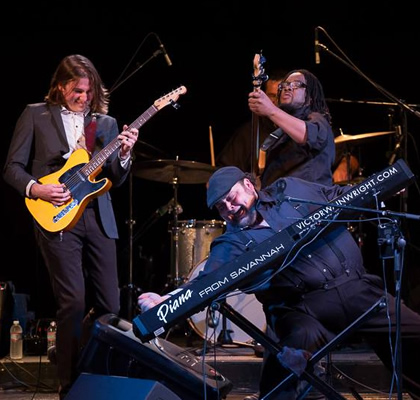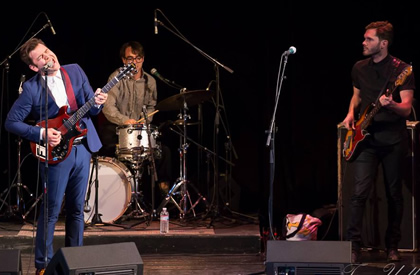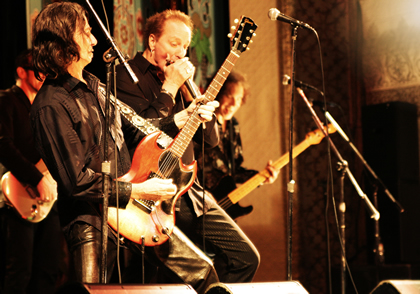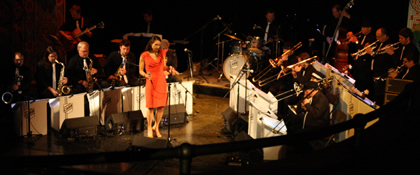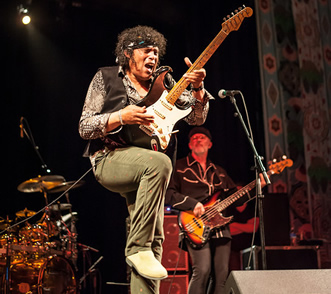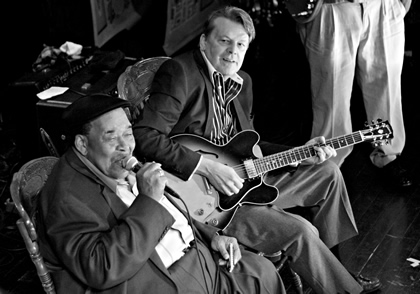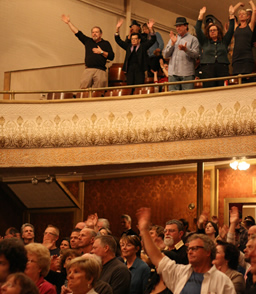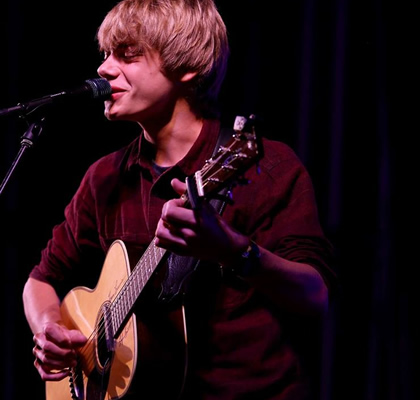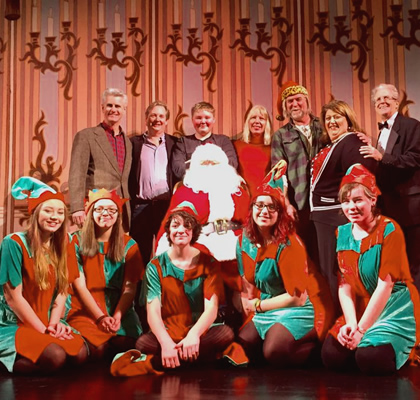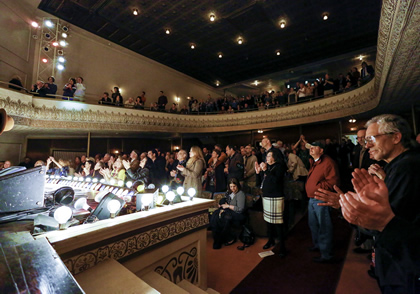 Shows at Beverly's Larcom Theatre 2013 - 2017
photos by Sheila Roberts Orlando unless otherwise noted
The Larcom Theatre was built in 1912 (the same year as Boston's Fenway Park) by brothers Harris and Glover Ware (vaudeville musicians from Marblehead, MA) on the birth site of their favorite poet, Lucy Larcom.
The Larcom Theatre's grand opening advertised that its interior was lit completely by electricity.
During its 111 year history, The Larcom Theatre has presented stage, screen and musical entertainment. In 1984 the Larcom's elegant horseshoe balcony, hand-painted antique pressed tin ceilings and original silk wall coverings were restored to their original glory by Le Grand David Magic Company, who presented their award-winning magic show there until the company's founder, Cesareo Pelaez, died in 2012.
In April 2013, after the Larcom Theatre had been dark for about a year, Vickie and Peter Van Ness of gimmeLIVE produced a sold-out Mardi Gras Benefit Concert that filled the Larcom Theatre with music for the first time since the days of Vaudeville.
In 2014, gimmeLIVE began bringing Grammy-winning national touring and recording artists and Rock & Roll Hall of Famers to the Larcom, which ushered in a new era of top quality entertainment in the heart of downtown Beverly, MA. GIMMELIVE concerts at the Larcom Theatre received stellar reviews for the quality of both the music and the sound system installed by gimmeLIVE.
Later in 2014, Peter and Vickie co-produced That's When I Know It's Mardi Gras, a live CD recorded in front of a sold-out audience at the Larcom Theatre featuring New Orleans vocalist Henri Smith with Grammy Award-winners Charles Neville and Amadee Castenell.
In 2015, gimmeLIVE once again recorded a live CD featuring the James Montgomery Band, which was released in November of that year. GIMMELIVE also hosted James Montgomery's "Live at the Larcom" CD Release Benefit Concert, which raised money for veterans organizations. (Many gimmeLIVE shows raise money for charity. Click here if you'd like gimmeLIVE to produce a concert or festival to raise money for your organization.)
In early 2017, gimmeLIVE took over the building adjoining the Larcom Theatre (at 9 Wallis Street), formerly owned by members of Le Grand David Magic Company and known as the Grand Salon. GIMMELIVE transformed this venue into 9 Wallis, which became the North Shore's most intimate, elegant listening room offering comfortable show seating at tables with food & beverage service, including fine wines, local craft beers, specialty cocktails (featuring local distilleries and all-natural juices) and top-shelf spirits.
Donnie & Lisa Crowell purchased The Larcom Theatre in September 2016 and renamed it The Larcom Performing Arts Theatre or "The Larcom" for short. Tickets to shows at The Larcom can be purchased here.
CLICK HERE to see upcoming shows nearby.