Critically Acclaimed Concerts ... Up Close & Personal
Help us open the newest, intimate listening room in Beverly, MA
BREAKING NEWS On Jan 12 Beverly's License Board approved the Liquor License for 9 Wallis!
Finally, we have our own venue at 9 Wallis Street next to The Larcom in Beverly, MA. And we need your help to get it open. "Wicked cool" rewards available for pledges of all sizes. Come join our adventure. Let's open 9 Wallis together. PLEDGE HERE and please share with your friends!
ABOUT THE PRODUCERS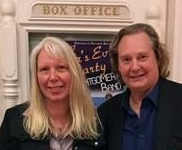 Vickie & Peter Van Ness
Vickie and Peter Van Ness, founders of gimmeLIVE, have produced some of the largest and most critically acclaimed concerts and festivals on Boston's North Shore featuring national recording stars and award-winning young artists.
GIMMELIVE is about to announce new shows for their 2017 season. Click here to join our mailing list -- you'll get new show announcements, special deals and prime seats before tickets go on sale to the general public.
Since 2012, GIMMELIVE's award-winning seasons at Beverly's three theatres -- The North Shore Music Theatre, The Cabot and The Larcom -- have featured Rock 'n' Roll icons and showcased emerging young talent you might want to keep your eye on -- Vickie & Peter have been known to spot stars in the making before.
In January 2016, gimmeLIVE produced a Classic Rock Festival featuring Micky Dolenz of the Monkees, Felix Cavaliere of the Rascals, Mark Farner -- founder of Grand Funk Railroad, Steve Augeri -- Journey's former lead singer, John Cafferty & Michael "Tunes" Antunes of the Beaver Brown Band. The festival raised thousands of dollars for the educational programs at Old School Square in Delray Beach FL.
Many of gimmeLIVE's concerts and festivals raise money for good causes. Click here if you'd like us to produce a concert or festival to raise money for your organization.
A BRIEF HISTORY
In 2007, GIMMELIVE reunited the Pousette Dart Band for a Memorial Day Weekend Music & Arts festival that launched Celebrate Gloucester and the grand opening of Cruiseport Gloucester, Gloucester's very first cruise ship terminal.
After co-founding Gloucester's wildly successful summer Block Parties and producing several other major events (including Concert From the Heart featuring American Idol finalist Ayla Brown, which raised money for a local boy's much needed heart transplant) they produced Celebrate Gloucester 2010 featuring Charles Neville, Henri Smith, Roomful of Blues and local rising stars.
GIMMELIVE kicked off a Summer 2012 concert series at North Shore Music Theatre with Chris Isaak's U.S. tour, which introduced Chelsea Berry followed by Aaron Neville, with local singer/band-leader Henri Smith and the first Orleans concert in New England after original founder John Hall re-joined the band, featuring local legend Fly Amero.
In 2013, gimmeLIVE brought music to Beverly's historic Larcom Theatre for the first time since the days of Vaudeville, starting with a sold-out Mardi Gras benefit concert featuring Grammy-winner Charles Neville of the Neville Brothers with Henri Smith New Orleans Friends & Flavours followed by world-class artists, whose Larcom Theatre shows have garnered rave reviews.
In December 2013, gimmeLIVE packed Gloucester's iconic UU Church Meetinghouse for the first of a highly successful benefit concert series featuring top local talent and major recording stars, including John Sebastian, the first Rock n Roll Hall of Famer to perform in Gloucester.
During the summer of 2014, gimmeLIVE presented concerts on Martha's Vineyard at the Old Whaling Church in Edgartown and in Gloucester aboard the Beauport Princess Cruise Ship and at the Waterfront Pavilion.
Later in 2014, Peter and Vickie co-produced That's When I Know It's Mardi Gras, a live CD recording at Beverly's Larcom Theatre featuring New Orleans vocalist Henri Smith with Grammy Award-winners Charles Neville and Amadee Castenell.
GIMMELIVE's 2014-2015 concert season at Beverly's Larcom Theatre featured award-winning, sold-out shows.
During the summer of 2015, Vickie and Peter presented a series of concerts featuring national recording stars and award-winning Boston area talent at the newly re-opened Cabot Theatre in downtown Beverly.
Through gimmeLIVE, Peter & Vickie Van Ness continue to bring critically acclaimed entertainment to top intimate venues north of Boston.
Want us to produce a concert or festival to raise money for your organization? Click here!
Want to sponsor one of our shows?
Click here!
GRACIE CURRAN with ROOMFUL OF BLUES HORNS
LYDIA WARREN OPENING ~ April 5, 2014
Photos by Sheila Roberts Orlando
The Larcom Theatre's packed house rose to their feet and danced in the ailes to Boston rising stars Gracie Curran and Lydia Warren performing with the venerable Roomful of Blues Horns on April 5, 2014. Here's what T MAX, Editor of The Noise Magazine, says about the show:
Lydia uses no pedals to enhance her sound, just what comes out of the box--a little amp distortion and a dab of reverb ... A steady bass drum thump backs her goodbye words before she launches into "Turn it Up," a rocker that brings half the audience to its feet, pleading for more.
Next, seven-pieces line the stage that make up the High Falutin' Band--double saxes, trumpet, keys, bass, drums, and guitar. While they're getting into a blues rhythm, out bounds Gracie Curran, throwin' her hands up in the air like she's part of a raving gospel choir ...
When the group end the set there is a lot of noise (chair banging, and stomping) until the band returns with just bass and drums, and dim lights on Gracie. It's a sweet dreamy number that moves on to warbling wah wah, floating keys, and a crazy trumpet solo accented with balls of light flying 'cross the room. Lydia Warren comes back out to rejoin the show for the second encore ...
A full standing ovation sends everyone home happily. The Larcom continues to build a good reputation for its rockin' presentations.
Missed the show? Don't miss the next few:
Henri Smith featuring
Charles Neville &
Amadee Castenell
March 7 & 9 2014
Photos by Sheila Roberts Orlando
In 2013, we started a Mardi Gras tradition in Beverly, MA by bringing New Orleans native Henri Smith to the Larcom Theatre with his band New Orleans Friends & Flavours featuring Grammy-Award winners Charles Neville and Amadee Castenell.
That sold out concert was so successful, we scheduled two shows in 2014 and recorded one of them for a live concert CD to be released later this year.
Once again, Henri Smith and his band thrilled the packed Larcom Theatre and set the stage for many more New Orleans Jazz and Blues concerts to come.
Missed the show? Don't miss the next few:
ROCK-N-BLUES GUITAR SUMMIT March 15, 2014
featuring James Montgomery Blues Band, Barry Goudreau formerly of BOSTON
David Hull of Farrenheit and Gary Hoey
Photos by Sheila Roberts Orlando (except where noted)
Seldom has there been more talent on one stage than this stellar evening featuring some of the Boston area's top musicians. Here's what New England Concert Reviews had to say about it:
I'd never been to the Larcom Theatre before, located in downtown Beverly. I went last weekend and was very pleasantly surprised; it was absolutely beautiful, both inside and out! ...
... That night was a meeting of prime rock and blues aficionados. McCann described the night perfectly, "Saturday night was a high-energy show with a lot of spontaneous moments; the musical camaraderie was contagious." Read full review here.
Missed the show? Don't miss the next few:
Johnny Winter delivers a stellar performance to a sold out Larcom Theatre crowd
On January 31, guest presenter, M.E. Productions, presented rock-blues icon Johnny Winter to a sold-out, ecstatic crowd.
Here's what Blues Blogger A.J. Wachtel had to say about Johnny's set: Opening with "Johnny B. Good" the ... performance kept building momentum song after song. "Jumpin' Jack Flash" and "It's All Over Now", "Boney Maroney", "Got My Mojo Working"; "Highway 61" and "Dust My Broom" on slide were all done to perfection; and the packed house loved it... I also like the way they smile at each other mid-song deep in a tight groove fully aware of the great sound they are creating. And everyone in the crowd is smiling too. A great way to start the year. Fasten your seatbelts and enjoy the ride.
Click HERE to listen to an interview with Johnny Winter and his manager/producer Paul Nelson.
The show sold out a few days before, resulting in a sizable waiting list.
Missed the show? Don't miss the next few:
Cape Ann Winter Solstice December 21, 2013
On December 21, 2013, we started a new tradition in Gloucester. Many of the area's top talent from Classical to Celtic to Pop, Rock & Punk shared the stage for a celebration of the Winter Solstice and lifted a packed house at Gloucester's UU Church to a level of musical joy that many said they hadn't felt in years.
Plus we raised much needed funds to help restore the UU Church's iconic meetinghouse. You can see concert photos here.
Missed the show? Don't miss the next few:
Henri Smith New Orleans Christmas December 14 & 15, 2013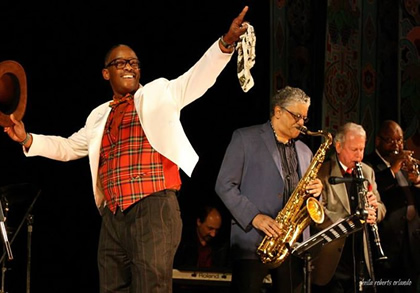 Once again Henri Smith and his all-star band, this time featuring Grammy-award winner Amadee Castenell and Toronto's Italian accordion sensation Carmen Spada got a packed house dancing in the aisles for a special Christmas concert on December 14, 2013, followed by a very special Sunday matinee on December 15 with an extra encore!
Thanks to everybody who braved the snow, ice and cold to show our friends from New Orleans how New Englanders party in a snow storm!
Missed the show? Don't miss the next few: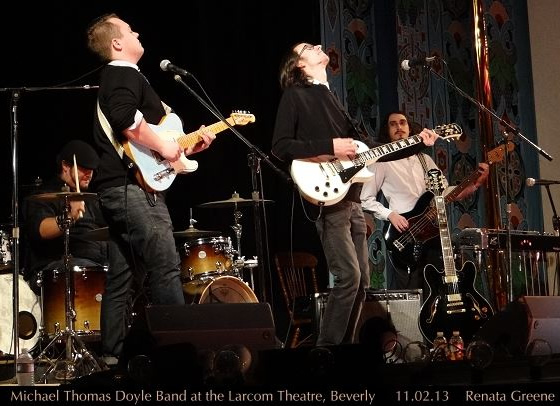 The Slide Brothers
Brought the Crowd to
their Feet November 2, 2013
Thanks to everyone who took the chance and filled the theatre for artists they'd never heard of, and music they'd never heard before!
The Slide Brothers had the entire theatre up, dancing and clapping to their inspirational music.
Rave reviews proclaim The Slide Brothers one of the best blues concerts of 2013 on Boston's North Shore.
Young rising star, Michael Thomas Doyle and his band revved the crowd up with hot sounds from the next generation on virtuosos.
Missed the show? Don't miss the next few:
Rave Reviews for Allen Estes Band on October 5, 2013
"It was a magical night!"
photos: Sheila Roberts Orlando (except where noted)
Dave Foley and the Fabulous Mustangs opened with a country swing that transported us straight to Nashville!
After Intermission, Allen Estes took the stage. Here's what Fly Amero of Orleans had to say about his experience:

Allen Estes Band
Larcom Theater, Beverly MA
Saturday, October 5, 2013
By Fly Amero

This is not a review. I would never presume to critique any single one of the great musicians we have here on the North Shore. Let's think of it more as a message to those out there who figure they've seen Allen Estes perform a number of times, and thus may have passed on tickets for this wonderful Beverly show. In a nutshell--too bad for you!
Forget that the historic Larcom Theater is a fully restored, gorgeous facility with hand-painted tin, beautifully designed curtains, world-class stage lighting and, well--the list could go on and on. Forget that the place is virtually next-door. Forget it all. This was about a truly incredible songwriter, centerstage at a venue which absolutely captures the nuance of his lilting voice and intelligent, heartfelt lyric. The sound (under the direction of Will Hunt) was nothing shy of spectacular, with its focus exactly where it should be - the lead voice. Allen's words were clear as a waterfall. His songs could be heard as they've never been heard before, and appreciated for the finely crafted works of art that they are.
But there was an unexpected knockout punch that came on with subtlety--and that was Allen's masterful orchestration of the entire set. Starting the show solo, he gradually, one by one, eased players onto the stage until ultimately finding himself backed by five of the finest musicians New England has to offer. I cannot for the life of me think of any place in the world I'd rather have been on Saturday night than right down the street from us all (not "up the line", which makes everyone think it's far, far away when it's really not) at the Larcom Theater, 13 Wallis Street, Beverly, MA.
Allen Estes: vocals/acous. guitar
David Brown: slide dobro/elec. guitar/vocals
Matt Leavenworth: fiddle
Steve Burke: keyboards/vocals
Wolf Ginandes: bass
Dave Mattacks: drums
Missed the show? Don't miss the next few:
Henri Smith featuring Charles Neville Mardi Gras 2013
GIMMELIVE brought music to the Larcom Theatre for the first time in decades on April 6, 2013 for a sold-out Mardi Gras concert featuring Grammy-winner Charles Neville of the Neville Brothers with Henri Smith New Orleans Friends & Flavours
Originally scheduled in February, the concert had to be postponed due to the major winter storm that forced the Governor to close all roads and declare a state of emergency.
Performers and fans were undaunted as they packed the Larcom Theatre a couple of months later to raise money for the Y Teens Rebuild New Orleans 2013 trip and helped usher in a new era of top quality entertainment in the heart of downtown Beverly, MA.
Missed the show? Don't miss the next few: