What better way is there to endear yourself to local music fans and the people of your community?
Sponsoring a gimmeLIVE show is the best use of your advertising budget. You'll reach homeowners, business owners and influential lovers of music and the arts, while endearing your brand to the community and boosting the area's cultural economy. Benjamin Franklin said it best, do well by doing good.
GIMMELIVE was founded by Peter & Vickie Van Ness, who produce some of the largest, most successful concerts and festivals on Boston's North Shore.
Since 2007, we have partnered with scores of businesses providing millions of impressions through social media, radio, TV, email, print, posters, programs and give-aways. We are promotion experts with a specialty in Web, SEO and social media marketing on Google, Facebook, YouTube, blogs, podcasts, email, etc.
GIMMELIVE concerts feature Grammy-award winning legends and Rock n Roll Hall of Famers, including Art Garfunkel, Micky Dolenz (of the Monkees), Peter Yarrow (of Peter, Paul & Mary), Felix Cavaliere (of the Rascals), Leon Russell, Marshall Tucker Band, Johnny Winter, The Yardbirds, James Cotton, Chris Isaak, Booker T. Jones, Badfinger, Mark Farner (of Grand Funk Railroad), Steve Augeri (of Journey), Aaron and Charles Neville (of The Neville Brothers), Robert Randolph, John Sebastian (founder of The Lovin' Spoonful) and many more. Plus gimmeLIVE introduces young rising stars, many of whom garner critical acclaim at gimmeLIVE shows. (See past shows here.)
Hundreds of fans take home flyers or programs (with your logo) as treasured keepsakes (see example here).
Your sponsorship endears you to the community by helping to make top quality entertainment available at affordable prices and boosting the area's cultural economy.
There are a limited number of sponsorship packages available. CLICK HERE or call 978.525.9093 to reserve your package today.
We offer our thanks to these forward thinking companies who have sponsored gimmeLIVE shows.
YOU HELP KEEP LIVE MUSIC ALIVE!
Want to sponsor one of our shows? Click here!
ABOUT THE PRODUCERS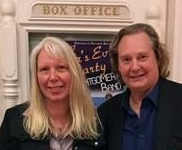 Vickie & Peter Van Ness
Vickie and Peter Van Ness, founders of gimmeLIVE, have produced some of the largest and most critically acclaimed concerts and festivals on Boston's North Shore featuring national recording stars and award-winning young artists.
GIMMELIVE is about to announce new shows for their 2017 season. Click here to join our mailing list -- you'll get new show announcements, special deals and prime seats before tickets go on sale to the general public.
Since 2012, GIMMELIVE's award-winning seasons at Beverly's three theatres -- The North Shore Music Theatre, The Cabot and The Larcom -- have featured Rock 'n' Roll icons and showcased emerging young talent you might want to keep your eye on -- Vickie & Peter have been known to spot stars in the making before.
In January 2016, gimmeLIVE produced a Classic Rock Festival featuring Micky Dolenz of the Monkees, Felix Cavaliere of the Rascals, Mark Farner -- founder of Grand Funk Railroad, Steve Augeri -- Journey's former lead singer, John Cafferty & Michael "Tunes" Antunes of the Beaver Brown Band. The festival raised thousands of dollars for the educational programs at Old School Square in Delray Beach FL.
Many of gimmeLIVE's concerts and festivals raise money for good causes. Click here if you'd like us to produce a concert or festival to raise money for your organization.
A BRIEF HISTORY
In 2007, GIMMELIVE reunited the Pousette Dart Band for a Memorial Day Weekend Music & Arts festival that launched Celebrate Gloucester and the grand opening of Cruiseport Gloucester, Gloucester's very first cruise ship terminal.
After co-founding Gloucester's wildly successful summer Block Parties and producing several other major events (including Concert From the Heart featuring American Idol finalist Ayla Brown, which raised money for a local boy's much needed heart transplant) they produced Celebrate Gloucester 2010 featuring Charles Neville, Henri Smith, Roomful of Blues and local rising stars.
GIMMELIVE kicked off a Summer 2012 concert series at North Shore Music Theatre with Chris Isaak's U.S. tour, which introduced Chelsea Berry followed by Aaron Neville, with local singer/band-leader Henri Smith and the first Orleans concert in New England after original founder John Hall re-joined the band, featuring local legend Fly Amero.
In 2013, gimmeLIVE brought music to Beverly's historic Larcom Theatre for the first time since the days of Vaudeville, starting with a sold-out Mardi Gras benefit concert featuring Grammy-winner Charles Neville of the Neville Brothers with Henri Smith New Orleans Friends & Flavours followed by world-class artists, whose Larcom Theatre shows have garnered rave reviews.
In December 2013, gimmeLIVE packed Gloucester's iconic UU Church Meetinghouse for the first of a highly successful benefit concert series featuring top local talent and major recording stars, including John Sebastian, the first Rock n Roll Hall of Famer to perform in Gloucester.
During the summer of 2014, gimmeLIVE presented concerts on Martha's Vineyard at the Old Whaling Church in Edgartown and in Gloucester aboard the Beauport Princess Cruise Ship and at the Waterfront Pavilion.
Later in 2014, Peter and Vickie co-produced That's When I Know It's Mardi Gras, a live CD recording at Beverly's Larcom Theatre featuring New Orleans vocalist Henri Smith with Grammy Award-winners Charles Neville and Amadee Castenell.
GIMMELIVE's 2014-2015 concert season at Beverly's Larcom Theatre featured award-winning, sold-out shows.
During the summer of 2015, Vickie and Peter presented a series of concerts featuring national recording stars and award-winning Boston area talent at the newly re-opened Cabot Theatre in downtown Beverly.
Through gimmeLIVE, Peter & Vickie Van Ness continue to bring critically acclaimed entertainment to top intimate venues north of Boston.
Want us to produce a concert or festival to raise money for your organization? Click here!
Want to sponsor one of our shows?
Click here!