Critically Acclaimed Shows ... Up Close & Personal
BLUES & SOUL FEST featuring
VICTOR WAINWRIGHT
& ELI PAPERBOY REED
special guests RICKY KING RUSSELL
& PARKER WHEELER'S BLUES PARTY
DATE
Saturday, October 24, 2015

We cannot offer refunds under any circumstances.

TIME
8:00PM (Doors Open 7:00PM)
VENUE

The Larcom Performing Arts Theatre

13 Wallis Street

Venue Details
TICKETS
RESERVED SEATS

(ALL AGES)

$19.00, $29.00, $39.00
Victor Wainwright returns to the Larcom after last year's stunning performance that garnered stellar reviews. This year he's joined by Soul Sensation Eli "Paperboy" Reed, a Boston native who's been wowing audiences on five continents and now lives in New York City. Local Blues stars Ricky King Russell & Parker Wheeler's Blues Party kick off this Fall's hottest North Shore Blues & Soul Festival!
VICTOR WAINWRIGHT
Winner of the Blues Music Awards "Pinetop Perkins Piano Player of the Year" for two years in a row, Victor Wainwright also has "a voice that recalls Dr. John at his best," according to the Chicago Blues Guide.
Though his career began over a decade ago with genuine rock n' roll honky-tonk, Wainwright has broadened his artistic scope over the years to include music representing virtually every corner of the blues. His insatiable interest in music discovery, sheer love for entertaining and curiosity have led him all around the world, and the resulting perspective is a reflection of his passion for entertaining and creating progressive roots music in an effort to move the artform forward. Composer, producer, vocalist, entertainer and award winning piano player; Victor Wainwright is a raucous high-octane, dynamic performer and crowd pleaser with soul to spare.
See full Victor Wainwright bio here.
ELI "PAPERBOY" REED
Eli "Paperboy" Reed is a survivor. He's been making Soul-inspired music since before it was cool and tearing up stages all over the world with his heart-stopping falsetto screams for close to a decade. From humble beginnings outside of Boston, at 18 Reed moved to Clarksdale, Mississippi and cut his teeth playing in juke joints all over the Delta. From there he took the well-trod path to Chicago where he spent a year as minister of music in a Southside church. Soon after returning to Boston, he was bit by the songwriting bug and released his first full length, "Roll with You" in 2008. The world began listening. Soon there were calls coming in from everywhere; television shows in the UK, festivals in Australia, and a jaw-dropping schedule of national and international tour dates. Major label deals were signed and his star kept rising, now with the help of song placements in major movies, television shows and commercials. The albums "Come and Get it" (Capitol) and "Nights Like This" (Warner Brothers) went on to do more than $2.5 million in total licensing, while Reed and his crack band continued to wow audiences on five continents. Now, after some much-needed time off from the road, Reed has returned to the studio and crafted a new album that is at once back-to-basics and startlingly current. "My Way Home" represents a return to the sonic character that Reed's career began with, but it does more than that: It captures the essence of his sound. A sound that, over everything else, prizes feeling, energy, and, yes, Soul.
RICKY KING RUSSELL & PARKER WHEELER'S BLUES PARTY
This show features a special appearance by local blues legend Ricky King Russell with New England Blues Godfather, Parker Wheeler & Friends.
In these days of sampled and computer-generated music, it is refreshing to hear music the way it is meant to be played -- honestly and with soul! Ricky "King" Russell is one of the Blues' most seasoned performers and brightest talents.
Taking his cue from Blues masters past and present, Ricky plays with passion and style. His 4 CDs are radio favorites and the song, "Big Boy" has been featured on the House of Blues Radio Hour with Dan Aykroyd.
Ricky is a guitarist/vocalist/songwriter fifty-year musician with a list of credits and accomplishments too long to list here. Described as "Volcanic" by the Boston Globe, Ricky always delivers from the heart. He has appeared with such notables as David "Honey Boy" Edwards, John Lee Hooker, Eddie Clearwater, Mighty Sam McClain, Ronnie Earl, Jerry Portnoy, Duke Robillard, Kim Wilson, Tommy Shannon and Chris Layton (Double Trouble), Susan Tedeschi, Toni Lynn Washington, Roomful of Blues, James Montgomery, Sugar Ray Norcia, Debbie Davies, Steve Miller and many others.
He was a featured artist at the original House of Blues in Cambridge, MA and Harvard University has bestowed upon him an honorary "Doctorate of the Blues".
History of the Larcom Theatre - 13 Wallis Street, Beverly MA, USA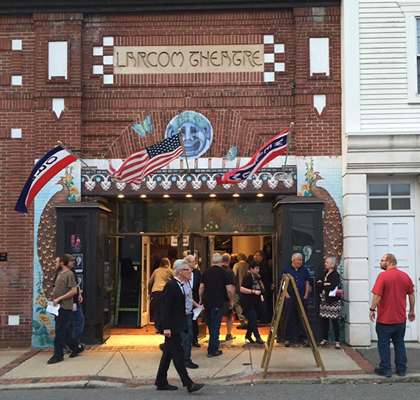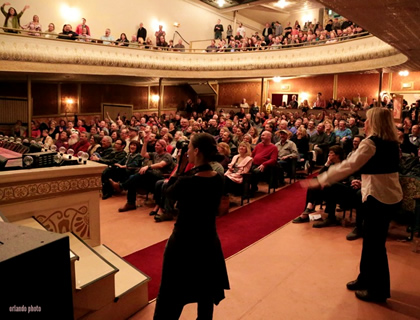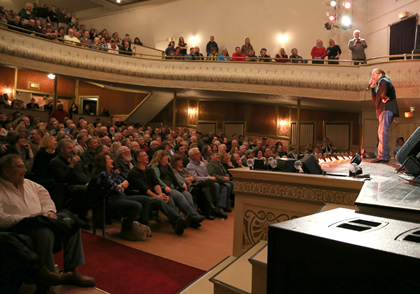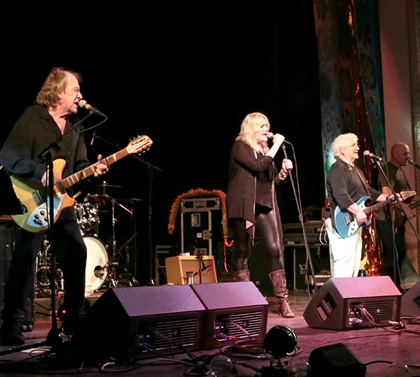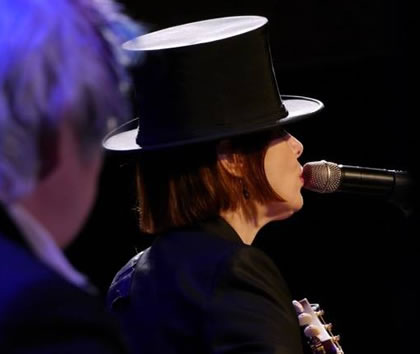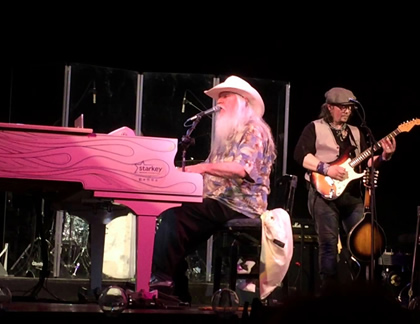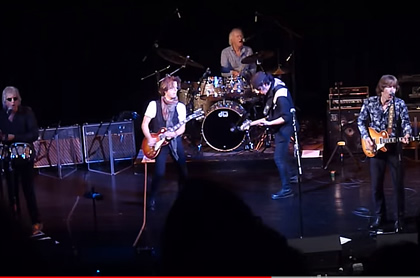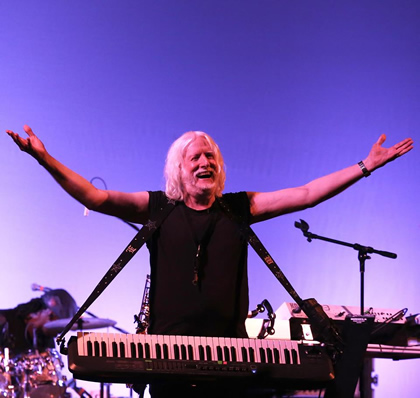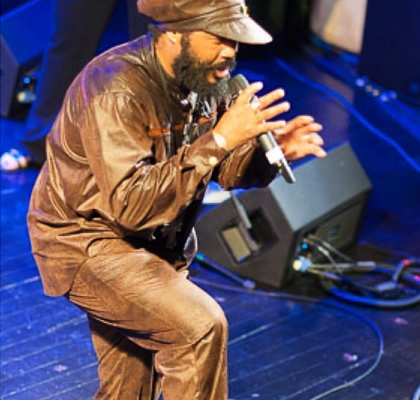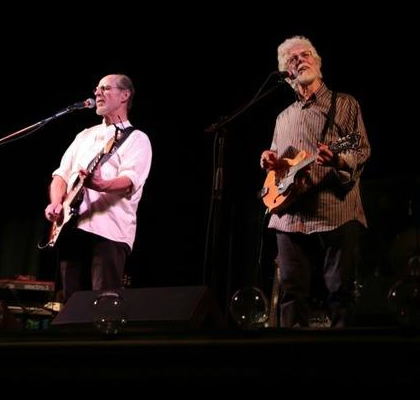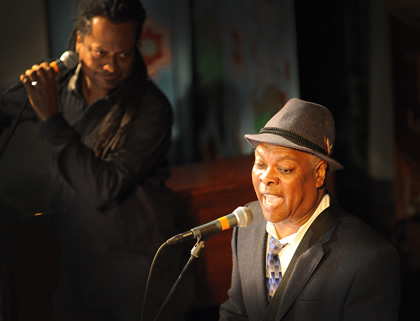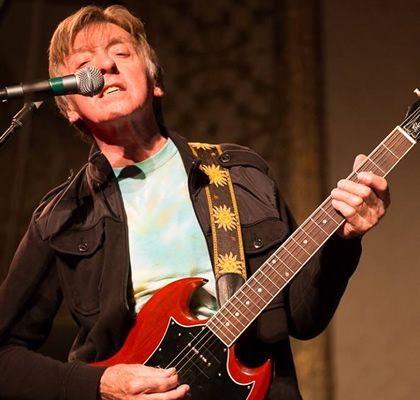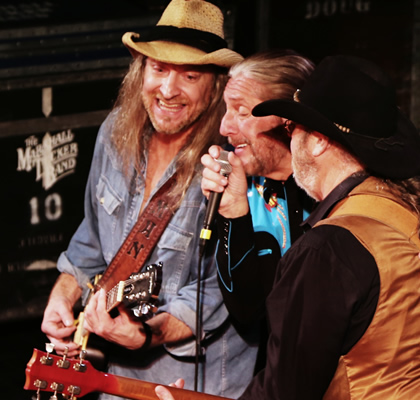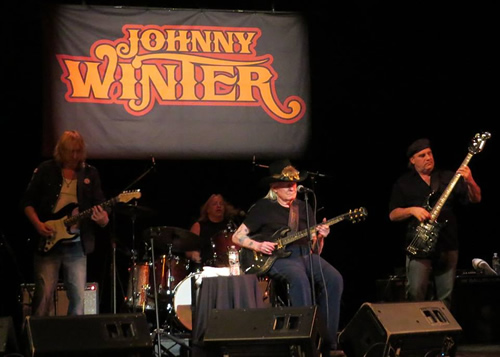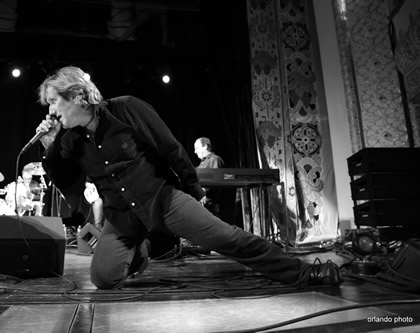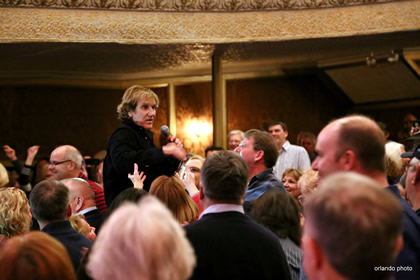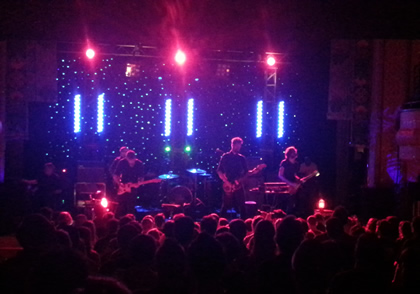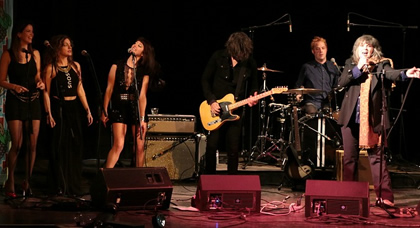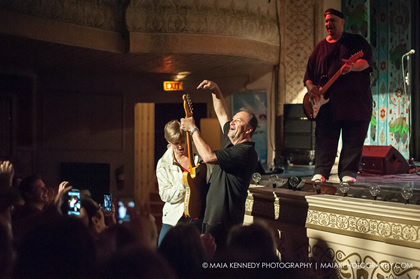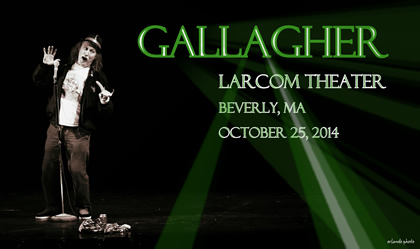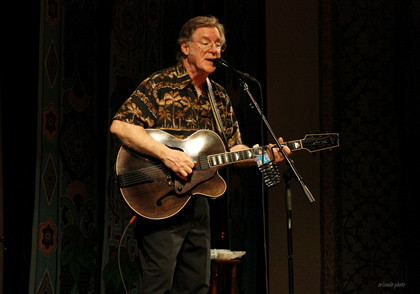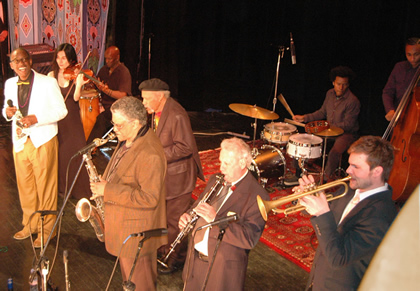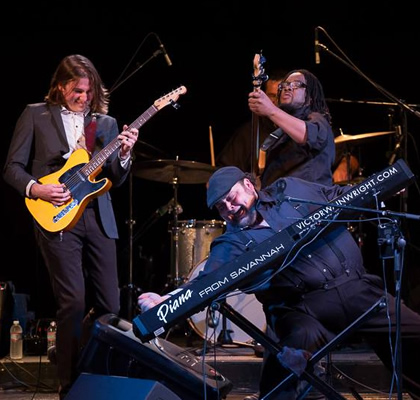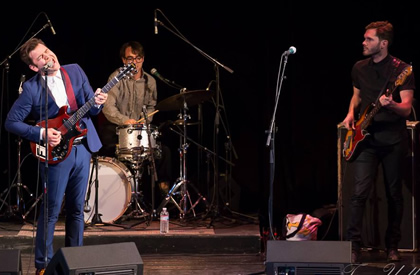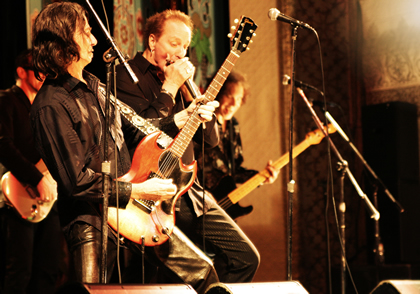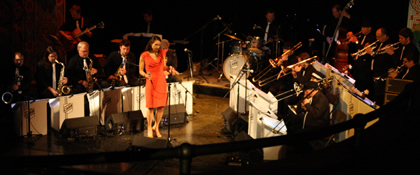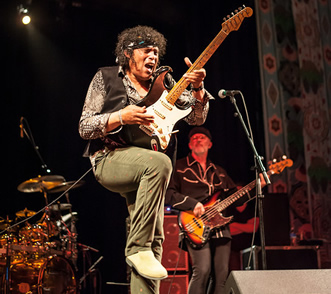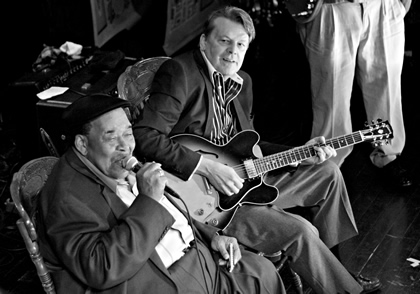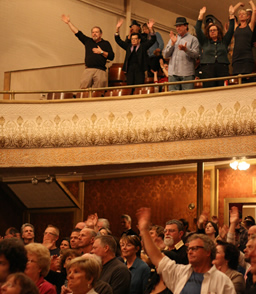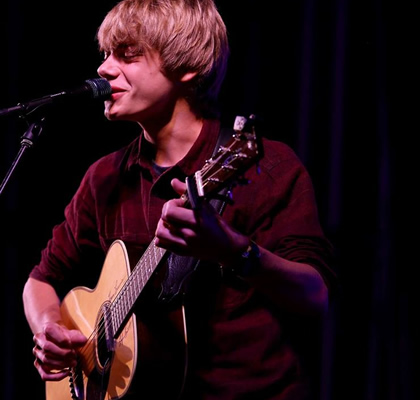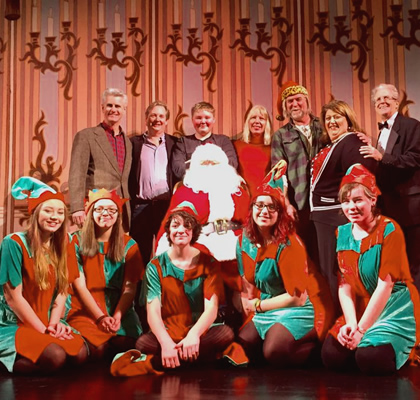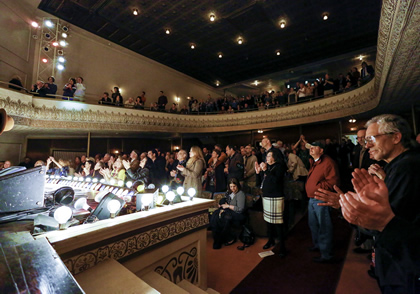 Shows at Beverly's Larcom Theatre 2013 - 2017
photos by Sheila Roberts Orlando unless otherwise noted
The Larcom Theatre was built in 1912 (the same year as Boston's Fenway Park) by brothers Harris and Glover Ware (vaudeville musicians from Marblehead, MA) on the birth site of their favorite poet, Lucy Larcom.
The Larcom Theatre's grand opening advertised that its interior was lit completely by electricity.
During its 111 year history, The Larcom Theatre has presented stage, screen and musical entertainment. In 1984 the Larcom's elegant horseshoe balcony, hand-painted antique pressed tin ceilings and original silk wall coverings were restored to their original glory by Le Grand David Magic Company, who presented their award-winning magic show there until the company's founder, Cesareo Pelaez, died in 2012.
In April 2013, after the Larcom Theatre had been dark for about a year, Vickie and Peter Van Ness of gimmeLIVE produced a sold-out Mardi Gras Benefit Concert that filled the Larcom Theatre with music for the first time since the days of Vaudeville.
In 2014, gimmeLIVE began bringing Grammy-winning national touring and recording artists and Rock & Roll Hall of Famers to the Larcom, which ushered in a new era of top quality entertainment in the heart of downtown Beverly, MA. GIMMELIVE concerts at the Larcom Theatre received stellar reviews for the quality of both the music and the sound system installed by gimmeLIVE.
Later in 2014, Peter and Vickie co-produced That's When I Know It's Mardi Gras, a live CD recorded in front of a sold-out audience at the Larcom Theatre featuring New Orleans vocalist Henri Smith with Grammy Award-winners Charles Neville and Amadee Castenell.
In 2015, gimmeLIVE once again recorded a live CD featuring the James Montgomery Band, which was released in November of that year. GIMMELIVE also hosted James Montgomery's "Live at the Larcom" CD Release Benefit Concert, which raised money for veterans organizations. (Many gimmeLIVE shows raise money for charity. Click here if you'd like gimmeLIVE to produce a concert or festival to raise money for your organization.)
In early 2017, gimmeLIVE took over the building adjoining the Larcom Theatre (at 9 Wallis Street), formerly owned by members of Le Grand David Magic Company and known as the Grand Salon. GIMMELIVE transformed this venue into 9 Wallis, which became the North Shore's most intimate, elegant listening room offering comfortable show seating at tables with food & beverage service, including fine wines, local craft beers, specialty cocktails (featuring local distilleries and all-natural juices) and top-shelf spirits.
Donnie & Lisa Crowell purchased The Larcom Theatre in September 2016 and renamed it The Larcom Performing Arts Theatre or "The Larcom" for short. Tickets to shows at The Larcom can be purchased here.
CLICK HERE to see upcoming shows nearby.