Booker T. Jones VIP Upgrade Package includes: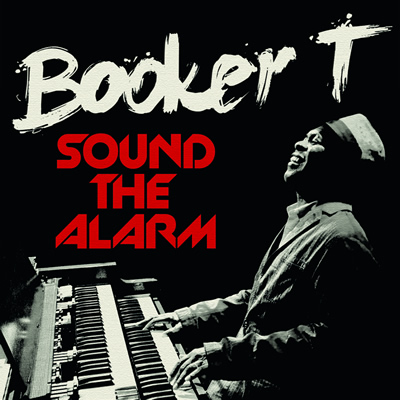 Exclusive 2 Disc CD/DVD Sound The Alarm with bonus tracks
Collectible Stax sticker
Exclusive autographed concert poster not available to the general public
Exclusive entry to sound check
Meet and Greet with Booker T. Jones
This VIP Upgrade Package is an extra $35.00 per ticket.
Critically Acclaimed Shows ... Up Close & Personal
BOOKER T. JONES
DATE
Saturday, February 21, 2015

We cannot offer refunds under any circumstances.

TIME
8:00pm 7:00pm
VENUE

The Larcom Performing Arts Theatre

13 Wallis Street

Venue Details
OPENER
Sarah Seminski & Eric Reardon
TICKETS
RESERVED SEATS

(ALL AGES)

$29, $39, $49
BOOKER T. JONES
Join us in welcoming Booker T. & the M.G.'s founder, Rock and Roll Hall of Fame inductee, Musicians Hall of Fame inductee, Grammy Lifetime Achievement Award recipient & the greatest Hammond B3 groove-master of all time, BOOKER T. JONES, to the Larcom Theatre for his only New England appearance on his U.S. tour.
You'll hear Booker T. perform his legendary Stax Records hits like "Green Onions," "Hip Hug Her," "Hang 'Em High," "Time Is Tight," "Melting Pot," and "Born Under a Bad Sign," along with sparkling new music with his gifted, young band.
"After all these years, he remains so soulful, and so good." - NPR
ABOUT BOOKER T. JONES
It can be argued that it was Booker T. Jones who set the cast for modern soul music and is largely responsible for its rise and enduring popularity. On classic Stax hits like "Green Onions," "Hang 'Em High," "Time Is Tight," and "Melting Pot" the Rock and Roll Hall of Fame inductee, Musicians Hall of Fame inductee and GRAMMY Lifetime Achievement Award recipient pushed the music's boundaries, refined it to its essence and then injected it into the nation's bloodstream. Sound the Alarm, the new album from Booker T, finds the Hammond B3 organ master looking ahead yet again, laying down his distinctive bedrock grooves amid a succession of sparkling collaborations with some of contemporary R&B's most gifted young voices.
Sound the Alarm also marks Booker T's historic return to Stax Records, the Memphis soul label the instrumentalist, bandleader, producer, and songwriter helped put on the map during the 1960s, along with his brilliant band, the MGs.
Creatively, it's another bold new step in a career that has witnessed a striking resurgence in recent years. Booker T took home Best Pop Instrumental Album GRAMMY Awards for both 2010's Potato Hole, his head-turning collaboration with The Drive-By Truckers and 2012's The Road From Memphis, his critically acclaimed album with The Roots.
Sound the Alarm is graced with soulful guest performances by R&B stars Anthony Hamilton (on "Gently") and Estelle (on "Can't Wait"). Another dynamic talent, Raphael Saadiq, contributes guitar work on "Broken Heart" and "Feel Good." Says Booker of the neo-soul star, "He's been an inspiration for the album." The set also showcases a number of exciting singers who are just beginning to make their mark on contemporary R&B, including Mayer Hawthorne ("Sound the Alarm"), Jay James ("Broken Heart") and Luke James ("All Over the Place").
Flush with new ideas and young talent, Sound the Alarm is also an exciting reconnection to the Stax Records tradition, which began for Booker T as a teen, when the Bluff City label was founded out of McLemore Avenue's Satellite Record Shop. "I found the music that I loved for the rest of my life at Satellite Records, while I was on my bike soliciting customers on my paper route," he recalled. "I walked into the lobby of the Capitol Theater, and it had been transformed into a record store, and there was Steve Cropper playing records for me there when I was in ninth grade. That legacy is my heart and my life. That's where I come from." And, Booker adds, "I have music inside me, and I'm looking forward to the future. I'm very excited about making some things happen."
SARAH SEMINSKI
& ERIC REARDON
Soulful, honest, and impactful -- Cozy Covers is a Boston-based music project featuring Sarah Seminski and Eric Reardon where the duo perform songs that inspire them. Some songs they wrote, others they wish they wrote.
Former front-woman of Boston Based BIG OL' DIRTY BUCKET, and NJ native Sarah Seminski has been collaborating with Eric Reardon for ten years, creating a musical kinship that is a very unique hybrid of classic Funk/Soul and modern R&B.
Seminski's powerful voice soars across each song with a soulful resonance that is equally spicy and sweet. In this age of "auto-tuned" vocals, where the music industry cranks out homogenized electronic sounds filled with vapid content, seemingly regurgitating "hit" songs for a "target audience," Sarah Seminski and Eric Reardon are at the forefront of a return to good popular music--made by human hands and souls, performed by real people, and meant to be enjoyed by all.
Follow them and gain access to their video series YouTube, Facebook or reverbnation.
History of the Larcom Theatre - 13 Wallis Street, Beverly MA, USA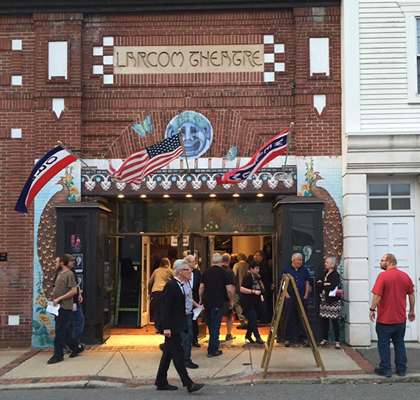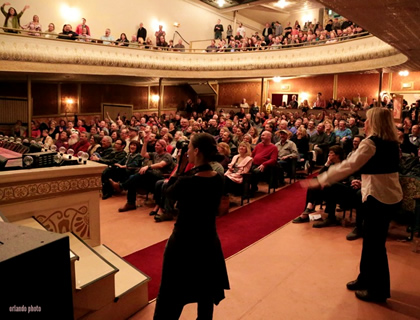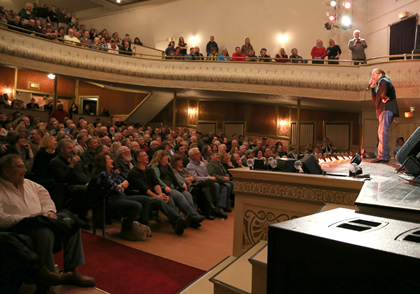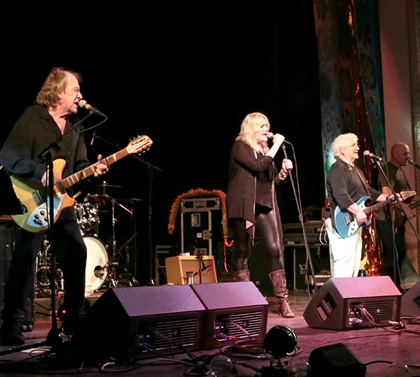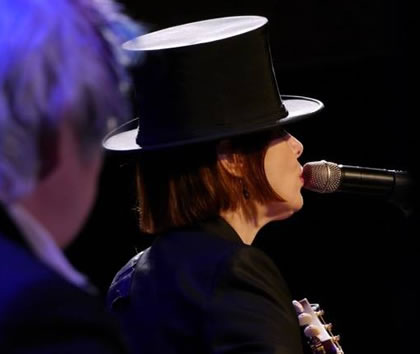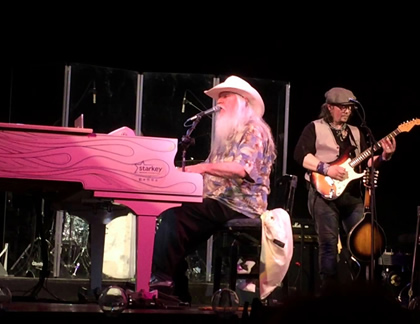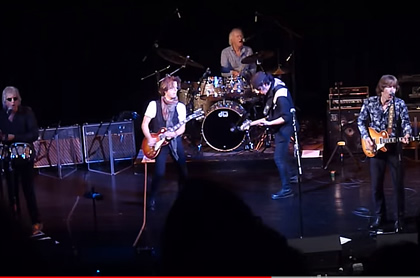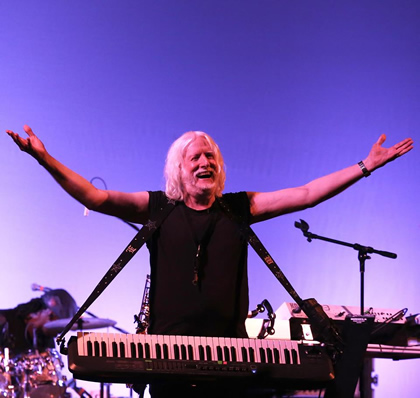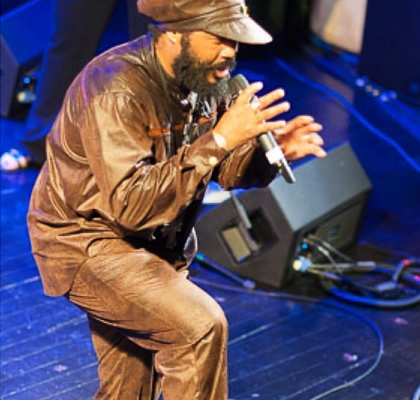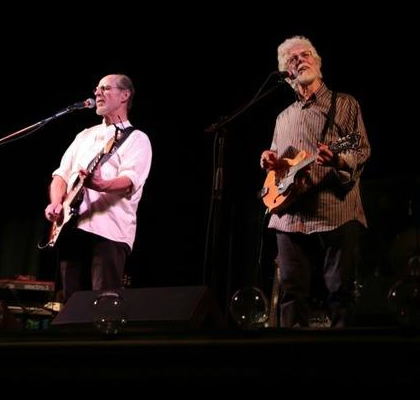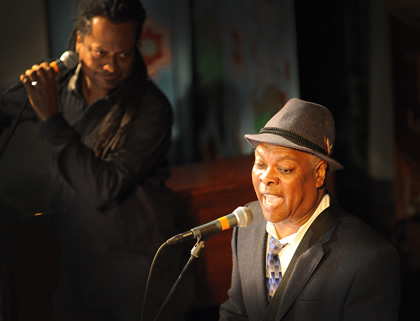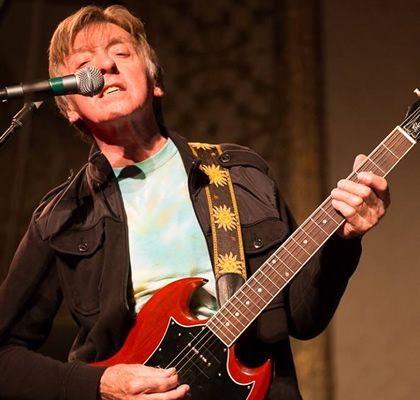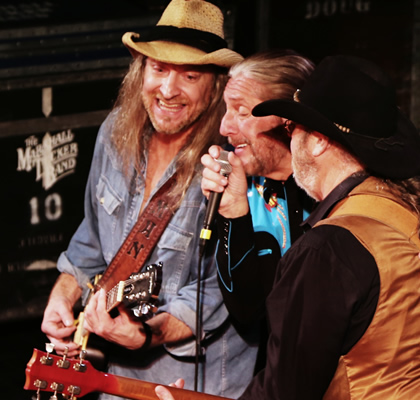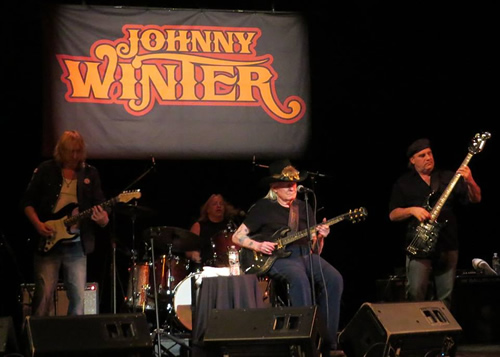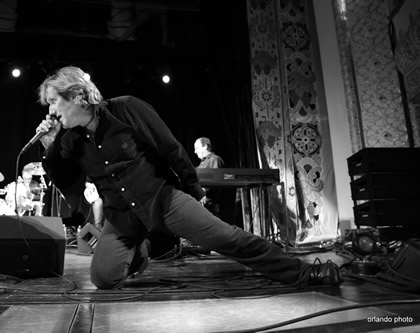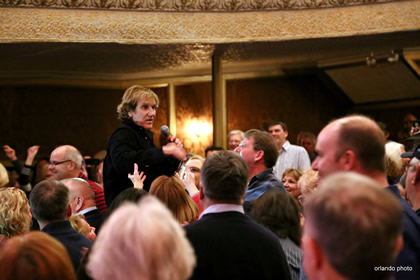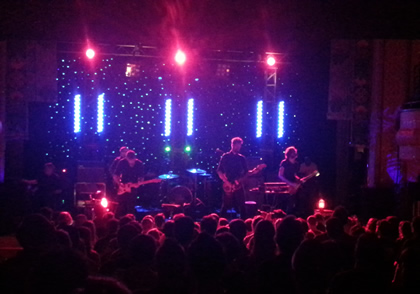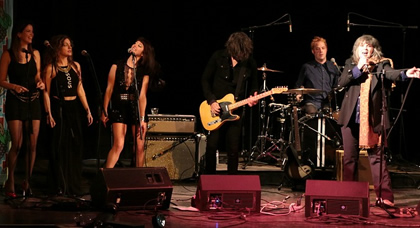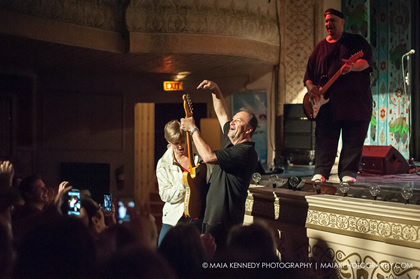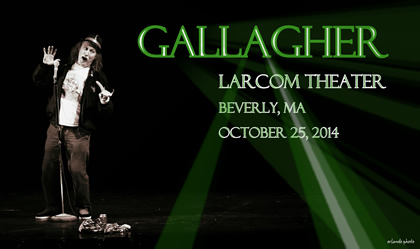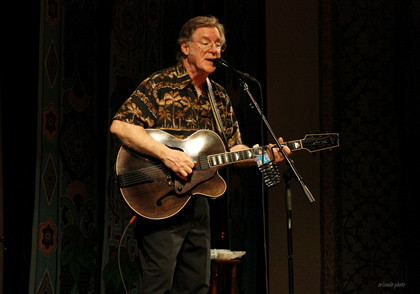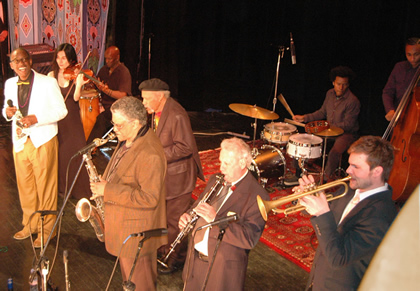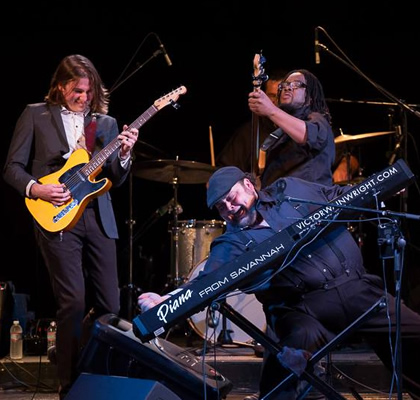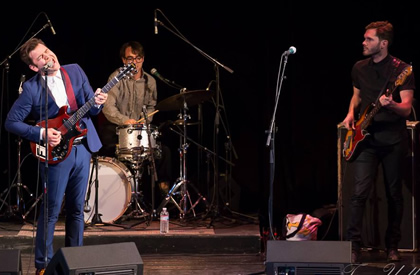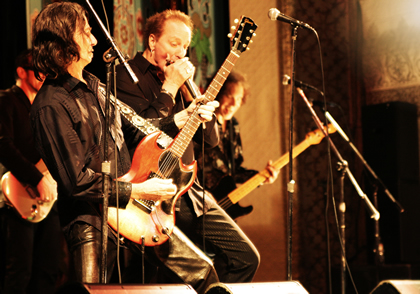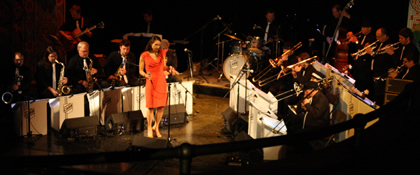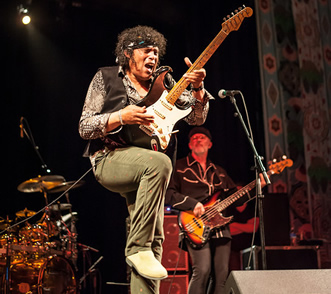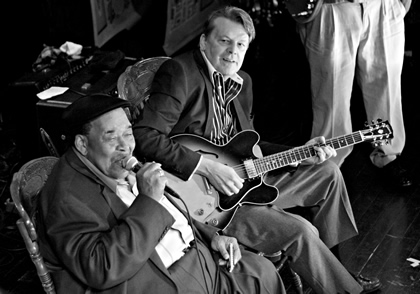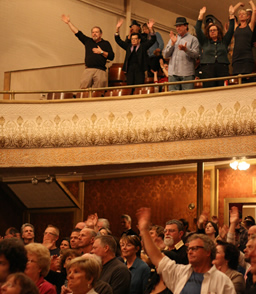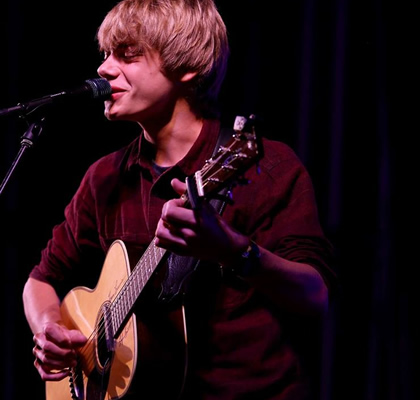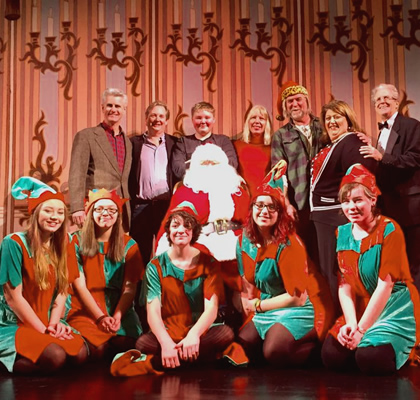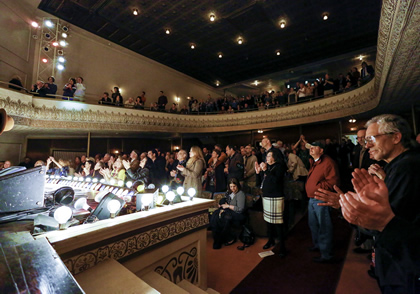 Shows at Beverly's Larcom Theatre 2013 - 2017
photos by Sheila Roberts Orlando unless otherwise noted
The Larcom Theatre was built in 1912 (the same year as Boston's Fenway Park) by brothers Harris and Glover Ware (vaudeville musicians from Marblehead, MA) on the birth site of their favorite poet, Lucy Larcom.
The Larcom Theatre's grand opening advertised that its interior was lit completely by electricity.
During its 111 year history, The Larcom Theatre has presented stage, screen and musical entertainment. In 1984 the Larcom's elegant horseshoe balcony, hand-painted antique pressed tin ceilings and original silk wall coverings were restored to their original glory by Le Grand David Magic Company, who presented their award-winning magic show there until the company's founder, Cesareo Pelaez, died in 2012.
In April 2013, after the Larcom Theatre had been dark for about a year, Vickie and Peter Van Ness of gimmeLIVE produced a sold-out Mardi Gras Benefit Concert that filled the Larcom Theatre with music for the first time since the days of Vaudeville.
In 2014, gimmeLIVE began bringing Grammy-winning national touring and recording artists and Rock & Roll Hall of Famers to the Larcom, which ushered in a new era of top quality entertainment in the heart of downtown Beverly, MA. GIMMELIVE concerts at the Larcom Theatre received stellar reviews for the quality of both the music and the sound system installed by gimmeLIVE.
Later in 2014, Peter and Vickie co-produced That's When I Know It's Mardi Gras, a live CD recorded in front of a sold-out audience at the Larcom Theatre featuring New Orleans vocalist Henri Smith with Grammy Award-winners Charles Neville and Amadee Castenell.
In 2015, gimmeLIVE once again recorded a live CD featuring the James Montgomery Band, which was released in November of that year. GIMMELIVE also hosted James Montgomery's "Live at the Larcom" CD Release Benefit Concert, which raised money for veterans organizations. (Many gimmeLIVE shows raise money for charity. Click here if you'd like gimmeLIVE to produce a concert or festival to raise money for your organization.)
In early 2017, gimmeLIVE took over the building adjoining the Larcom Theatre (at 9 Wallis Street), formerly owned by members of Le Grand David Magic Company and known as the Grand Salon. GIMMELIVE transformed this venue into 9 Wallis, which became the North Shore's most intimate, elegant listening room offering comfortable show seating at tables with food & beverage service, including fine wines, local craft beers, specialty cocktails (featuring local distilleries and all-natural juices) and top-shelf spirits.
Donnie & Lisa Crowell purchased The Larcom Theatre in September 2016 and renamed it The Larcom Performing Arts Theatre or "The Larcom" for short. Tickets to shows at The Larcom can be purchased here.
CLICK HERE to see upcoming shows nearby.