Jersey Kids Soak Up Musical Influences
Living in Central New Jersey has its charms and advantages, and among them is being close enough to New York City to enjoy all that it has to offer without having to live there. For Jersey kids in the 1960s and 1970s, that meant being able to take a quick trip across the Hudson River to shop at NYC's bevy of well-stocked record stores (Colony Music among them). It also meant crystal-clear access to some of the best and most influential radio stations in America (such as Top 40 WABC-AM and rocker WNEW-FM) from the comforts of suburbia.
This is how The Smithereens received a bulk of their early rock 'n' roll education.
Pat DiNizio became hooked on The Beatles after seeing them in 1964 on "The Ed Sullivan Show," and he subsequently kept his radio dial set to WABC so he could hear the Fab Four's latest hook-filled hit singles. By the early 1970s, DiNizio had taken a shine to the heavy gloom of Black Sabbath, and when he saw the metal band perform at, of all places, a Catholic high school in his hometown of Scotch Plains, N.J., he couldn't believe how loud it was inside the auditorium.
"Listening to Buddy Holly, I realized this was what I wanted to do."
While killing time one night in the 1970s at Colony Music in Manhattan's Times Square, DiNizio says he was drawn to the Buddy Holly section. He plunked down a whopping $20 for a copy of an out-of-print Holly album, and the impact of the music on the aspiring singer/songwriter/guitarist was immediate.
"Listening to it, I realized this was what I wanted to do," DiNizio says. "It turned my head around completely in terms of the music I had been listening to and what I thought I wanted to do with my life."
Meanwhile, over in Carteret, N.J., Dennis Diken and Jim Babjak had their own musical heroes. While attending Carteret High School in 1971, Diken noticed Babjak had a notebook plastered with pictures of The Who, one of his favorite bands, so he introduced himself. Soon drummer Diken and guitarist Babjak were jamming together on songs by The Who, The Kinks and others.
A classified ad in a Jersey music publication put DiNizio in touch with Diken in the late 1970s, and they formed a New Wave cover band called The Like. But after just one gig, the group called it a day.
They were far from through with each other, however. When DiNizio wanted to record demos of some original songs and needed a drummer, he called Diken. And it was only natural that Diken would eventually bring his buddy Babjak along to a Smithereens practice, and soon he was part of the band, too.
"We were making music we cared about. We were good players, and we had good songs."
The Smithereens made their live debut in March 1980 at a place called Englander's in Hillside, N.J. A lineup change soon followed when bassist Ken Jones was moved to guitar in favor of Mike Mesaros, a Diken friend since grade school. But after some gigs as a five piece, it was clear that another shakeup was needed, and this time Jones was ousted.
During the next five years, DiNizio, Diken, Babjak and Mesaros gigged near home and abroad whenever they could, released the EPs Girls About Town (1980) and Beauty and Sadness (1983) and for a brief time served as the backing band for acclaimed songwriter Otis Blackwell.
Nevertheless, The Smithereens still felt like they were on the outside looking in.
"We were making music we cared about," Diken recalls, "and although we developed a following, we didn't adhere to any trends -- rockabilly, New Wave fashions -- that most groups were into. We were good players, and we had good songs."
The Smithereens Soar "Blood and Roses" Hits the Charts
The future became much brighter for The Smithereens after DiNizio sent a cassette of the band's material to Enigma Records, which was distributed by Capitol/EMI. As luck would have it, the tape landed in the lap of an Enigma executive who knew the band back when he was a college DJ. The Smithereens finally had their record deal.
The timing was perfect. Sessions for what would become the first Smithereens album, Especially for You, were already taking place at the famed Record Plant in New York. DiNizio used his persuasive charm to win over Dixon (whose credits included co-producing R.E.M.'s Murmur), and with him in the producer's chair, the band reached the finish line as 1985 came to a close.
"There's always this literary and film imagery in Pat's writing. So you had this very intelligent stuff, very much like The Kinks would have, but with this relentless rock band."
The near-perfect Especially for You arrived in July 1986, and FM rock radio was quick to embrace the moody "Blood and Roses" and the hard-hitting "Behind the Wall of Sleep," both of which reached Billboard magazine's Album Rock Tracks chart.
The Smithereens Deliver Again with Green Thoughts Green Thoughts, released in March 1988, quickly proved that The Smithereens were not a one-album wonder. It was recorded at the Capitol Records tower in Los Angeles, with Dixon once again at the helm. And once again The Smithereens were making their mark on the Billboard Album Rock Tracks chart, this time with "Only a Memory," "House We Used to Live In" and "Drown in My Own Tears."
"You never hear those irritating 'We're out rockin' on the road, man' kind of songs from Pat," Dixon says. "There's always this literary and film imagery in Pat's writing. So you had this very intelligent stuff, very much like The Kinks would have, but with this relentless rock band."
A Girl Like You
DiNizio had the film Say Anything ... in mind when he wrote "A Girl Like You," but The Smithereens decided to keep the song for their third album, 11, which arrived in 1989. Produced by Jersey guy Ed Stasium, the muscular and melodic 11 would be certified gold by the Recording Industry Association of America, and the powerhouse single "A Girl Like You" would peak at No. 38 on the Billboard Hot 100 in 1990.
The rest of the '90s were a whirlwind of activity for the band: regular touring, changing record labels, more albums, some side projects as well as appearances on such TV staples as The Tonight Show and Saturday Night Live.
New Member, Revered Roots
In 1997, when Mesaros couldn't make a Smithereens gig in San Diego, Severo Jornacion of Los Angeles was called upon to handle bass duties. Occasional fill-in opportunities followed, and when Mesaros decided to retire from the band, the energetic Jornacion -- nicknamed "The Thrilla" -- became a full-time member around late 2005/early 2006.
DiNizio says, "When The Thrilla stepped in to fill Mike's rather large shoes -- he was one of the great, unsung melodic rock 'n' roll bass players -- I told him, 'You cannot apologize to the audience for the fact that Mike is no longer with us with a timid or reticent performance. You have to carve out your own niche.' "
Jornacion has done just that, both onstage and in the studio. His first studio album with the band was the 2007 Koch release Meet The Smithereens!, a track-by-track interpretation of Meet The Beatles! During the remainder of the 2000s, The Smithereens continued to show respect for the music they grew up on with other cover-themed projects, releasing B-Sides The Beatles in 2008 and The Smithereens Play Tommy in 2009.
The Smithereens 2011
That brings us to the new album, which was recorded at Fidelitorium in North Carolina and at DiNizio's home in Scotch Plains. It's the seventh Smithereens album of original material and the first all-new effort since God Save The Smithereens in 1999. It's no secret that the music industry has changed radically since then. But just like Stallone's strong-willed boxer in the last installment of the Rocky movie franchise, the older, wiser, experienced and accomplished Smithereens are out to show anyone and everyone they still have what it takes to go the distance.
And on Smithereens 2011, the band members do just that. There is DiNizio's deep, rich voice. Then you have Babjak's gutsy, gung-ho guitar solos and Diken's deft, diligent drum work. And you can't miss Jornacion's fluid, detailed bass lines. They still have the chops.
The older, wiser, experienced and accomplished Smithereens are out to show anyone and everyone they still have what it takes to go the distance. What's equally as important is they can still come up with good songs. Smithereens albums tend to have strong starts, and Smithereens 2011 opens with the potent one-two punch of "Sorry" and "One Look at You." There's top-shelf stuff throughout, and Dixon's understated-yet-crafty production style serves the material -- and the band's performances -- very well.
It's been a long time -- some would say too long -- since the last original Smithereens album. The drought is finally over, and Smithereens 2011 is a welcome addition to the band's catalog.
History of the Larcom Theatre - 13 Wallis Street, Beverly MA, USA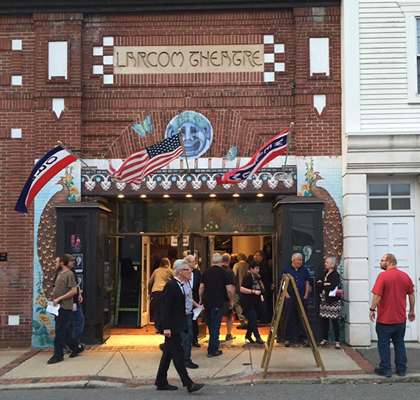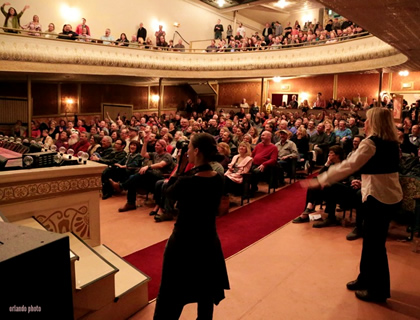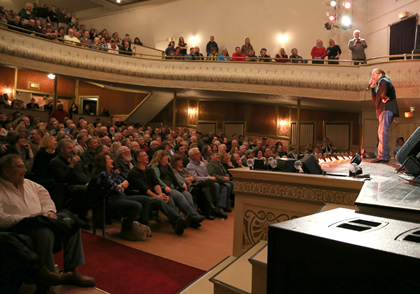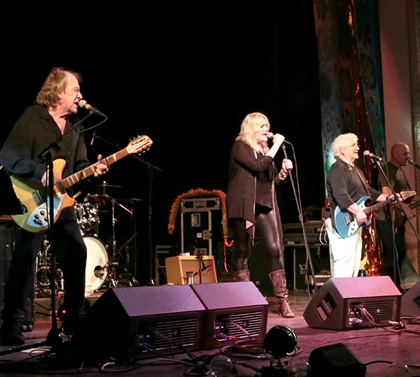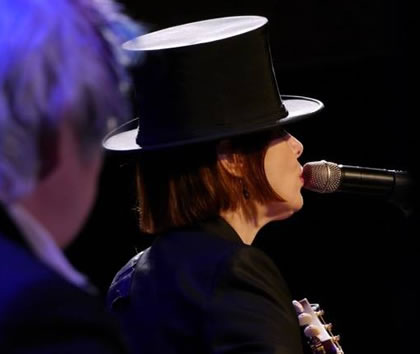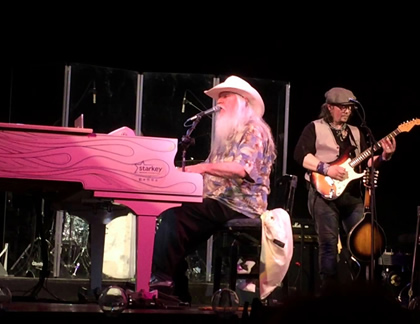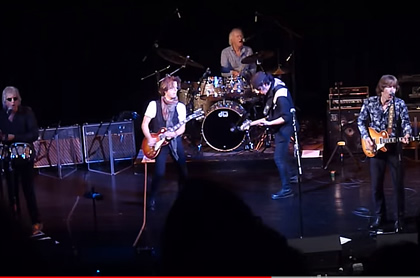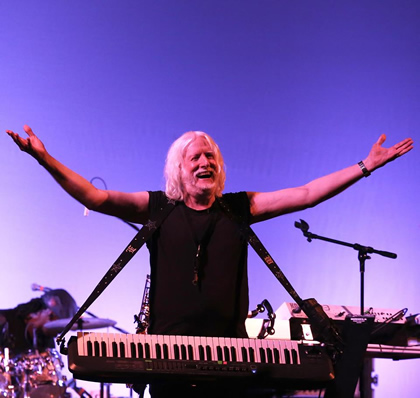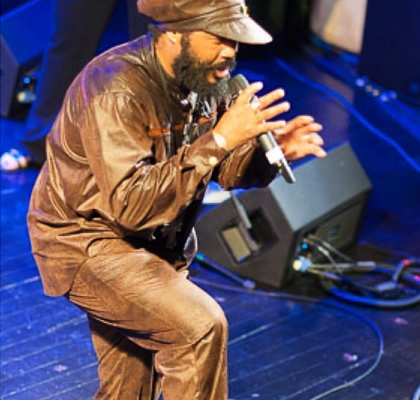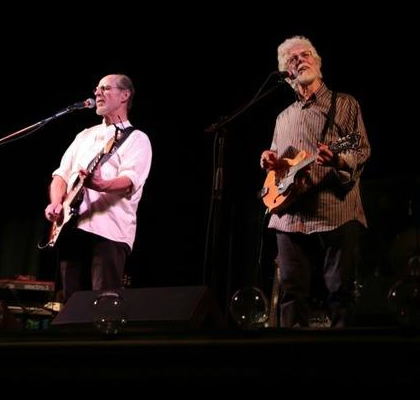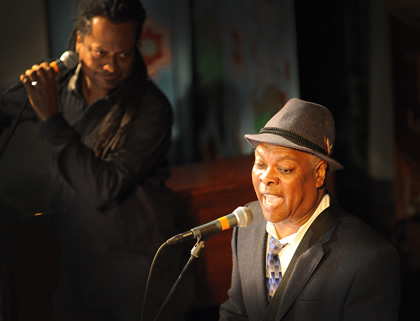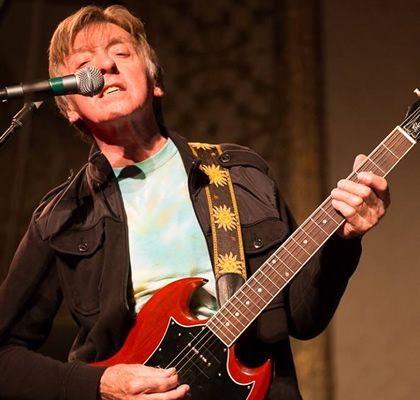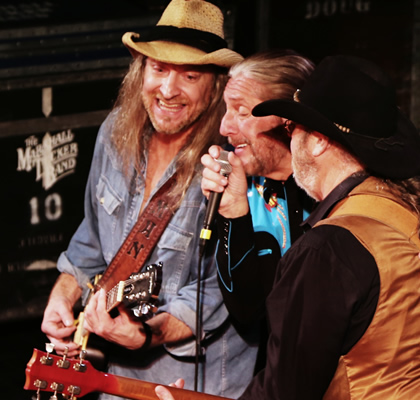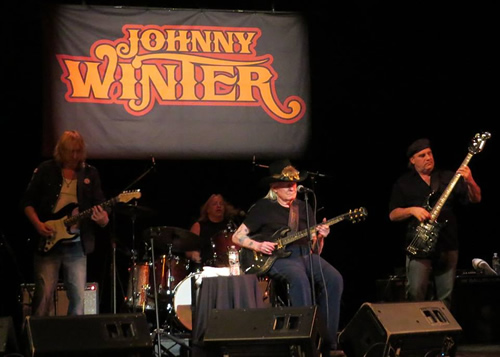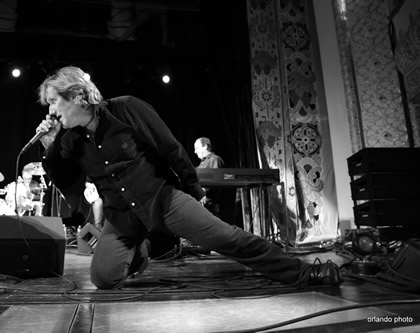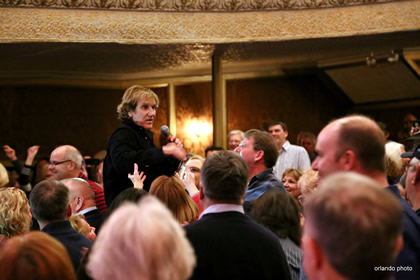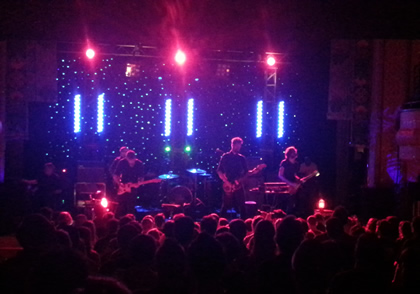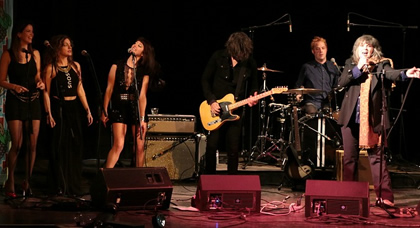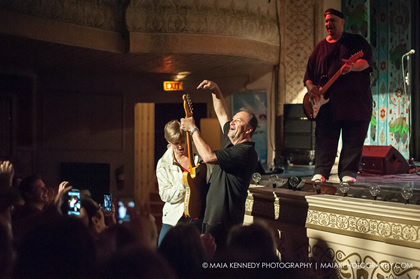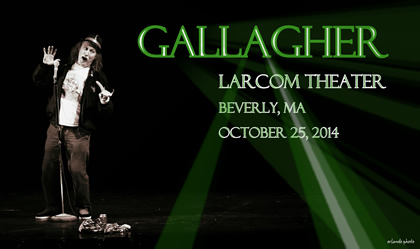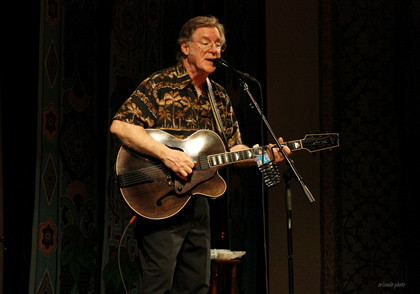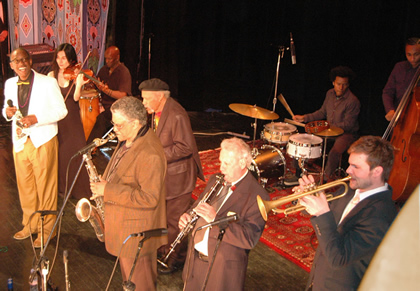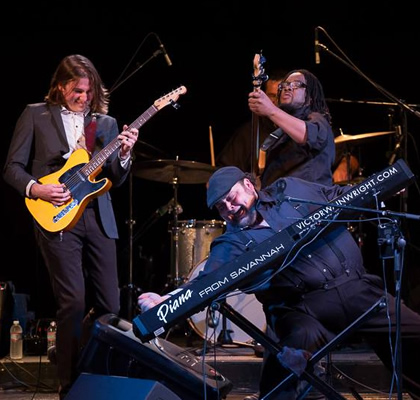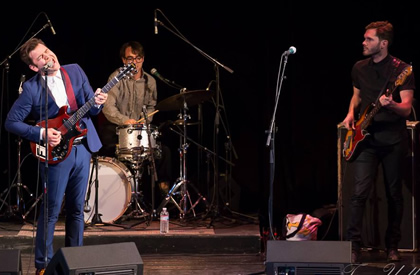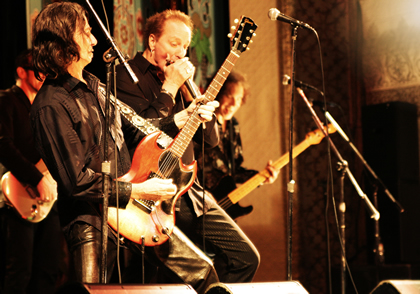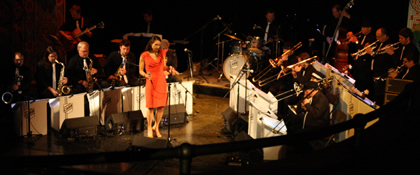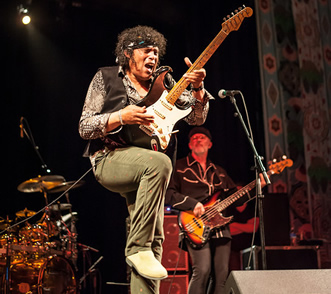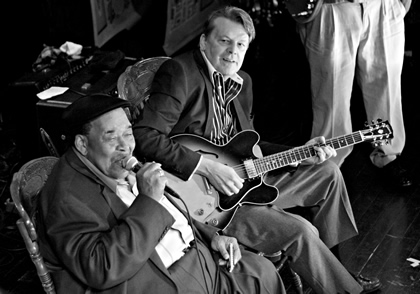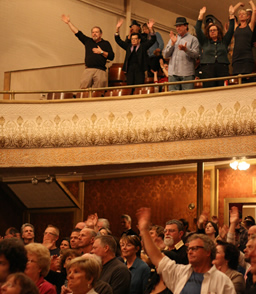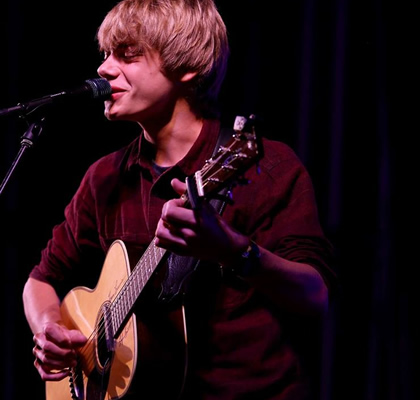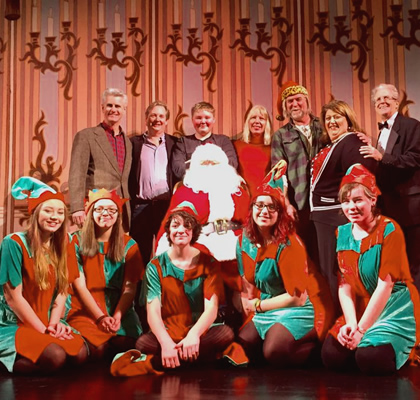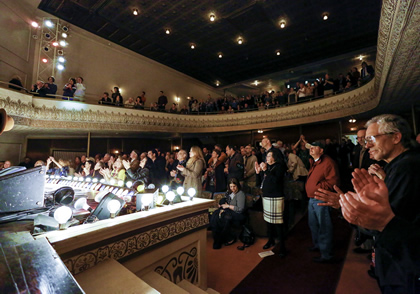 Shows at Beverly's Larcom Theatre 2013 - 2017
photos by Sheila Roberts Orlando unless otherwise noted
The Larcom Theatre was built in 1912 (the same year as Boston's Fenway Park) by brothers Harris and Glover Ware (vaudeville musicians from Marblehead, MA) on the birth site of their favorite poet, Lucy Larcom.
The Larcom Theatre's grand opening advertised that its interior was lit completely by electricity.
During its 111 year history, The Larcom Theatre has presented stage, screen and musical entertainment. In 1984 the Larcom's elegant horseshoe balcony, hand-painted antique pressed tin ceilings and original silk wall coverings were restored to their original glory by Le Grand David Magic Company, who presented their award-winning magic show there until the company's founder, Cesareo Pelaez, died in 2012.
In April 2013, after the Larcom Theatre had been dark for about a year, Vickie and Peter Van Ness of gimmeLIVE produced a sold-out Mardi Gras Benefit Concert that filled the Larcom Theatre with music for the first time since the days of Vaudeville.
In 2014, gimmeLIVE began bringing Grammy-winning national touring and recording artists and Rock & Roll Hall of Famers to the Larcom, which ushered in a new era of top quality entertainment in the heart of downtown Beverly, MA. GIMMELIVE concerts at the Larcom Theatre received stellar reviews for the quality of both the music and the sound system installed by gimmeLIVE.
Later in 2014, Peter and Vickie co-produced That's When I Know It's Mardi Gras, a live CD recorded in front of a sold-out audience at the Larcom Theatre featuring New Orleans vocalist Henri Smith with Grammy Award-winners Charles Neville and Amadee Castenell.
In 2015, gimmeLIVE once again recorded a live CD featuring the James Montgomery Band, which was released in November of that year. GIMMELIVE also hosted James Montgomery's "Live at the Larcom" CD Release Benefit Concert, which raised money for veterans organizations. (Many gimmeLIVE shows raise money for charity. Click here if you'd like gimmeLIVE to produce a concert or festival to raise money for your organization.)
In early 2017, gimmeLIVE took over the building adjoining the Larcom Theatre (at 9 Wallis Street), formerly owned by members of Le Grand David Magic Company and known as the Grand Salon. GIMMELIVE transformed this venue into 9 Wallis, which became the North Shore's most intimate, elegant listening room offering comfortable show seating at tables with food & beverage service, including fine wines, local craft beers, specialty cocktails (featuring local distilleries and all-natural juices) and top-shelf spirits.
Donnie & Lisa Crowell purchased The Larcom Theatre in September 2016 and renamed it The Larcom Performing Arts Theatre or "The Larcom" for short. Tickets to shows at The Larcom can be purchased here.
CLICK HERE to see upcoming shows nearby.