Critically Acclaimed Shows ... Up Close & Personal
YARDBIRDS is SOLD OUT ~ Check out our Rockin' Blues Night DEC 11
THE YARDBIRDS
DATE
Friday, November 20, 2015
TIME
8:00PM (Doors Open 7:00PM)
VENUE

The Larcom Performing Arts Theatre

13 Wallis Street

Venue Details
OPENER
KBMG
TICKETS
RESERVED SEATS

(ALL AGES)

$29.00, $39.00, $49.00

Inducted into the Rock & Roll Hall of Fame and listed in Rolling Stone's "100 Greatest Artists of All Time" The Yardbirds, who honed the skills of three of Rolling Stone's "Top 5 Greatest Guitarists" -- Eric Clapton, Jeff Beck and Jimmy Page -- now welcome renowned guitarist Johnny A, who, in addition to performing with Peter Wolf, Bobby Whitlock and others, has recently released a critically acclaimed new album, "Driven."
Founding member Jim McCarty has also recruited bassist Kenny Aaronson (Bob Dylan, Billy Idol, Brian Setzer, Mick Taylor), Myke Scavone (singer, Ram Jam & Doughboys) on blues harp, vocals, and percussion, and guitarist/singer John Idan, who appeared on the The Yardbirds' critically acclaimed 2003 album "Birdland."
This is the pioneering band's only Boston area concert on their U.S. tour and you'll hear them play their #1 hits "For Your Love," "Heart Full of Soul," "I'm A Man," "Over Under Sideways Down" and many more.
Electrifying, eclectic, and way ahead of their time, The Yardbirds continue their unbreakable legacy and their legendary power will rock the Larcom on November 20!
ABOUT THE YARDBIRDS
The Yardbirds are more than a Rock band ... they are an institution ... made an indelible mark on the "Shapes of Things" to come.
The Yardbirds served as an integral part of rock history. Co-founded in London 1963 by Jim McCarty (who still leads the band) with singer Keith Relf, rhythm guitarist Chris Dreja, bassist Paul Samwell-Smith, and lead guitarist Top Topham, the band melded heavy rock, wild jams, and an improvisatory feel that influenced generations of musicians. Their strict allegiance to the American blues & R&B standards struck a chord with American audiences that were missing out on this sound.
To the casual music fan, The Yardbirds are best known as the band that honed the skills of future "guitar gods" Eric Clapton, Jeff Beck and Jimmy Page; and for their slew of chart hits, including "For Your Love," "Heart Full of Soul", "I'm A Man", and "Over Under Sideways Down". However, led by core members and songwriters Jim McCarty (drums), Chris Dreja (rhythm guitar/bass) and the late Keith Relf (vocals/harmonica), the band's experimental explorations also provided the crucial link between British R&B, Psychedelic Rock, and Heavy Metal, while pioneering the use of innovations like fuzz tone, feedback and distortion. Even their 1968 break-up set the stage for Rock 'n' Roll's future. . .leading Jimmy Page to form the New Yardbirds, later re-christened Led Zeppelin.
Reuniting decades later, McCarty and Dreja brought The Yardbirds boldly into the 21st Century with the 2003 release of the acclaimed CD "Birdland", which featured guest appearances from the likes of Brian May, Joe Satriani, Slash and Steve Vai.
The Yardbirds, electrifying, eclectic and way ahead of their time, melded heavy rock, wild jams, and an improvisatory feel, and continue to influence generations of bands. Go to a Yardbirds show and you'll find crowds filled with 20-somethings to baby boomers all thrilling to this band's legendary power. Watching The Yardbirds in action is experiencing rock 'n' roll history.
ABOUT KBMG
KBMG are an energetic, serious, thought provoking, up lifting and fun veteran Folk Rock Band who's members have recorded and performed with the most successful (critical and chart topping), names in rock, folk and country music, including Paul McCartney, Fairport Convention, Simon and Garfunkel, George Harrison, Roseanne Cash, Julian Lennon, Billy Joel, Elton John, Richard Thompson, Jimmy Page, Nick Drake, Jethro Tull, and many more. Lead by timeless songwriter Dan King, KBMG generate a musical engine that can scream and purr with a dynamic range of song and lyric. These four gentlemen have seen the bars, coffeehouses, clubs, stadiums, fairs, top studio sessions and theaters over their exstensive careers in the music business; they continue to be in-demand live and recording studio musicians today. David Brown's ten-year stint in the 80s during Billy Joel's heyday brought him round the globe many times over, a wall of gold and platinum and the experience of being in the top Billboard recording group for the decade. Dave Mattacks has a discography that reads like a who's who of folk, rock and pop. DM continues to enjoy accolades with Fairport Convention (Fairport's Liege and Lief voted greatest folk rock album ever), which only solidifies his already legendary status. He also continues to tour currently in the drum seat with Roseanne Cash and many others. It's safe to say that bassist Wolf Ginandes' status around Boston has been elevated to Guru. Ginandes is the master of groove and feel for KBMG. With a deep knowledge of how things work, Ginandes is also an expert guitar and bass maker, and restorer with over 20 years experience at the Berklee Musical Instruments service center. Bringing all this talent together is master singer/songwriter Dan King, who became friends with these legendary, professional musicians after working with them on his many solo and live albums. The chemistry worked and King's songs won their hearts. They saw his music as something special and worth standing behind as personified in their releases Blue Sky Sundown, Western Color and Light City Live. Their recordings and live experiences have grown into a relationship that DM describes as "not just four great musicians playing together but a real band with a strong and moving sound."
History of the Larcom Theatre - 13 Wallis Street, Beverly MA, USA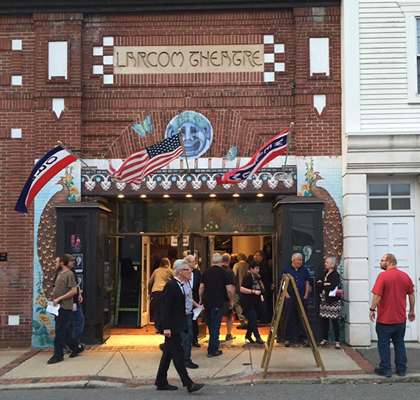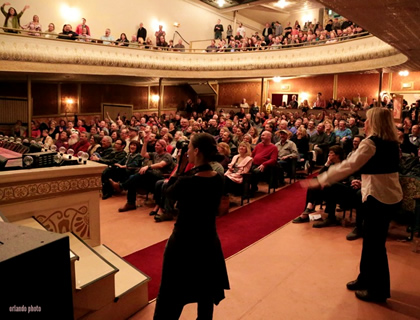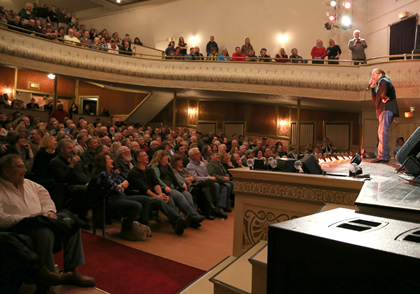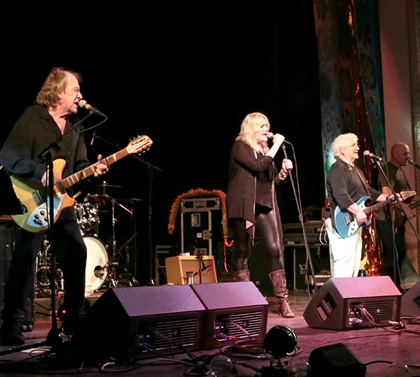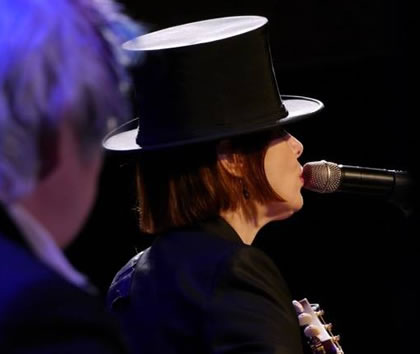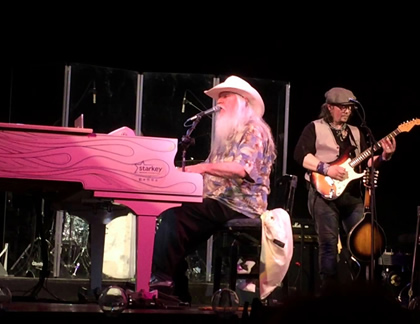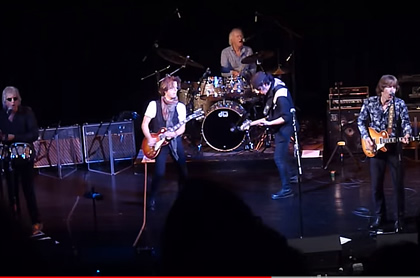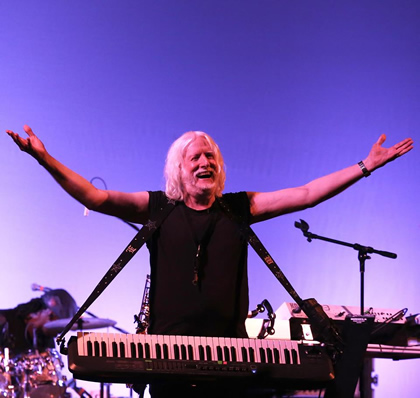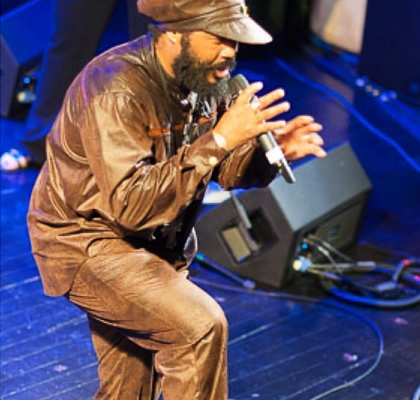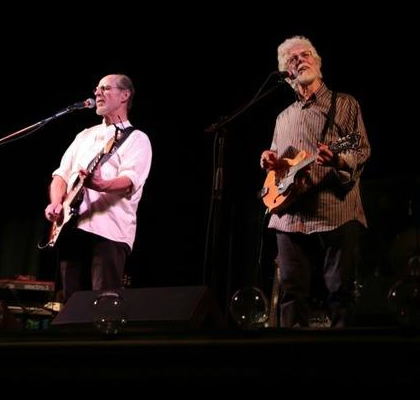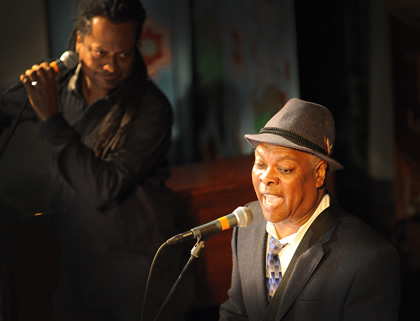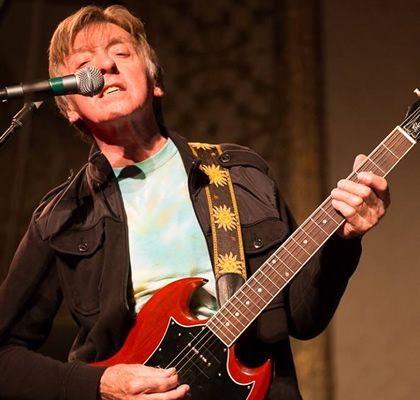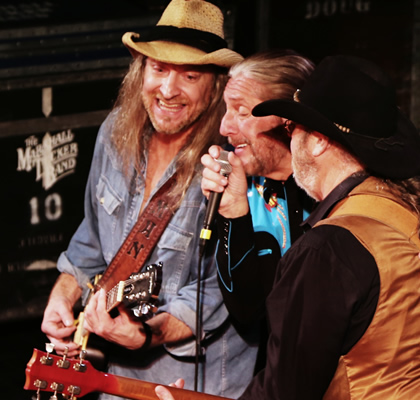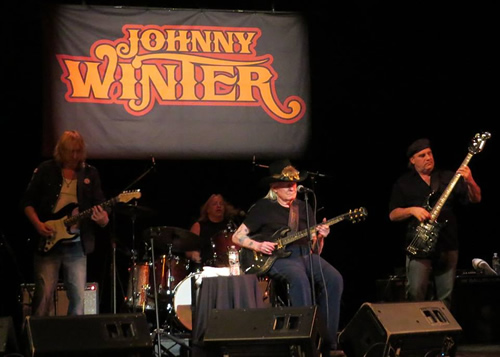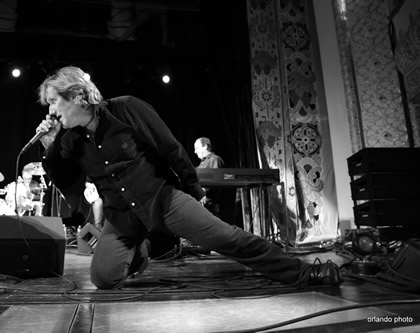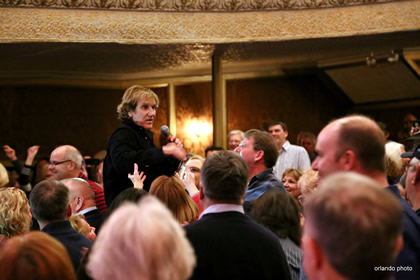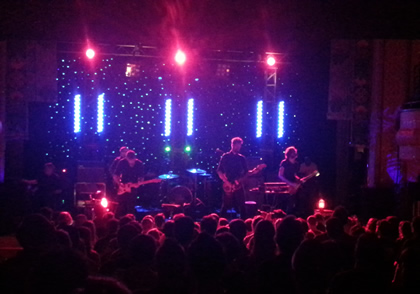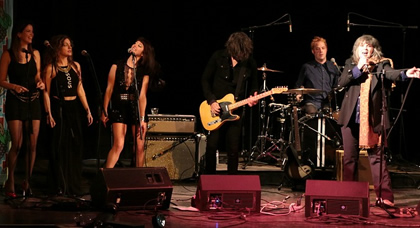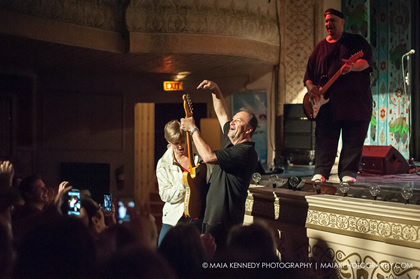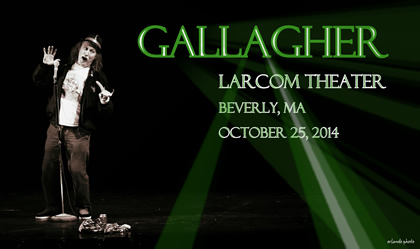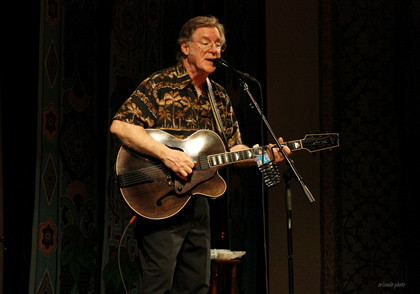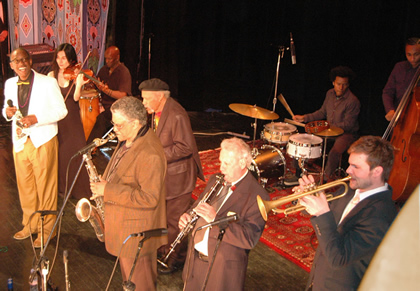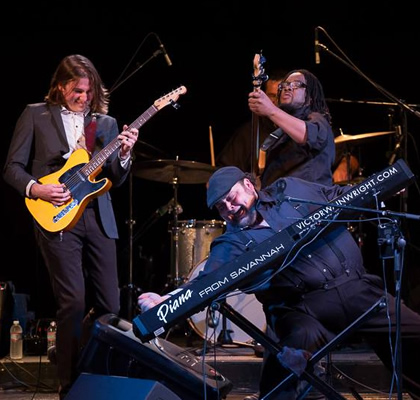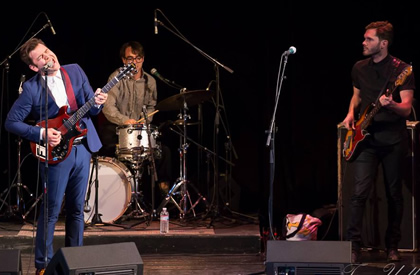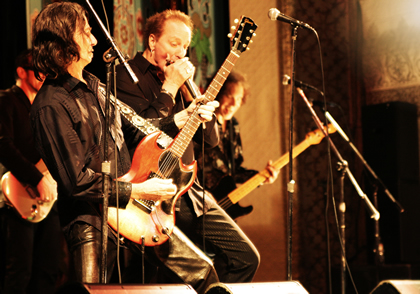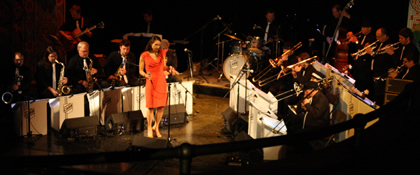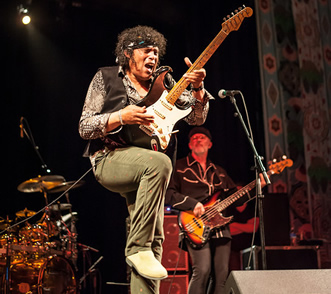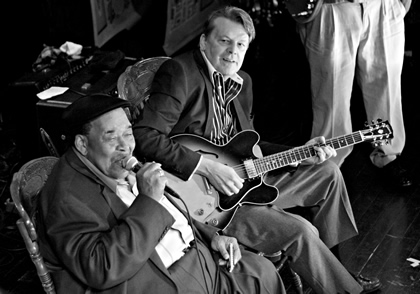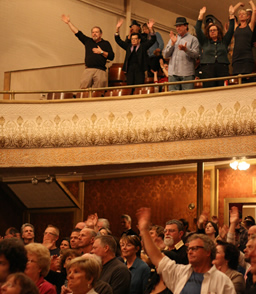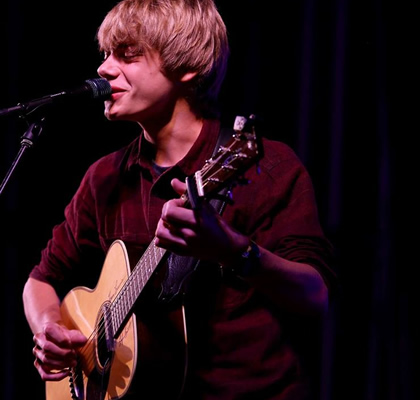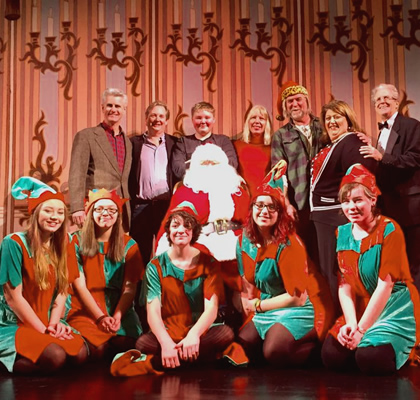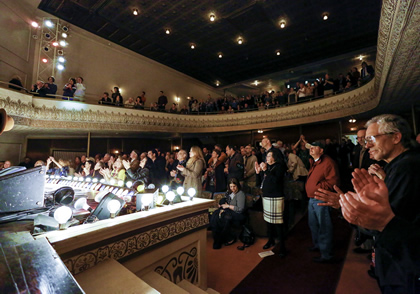 Shows at Beverly's Larcom Theatre 2013 - 2017
photos by Sheila Roberts Orlando unless otherwise noted
The Larcom Theatre was built in 1912 (the same year as Boston's Fenway Park) by brothers Harris and Glover Ware (vaudeville musicians from Marblehead, MA) on the birth site of their favorite poet, Lucy Larcom.
The Larcom Theatre's grand opening advertised that its interior was lit completely by electricity.
During its 109 year history, The Larcom Theatre has presented stage, screen and musical entertainment. In 1984 the Larcom's elegant horseshoe balcony, hand-painted antique pressed tin ceilings and original silk wall coverings were restored to their original glory by Le Grand David Magic Company, who presented their award-winning magic show there until the company's founder, Cesareo Pelaez, died in 2012.
In April 2013, after the Larcom Theatre had been dark for about a year, Vickie and Peter Van Ness of gimmeLIVE produced a sold-out Mardi Gras Benefit Concert that filled the Larcom Theatre with music for the first time since the days of Vaudeville.
In 2014, gimmeLIVE began bringing Grammy-winning national touring and recording artists and Rock & Roll Hall of Famers to the Larcom, which ushered in a new era of top quality entertainment in the heart of downtown Beverly, MA. GIMMELIVE concerts at the Larcom Theatre received stellar reviews for the quality of both the music and the sound system installed by gimmeLIVE.
Later in 2014, Peter and Vickie co-produced That's When I Know It's Mardi Gras, a live CD recorded in front of a sold-out audience at the Larcom Theatre featuring New Orleans vocalist Henri Smith with Grammy Award-winners Charles Neville and Amadee Castenell.
In 2015, gimmeLIVE once again recorded a live CD featuring the James Montgomery Band, which was released in November of that year. GIMMELIVE also hosted James Montgomery's "Live at the Larcom" CD Release Benefit Concert, which raised money for veterans organizations. (Many gimmeLIVE shows raise money for charity. Click here if you'd like gimmeLIVE to produce a concert or festival to raise money for your organization.)
In early 2017, gimmeLIVE took over the building adjoining the Larcom Theatre (at 9 Wallis Street), formerly owned by members of Le Grand David Magic Company and known as the Grand Salon. GIMMELIVE transformed this venue into 9 Wallis, which is now the North Shore's most intimate, elegant listening room offering comfortable show seating at tables with food & beverage service, including fine wines, local craft beers, specialty cocktails (featuring local distilleries and all-natural juices) and top-shelf spirits.
Because of its beautifully restored, tremendously flexible space with the best dance floor on Boston's North Shore, 9 Wallis has become a favorite venue for fundraisers, private parties and corporate events. Local charities have raised thousands of dollars at 9 Wallis (see examples). With world-class entertainment, an event can begin as a cocktail party or fully seated dinner...then transform into a nightclub-style dance party with concert quality sound and stage lighting. Click here to inquire about booking a fundraiser, party or corporate event at 9 Wallis.
Donnie & Lisa Crowell purchased The Larcom Theatre in September 2016 and renamed it The Larcom Performing Arts Theatre or "The Larcom" for short. Tickets to shows at The Larcom can be purchased here.
CLICK HERE to see upcoming shows nearby.