Critically Acclaimed Shows ... Up Close & Personal
THE SOUND OF CHRISTMAS
ELISABETH VON TRAPP
WITH DOUGLAS MAJOR
DATE
Friday, November 27, 2015

We cannot offer refunds under any circumstances.

TIME
7:00PM (Doors Open 6:00PM)
VENUE

The Larcom Performing Arts Theatre

13 Wallis Street

Venue Details
OPENER
Brian King &
Nathan Cohen
TICKETS
RESERVED SEATS

(ALL AGES)

$19.00, $29.00, $39.00
Elisabeth von Trapp, granddaughter of the legendary Maria and Baron von Trapp, whose story inspired "The Sound of Music," performs The Sound of Christmas with renowned composer/pianist Douglas Major at the fully-restored, acoustically spectacular Larcom Theatre.
"Before the concert is over, she will have the crowd gasping with the sheer beauty of her voice."
The Sound of Christmas with Elisabeth von Trapp and Douglas Major
For the 50th anniversary of The Sound of Music, Maria von Trapp's granddaughter, Elisabeth, brings her stunning voice to the historic Larcom Theatre for one intimate performance of classic carols, songs from "The Sound of Music" and pieces from Bach to Broadway ... Schubert to Sting.
Accompanying herself on guitar with Douglas Major on grand piano (former choral director/organist at the Washington National Cathedral), von Trapp's voice will soar in The Larcom's gorgeous acoustics. You can expect to be awed by the beauty of her voice (called "hauntingly clear" by New York Times), moved by their gorgeous musical arrangements and touched forever by the astonishing sound of her remarkable new music.
November 27th is your only chance to experience this unique concert on Boston's North Shore.
ABOUT ELISABETH VON TRAPP
For Elisabeth von Trapp, "the sounds of music" are part of her earliest memories. Born and raised in Vermont, Elisabeth is the granddaughter of the legendary Maria and Baron Von Trapp, whose story inspired The Sound of Music. Singing professionally since childhood, Elisabeth has enthralled audiences from European cathedrals to Washington D.C.'s Kennedy Center.
Inspired by her father Werner Von Trapp's guitar playing and singing, Elisabeth has carried on the legacy of the internationally renowned Trapp Family Singers. She began taking piano lessons when she was eight and by the age of sixteen she was playing guitar and traveling the back roads of New England performing with her siblings at weddings, gospel meetings and town halls.
Building on her famed family's passion for music, Elisabeth has created her own artistic style, at once ethereal and earthy, delicate and powerful. listeners have likened her to Judy Collins and Loreena McKennitt. critics have called her voice … "hauntingly clear", "joyfully expressive" and "simply beautiful."
Elisabeth's concert repertoire ranges from Bach to Broadway … Schubert to Sting. With equal ease and eloquence she sings timeless wonders like Rodgers and Hammerstein's Favorite Things and Edelweiss, Lieder by Mozart, Puccini's o Mio Babbino Caro, soaring gospel tunes, pop classics like a Whiter Shade of Pale and her own stunning compositions.
Her cathedral program includes sacred and secular music extending from Gregorian chants, songs by 12th century mystic Hildegarde of Bingen, early American hymns, spirituals and psalms set to her own compositions. She is accompanied by the elegant arrangements of her guitar and acclaimed cellist and longtime musical colleague, Erich Kory.
In the spring of 2001 Elisabeth was granted permission from Robert Frost's publisher, Henry Holt & co., to sing parts of the poet's oeuvre. Poetic License, released in June 2004, features the musical settings of poems by frost and Shakespeare, a Japanese haiku and interpretations of Over the Rainbow / What a Wonderful World, Sting's Fragile and Schubert's an Die Musik.
On her summer 2005 release, Love Never Ends / Sacred Sounds, Elisabeth has collected, arranged and recorded some of her favorite hymns, psalms and chants with influences from jazz and gospel, contemporary and classical musical styles.
Elisabeth has released five self produced albums, and has performed across the United States, Austria and Russia. her music has been featured on National Public Radio, BBC-Radio, Japanese national radio and CNN Spanish radio. She has appeared on CBS's eye on people, ABC's Good Morning America and BBC-TV.
No one leaves an Elisabeth Von Trapp performance unchanged … audiences of all ages are drawn by the promise of her famous name … awed by the beauty of her voice and musical arrangements … their hearts touched forever by the astonishing sound of her unique new music.
"Gesang ist dasein..." "to sing is to be..."
-- Reiner Maria Rilke
ABOUT DOUGLAS MAJOR
Born in 1953 in Berwick, Pennsylvania, Douglas Major studied organ at Webster College, St. Louis, MO earning a Bachelor of Music in Organ Performance. In 1974 he was appointed by the late Paul Callaway as assistant organist at the prestigious Washington (DC) National Cathedral, when Major was just twenty-one years of age. He succeeded Richard Wayne Dirksen as organist and choirmaster at the Cathedral in 1988, where his first career as a church musician continued to 2002. During his 28 years of service there, he conducted daily choral services, played for presidents, kings and queens, and administered one of the country's largest church music programs and concert schedules, frequently televised nationally. In 1995, Major was awarded an honorary Doctor of Music degree by Nashotah House Episcopal Seminary in Wisconsin, in recognition of his contributions to the American/Anglican choral tradition. Since 2003, Major has served as Music Director of St. Michael's Church in Marblehead, MA.
As an internationally recognized organ solo artist, Douglas Major has toured throughout North America, Europe and the Far East. Dr. Major plays many recitals and concerts each season, as well as concerts with the Empire Brass Quintet and as accompanist for Elizabeth Von Trapp. During the last 30 years, his appearances have taken him all over the United States, from California to Maine, and Florida to Washington and Canada. During the last five seasons, Major has toured the US with Elizabeth Von Trapp and the Empire Brass Quintet, playing in over 35 American cities. His career has afforded him the opportunity to perform with many great musicians, including Leonard Bernstein, Msistislav Rostropovich, Ravi Shankar, Wynton Marsalis, Aretha Franklin and Yo Yo Ma.
Dr. Major's solo recordings include eight organ compact discs, recorded on the Washington Cathedral's magnificent 186-rank Skinner organ. With the Empire Brass of Boston, Major has recorded A Bach Festival for Angel/EMI, now in its fourth release, and one of the all-time best-selling brass and organ recordings. A CD entitled "Songs of Heaven" of the St. Michael's Church Choir, Marblehead was released in 2012.
ABOUT BRIAN KING & NATHAN COHEN (What Time is it Mr. Fox?)
"Time has come for Mr. Fox"
"Catch him as his star rises"
Singer-songwriter, Brian King (voice, guitar, piano) and Nathan Cohen (violin, trumpet) are the founders of the band What Time Is It, Mr. Fox?. Whoopi Goldberg once said that Brian's voice was the last sound she wanted to hear before bed to ensure she had beautiful dreams. Nathan Cohen can seamlessly transition from Southern fiddle or an Irish jig to gypsy jazz or dreamy classical melodies. Together they deliver an intimate twist on smoky cabaret, soul and Americana. Their original song "Cold Rain" was recorded by New Orleans soul queen Irma Thomas on her Grammy-nominated album "Simply Grand." Based on the North Shore of MA, What Time Is It, Mr. Fox? pack houses throughout the U.S.A from NYC to Kentucky. Check out the full band here.
History of the Larcom Theatre - 13 Wallis Street, Beverly MA, USA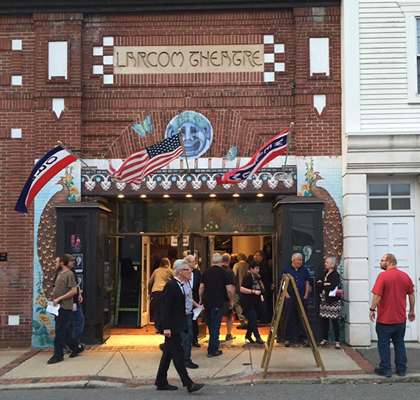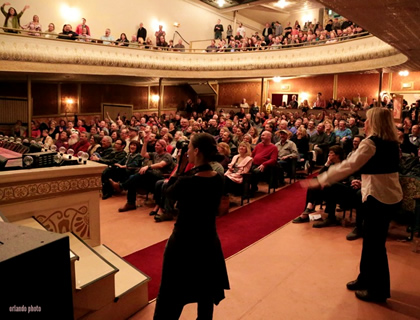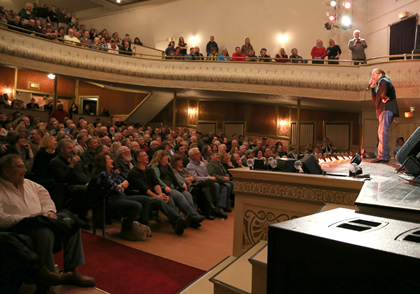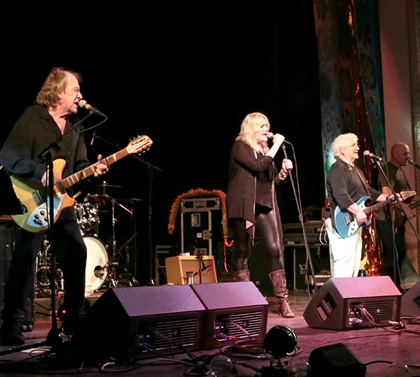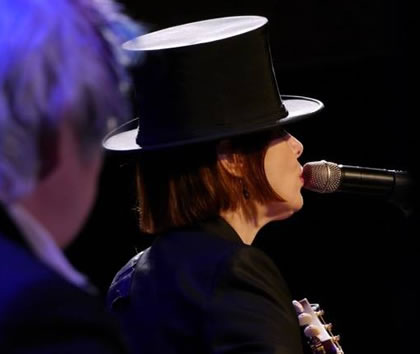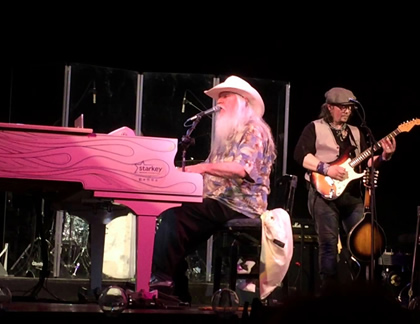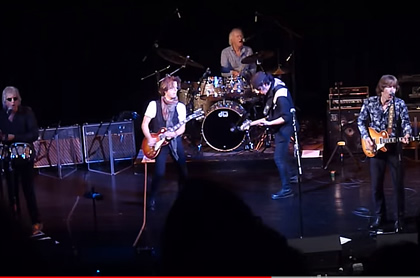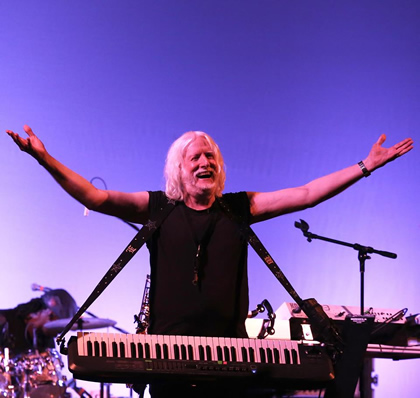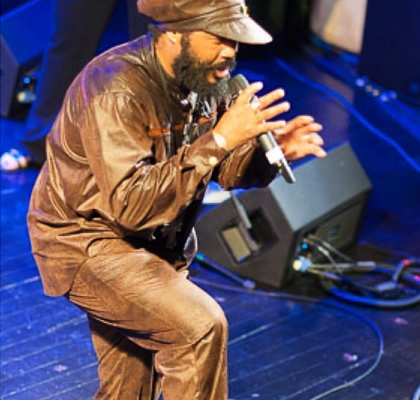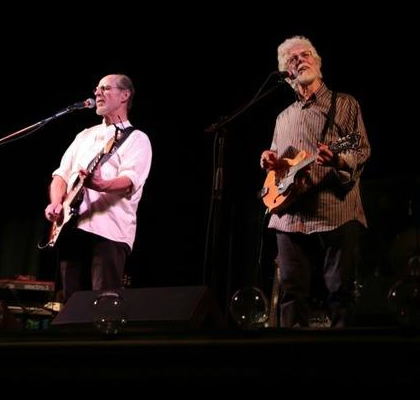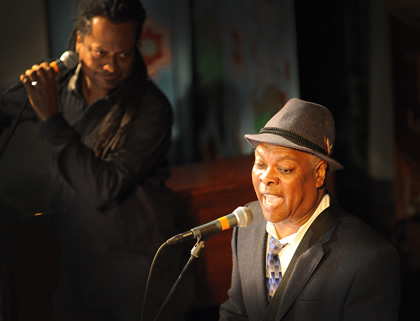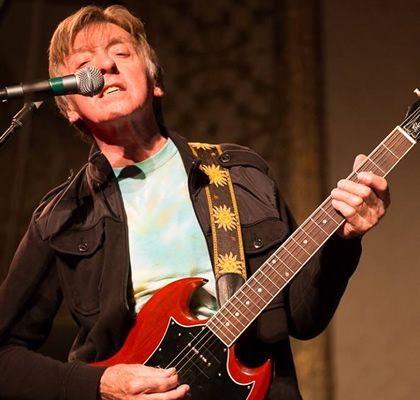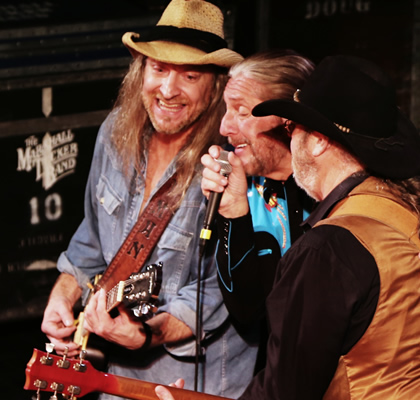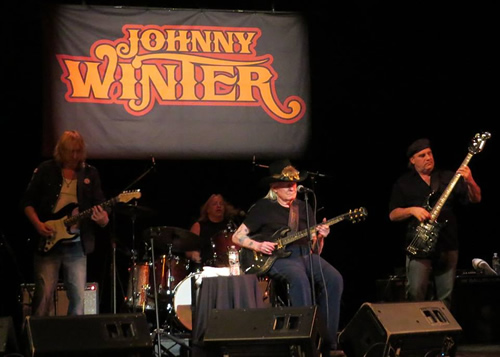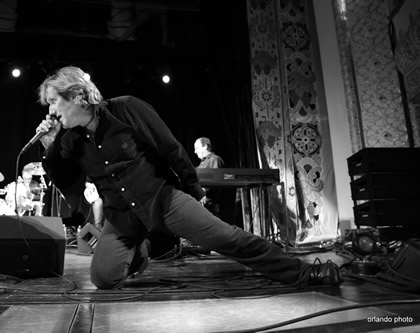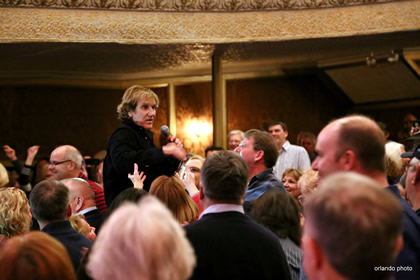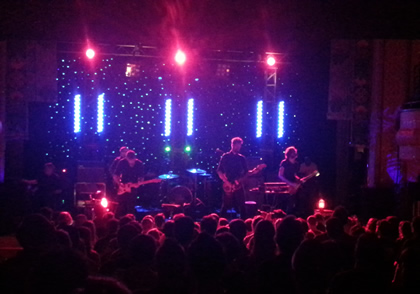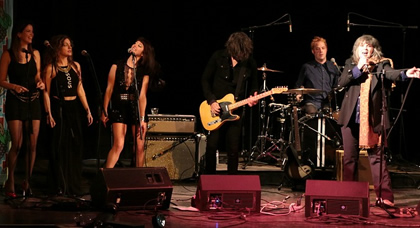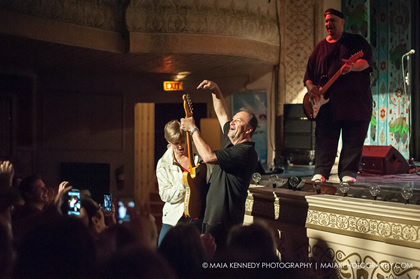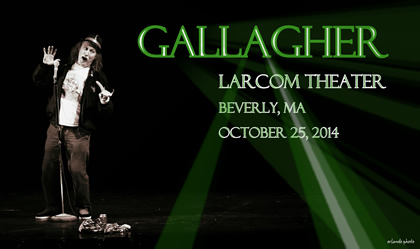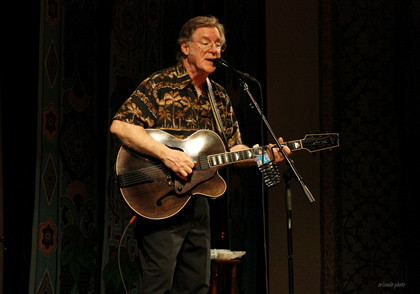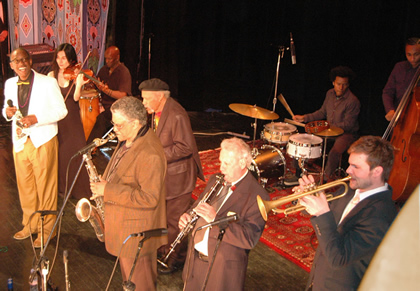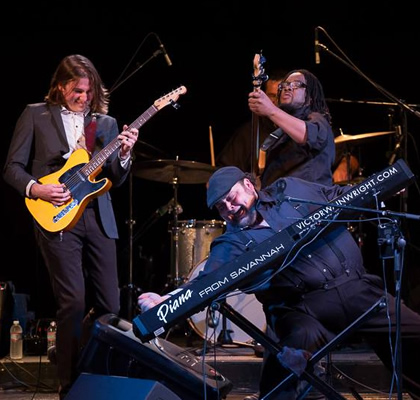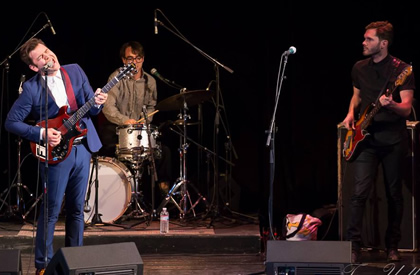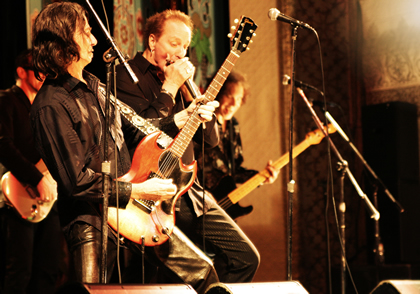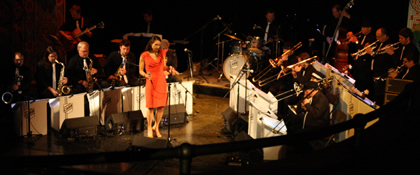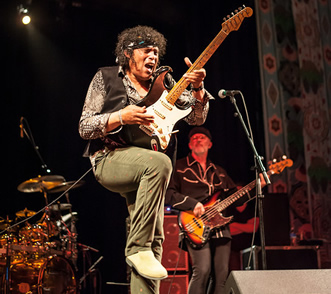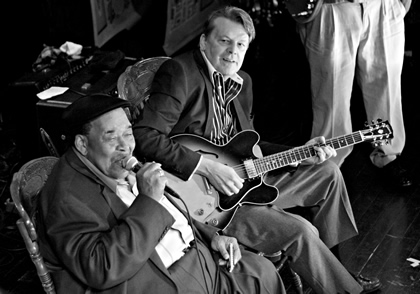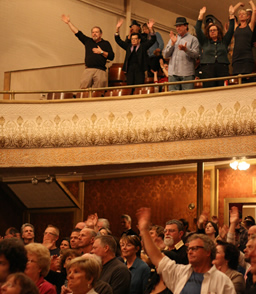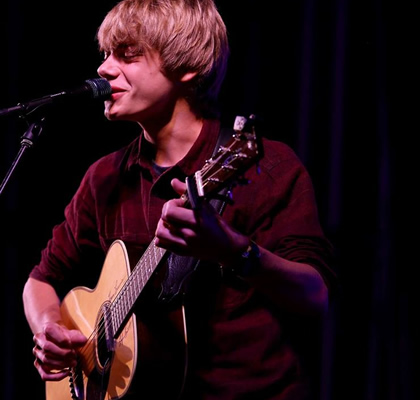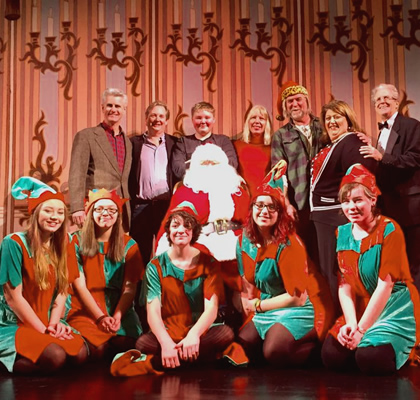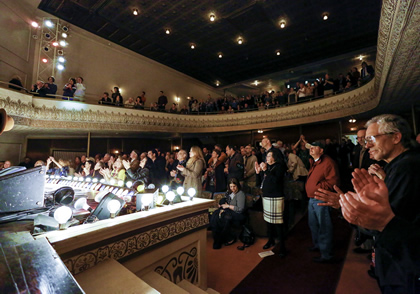 Shows at Beverly's Larcom Theatre 2013 - 2017
photos by Sheila Roberts Orlando unless otherwise noted
The Larcom Theatre was built in 1912 (the same year as Boston's Fenway Park) by brothers Harris and Glover Ware (vaudeville musicians from Marblehead, MA) on the birth site of their favorite poet, Lucy Larcom.
The Larcom Theatre's grand opening advertised that its interior was lit completely by electricity.
During its 111 year history, The Larcom Theatre has presented stage, screen and musical entertainment. In 1984 the Larcom's elegant horseshoe balcony, hand-painted antique pressed tin ceilings and original silk wall coverings were restored to their original glory by Le Grand David Magic Company, who presented their award-winning magic show there until the company's founder, Cesareo Pelaez, died in 2012.
In April 2013, after the Larcom Theatre had been dark for about a year, Vickie and Peter Van Ness of gimmeLIVE produced a sold-out Mardi Gras Benefit Concert that filled the Larcom Theatre with music for the first time since the days of Vaudeville.
In 2014, gimmeLIVE began bringing Grammy-winning national touring and recording artists and Rock & Roll Hall of Famers to the Larcom, which ushered in a new era of top quality entertainment in the heart of downtown Beverly, MA. GIMMELIVE concerts at the Larcom Theatre received stellar reviews for the quality of both the music and the sound system installed by gimmeLIVE.
Later in 2014, Peter and Vickie co-produced That's When I Know It's Mardi Gras, a live CD recorded in front of a sold-out audience at the Larcom Theatre featuring New Orleans vocalist Henri Smith with Grammy Award-winners Charles Neville and Amadee Castenell.
In 2015, gimmeLIVE once again recorded a live CD featuring the James Montgomery Band, which was released in November of that year. GIMMELIVE also hosted James Montgomery's "Live at the Larcom" CD Release Benefit Concert, which raised money for veterans organizations. (Many gimmeLIVE shows raise money for charity. Click here if you'd like gimmeLIVE to produce a concert or festival to raise money for your organization.)
In early 2017, gimmeLIVE took over the building adjoining the Larcom Theatre (at 9 Wallis Street), formerly owned by members of Le Grand David Magic Company and known as the Grand Salon. GIMMELIVE transformed this venue into 9 Wallis, which became the North Shore's most intimate, elegant listening room offering comfortable show seating at tables with food & beverage service, including fine wines, local craft beers, specialty cocktails (featuring local distilleries and all-natural juices) and top-shelf spirits.
Donnie & Lisa Crowell purchased The Larcom Theatre in September 2016 and renamed it The Larcom Performing Arts Theatre or "The Larcom" for short. Tickets to shows at The Larcom can be purchased here.
CLICK HERE to see upcoming shows nearby.