Critically Acclaimed Shows ... Up Close & Personal
THE EDGAR WINTER BAND
DATE
Saturday, October 8, 2016

We cannot offer refunds under any circumstances.

TIME
8:00PM (Doors Open 7:00PM)
VENUE

The Larcom Performing Arts Theatre

13 Wallis Street

Venue Details
OPENER
Quentin Callewaert
TICKETS
RESERVED SEATS

(ALL AGES)

$29.00, $39.00, $49.00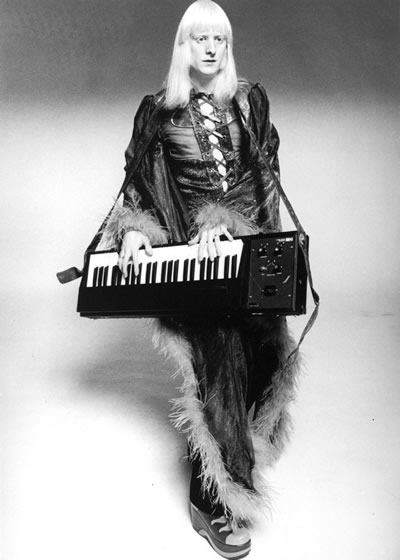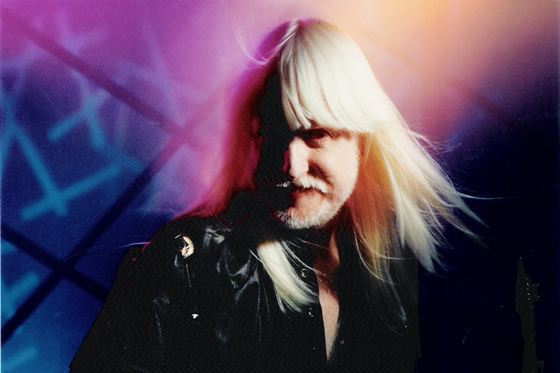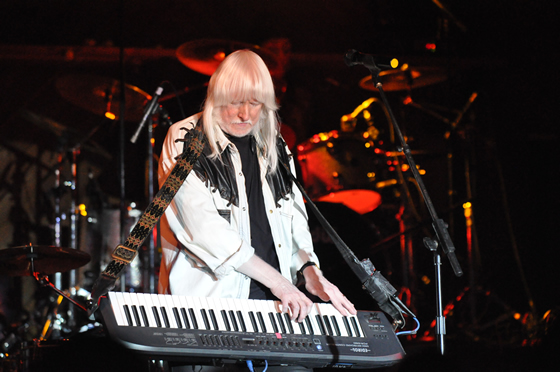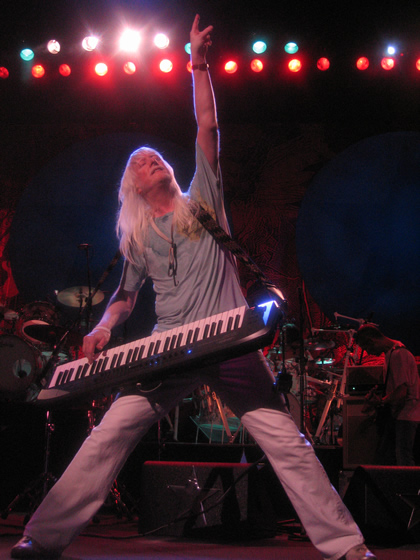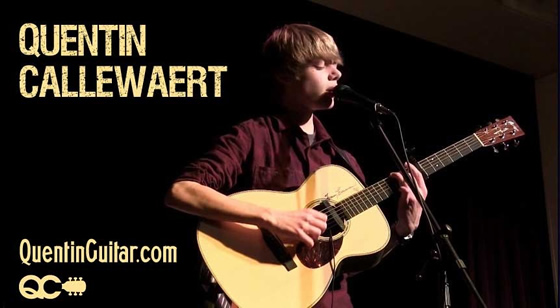 WATCH VIDEOS
Legendary blues-rock multi-instrumentalist Edgar Winter recorded several classic rock hits including the #1 one "Frankenstein" and the ever popular "Free Ride," "Tobacco Road" and "Rock & Roll Hoochie Koo." Inventor of the keyboard body strap, an innovation that allows him the freedom to move around the stage during his high-energy performances, Edgar is known for his scintillating shows that continue to receive rave reviews. Having recently toured with Ringo Starr, Edgar Winter is truly a musician at the top of his game!
Fifteen-year-old guitar prodigy Quentin Callewaert will open the show.
EDGAR WINTER VIDEOS
ABOUT EDGAR WINTER
By the time Edgar Winter left his hometown of Beaumont Texas in the 1960's, he was already proficient in every aspect of music, A child prodigy, Edgar has found success in music, film and television.
Edgar's immediate impact on the record business with his first record, "Entrance", was followed up with two hit albums with his band White Trash, and he topped that success with The Edgar Winter Group, creating the number one hit "Frankenstein" as well as the ever-popular "Free Ride". The album "They Only Come Out At Night" peaked at number 3 on the Billboard charts and stayed on the chart for 80 weeks; on it's way to double platinum.
Edgar invented the keyboard body strap, an innovation that allows him the freedom to move around the stage during his high-energy multi-instrument performances. His live appearances have occurred around the world, and Edgar is known for his own scintillating shows, as well as his riveting collaborations with the likes of Ringo Starr and his All-Starr Band.
Edgar's music can be heard in no fewer than fifteen film and television projects, including "The Simpsons", "Wayne's World", "Air America"," Wag The Dog", "Encino Man" and "My Cousin Vinny", as well as advertising campaigns such as Miller Highlife, and most recently the "Tupac Resurrection" film, which includes his powerful song "Runnin' (Dying To Live)", which charted #5 on the R&B/Hip Hop Charts. Produced by Eminem, the song was part of a soundtrack album that was number one for eight weeks. His live TV appearances include David Letterman and Jimmy Kimmel.
Edgar's live shows constantly receive rave reviews. His music is always evolving and he is a master of stretching his skill and imagination to produce amazing results. He also is a prolific writer, with a volume of poetry and a collection of exciting stories in his writing repertoire.
Edgar is a musician at the top of his game, and he's proved he can do it all.
QUENTIN CALLEWAERT
Fifteen year old Massachusetts native Quentin Callewaert has been playing guitar since he was nine. He played his first concert when he was ten and has played at many events and venues since then. Despite his young age, he has already shared the stage with many great guitarists such as Stephen Bennett, Trace Bundy and Tommy Emmanuel. Lyle Lovett saw one of his videos and was so impressed that he invited Quentin to meet him when he played on Cape Cod a few years ago. They have met a few times since and it was Lyle who encouraged Quentin to start singing.
History of the Larcom Theatre - 13 Wallis Street, Beverly MA, USA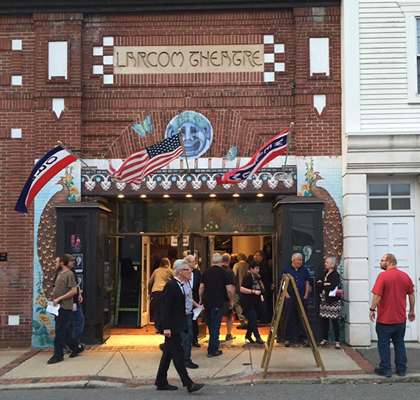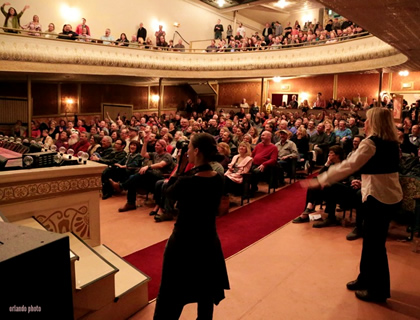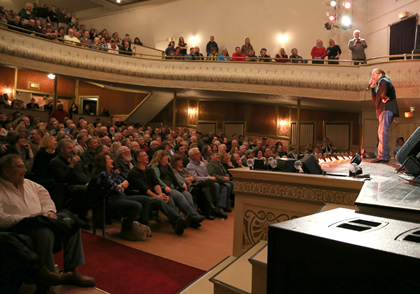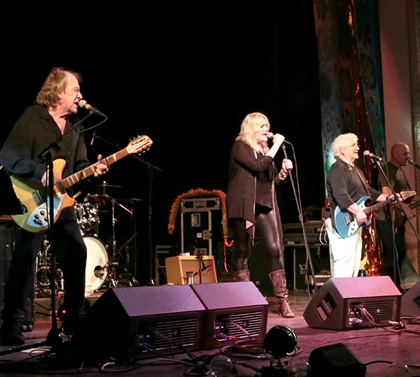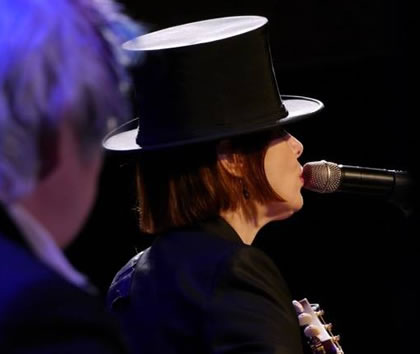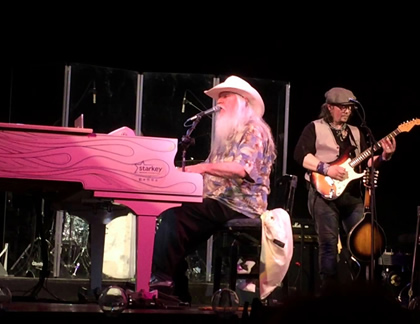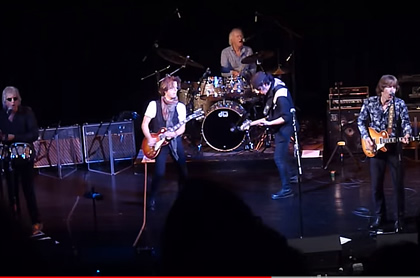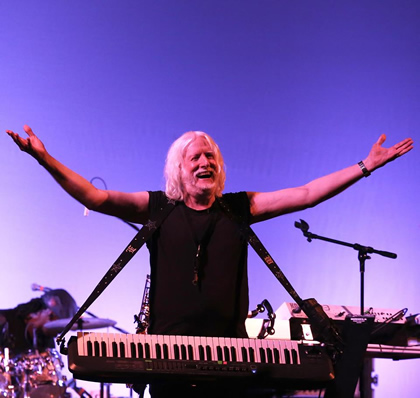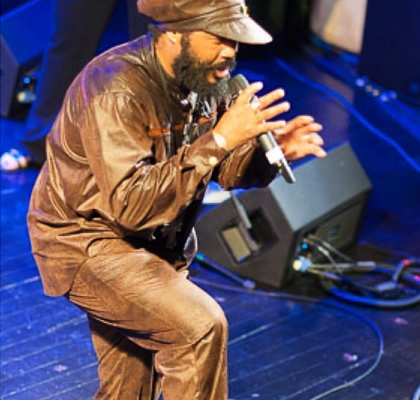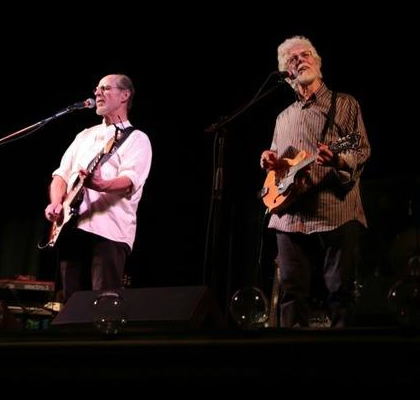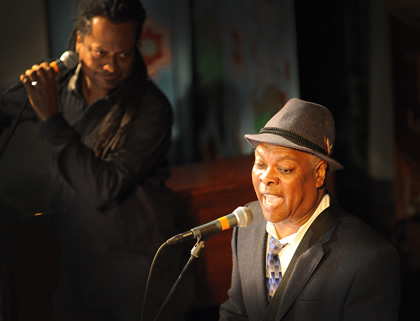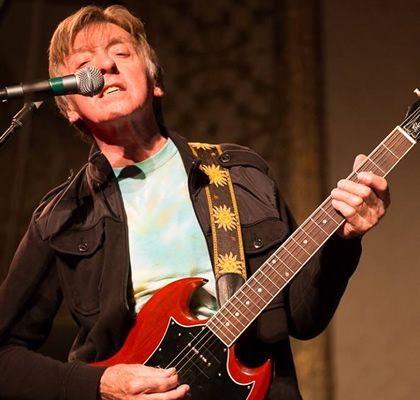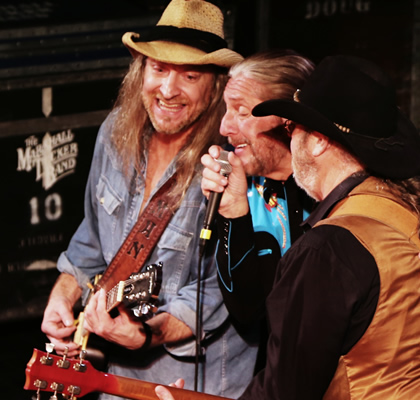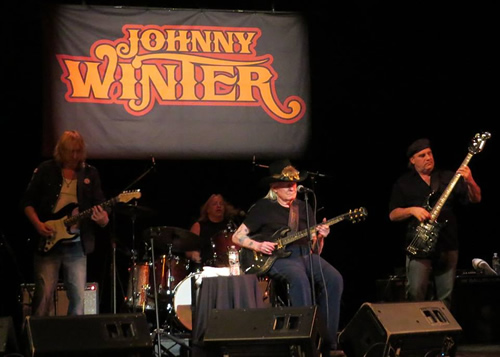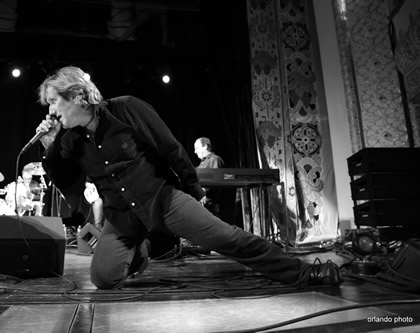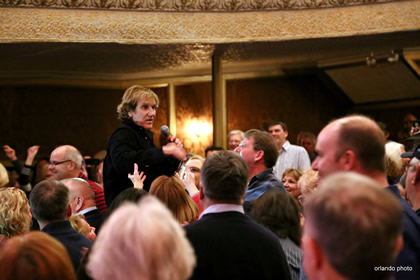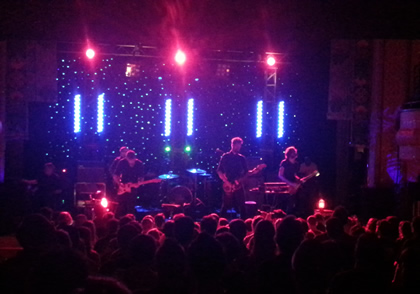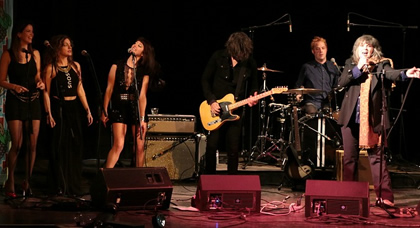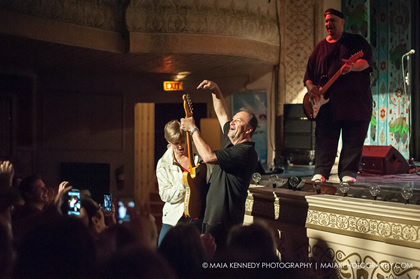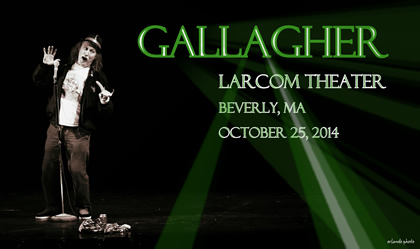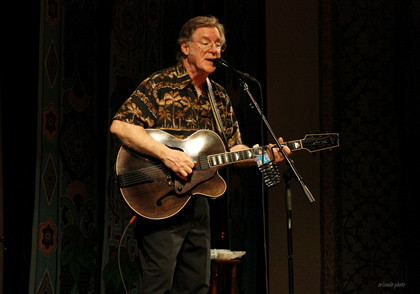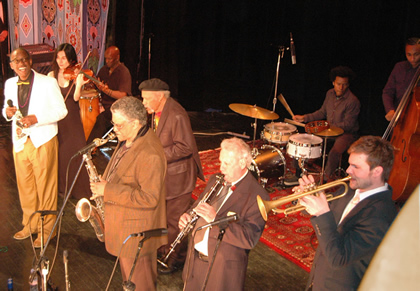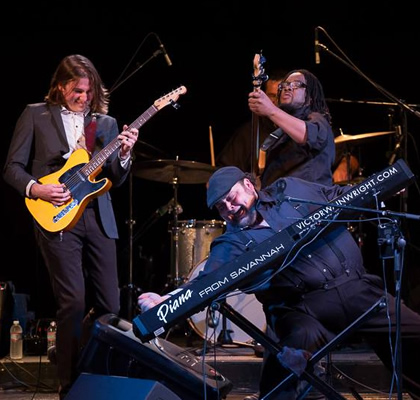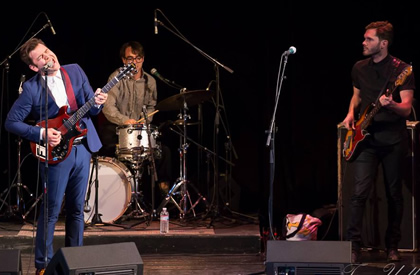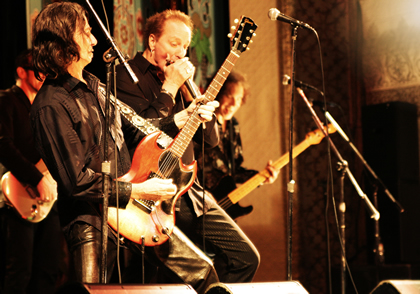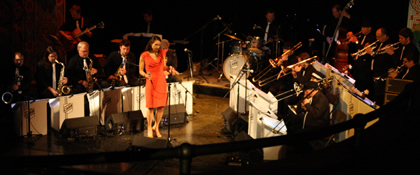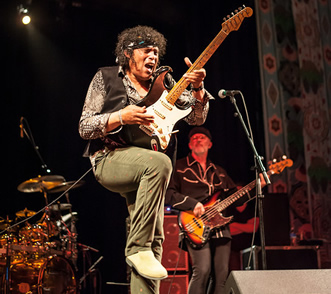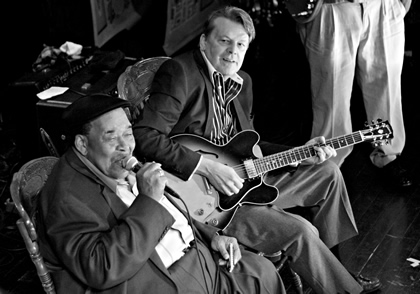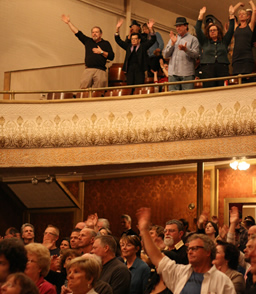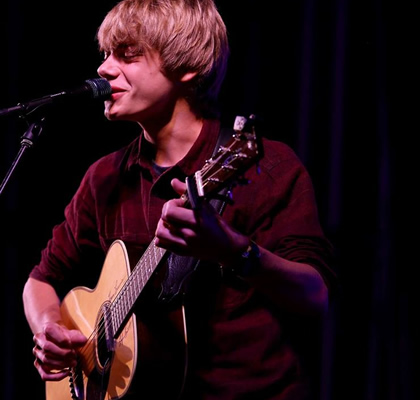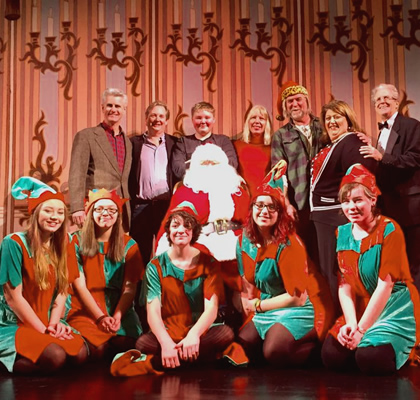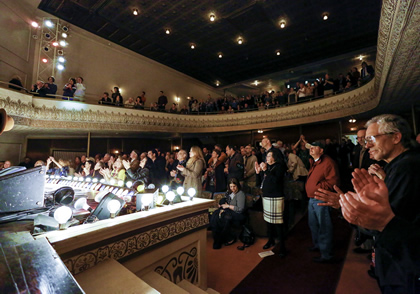 Shows at Beverly's Larcom Theatre 2013 - 2017
photos by Sheila Roberts Orlando unless otherwise noted
The Larcom Theatre was built in 1912 (the same year as Boston's Fenway Park) by brothers Harris and Glover Ware (vaudeville musicians from Marblehead, MA) on the birth site of their favorite poet, Lucy Larcom.
The Larcom Theatre's grand opening advertised that its interior was lit completely by electricity.
During its 111 year history, The Larcom Theatre has presented stage, screen and musical entertainment. In 1984 the Larcom's elegant horseshoe balcony, hand-painted antique pressed tin ceilings and original silk wall coverings were restored to their original glory by Le Grand David Magic Company, who presented their award-winning magic show there until the company's founder, Cesareo Pelaez, died in 2012.
In April 2013, after the Larcom Theatre had been dark for about a year, Vickie and Peter Van Ness of gimmeLIVE produced a sold-out Mardi Gras Benefit Concert that filled the Larcom Theatre with music for the first time since the days of Vaudeville.
In 2014, gimmeLIVE began bringing Grammy-winning national touring and recording artists and Rock & Roll Hall of Famers to the Larcom, which ushered in a new era of top quality entertainment in the heart of downtown Beverly, MA. GIMMELIVE concerts at the Larcom Theatre received stellar reviews for the quality of both the music and the sound system installed by gimmeLIVE.
Later in 2014, Peter and Vickie co-produced That's When I Know It's Mardi Gras, a live CD recorded in front of a sold-out audience at the Larcom Theatre featuring New Orleans vocalist Henri Smith with Grammy Award-winners Charles Neville and Amadee Castenell.
In 2015, gimmeLIVE once again recorded a live CD featuring the James Montgomery Band, which was released in November of that year. GIMMELIVE also hosted James Montgomery's "Live at the Larcom" CD Release Benefit Concert, which raised money for veterans organizations. (Many gimmeLIVE shows raise money for charity. Click here if you'd like gimmeLIVE to produce a concert or festival to raise money for your organization.)
In early 2017, gimmeLIVE took over the building adjoining the Larcom Theatre (at 9 Wallis Street), formerly owned by members of Le Grand David Magic Company and known as the Grand Salon. GIMMELIVE transformed this venue into 9 Wallis, which became the North Shore's most intimate, elegant listening room offering comfortable show seating at tables with food & beverage service, including fine wines, local craft beers, specialty cocktails (featuring local distilleries and all-natural juices) and top-shelf spirits.
Donnie & Lisa Crowell purchased The Larcom Theatre in September 2016 and renamed it The Larcom Performing Arts Theatre or "The Larcom" for short. Tickets to shows at The Larcom can be purchased here.
CLICK HERE to see upcoming shows nearby.