Critically Acclaimed Concerts ... Up Close & Personal
NEW ORLEANS CHRISTMAS
Starring HENRI SMITH
Special Tribute to
ALLEN TOUSSAINT
w/ STANTON DAVIS
& AMADEE CASTENELL

DATE
Saturday, December 5, 2015
TIME
7:00PM

(Doors 6:00PM)

VENUE

Larcom Theatre

13 Wallis Street

Beverly

,

MA 01915

Venue Details
TICKETS

ALL AGES
RESERVED SEATS

$19, $29, $39

For his third annual New Orleans Christmas concert, Henri Smith welcomes Grammy-award winner Amadee Castenell and renowned trumpeter Stanton Davis of The Mercer Ellington and Lionel Hampton Orchestras for a special tribute to their friend Allen Toussaint.

Join us at Beverly's most intimate, acoustically spectacular listening venue for New Orleans jazz & blues, traditional Mardi Gras songs and Christmas favorites. Sing along with the standards you know so well and dance in the aisles with the band during the traditional Second Line.
ABOUT HENRI SMITH
To say that Henri carrys the torch for New Orleans is an understatement. Here's what New Orleans Legends say:
"Henri represents us very well everywhere ... he does it with class and pizzazz and we love that!"
"Like Satchmo [Louis Armstrong] and many others, Henri embodies the spirit of New Orleans Music in every performance."
"It's a huge responsibility to do what Henri does."
"I know [Henri's new CD] is gonna be slamin' 'cause he knows how to bring it!"
New Orleans Jazz, Blues, Creole and Cajun Music Legend Henri Smith--Singer, Recording Artist, Band Leader, and Movie Actor has been selling out theatres throughout New England with his dynamic, joyful sound.
Born and raised in New Orleans' 13th Ward, Henri Smith grew up a music fan, but resisted performing for much of his life. As a boy, he was surrounded by musicians--The Neville Brothers, Papa French (of Preservation Hall Jazz Band), Dave Bartholomew, Fats Domino and many others. Henri's mother encouraged him to sing, which he did, but only in church. He also studied piano, at his mothers insistence, but in high school that conflicted with his first love, football. Football won.
After serving in the Army, Henri went home to coach and teach music camp. Plus he landed a DJ job at the famed New Orleans Jazz station WWOZ, on which he interviewed old friends and made many new ones, all of which led to his becoming the host of The New Orleans Jazz and Heritage Festival (Jazz Fest).
At the 1999 Jazz Fest, Kermit Ruffins (recently featured on the HBO hit series Treme) surprised Henri by calling him to the stage and asking him to sing. He got a standing ovation.
In 2001 friends convinced Henri to record a CD with many of them as guests, including Kermit Ruffins, Donald Harrison Jr, Jason Marsalis, Wendell Brunious, Tuba Fats and Cecil Brooks III, who says of Henri, "he's on the way to becoming one of the great American singers."
Too many responsibilities (included teaching, coaching, radio and now TV) prevented Henri from pursuing music.
Hurricane Katrina changed everything. In one terrible blow, all of Henri Smith's responsibilities were washed away. His father safely in Atlanta with his sister, Henri was free to leave town and visit friends north of Boston. "I decided it was finally time for me to follow my dream," says Henri. "I prayed for the Lord to send me musicians from New Orleans."
Henri's prayers were answered. He re-connected with Grammy-Award-winners Charles Neville and Amadee Castenell, along with many others who had left New Orleans, including Charles Burchell, a former music camp student, who went to the New England Conservatory and now performs regularly on Drums with Henri.
Henri brings these old friends together with new friends from the north of Boston's burgeoning music scene to fashion a unique sound for his new northern fans.
Every Henri Smith concert is a unique experience. People who saw Henri two nights in a row last year exclaimed, "These were two completely different shows -- and they were both great!"
ABOUT STANTON DAVIS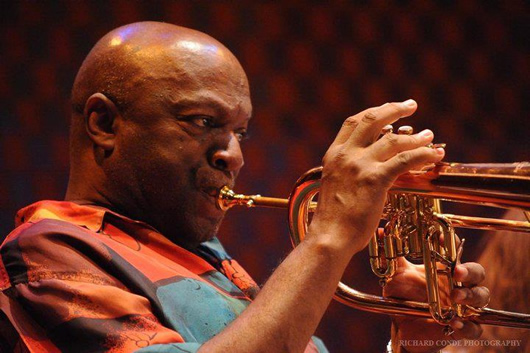 We're honored to welcome New Orleans-born jazz trumpeter, Stanton Davis, back to New England for his first New England appearance since he shared the stage with Henri Smith at Celebrate Gloucester in 2010.
Even before graduating from the prestigious New England Conservatory of Music in 1972 with a degree in Composition/Performance and a Masters Degree in Ethno- Musicology from Wesleyan University. Davis had been steeped in the fluid sounds of jazz, blues, soul and R&B from his early life in the Crescent City.
Since then, Davis has performed, toured, and/or recorded with a plethora of jazz groups: The Mercer Ellington Orchestra, The Lionel Hampton Orchestra, George Russell's Living Time Orchestra, Mongo Santamaria's Orchestra, Mario Bauza & His Afro-Cuban Jazz Orchestra, Lester Bowie's Brass Fantasy and bassist Charlie Haden's group. Davis also appeared as a soloist on David Sanborn's Night Music on NBC TV and has performed in concerts with jazz artists such as George Gruntz, Jim Pepper, Bob Stewart, David Murray, Richard Abrams, Sam Rivers, Gil Evans, Webster Lewis, Jaki Byard, and Max Roach.
As a free-lance musician, Davis has been a key player in the orchestra pit and onstage for numerous shows such as The Diana Ross' TV Special, and Broadway and touring shows such as Jelly's Last Jam, Black and Blue, Ain't Misbehavin', Sophisticated Ladies, Play On, Dinah Was and Bring In 'da Noise, Bring In 'da Funk as well as The Apollo Theatre's Harlem Song in New York and 'Ambassador Satch.'
Davis's soulful trumpet voice also graced the soundtracks for television documentaries such as PBS' An American Dream and The Virgin Island Adventure. He also appeared in George Russell's Living Time on TV in Stockholm and on MZIZI ROOTS, on WBZ-TV in Boston and in the feature film 'Half Nelson' (2006) starring Ryan Gosling.
ABOUT AMADEE CASTENELL
from HBO's Treme: Amadee Castenell on right in light blue suit & bow tie
"When Amadee was in New Orleans we didn't leave home without him. He is our favorite saxophonist."
Amadee Castenell is a premier tenor saxophonist and flautist who has been nurtured by 30 years of playing in the rich multi-layered music scene of New Orleans and appears on HBO's hit series Treme.
From 1973-1983 he was musical director of the band Chocolate Milk, writing and performing on their 8 albums for RCA Records. For 30 years he has also been an important member of the award winning, legendary musical genius Allen Toussaint Orchestra.
When not touring, he is a much seasoned and in demand studio musician. Amadee has recorded with such legendary artists as Dr. John (Grammy award winning "Going Back to New Orleans"), Robbie Robertson ("Storyville"), Lee Dorsey ("Night People"), and Neville Brothers ("Fire on the Bayou") to name just a few. From Etta James to Idris Mohammed, Fats Domino, Irma Thomas and Albert King all have loved the tasteful phrasing of his sultry soulful saxophone.
See Amadee with Irma Thomas, Dave Bartholomew and Allen Toussaint in music clips video from HBO's hit series Treme. Henri Smith will perform some of the songs from this video.
PLEASE NOTE: The owners of the Larcom Theatre have put it up for sale. We, at gimmeLIVE, are working to preserve this historic treasure as a performing arts venue rather than see it go condo.
If you would like to help us in this endeavor, please call Vickie or Peter at 978.525.9093 or contact us here.
ABOUT BEVERLY'S HISTORIC LARCOM THEATRE
Less than 24 miles from Boston, the fully restored Larcom Theatre is conveniently situated in downtown Beverly, MA -- 3 miles from Route 128 at 13 Wallis Street, with plenty of free parking (see map).
gimmeLIVE concerts at The Larcom Theatre
photos by Sheila Roberts Orlando unless otherwise noted
This gracious showplace -- featuring spectacular acoustics -- was built in 1912 (the same year as Fenway Park) by brothers Harris and Glover Ware (vaudeville musicians from Marblehead, MA) on the birth site of their favorite poet, Lucy Larcom.
The Larcom Theatre's grand opening advertised that its interior was lit completely by electricity.
During its 104 year history, The Larcom Theatre has presented stage, screen and musical entertainment. In 1984 the Larcom Theatre's elegant horseshoe balcony, hand-painted antique pressed tin ceilings and original silk wall coverings were restored to their original glory by Le Grand David magic company, who presented their award-winning magic show there until the company's founder, Cesareo Pelaez, died in 2012.
Beginning with gimmeLIVE's sold-out 2013 Mardi Gras benefit concert, the Larcom Theatre was filled with music for the first time since the days of Vaudeville.
In 2014, gimmeLIVE installed a new, state-of-the-art sound system featuring Meyer line arrays and subs, which is used for all concerts presented by gimmeLIVE.
Vickie and Peter have put together an investor group with the hopes of purchasing the Larcom Theatre. Click here to join our mailing list and get news about the Larcom as well as special deals and prime seats before anything is released to the general public.
PLENTY OF FREE PARKING
There is plenty of free parking at the municipal parking lot on Bow Street, about 150 feet away and at the City Hall parking lot about half a block away. You do not have to feed the meters after 5pm or on Sundays.
Want to sponsor one of our shows? Click here!